Made with roasted tomatillos, this homemade salsa verde is tangy, spicy and vibrant. Much better than buying in the store. Pass me the tortilla chips!
Give this homemade salsa verde recipe a try. A short list of fresh ingredients is required: tomatillos, serrano chiles, garlic, onions, cilantro, limes. They give it an amazing tangy, bright and spicy flavor, scooping it up chip by chip (chip by chip). And speaking of all these chips, another reason I love this tomatillo salsa and tomatillo salsa from a jar is its amazing texture.It's thick and silky, so the tortillas he dipped his chips (or enchiladas in) batches) can be coated.
The inspiration for this recipe came from the many salsas I tried during my years in Austin. They told me how good the homemade salsa tasted and intrigued me to make my own salsa. We hope this recipe does the same for you: once you start making your own tomatillo his salsa verde, there's no going back.
Salsa Verde Recipe Ingredients
Here's what you'll need to make this salsa verde recipe:
Tomatillo – You might think it's just a green tomato, but it's not! Tomatillos belong to the same nightshade family as tomatoes, but they're actually a type of ground cherry. The bright green skin is covered with a sticky coating surrounded by a paper-like shell. Their flavor is very tangy and gives this salsa a delicious kick.
onions and garlic – For sweet/savory depth of flavor.
jalapeno or serrano pepper – For heat. Add more or less depending on your spice tolerance.
avocado oil – Or another neutral oil for richness.
fresh lime juice – Bright and zesty flavor.
coriander – Adds crisp green flecks.
and sea salt – To make every flavor pop!
Find the full recipe with the measurements below.
How to make salsa verde
The first step in this homemade salsa verde recipe is Bake the vegetables. why?
Makes tomatillos softer, sweeter and juicier.
It gives everything a little char and adds depth to the salsa.
Remove tomatillo shells and rinse to remove stickiness. Pat them dry and place them on a baking sheet. Peel the onion and cut into large pieces. Add to baking sheet along with whole peppers. Drizzle the vegetables with oil and season with salt and pepper.
Wrap the (unpeeled) garlic cloves in foil and drizzle with oil. Put it on the top plate too!
Roast in a 450°F oven until tomatillos are juicy and browned, about 15 to 20 minutes.
Then blend the salsa. Peel the garlic and remove the stem from the pepper. Place both in food processor along with tomatillo, onion, avocado oil, lime juice, coriander and salt. Process until combined.
Note: If you're sensitive to spice, start by adding 1 (or 1/2!) peppercorns to your food processor.
Finally, taste and adjust. The best part about homemade salsa is that you can make it to your liking! If too thick, add water 1 tablespoon at a time and mix until desired consistency. If you want it brighter, add lime juice. Not enough salt? Mix in a pinch more.
Perfect for when you can't stop eating right out of the food processor.
How to use tomatillo salsa verde
The easiest way to serve this tomatillo salsa verde is with a dip. Try pairing it with homemade tortillas his chips (or taquitos) for next-level appetizers and snacks.
But that's just one of the many ways you can use this tangy green salsa. Here are some of my favorites:
How to use roasted tomatillo salsa? Let us know in the comments!
More favorite salsas and dips
If you like this tomatillo salsa verde recipe, try these homemade dips or salsas.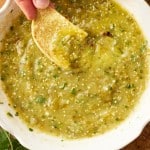 tomatillo salsa verde
Best Salsa Verde Recipe. Made with simple, fresh ingredients, this tangy green salsa is delicious as a dip or with tacos, enchiladas, and other Mexican dishes. Find serving suggestions in the post above.
9

medium tomatillo

1

small yellow onion

,

cut into large chunks

1 to 2

Serrano or jalapeno pepper*

Four

garlic,

not peeled off

2

tablespoon

avocado oil

,

Plus for drizzle

2

tablespoon

fresh lime juice

½

cup

chopped fresh coriander

1¼

tea spoon

sea ​​salt,

plus for sprinkles

tortilla chips

,

for serving
Preheat oven to 450°F and line a baking sheet with parchment paper.

Remove tomatillo shells and rinse to remove stickiness. Pat dry and place on a baking sheet along with the onions and peppers. Drizzle with avocado oil, sprinkle with salt, and coat all over. Wrap the garlic in foil, drizzle with oil and place on a baking sheet. Roast for 15 to 20 minutes or until tomatillos are juicy and browned.

Remove the garlic from the foil and peel it. Remove the stem of the pepper.

Add tomatillos, onions, peppers, garlic, avocado oil, lime juice, coriander, and salt to a food processor. Process until combined. If the salsa is too thick, add water, 1 tablespoon at a time, to achieve desired consistency. Season and serve.

Leftover salsa can be stored in the refrigerator for up to 5 days.
*Serrano and jalapeño vary greatly in spice levels. For spice sensitivities, start with 1 or 1/2 teaspoon pepper and add more according to taste.