This turkey burger is so moist, incredibly flavorful, and is sure to become a summer barbecue staple! It is delicious enough to satisfy people.
Why I Love This Turkey Burger Recipe
Turkey Burger Ingredients:
ground turkey– When making turkey burgers, choose ones with more fat than you would normally buy. This keeps the burger delicious and juicy. Look for 80-90% lean turkey meat.
bread crumbs– I used bread crumbs.
Cheddar cheese・Use freshly grated sharp cheddar cheese.another cheddar cheese, monterey jack, pepper jack, gouda, or
egg– The egg will help hold the mixture together and keep the patty from crumbling.
minced garlic– I used minced fresh garlic, but you can use 1/2 teaspoon of garlic powder if you prefer.
onion powder– Adds a nice flavor to turkey burgers.
salt and pepper– Seasonal flavors.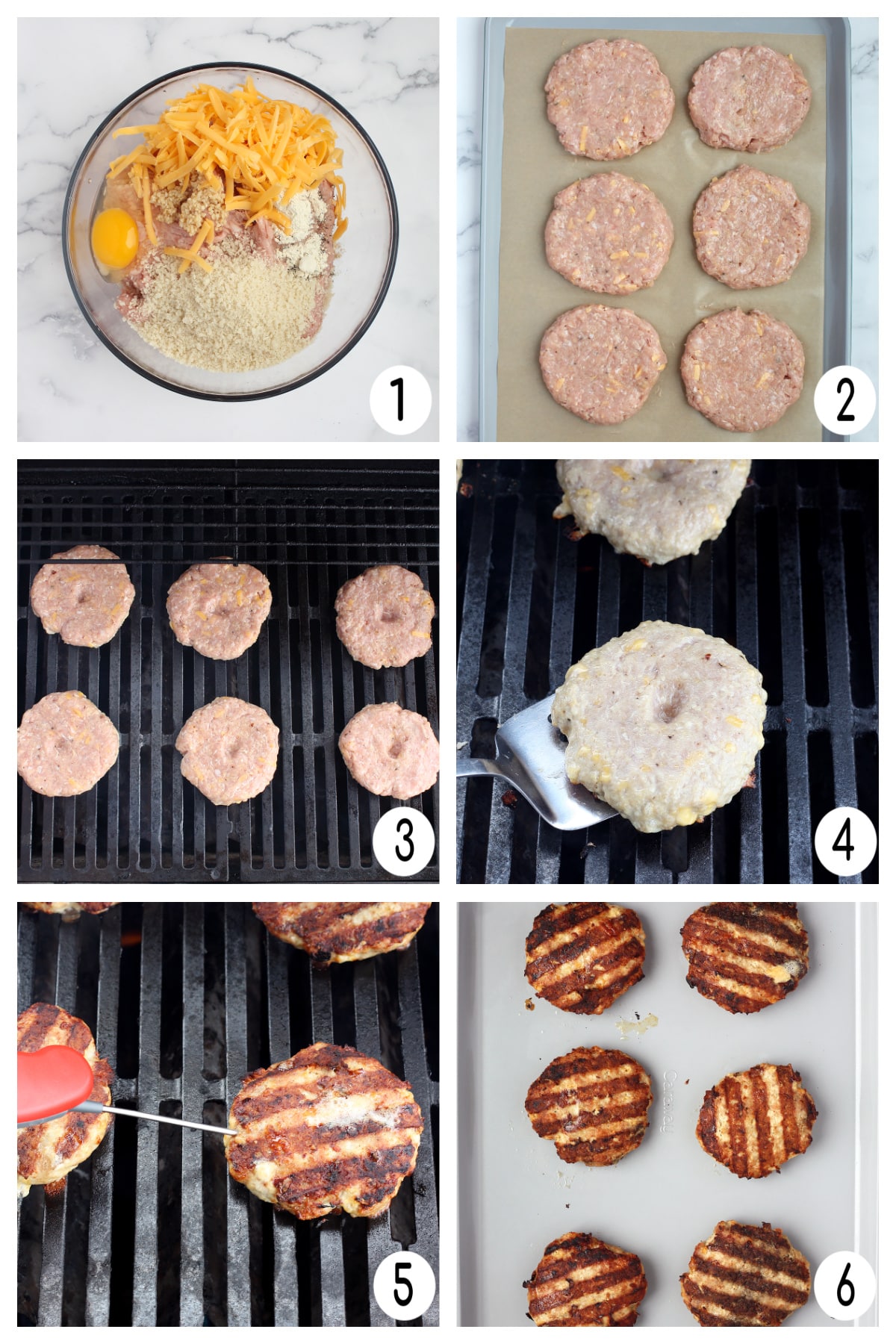 How to make the best turkey burger:
Combine turkey mixture. Place all turkey ingredients in a medium bowl. Stir well to blend the whole. I love using my hands!
Form into patties. Divide mixture into 6 equal portions, or more if making sliders. Pat into patties that are large enough to fit in buns. Place on a baking sheet covered with parchment. Press a small indentation in the middle of each patty with your thumb. This will keep the patties from shrinking on the grill.
Chill. This step is not essential, but it will help the patties hold their shape better on the grill. If possible, let them cool for at least 30 minutes before grilling.
grill. Place turkey patties on a grill preheated to 450 degrees. Cook for 4-6 minutes before flipping. Heat for an additional 4-5 minutes until the internal temperature reaches 165 degrees. Do not press the putty flat. Spatulaor flip multiple times.
serve. Remove the patties from the grill onto a clean plate. Serve on buns with lettuce, tomatoes, onions and pickles, if desired.
fun!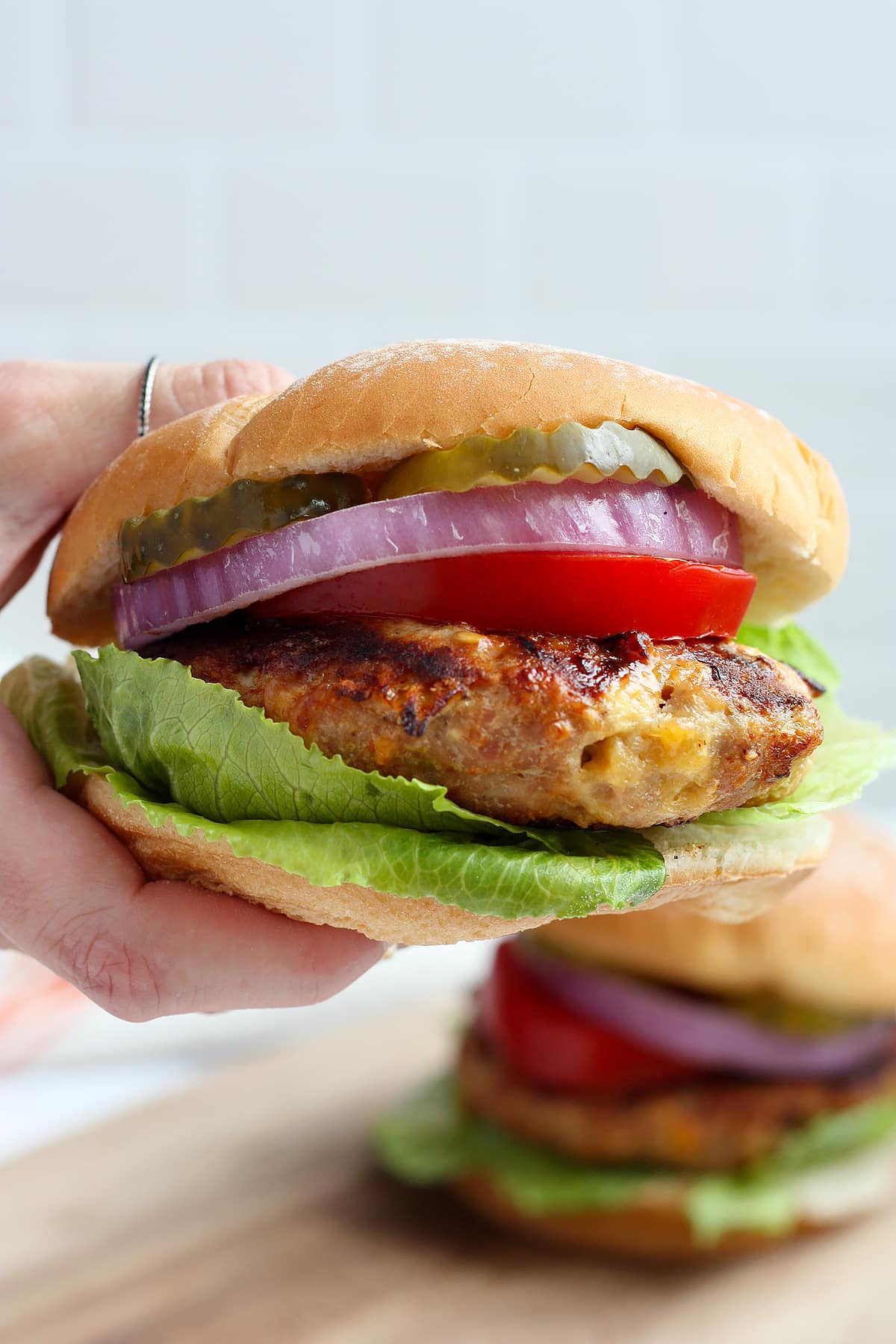 Turkey or Beef?
This question is often asked, but sometimes difficult to answer. Food science is constantly evolving, and what we judged to be unhealthy years ago may not be as bad as we once thought. Comparing is not really a fair comparison. Depending on where the meat is obtained, the nutritional content will vary. If you have lean ground beef and fatty ground turkey, ground beef is considered healthier. The nutritional profile also changes depending on what the animal is fed. Free-range, grass-fed cows have healthier meat than stressed cows fed only corn.
That said, whether your family eats ground beef or ground turkey is a personal choice.For our family, I like to have both. The more variety of foods we include in our diet, the less likely children are to be picky. I like being able to give them food.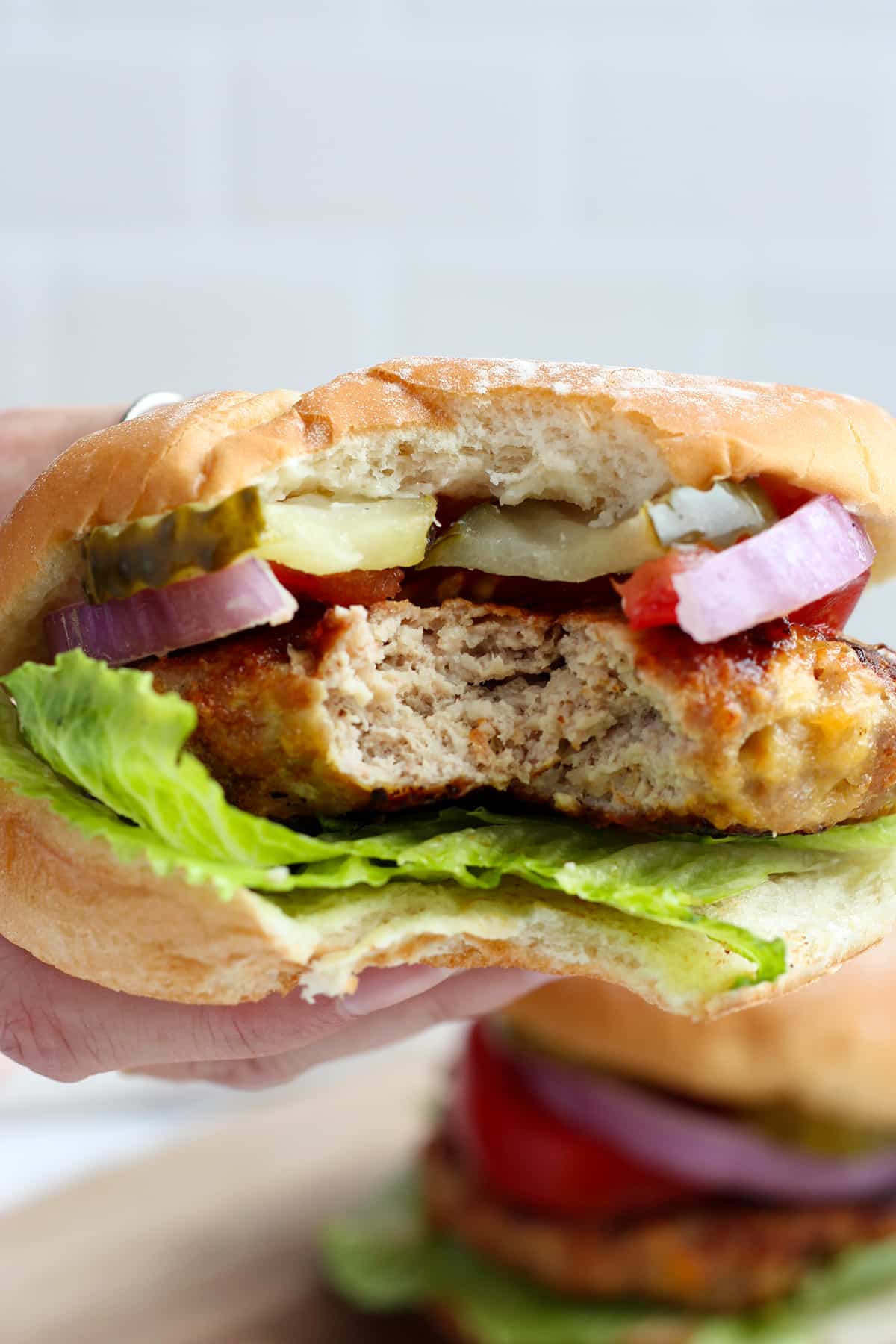 Tips and Suggestions
How do I keep my turkey burger from falling apart?
Turkish burgers tend to fall apart due to their high moisture content. I added bread crumbs to the mixture to help absorb the moisture. Eggs also act as a binder. Additionally, chilling shaped patties before cooking helps them retain their shape.
What makes these turkey burgers so moist and flavorful?
There are a few things you can do to prevent dry, flavorless turkey burgers! First, avoid buying extra lean turkey. The extra fat helps create juicy burgers. Not only does this add moisture to your burger, it adds flavor! You can experiment with different cheeses to experiment with different flavor profiles.
What toppings should I put on my turkey burger?
You can stick to classic burger toppings, like we did here. Or- try something new! Here are some suggestions for delicious turkey burger toppings.
sliced ​​avocado and pepper jack cheese
spinach, feta cheese, sun-dried tomatoes
Grilled Mushrooms and Swiss Cheese
caramelized onions and bacon
cranberry sauce, sliced ​​gouda cheese and romaine
BBQ sauce and cheddar cheese
cabbage slaw
mozzarella cheese and pizza sauce
Roasted red peppers, arugula and tzatziki sauce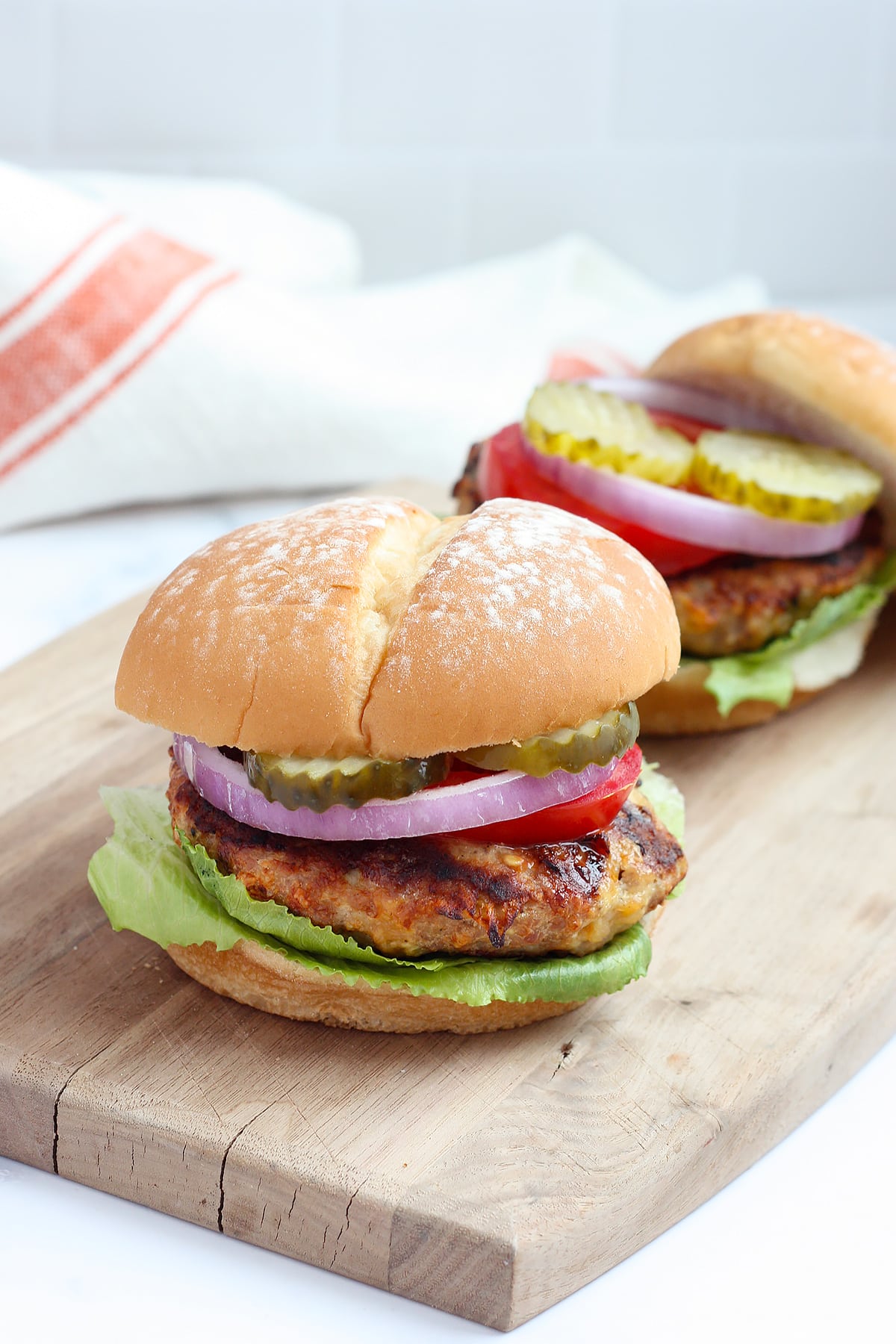 More delicious turkey recipes to try:
turkey burger
This turkey burger is so moist, incredibly flavorful, and is sure to become a summer barbecue staple! It is delicious enough to satisfy people.
Serving: 6 hamburger
calorie: 201kcal
hamburger
1 1/2

lb

turkey

1/4

cup

bread crumbs or crumbs

1

big

egg

2

cloves

garlic

chopped

1

tea spoon

onion powder

1

tea spoon

salt

1/2

tea spoon

black pepper

1/2

cup

sharp cheddar cheese

shredded
serving suggestions
6

fresh

hamburger buns

Sliced ​​tomato, lettuce, pickles, thinly sliced ​​onion, jalapeno rings, sliced ​​cheddar cheese, mustard, ketchup
Heat grill to medium-high heat. (450℉) Line baking sheet with parchment and set aside.

Add all burger ingredients to a large mixing bowl. Mix with clean hands (or wear gloves) until well blended.

Divide turkey mixture into 6 equal portions and shape into patties. Make them about the size you need to fit the pan you're serving them in. Place the patties on a parchment-lined baking sheet. Press a small indentation in the middle of each patty with your thumb. This will keep the patties from shrinking on the grill.

If you have time, chilling the patties in the refrigerator for about 30 minutes will help prevent them from falling apart on the grill.

Grill turkey burgers for 4-6 minutes on one side, gently flip over, and grill an additional 4-5 minutes. At this point, check the internal temperature with a meat thermometer. The thickest part of the burger should have an internal temperature of 165 degrees Fahrenheit. If the temperature is still not there, flip the burgers again and cook for an additional 1-2 minutes.

When the burger is done, remove it from the grill onto a clean plate or baking sheet, cover with foil, and let rest for 3-5 minutes before serving.

Serve burgers on buns topped with your favorite burger toppings.
calorie: 201kcal | | carbohydrates: Fiveg | | protein: 31g | | obesity: 6g | | saturated fat: 3g | | Polyunsaturated fat: 1g | | Monounsaturated fat: 2g | | Trans fat: 0.02g | | cholesterol: 103mg | | sodium: 557mg | | potassium: 373mg | | fiber: 0.3g | | sugar: 0.4g | | Vitamin A: 169IU | | Vitamin C: 0.4mg | | calcium: 88mg | | iron: 1mg
www.superhealthykids.com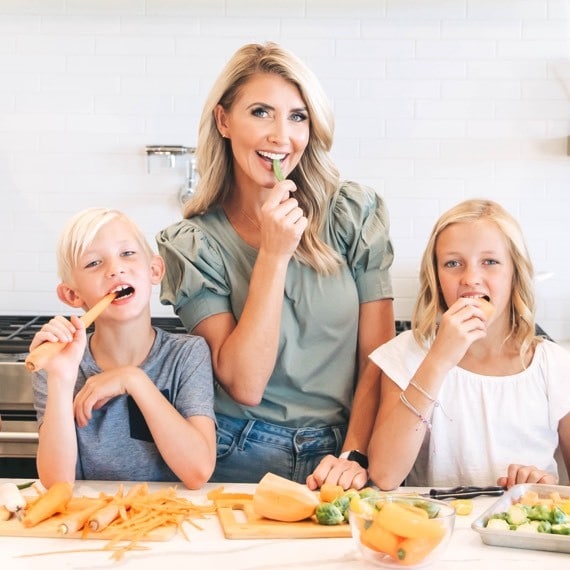 Natalie Monson
I am a registered dietitian, mother of four, a food lover and a strong promoter of healthy habits. Here you'll find delicious, fruit- and veg-rich recipes, tips to help your kids eat better and more intuitively, and tons of resources to feed your family.
Learn more about Natalie