The popovers are light, hollow, and absolutely delicious! Learn how to make them with my easy recipe.
This is a recipe my mother made when I was a child. We looked forward to watching them puff up in the oven as she made them.
A popover is a type of pastry made from a simple dough of eggs, milk and flour. It is often served with sweet toppings such as butter, jam, or fruit. They are a traditional British dish, similar to Yorkshire puddings, which are usually served as a garnish to roast beef, and are sometimes known as Yorkshire puddings.
These popovers are a great source of protein, and when loaded with fruit, they make a delicious and complete breakfast!
What's the difference between a Yorkshire pudding and a popover?
Yorkshire pudding is traditionally served as a savory dish, usually as a side dish to roast beef. A batter made from eggs, flour and milk is poured into a hot frying pan with beef drippings and baked in the oven. It is crispy on the outside and fluffy on the inside.
Popovers are typically served as a sweet dish or roll. It is also made with egg, flour and milk dough. They are usually baked in special popover pans or muffin tins. These are designed so that the dough rises high above the cup.
Materials needed to make a popover
milk: Whole milk is generally considered the best for making popovers, as it offers the richest flavor and softest texture. It depends on your taste.
egg: Eggs are one of the most important ingredients in popovers. It helps popovers rise, hold their shape, and add body and flavor.
flour: All-purpose flour is great for popovers.
salt: Fine sea salt is great for popovers as it has a clean, crisp flavor that complements the taste without overpowering the popover. It also helps bring out the flavor of other ingredients.
vanilla: Pure vanilla extract works best.
Coconut oil: Coconut oil adds a slight coconut flavor to the popovers. If you don't like the taste, add an equal amount of butter. Dissolve coconut oil in liquid. If you use butter, be sure to melt it.
how to make a popover
All you need is a blender and a few ingredients to whip up these delicious popovers in about 10 minutes.
Preheat the oven to 400 degrees.
Mix all ingredients in a blender. Mix all ingredients and mix until the dough is smooth and free of lumps. I recommend adding the eggs first and the coconut oil last. Pulse until well mixed.
Pour mixture into greased muffin molds, filling each cup 1/2 full. If you have a popover pan, even better. Fill 2/3 of them.
Bake for 13 to 16 minutes until golden brown and puffy. Let sit in pan for 1 minute to maintain structure, then transfer to wire rack to cool.
What's the secret to amazing popovers?
Use popover pans or muffin tins with deep holes. A deep well helps the popover rise higher.
Preheat a skillet or tin in the oven before adding the batter. This will make the popover rise quickly and evenly.
Do not open the oven while the popovers are baking. Opening the oven may cause the popover to shrink.
When done, remove from oven and let cool for a few minutes before removing from pan or can. This allows it to maintain its shape.
For extra crunchiness and golden brownness, butter the surface of the popovers before baking.
Can I use muffin pans instead of popover pans?
Yes, you can use muffin molds instead of popover molds to make popovers. However, popovers are likely to have different shapes and may not rise as high as the popover pan. Muffin pan cups are typically smaller and shallower than popover pan cups, giving the popover a higher, more distinctive shape.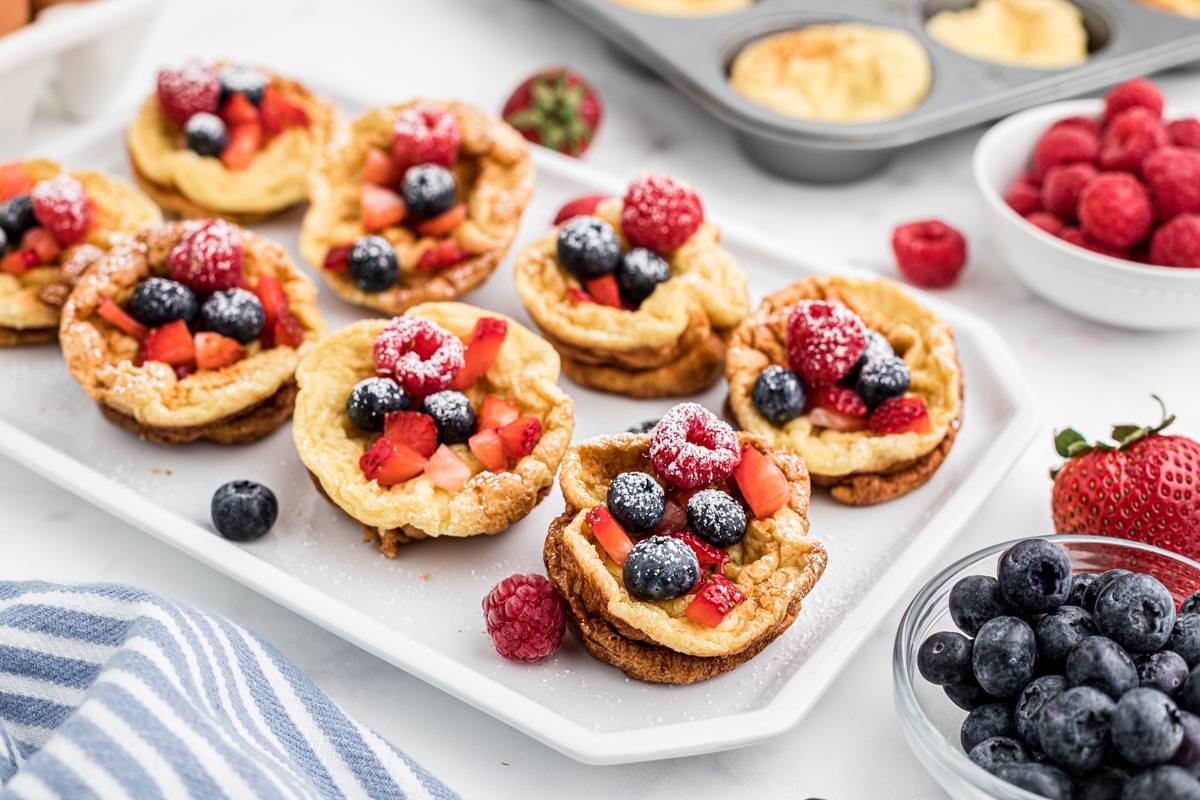 Should the popover collapse?
Popovers should puff up during baking, creating a large, hollow center. This is normal and you can expect the steam to escape as the popover begins to cool and the structure of the popover to begin to deflate.
Why is my popover not inflated?
OVEN WAS NOT HOT HOT ENOUGH: You need a very hot oven to inflate popovers properly. Make sure your oven is fully preheated before you put the popovers in.
Batter too thick: The popover batter should be thin and easy to pour. If the dough is too thick, it will not rise well.
Popover cup not oiled enough: Liberally grease the cup with butter or oil. If the cup is not well oiled, the popover will stick and not inflate properly.
Popover cup full: The popover is only about 2/3 full of the cup. When the cup is full, there is not enough space for the popover to inflate.
Can I create popovers in advance?
Popovers can be made in advance, but are best served warm, straight out of the oven. If you make it in advance, the texture and appearance may not be as good as freshly baked.
You can make popover dough ahead of time and refrigerate for up to 24 hours. The ingredients may settle, so please stir well before use.
Chilled batter takes longer to rise and may not be as light and airy as batter brought to room temperature before baking.
Can popovers be frozen?
Popovers can be frozen, but are best served straight out of the oven. If you prefer to freeze, you can freeze baked popovers for up to 2 months.
To freeze popovers, first let them cool completely. Then wrap each popover individually in plastic wrap or place in an airtight container or resealable bag.
When you're ready to serve, remove the popovers from the freezer and place them in a 350-degree Fahrenheit oven for a few minutes to reheat. Note that reheated popovers will not have the same crispy texture as freshly baked popovers.
Another option is to make the dough, store it in the refrigerator for up to 24 hours, and bake when ready.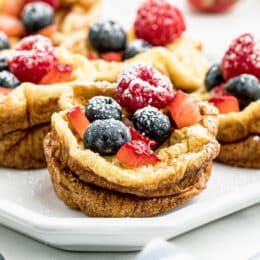 1

cup

milk

6

big

egg

room temperature

1

cup

flour

1/2

tea spoon

salt

1

tea spoon

vanilla

1/4

cup

coconut oil

or melted butter
Preheat oven to 450 degrees Fahrenheit. Grease a muffin mold with coconut oil. To make the popovers very tall, place the muffin molds in the oven for 5 minutes before filling.

Mix all ingredients in a blender. Add the melted coconut oil last. Mix well and pulse until dough is smooth without lumps.

Pour into greased muffin tins, filling each cup 2/3.

Bake for 20 minutes and reduce heat to 350°F. Be careful not to open the oven door. Bake for an additional 10-15 minutes until golden brown.

Remove from oven and allow to cool in skillet for a few minutes to give structure to each popover. Transfer to a wire rack and top with berries and powdered sugar or your favorite toppings.
Chip:
Do not open the oven while the popovers are baking. Opening the oven may cause the popover to shrink.

Preheat a skillet or tin in the oven before adding the batter. This will make the popover rise quickly and evenly.
Serving: 1Popover | | calorie: 119kcal | | carbohydrates: 9g | | protein: Fiveg | | obesity: 7g | | saturated fat: Fiveg | | Polyunsaturated fat: 1g | | Monounsaturated fat: 1g | | Trans fat: 0.01g | | cholesterol: 94mg | | sodium: 141mg | | potassium: 80mg | | fiber: 0.3g | | sugar: 1g | | Vitamin A: 177IU | | calcium: 43mg | | iron: 1mg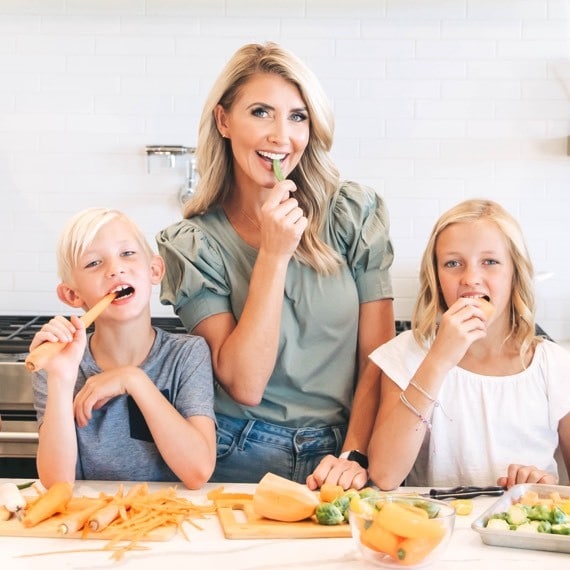 Natalie Monson
I am a registered dietitian, mother of four, a food lover and a strong promoter of healthy habits. Here you'll find delicious, fruit- and veg-rich recipes, tips to help your kids eat better and more intuitively, and tons of resources to feed your family.
Learn more about Natalie