This Teriyaki Chicken Bowl is a delicious, easy weekday meal that combines tender chicken, fresh vegetables, and rice with a sweet and savory teriyaki sauce. And it all comes together in one pot!
Why I Love This Teriyaki Chicken Bowl Recipe
This teriyaki chicken bowl has it all: delicious, healthy, filling, and easy. Weeknights can get very busy, but most nights I try to have a nutritious homemade dinner on the table.And recipes like this really help me achieve that. It calls for fresh ingredients that provide robust nutrition, all in one pot! Homemade teriyaki sauce is also super easy to make. Not only that, but the taste of this dish will appeal to almost everyone.Your whole family will love this recipe!
Teriyaki chicken bowl
chicken breast– Chicken breast cooks quickly and tender and works well here.
cooked rice– I used regular long grain rice. Brown rice may be fine, but you should use easy-to-cook varieties or pre-cooked brown rice.
Fried vegetables– We used a prepackaged stir-fried vegetable blend from the produce department
ginger– Adds a fresh, bright flavor to your dishes. Grated ginger can be substituted.
Reduced salt soy sauce– Add saltiness, umami. I always use a low-sodium soy sauce that gives me more control over the sodium content in my recipes.
brown sugar– Adds rich caramel sweetness
minced garlic– We love garlic, so we use a tablespoon. Garlic powder can be substituted.
sesame oil– Sesame oil has a strong flavor and can be overwhelming. If you don't like the taste, you can omit it.
salt and pepper– Season to taste
How to make a teriyaki chicken bowl:
brown Add chicken to hot skillet with garlic and ginger. Wait until browned, but don't fully cook the chicken.
addition Cook with rice for 1-2 minutes or until rice is translucent. Add water to the pan and bring to a boil. Reduce heat, cover and simmer for 10 minutes.
whisk Combine ingredients for teriyaki sauce.
addition Add vegetables to skillet and stir. Replace the lid and continue cooking for 5 minutes. Remove from heat and let the skillet rest for an additional 5-10 minutes, until the vegetables are tender.
drizzle Teriyaki sauce over skillet mixture. Mix gently. Cover and let rest for another 5 minutes to let the flavors meld.
plate Place in a serving bowl and top with sesame seeds if desired.
tips and substitutes
Can I substitute chicken breast?
You can use chicken tenderloin or chicken thighs, both work well here.Tofu is also great if you're looking for a vegetarian meal. You can also use rotisserie chicken!
Can I use store-bought teriyaki sauce?
absolutely! However, the sauce is easy to make, so I highly recommend making it yourself.
What vegetables should I use for Teriyaki Chicken Donburi?
I like to take advantage of the fresh veggie stir-fry mix near bagged salads in the produce department. Go here for a quick weeknight dinner! You can also use frozen vegetable stir-fry mixes. These tend to cook a little faster, so adjust the cooking time as needed. Carrots, bell peppers, zucchini, sugar snap peas, broccoli, kale, cabbage, or cauliflower all work well here.
Can you freeze teriyaki chicken?
Yes! It freezes well. I like to divide my leftovers into individual servings—perfect for quick lunches or busy evenings. It will keep for 2-3 months in an airtight container.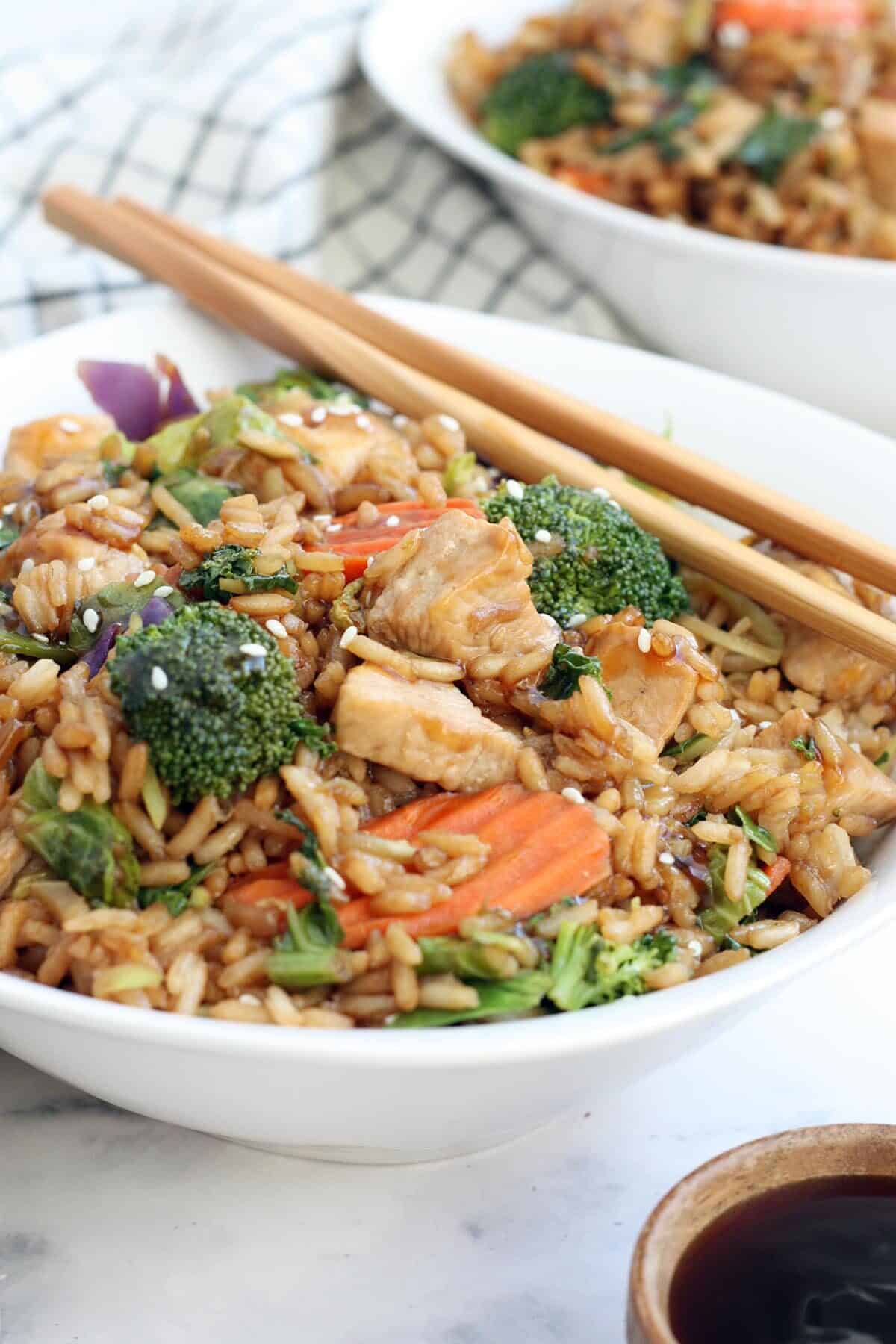 Other One Pan Dinner Recipes:
1

lb

boneless, skinless chicken breast

1

tablespoon

oil

1/2

tea spoon

salt

1/2

tea spoon

pepper

2

cloves

garlic

chopped

1

tea spoon

grated ginger

1 1/2

cup

long grain rice

3

cup

water

1

lb

Fried vegetables

carrots, snow peas, broccoli, cabbage

1

tablespoon

Gum
teriyaki sauce
1/2

cup

soy sauce, reduced salt

1/4

cup

brown sugar

1/2

tea spoon

sesame oil
Cut the chicken breast into bite-sized pieces and season with salt and pepper.

Heat the oil in a large deep frying pan over medium heat. Add garlic and ginger. Cook for about 30 seconds, then add chicken to skillet. Cook until browned on the outside (continue cooking with rice).

Put the rinse-free rice in the frying pan. Cook until rice is translucent, 1 to 2 minutes. Add water and stir well. Bring to a boil over medium-high heat. Reduce heat to low, cover, and simmer for 10 minutes.

In the meantime, mix soy sauce, brown sugar, and sesame oil in a small bowl to make teriyaki sauce. set aside.

After 10 minutes, remove the lid from the pan and add the vegetables. Stir everything well and replace the lid immediately. Continue cooking over low heat for another 5 minutes. Turn off the heat, cover the frying pan, and let it rest for 5-10 minutes until the vegetables are tender.

Quickly stir teriyaki mixture, remove lid, and sprinkle sauce over mixture. Stir everything gently, scraping everything off bottom of pan so all ingredients are coated with sauce.

Replace the lid and let the skillet rest for another 5 minutes to allow all the flavors to meld. Serve in a bowl and garnish with sesame seeds if desired.
calorie: 383kcal | | carbohydrate: 58g | | protein: twenty fourg | | thick: 6g | | saturated fat: 1g | | Polyunsaturated fat: 2g | | Monounsaturated fat: 3g | | Trans fat: 0.02g | | cholesterol: 48mg | | sodium: 1408mg | | potassium: 560mg | | fiber: Fourg | | sugar: 9g | | Vitamin A: 3863IU | | Vitamin C: 9mg | | calcium: 66mg | | iron: 2mg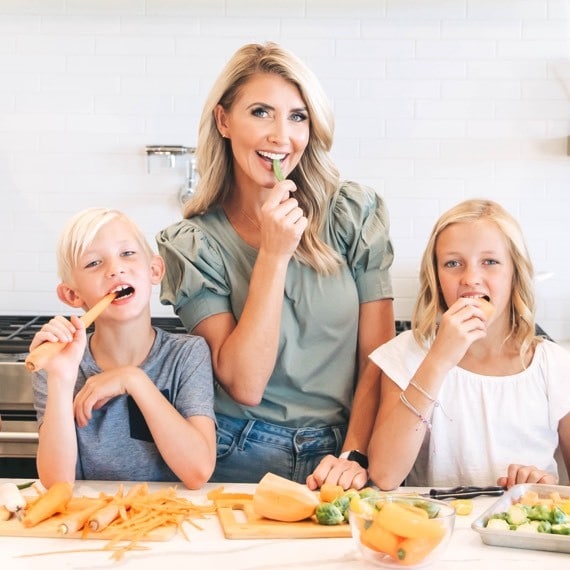 Natalie Monson
I am a registered dietitian, mother of four, a food lover and a strong promoter of healthy habits. Here you'll find delicious, fruit- and veg-rich recipes, tips to help your kids eat better and more intuitively, and tons of resources to feed your family.
Learn more about Natalie