This sweet potato breakfast casserole is chock-full of vegetables, Italian sausage, cheese, tomatoes and sweet potatoes. Healthy, satisfying and delicious meals from breakfast to dinner.
Why I Really Love This Sweet Potato Breakfast Casserole:
One of the things I love about casserole recipes is that they pack everything you need for a complete meal into one dish. After a little prep work, pop it in the oven and you're done until it's time to eat! This sweet potato breakfast casserole is no exception. Chopping veggies and cooking sweet potatoes and sausage takes a little time, but it's still one of the easiest dinners I make. Because this particular casserole appears on the dinner table far more often than it does on the breakfast table!
A touch of sweetness from the sweet potato perfectly balances the spicy sausage. You can use regular potatoes, but trust me here. Sweet potatoes are the way to go. However, this is a very forgiving recipe, so feel free to switch up your favorite proteins and veggies.Or add fresh herbs and enjoy the flavor!
Easy, delicious, healthy, filling… you know why we love them?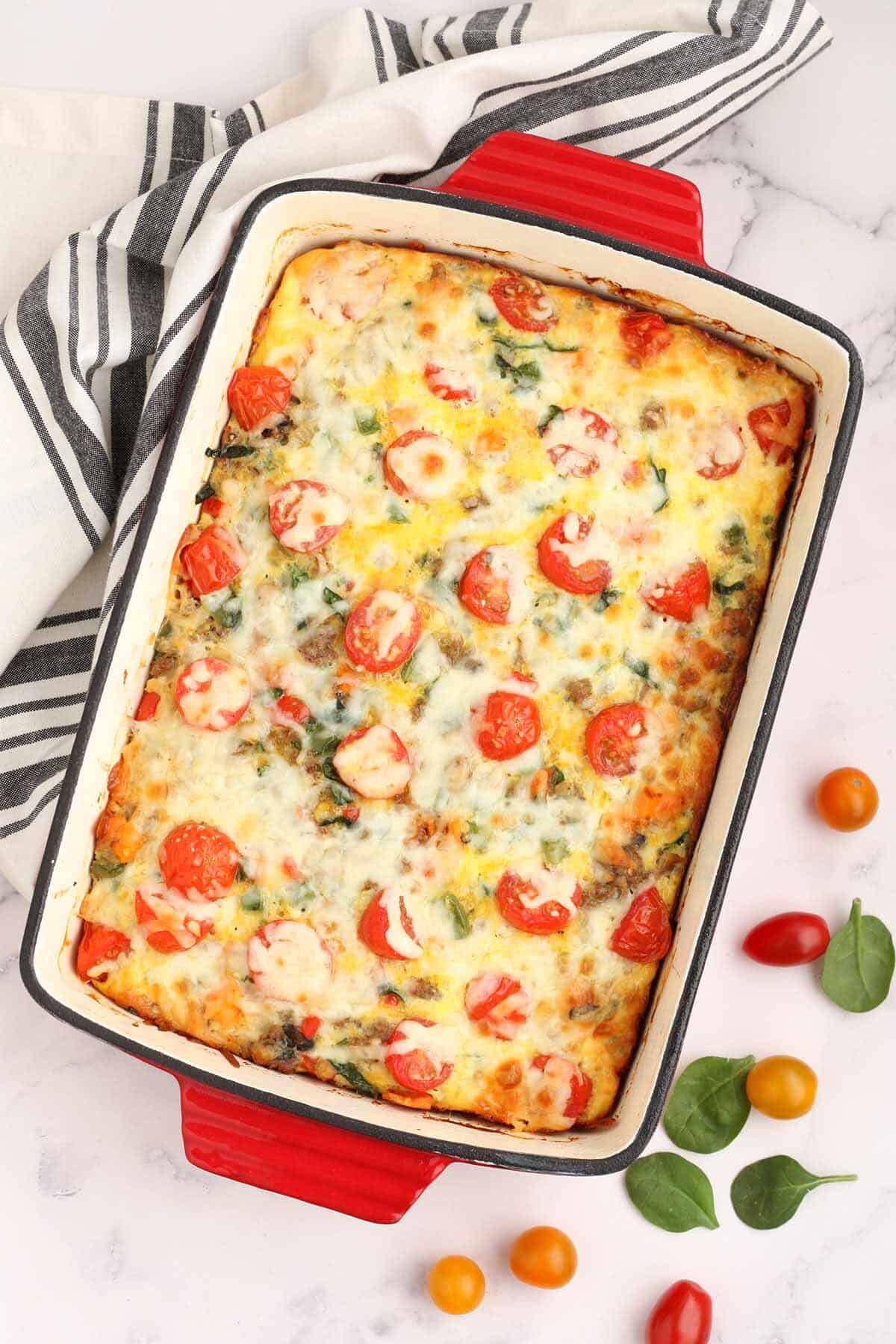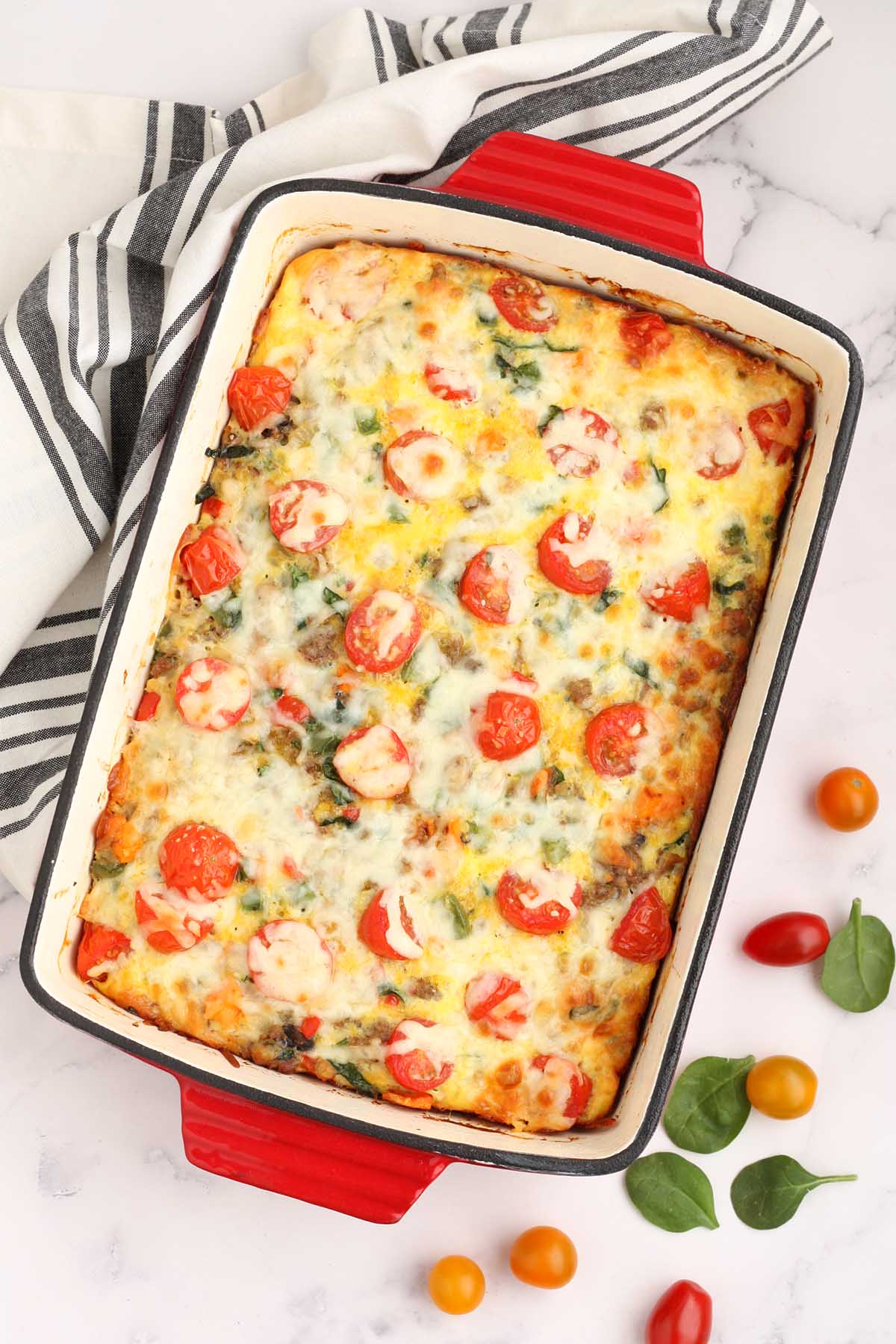 Sweet potato breakfast casserole ingredients:
sweet potato– Adds a touch of sweetness to this flavorful dish
sausage– We used a large amount of Italian sausage, but you can use hot sausage, bacon, or omit it entirely and go vegetarian
onion– We like sweet onions
green pepper– I used red and green, but any pepper will work
mushroom– Use button mushrooms
salt and pepper– enhances flavor
spinach– I use baby spinach, but kale would be delicious too!
tomato– Cherry or grape tomatoes work best here
egg– Eggs can be added to increase serving size
milk– 2% used
mozzarella cheese– Almost any cheese works here. Do not use pre-shredded cheese. Almost insoluble.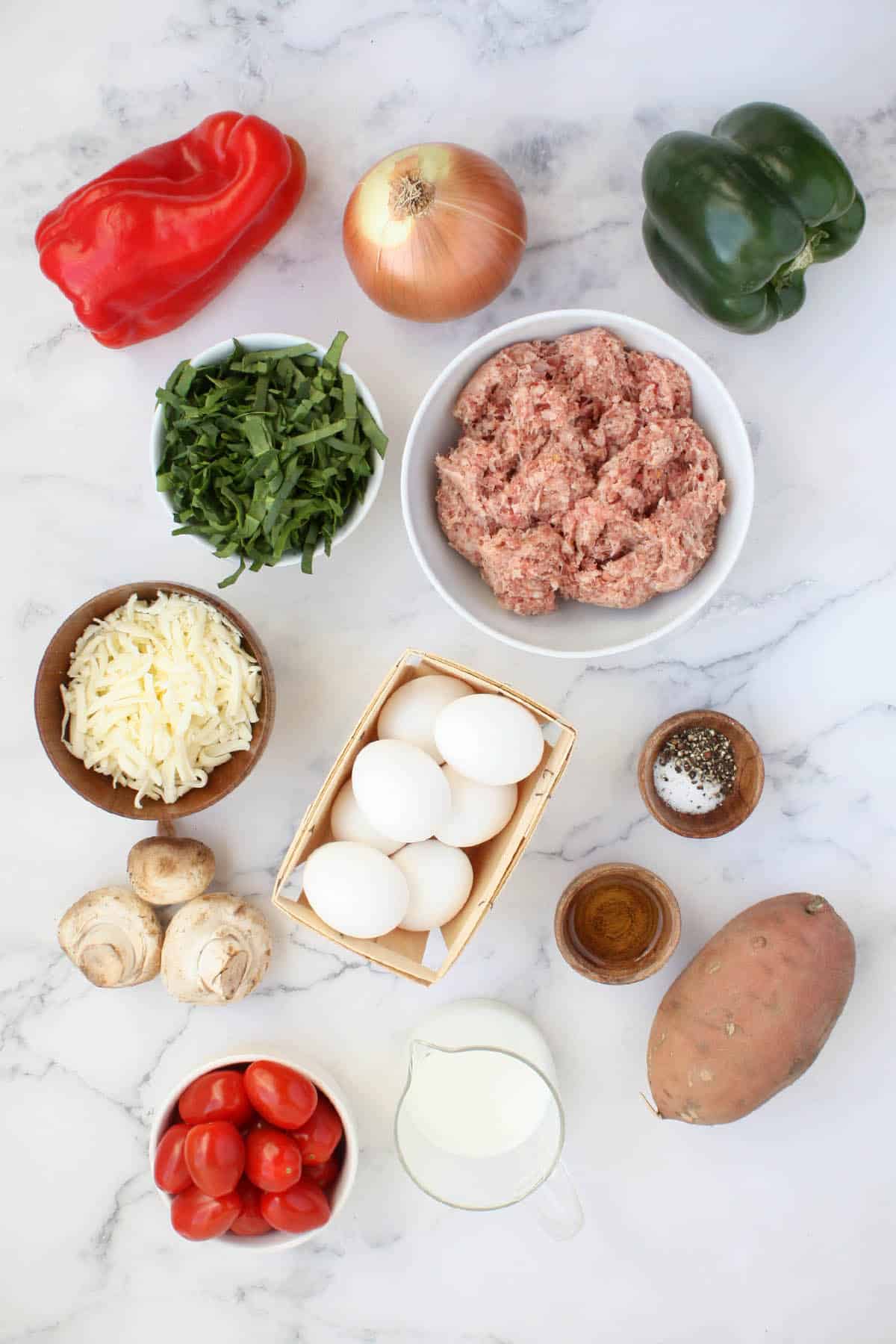 How to make a sweet potato breakfast casserole:
chop Sweet potatoes, onions, peppers and mushrooms.
Sauté Add sweet potatoes to a hot pan with oil and sauté until browned and almost tender.
delete Remove sweet potatoes from skillet and set aside.
addition Add the sausage to the skillet and cook until browned, then break into small pieces. When almost done, add the chopped onions. Cook for 2 minutes and stir, then add the bell peppers, mushrooms, salt and pepper.
mix with spinach.
pour it up Place the mixture in a greased casserole dish.
slice Cut the tomatoes in half and add to the dish.
whisk together with eggs and milk. Pour over the casserole and top with grated cheese.
bake 45 minutes or until set and lightly browned.
Serve and enjoy!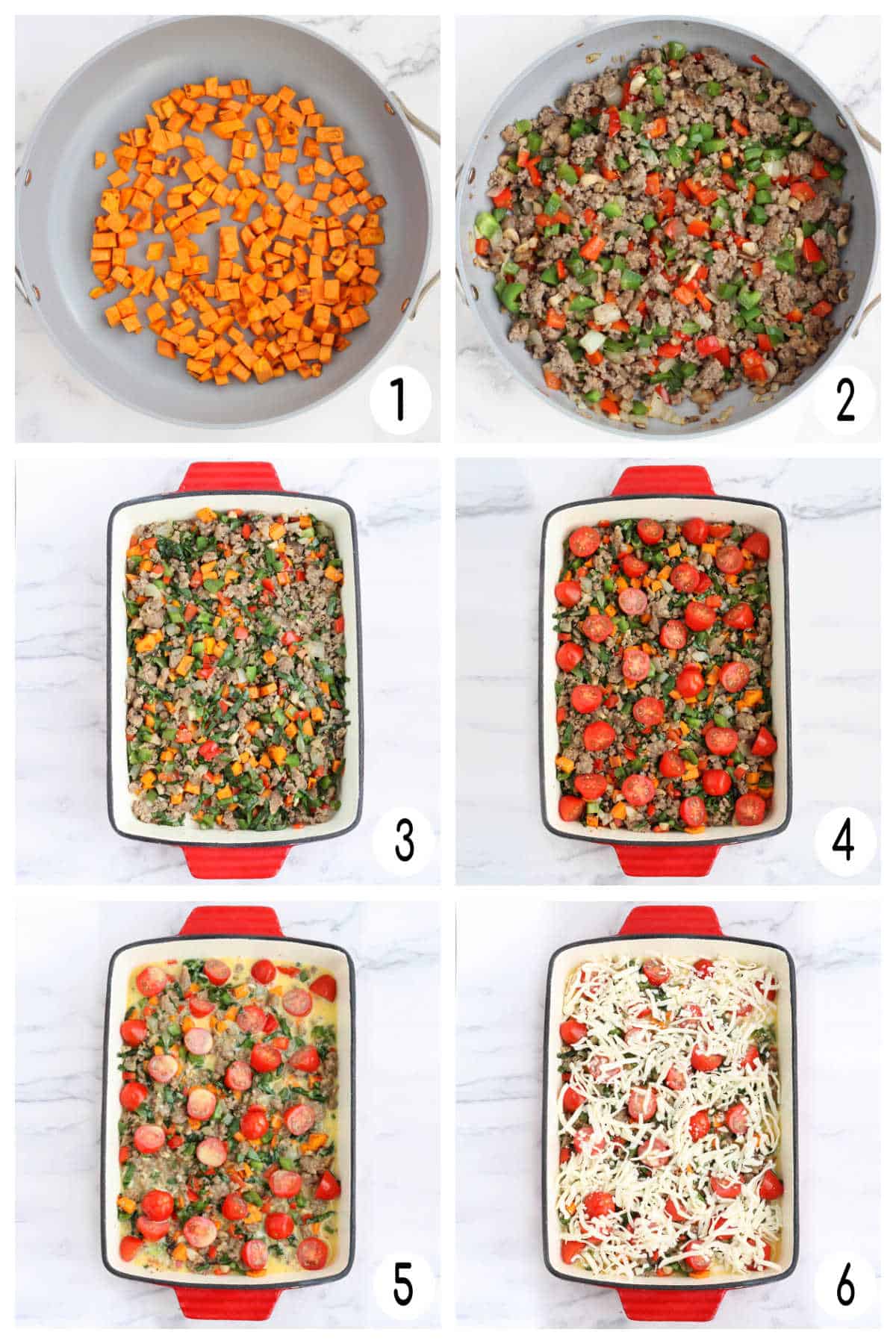 Sweet Potato Breakfast Casserole Tips:
Can you freeze breakfast casserole?
Yes! Cut remaining casserole into serving sizes. Wrap each piece individually in foil or plastic wrap and place in a freezer bag.
Can I use normal potatoes instead of sweet potatoes?
absolutely! You can also use frozen hash browns to reduce prep time.
What other vegetables can I put in my breakfast casserole?
What I love about casserole recipes is that they are highly adaptable. Use (or omit) your favorite veggies! This is our favorite combination, but feel free to be creative and come up with your own combinations.
What should I serve with my breakfast casserole?
One of my favorite things about breakfast casseroles is that they pretty much have everything you need in one dish. But muffins are a great match for this flavorful casserole. Or enjoy it with a fruit smoothie. It's also a great addition to brunch spreads.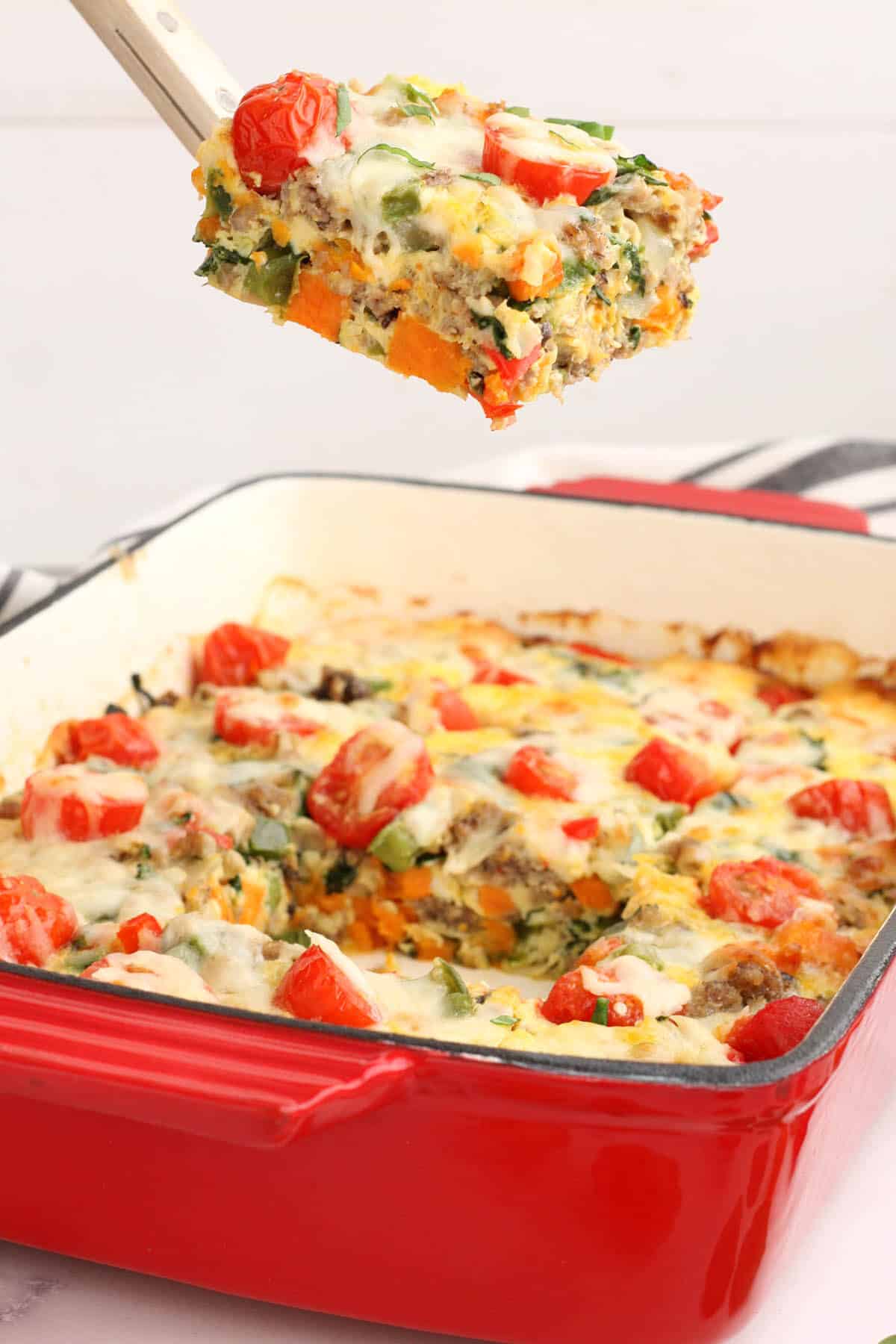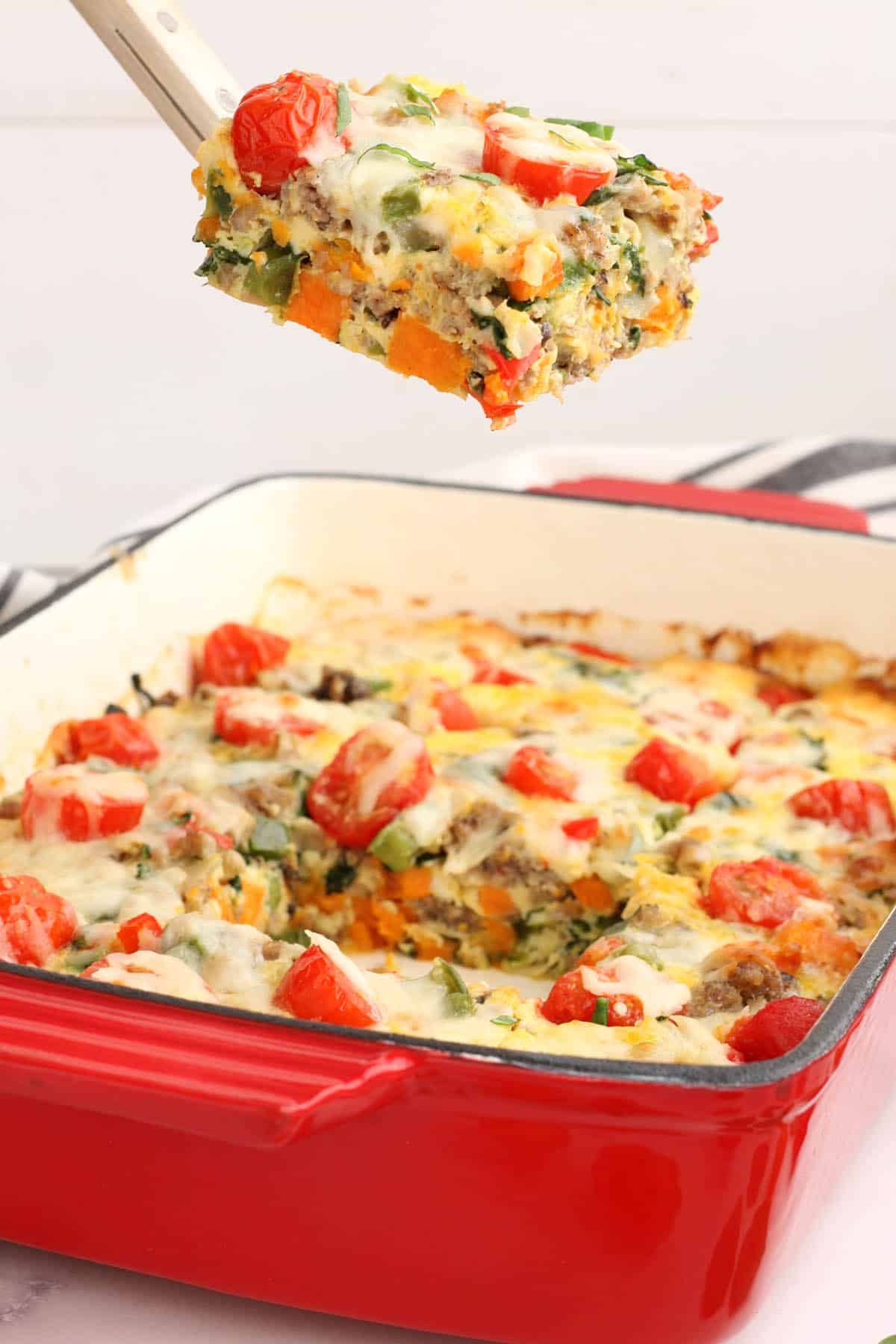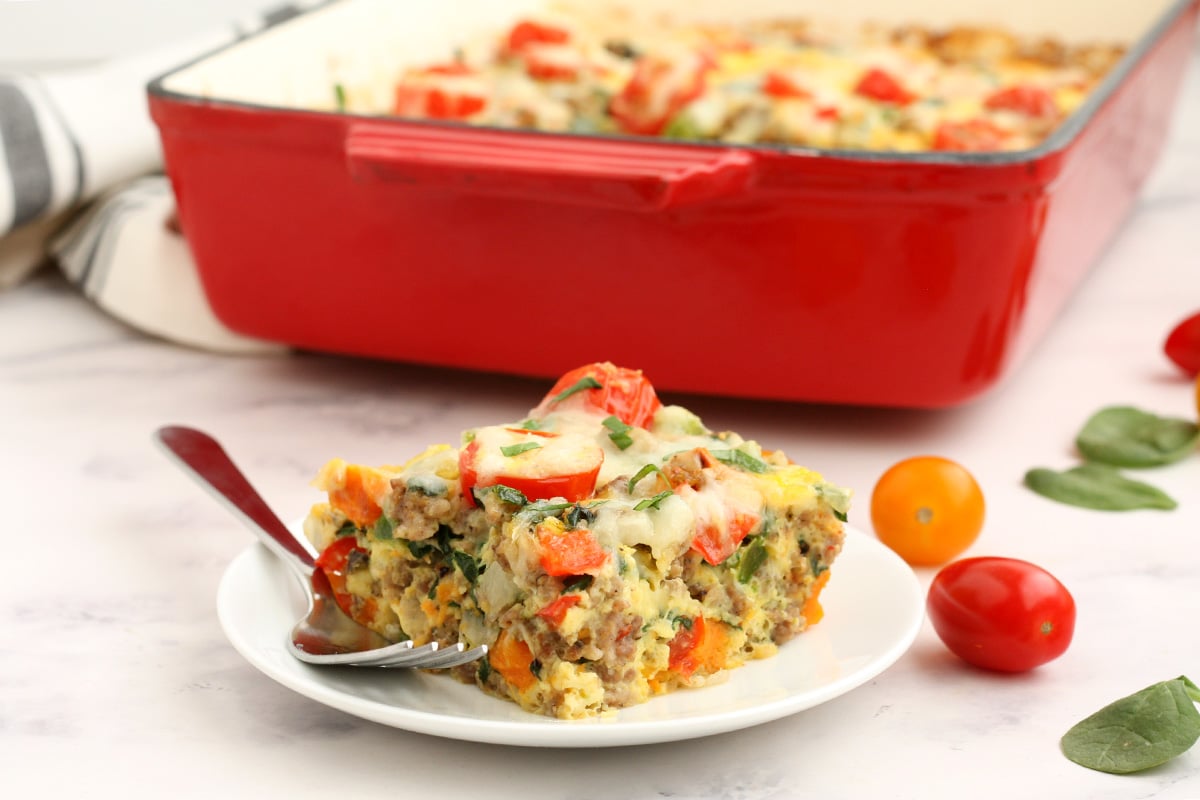 A tastier breakfast casserole recipe: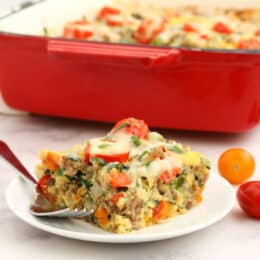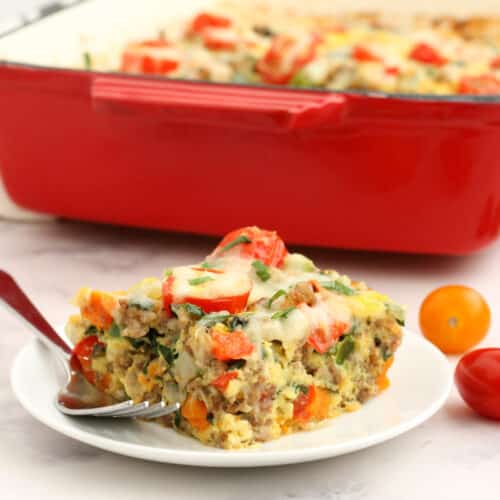 1

big

sweet potato

1

tablespoon

Vegetable oil

8

ounce

Italian sausage, ground

1/2

Moderate

onion, red

1

Moderate

red bell pepper

1

Moderate

green bell pepper

1 1/4

cup

white mushroom

sliced

1

tea spoon

salt

1/2

tea spoon

black pepper

2

cup

spinach

1

cup

cherry tomatoes

Ten

big

egg

1/3

cup

milk

Four

ounce

mozzarella cheese
Preheat your oven to 375 degrees and spray a 9×13 casserole dish with cooking spray.

Peel and dice the sweet potatoes into small cubes. Add olive oil to a large skillet over medium heat. When hot, add sweet potato cubes. Cook, stirring occasionally, until almost tender.

While the potatoes are cooking, chop the onions, peppers and mushrooms.

Remove the boiled sweet potatoes from the pan and set aside.

Add the ground sausage to the skillet and use a wooden spoon to loosen the meat until browned. When it is almost cooked, add the chopped onion. Stir and cook 2 minutes, then add bell peppers, mushrooms, salt, and pepper.

Heat for about 3 minutes and remove from heat. Stir in the coarsely chopped spinach, then add to the prepared pan and spread evenly.

Halve the cherry tomatoes and add to the pan.

Put eggs and milk in a bowl. Mix with a whisk. Pour over casserole and top with grated mozzarella cheese.

Bake for 45 minutes and serve warm.
calorie: 243kcal | | carbohydrate: 11g | | protein: 14g | | thick: 16g | | saturated fat: 6g | | Polyunsaturated fat: 3g | | Monounsaturated fat: 6g | | Trans fat: 0.03g | | cholesterol: 212mg | | sodium: 571mg | | potassium: 423mg | | fiber: 2g | | sugar: Fourg | | Vitamin A: 6240IU | | Vitamin C: 32mg | | calcium: 122mg | | iron: 2mg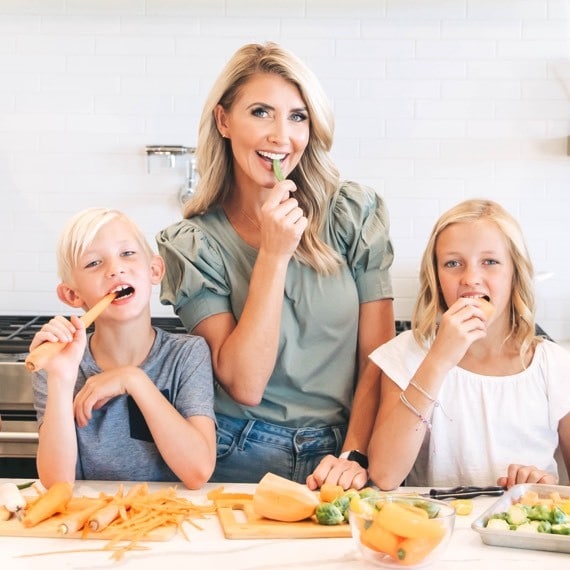 Natalie Monson
I am a registered dietitian, mother of four, a food lover and a strong promoter of healthy habits. Here you'll find delicious, fruit- and veg-rich recipes, tips to help your kids eat better and more intuitively, and tons of resources to feed your family.
Learn more about Natalie