A light and fluffy pancake filled with plenty of fresh strawberries! These delicious strawberry pancakes are perfect for breakfast on special occasions (or any occasion!).
Why You'll Love These Strawberry Pancakes
I love topping my pancakes with fruit. Blueberries, bananas, peaches, etc. It's a great way to sweeten your breakfast with natural sugars and boost the nutritional value of this sometimes-unhealthy breakfast option. I decided to make my go-to pancake recipe even better by dicing strawberries and adding them directly to the pancake batter. Sweet and tangy strawberries are sprinkled on each. They look and feel festive, but can easily be put into your regular pancake rotation.
I don't think there's anything you can substitute for fresh strawberries, but if you can't get them, frozen strawberries might work. Be sure to thaw and drain before dicing.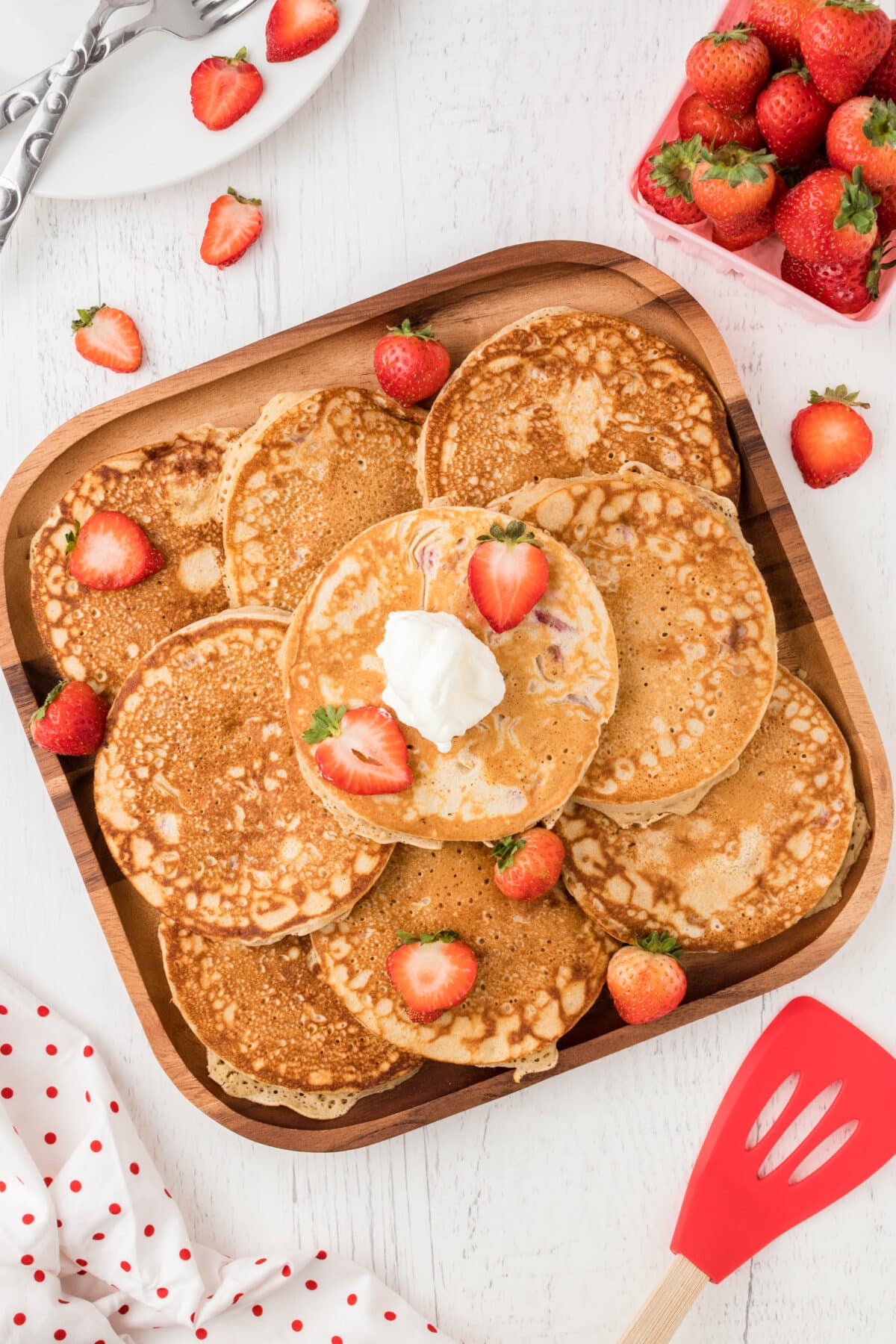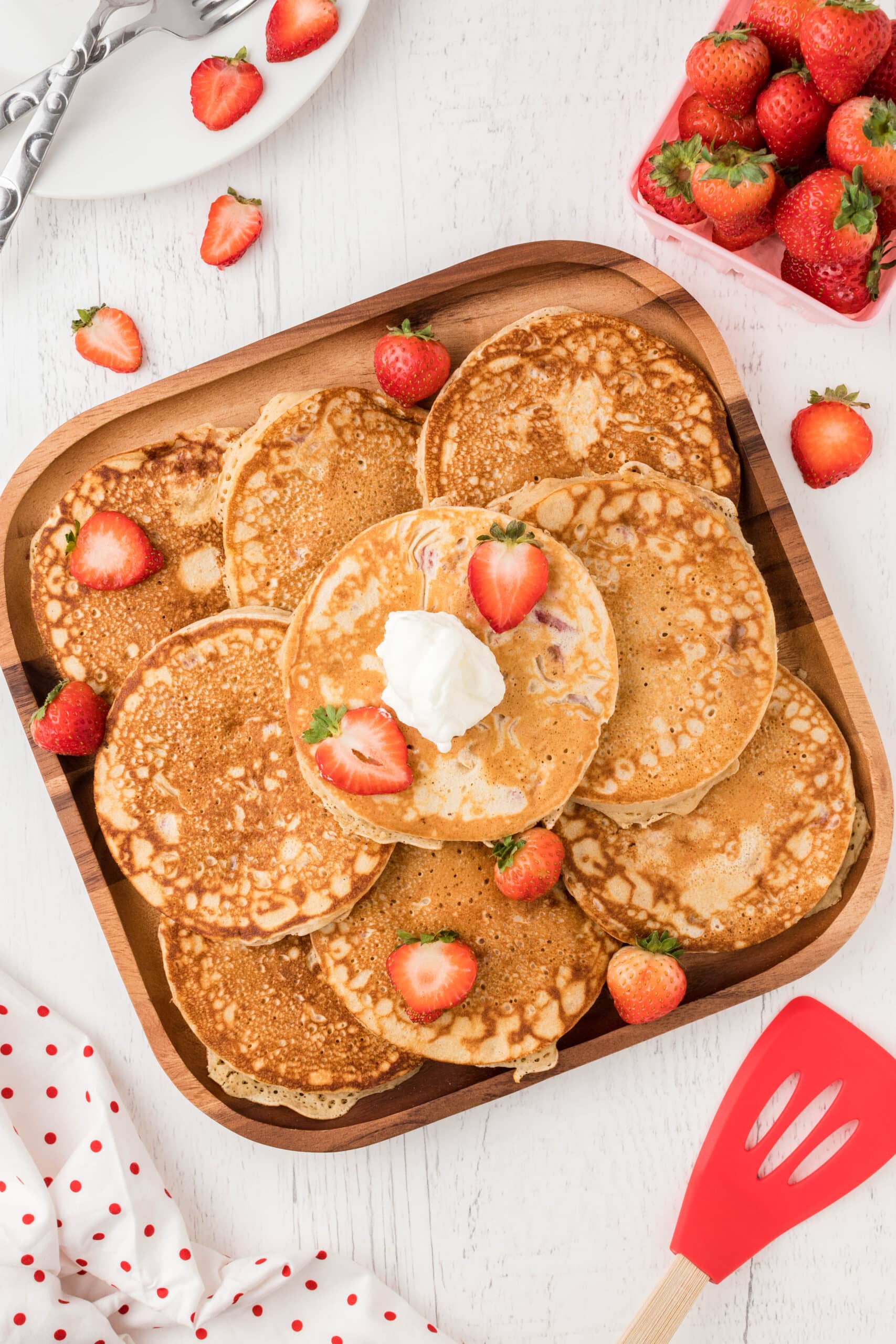 Ingredients for strawberry pancakes:
flour– You can use regular all-purpose flour, whole grain flour, or a combination of both. I think that light and fluffy pancakes have the best taste and texture by mixing these two.
Baking powder–It is essential to use fresh baking powder for baking.
sugar– Adds sweetness and slows down gluten formation in pancakes, creating a softer, more rubbery texture.
brown sugar– A touch of brown sugar adds depth to the color and flavor of the molasses.
cinnamon– Cinnamon enhances the flavor of strawberry pancakes.
salt– We used kosher salt to enhance the flavor without making it salty.
whole milk– I used whole milk in this recipe. However, you can use low-fat or skim.
egg– I used a large egg for this recipe, but you can use whatever you have on hand. Adds lightness and structure to pancakes.
Unsalted butter– You can use salted butter, but you may want to use less salt.
vanilla extract– Use the purest vanilla extract possible. However, imitation works in a pinch.
strawberry– Fresh strawberries are best for this recipe. If you must use frozen berries, be sure to thaw and drain before using to prevent too much moisture in the dough.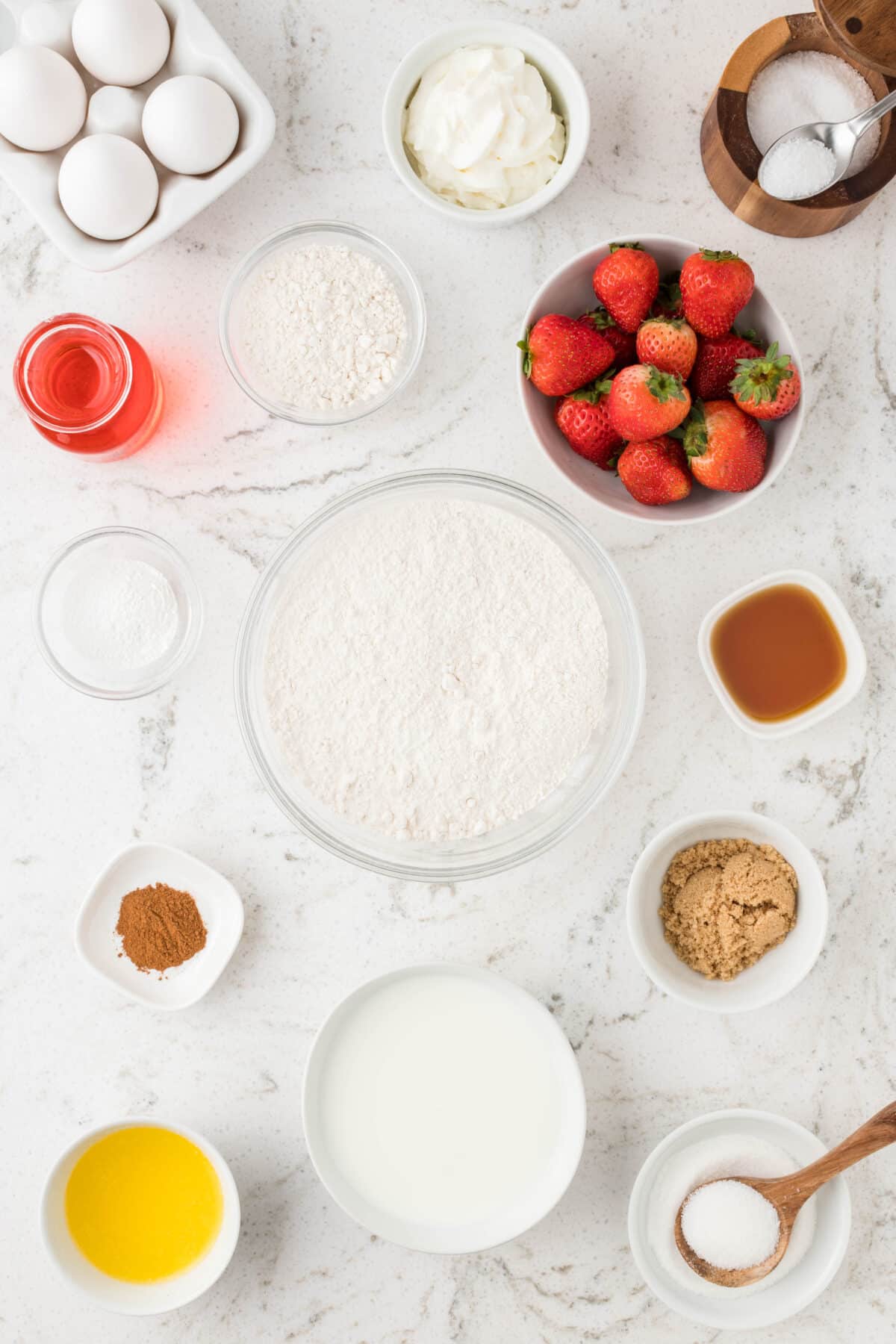 How to make strawberry pancakes
whisk Combine dry ingredients in a medium bowl.
put Place milk, eggs, melted butter, and vanilla extract in another large bowl and whisk until well blended.
addition From dry material to wet material. Stir until blended. There are still some lumps!
to approve Let the batter rest for 10-15 minutes.
chop Stir in strawberries and 1/4 cup flour. Gently fold the rested strawberries into the batter.
heat griddle or skillet over medium heat. Pour batter into hot skillet. When the first side is golden brown, flip over and cook for about 4-5 minutes.
serve Serve with strawberry syrup, fresh strawberries, fresh whipped cream, or maple syrup. Hmmm!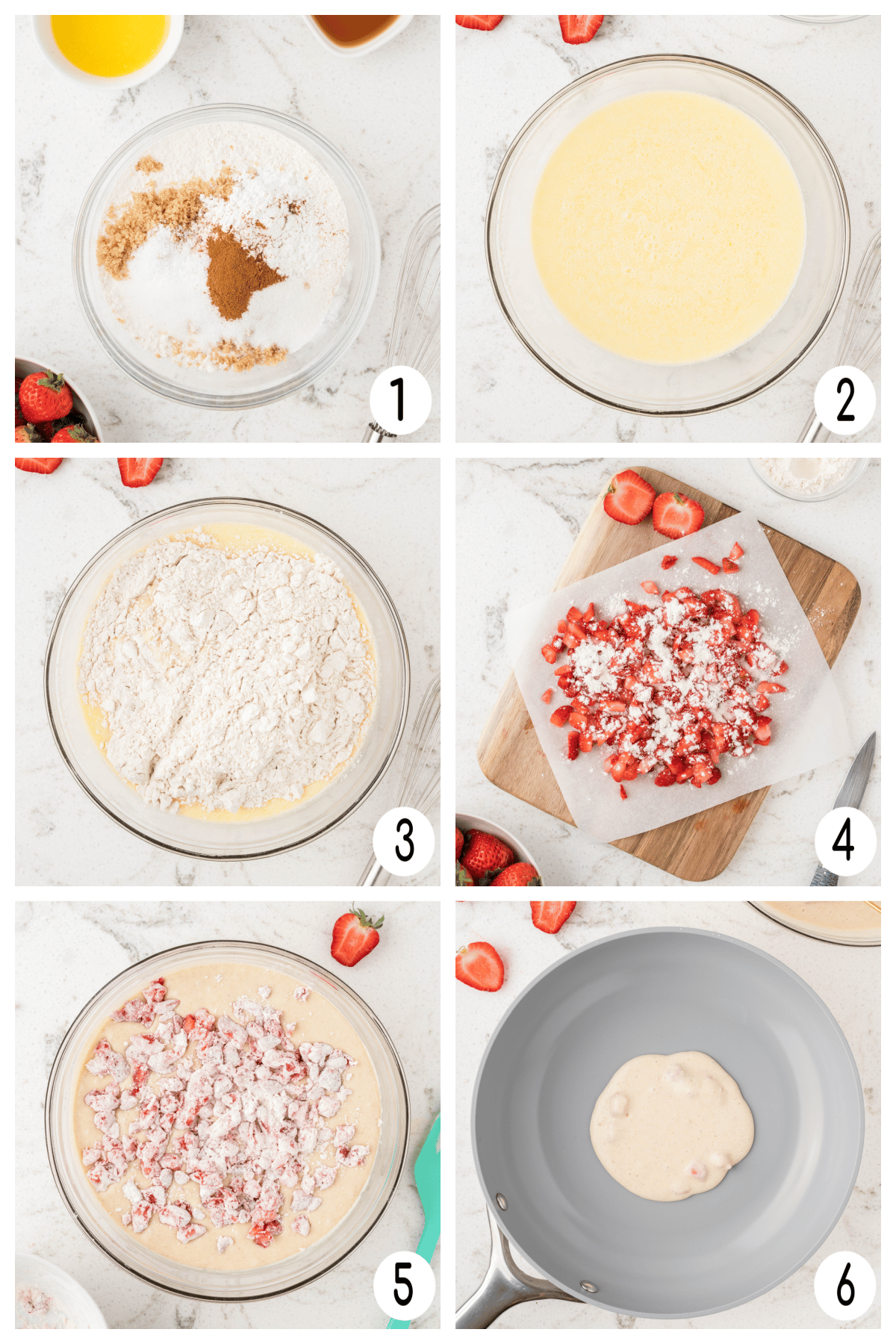 What is the trick to making fluffy pancakes?
Super fluffy pancakes are completed with freshly baked baking powder and thick dough! The batter should drip from the spoon. If it's easy to pour, the batter is too thin and you'll end up with flat pancakes. Stir until dry ingredients are incorporated. There will still be clumps of flour, but that's okay. Over-mixing will result in hard pancakes.
Pro-tip: Resting the dough loosens the gluten in the flour and expands the starchy particles, resulting in light, fluffy pancakes.
Looking for more delicious pancake recipes? Check out some of our favorites!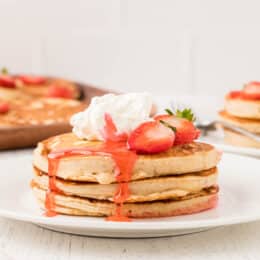 In a medium mixing bowl, whisk together 2 1/2 cups flour, baking powder, sugar, brown sugar, cinnamon, and salt.

In another large bowl, whisk together milk, eggs, melted butter and vanilla extract.

Add the dry ingredients to the wet ingredients bowl. Stir until dough comes together. There should still be some lumps. Let the dough rest for 10-15 minutes.

In the meantime, cut strawberries. Toss them in the remaining 1/4 cup flour until coated. Gently fold the rested strawberries into the dough.

Heat a skillet or griddle over medium heat. Pour 1/4 cup full batter into hot skillet. Cook until bubbly, flip, and cook for 1 more minute until fully browned.

Serve with whipped cream, chopped strawberries, or strawberry syrup. fun!
calorie: 286kcal | | carbohydrates: 47g | | protein: 8g | | obesity: 8g | | saturated fat: Fourg | | Polyunsaturated fat: 1g | | Monounsaturated fat: 2g | | Trans fat: 0.2g | | cholesterol: 55mg | | sodium: 315mg | | potassium: 395mg | | fiber: Fourg | | sugar: 16g | | Vitamin A: 294IU | | Vitamin C: 102mg | | calcium: 173mg | | iron: 3mg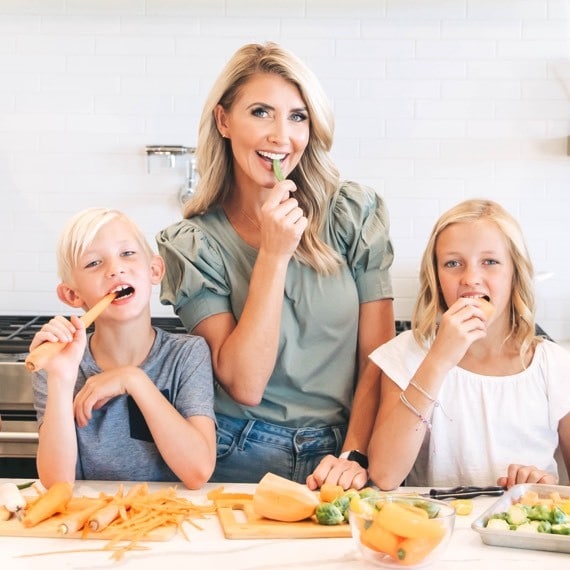 Natalie Monson
I am a registered dietitian, mother of four, a food lover and a strong promoter of healthy habits. Here you'll find delicious, fruit- and veg-rich recipes, tips to help your kids eat better and more intuitively, and tons of resources to feed your family.
Learn more about Natalie