This flavorful spinach quiche is a delicious recipe packed with spinach, onions, garlic and 3 cheeses. Not only is it impressive, it's also easy to make! Quiche is a very versatile dish that is perfect for brunch, special occasion breakfast, or a quick dinner.
Why spinach quiche is so popular
Oh I love quiche. This striking little dish with a fancy name belies how easy and simple it really is. A pie crust will do just fine and everyone will think you're a magician in the kitchen.
After the crust, chop and whisk a bit before putting in the oven. easy. And what you end up with is a gloriously buttery, flaky, tender, cheesy, flavorful masterpiece. Need to use up that pepper? Dice. Add bacon, diced ham, or rotisserie chicken for a heartier quiche. Use whatever cheese you happen to have on hand. Stick to basic measurements and you can exercise total creative freedom from there.Or keep it simple like this spinach quiche. It's very hard to go wrong once you've mastered the (very simple) basics.
I also like that it helps with so many meals. Easter brunch, baby shower, Christmas breakfast, weeknight dinner, basically any meal of the day is fine for him. It's always a big hit.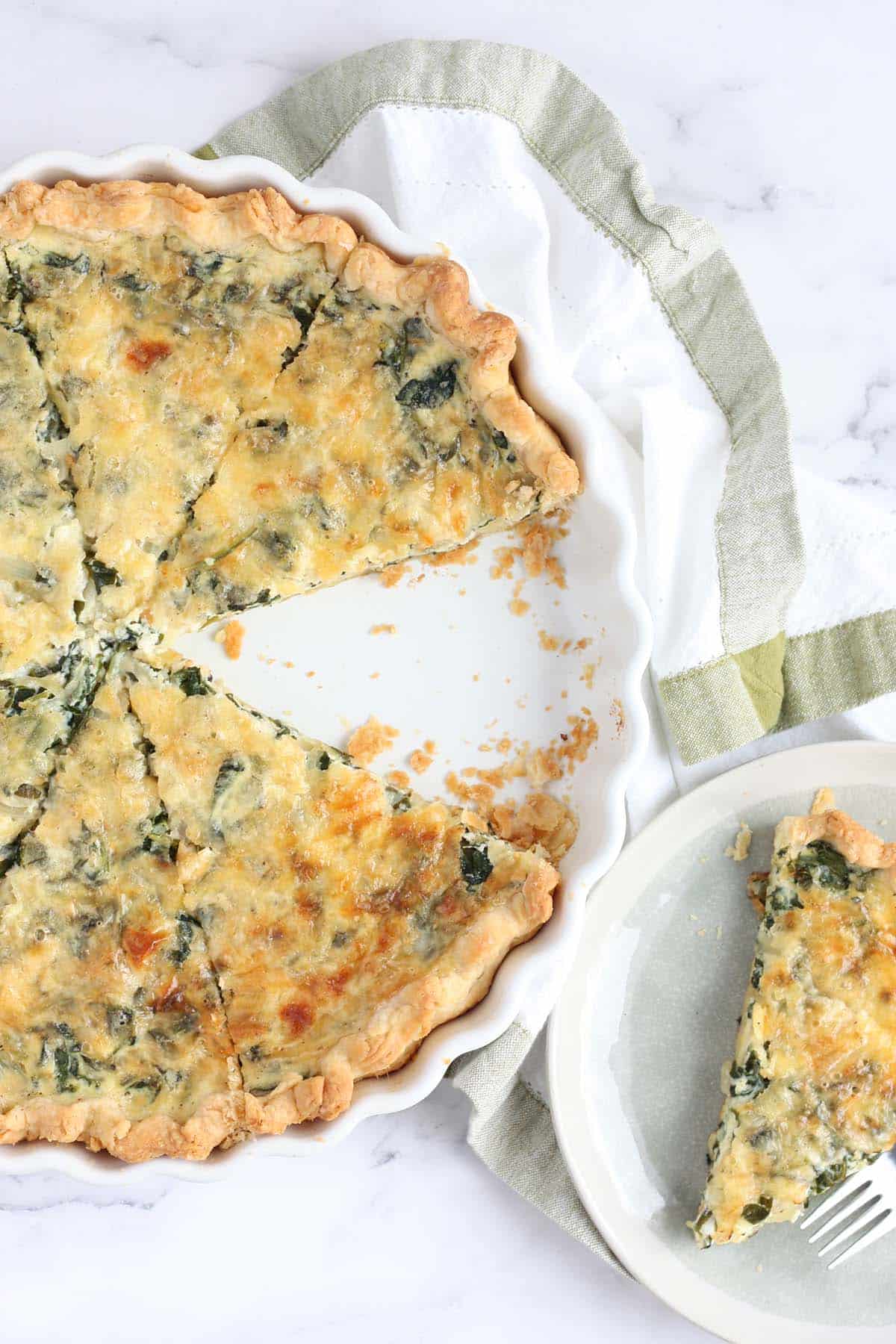 spinach quiche ingredients
egg
milk
spinach
onion
garlic
cottage cheese
gruyere cheese
Parmesan cheese
Olive oil
nutmeg
salt and pepper
pie crust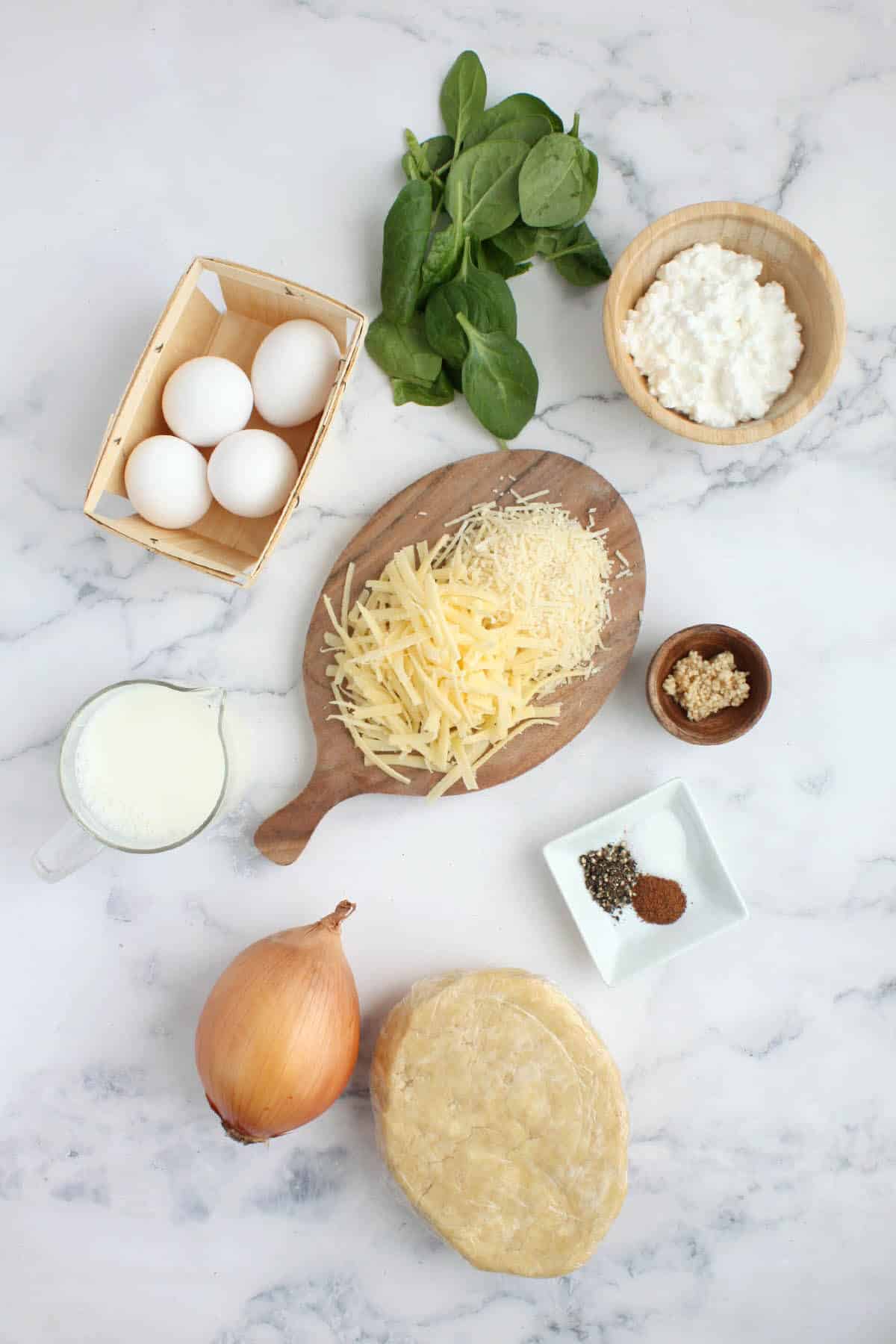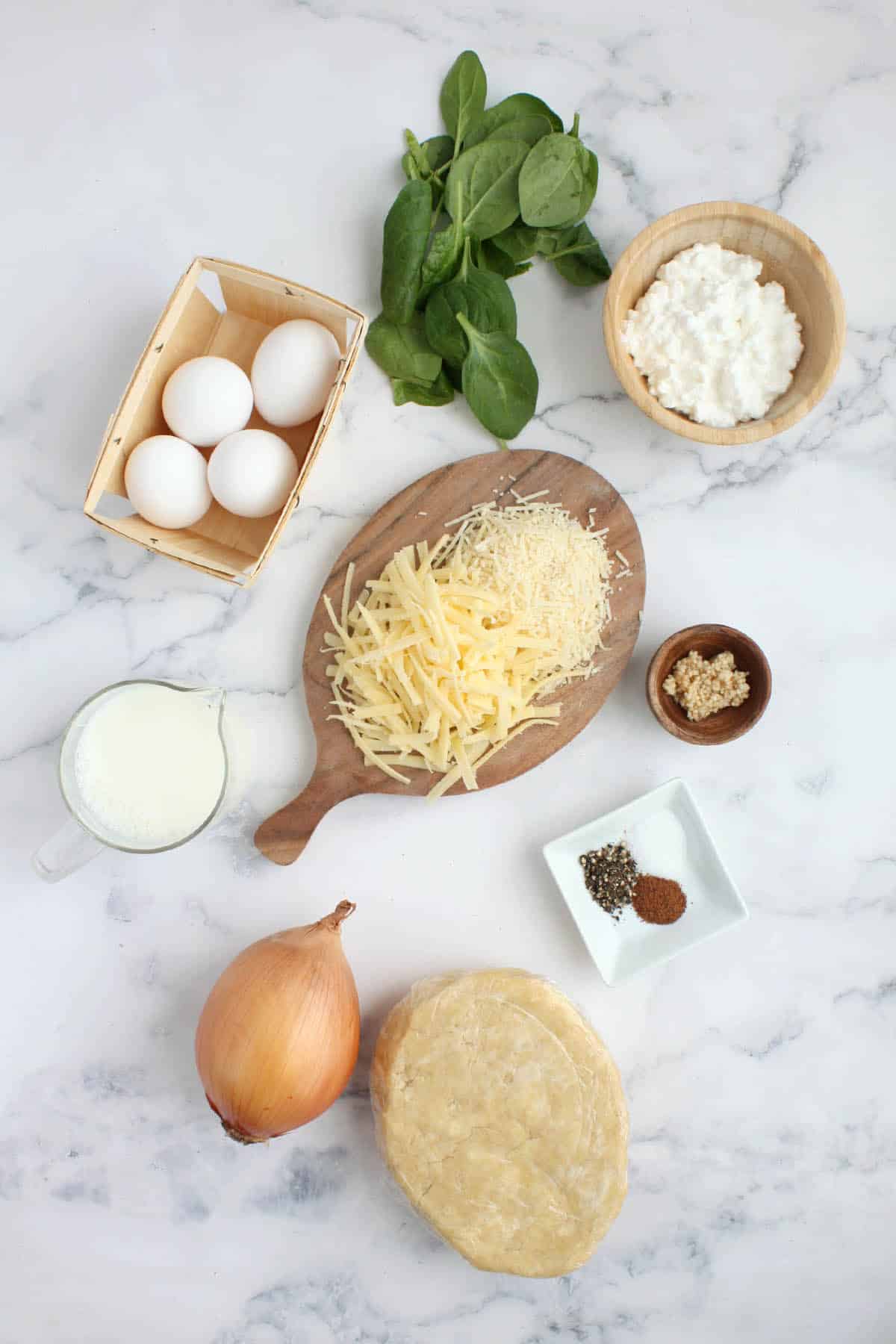 how to make spinach quiche
Arrange the pie plates with your crust. Crimp the ends and set aside.
diced onion Then add a small amount of oil to the hot frying pan. Add the garlic and sauté for a few minutes until the onions are softened and begin to caramelize. Add the chopped spinach and simmer for an additional 1-2 minutes to soften the spinach. Remove from heat.
whisk together Whisk together eggs, milk, cottage cheese, salt, pepper and nutmeg. Add spinach mixture and stir well.
pour the mixture For uncooked pie crust.
Top with grated cheese Bake at 375 degrees for 35-40 minutes or until set and golden brown.
cool down a little before serving. fun!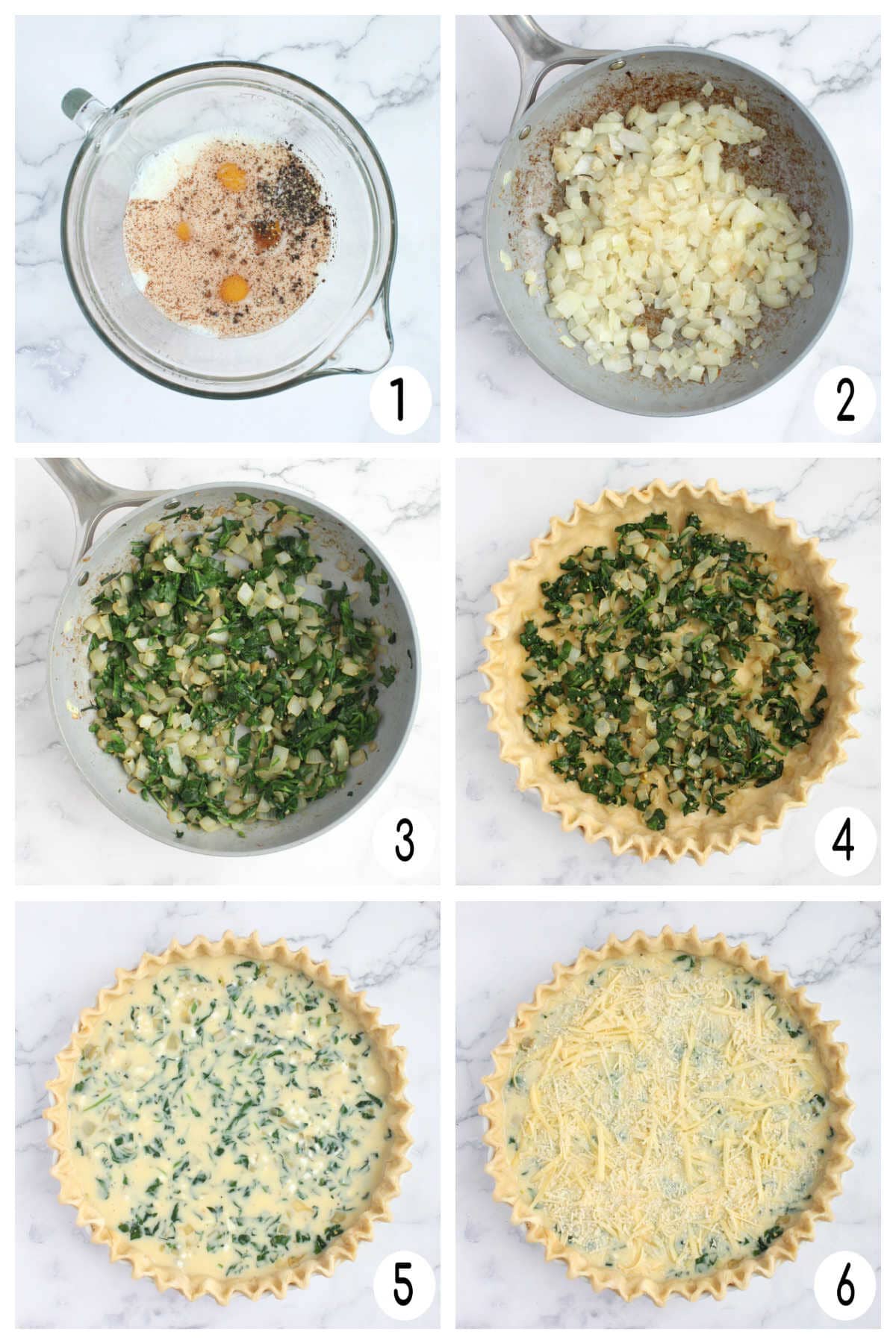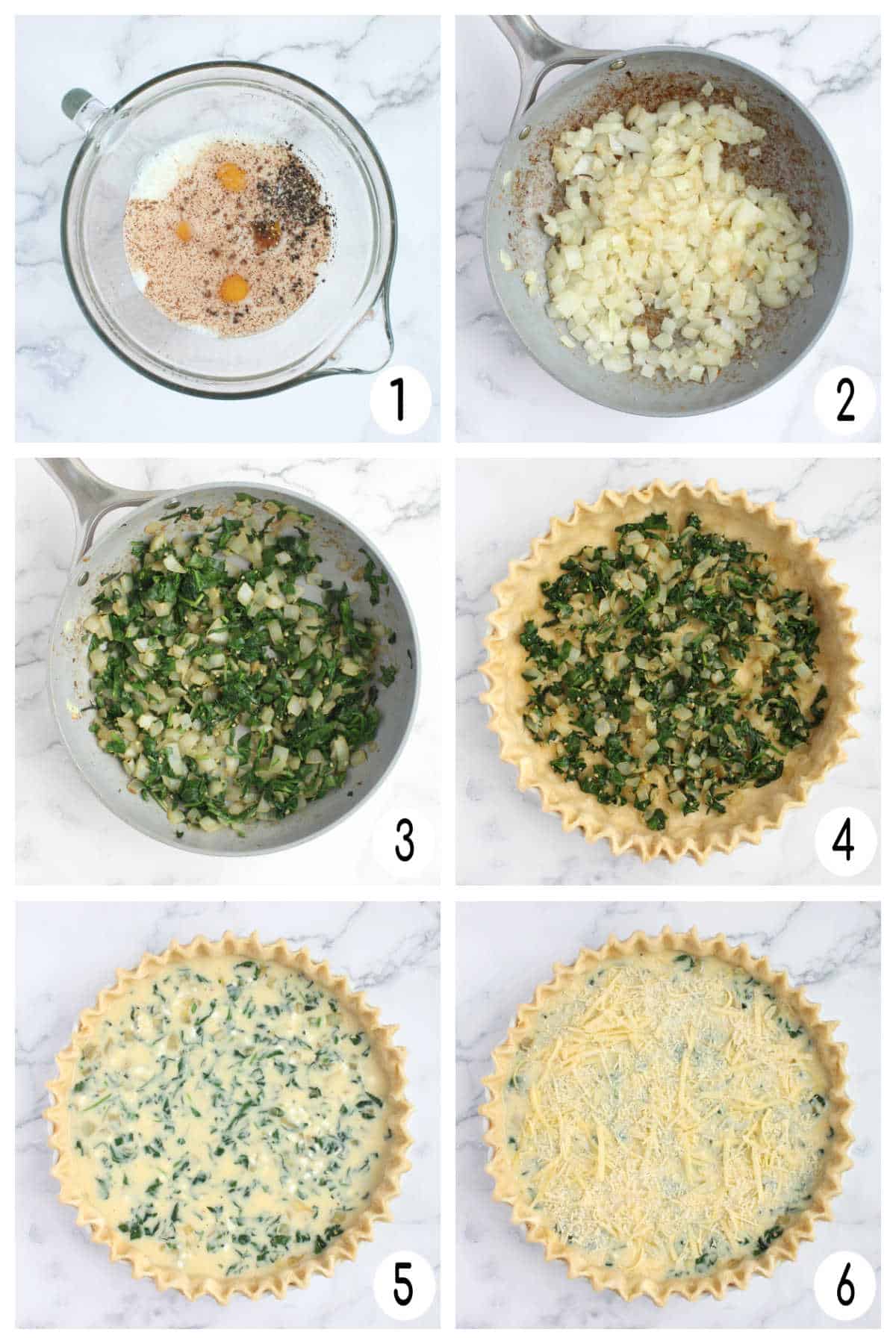 perfect quiche tips
Why is my quiche crust soggy?
Bake the quiche on the bottom rack for a nice golden crust. You can also blind bake the crust before adding the filling. Line the uncooked crust with foil or parchment paper and fill with pie weights or dried beans. Bake at 350 degrees for 7 minutes before tossing the crust with the egg mixture. Continue baking according to instructions.
Can I make the quiche ahead of time?
yes! To make quiche ahead of time, bake according to directions and let cool completely. Can be stored in the refrigerator for up to 3 days. To reheat, cover with foil and bake at 325 degrees for about 15 minutes or until fully cooked.
Fresh quiche can also be frozen! When you want to eat quickly, or when you want to eat with your friends, it will come in handy if you keep it handy. Just follow the directions to make the quiche. After pouring the egg mixture into the crust, carefully cover with foil and wrap the whole thing in plastic wrap. Can be stored in the freezer for up to 3 months. Remove wrap and foil when ready to bake. Do not defrost before baking. Bake at 400 degrees for 1 hour or until golden brown. Cover the crust with foil if it browns too quickly.
Why is my quiche filling watery?
There are several reasons why a quiche can be soggy. Be careful not to overcook or overcook the quiche. Overcooking can actually cause the eggs to separate and pockets of custard to be surrounded by simmering eggs. Be careful at the end of the baking time to avoid overcooking the quiche.
What kind of frying pan do you use for quiche?
The quiche pan has a special design with short and straight sides.used this ceramic quiche panYou can also get Quiche pan with removable bottom.
What's your favorite quiche?
Think of quiche like pizza. It's a blank canvas of your favorite flavor. You just want to make sure you don't overwhelm the egg mixture with too much add-in. A basic ratio is about 1/3 cup add-in to every egg. Here are some of our favorite combinations:
ham & swiss
spinach, feta cheese, sun-dried tomatoes
bacon & gruyere
Caramelized Onions & Mushrooms
Butternut Squash, Kale & Goat Cheese
chicken & asparagus
cheddar and broccoli
sausage, onion, green pepper
green chillies and pepper jack cheese
tomato, corn, onion
spinach, artichoke, monterey jack cheese
fresh basil, tomato, mozzarella
bacon, ham, sausage
prosciutto & ricotta cheese
zucchini & corn
Our Favorite Egg Recipes:
spinach quiche
This savory spinach quiche is a delicious recipe that's not only impressive but easy to make! It's a versatile dish that's perfect for brunch, holiday breakfast, or weekday dinner.
Serving: 8
calorie: 247kcal
1

tablespoon

Olive oil

6

big

egg

1/2

cup

milk

1/2

Moderate

onion

diced

2

cloves

garlic

chopped

1/2

teaspoon

salt

1/4

tea spoon

black pepper

1/4

tea spoon

nutmeg

ground

1/2

cup

cottage cheese

1/2

cup

gruyere cheese

shredded

1/2

cup

Parmesan cheese

shredded

3

cup

fresh spinach

Coarsely chopped

1

pie crust
Preheat oven to 375°F (190°C). Roll out the pie crust and arrange in a 9-inch pie plate.

In a large bowl, whisk together eggs, milk, cottage cheese, salt, pepper and nutmeg.

Heat olive oil in a frying pan over medium heat. Add the diced onion and garlic and cook until soft and fragrant, about 5 minutes.

Add spinach to skillet and cook until tender, about 2 to 3 minutes.

Spoon the spinach mixture into the egg mixture with the grated Gruyere and Parmesan cheeses. Mix until blended. Pour into uncooked pie crust. Sprinkle more cheese on top to make it even more delicious.

Bake for 35-40 minutes or until quiche is set and golden brown. Remove from oven and let cool for 15 minutes before slicing and serving. fun!
calorie: 247kcal | | carbohydrates: 13g | | protein: 13g | | obesity: 15g | | saturated fat: 6g | | Polyunsaturated fat: 2g | | Monounsaturated fat: 7g | | Trans fat: 0.01g | | cholesterol: 154mg | | sodium: 518mg | | potassium: 199mg | | fiber: 1g | | sugar: 2g | | Vitamin A: 1422IU | | Vitamin C: Fourmg | | calcium: 226mg | | iron: 2mg
www.superhealthykids.com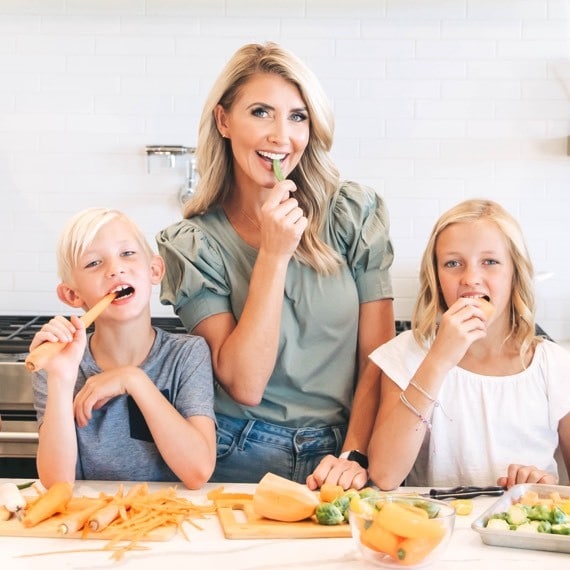 Natalie Monson
I am a Registered Dietitian, mother of four, a food lover and a strong promoter of healthy habits. Here you'll find delicious, fruit- and veg-rich recipes, tips to help your kids eat better and more intuitively, and tons of resources to feed your family.
Learn more about Natalie