This homemade Spanish rice recipe is an easy and delicious side dish. Fluffy and flavorful, they are a great accompaniment to Mexican entrees such as tacos and enchiladas.
I have eaten Spanish rice many times in Mexican restaurants, but it was only this year that I started making this Spanish rice recipe at home. Today's post is PSA. If you haven't made homemade Spanish rice yet, start now. You are seriously missing your chance!
Spanish rice, also known as Mexican rice Aros RojoA type of rice pilaf cooked with onions, garlic, tomatoes, green peppers, and spices. Commonly eaten in northern Mexico and the southwestern United States, it's the perfect accompaniment to simple cooked protein and Mexican dishes such as tacos and enchiladas.
The recipe below is my go-to method for making Spanish rice. It's super easy and results in moist, fluffy, flavorful results every time. We think you will love it.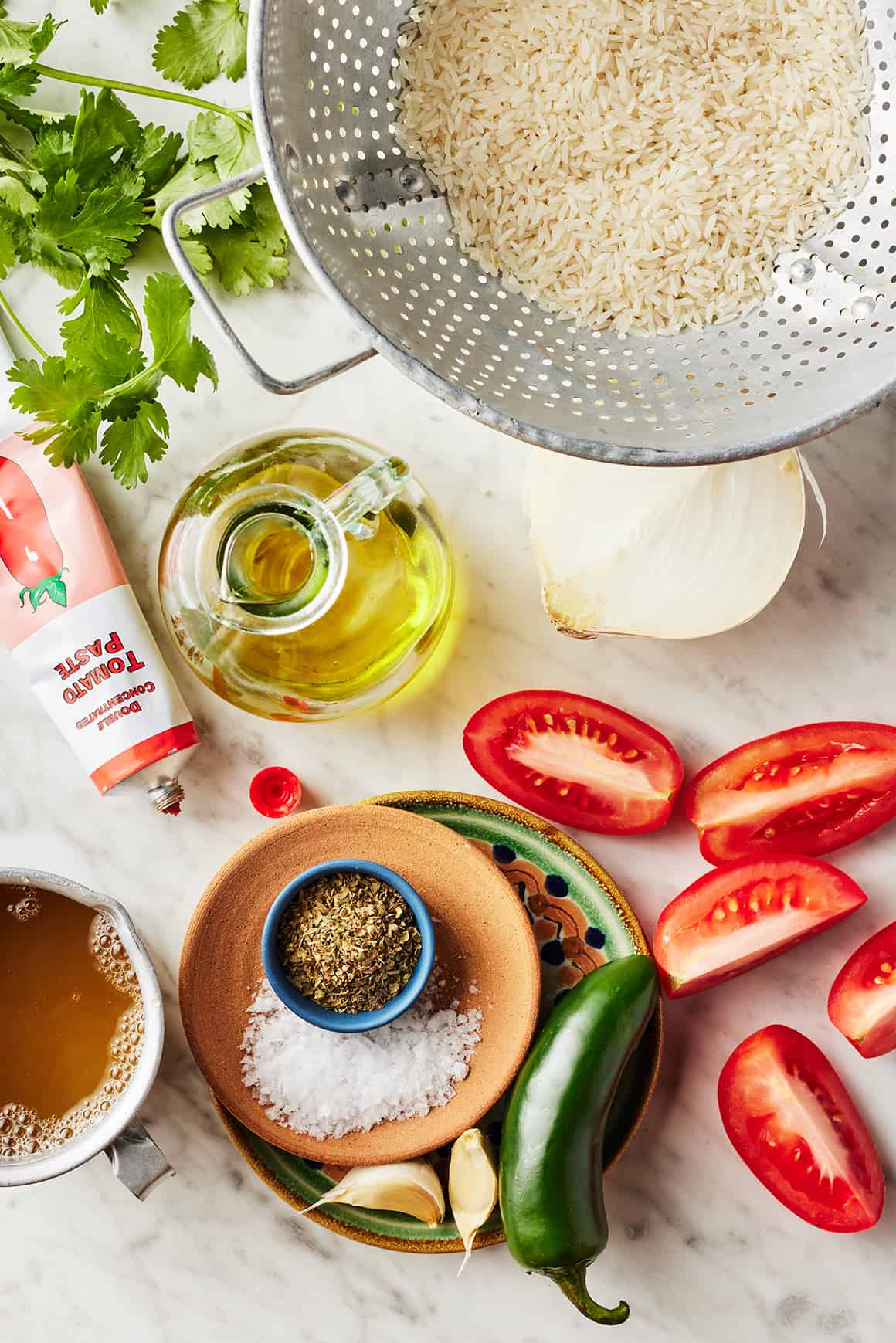 Spanish Rice Recipe Ingredients
Here's what you need to make this easy Spanish rice recipe:
rice, of course! Long-grain white rice, such as basmati, works best for this recipe. You can also use brown rice, but you'll need to increase the amount of broth to 2 cups. Boil the rice for 45 minutes instead of 15 minutes.
onions and garlic – For a savory taste.
extra virgin olive oil – Adds body to the rice and helps all the flavors meld together. Please use neutral cooking oil such as avocado oil or canola oil according to your preference.
tomato paste, diced fresh tomatoes or canned tomato sauce – Gives the rice its characteristic red color and adds a zesty tomato flavor. You can also use diced fresh tomatoes or canned tomato sauce. Either option works fine.
jalapeno pepper – for subtle heat and attractive green flecks. If you don't like spicy food, use 1/4 cup chopped green bell peppers instead of jalapeños.
dried oregano – I use this dried herb in many of my favorite Mexican dishes. It gives the rice a rustic depth.
vegetable soup – You can inject water, but the rice is more flavorful when cooked in dashi broth. Use store-bought or make a homemade vegetable soup.
and sea salt – To make every flavor pop!
Check out the full recipe with measurements below.
how to make spanish rice
Mexican rice recipe is so easy! Here's what it looks like:
First, wash the rice. This is always the first step when I cook rice as it removes the starch that causes the rice to clump. Place in a fine-mesh colander over the bowl and rinse under cold running water until the water in the bowl runs clear.
Then fry the onions and then the rice. Heat the olive oil in a medium pot or Dutch oven over medium heat. Add onions and cook until soft and translucent, about 5 minutes.
Add the rice and cook, stirring often, until fragrant, 2 more minutes.
Then add the rest of the ingredients. Add the tomato paste and garlic and stir, then add the diced tomatoes or tomato sauce, jalapeños, salt, and oregano.
Pour in the broth and bring to a boil.
Lower the heat and cover the pot, boil rice Cook for 15 minutes or until rice is soft and liquid is absorbed.
Finally, steam the rice. Remove from heat and let stand covered for 10 minutes.
Preparation is complete! Use a fork to loosen the cooked rice and enjoy.
what to eat with mexican rice
What do you like best with Mexican rice? Mexican food! Makes a delicious accompaniment to these Mexican-inspired recipes.
Here are some even better uses.
How about Mexican rice? Let us know in the comments!
Precautions for storage
Leftover Spanish rice can be stored in the refrigerator for 4 days. To reheat, add a little water or vegetable broth and heat in the microwave or stovetop.
Rice cools well. Store in an airtight container or bag in the freezer for up to 3 months. Thaw overnight in the microwave or refrigerator.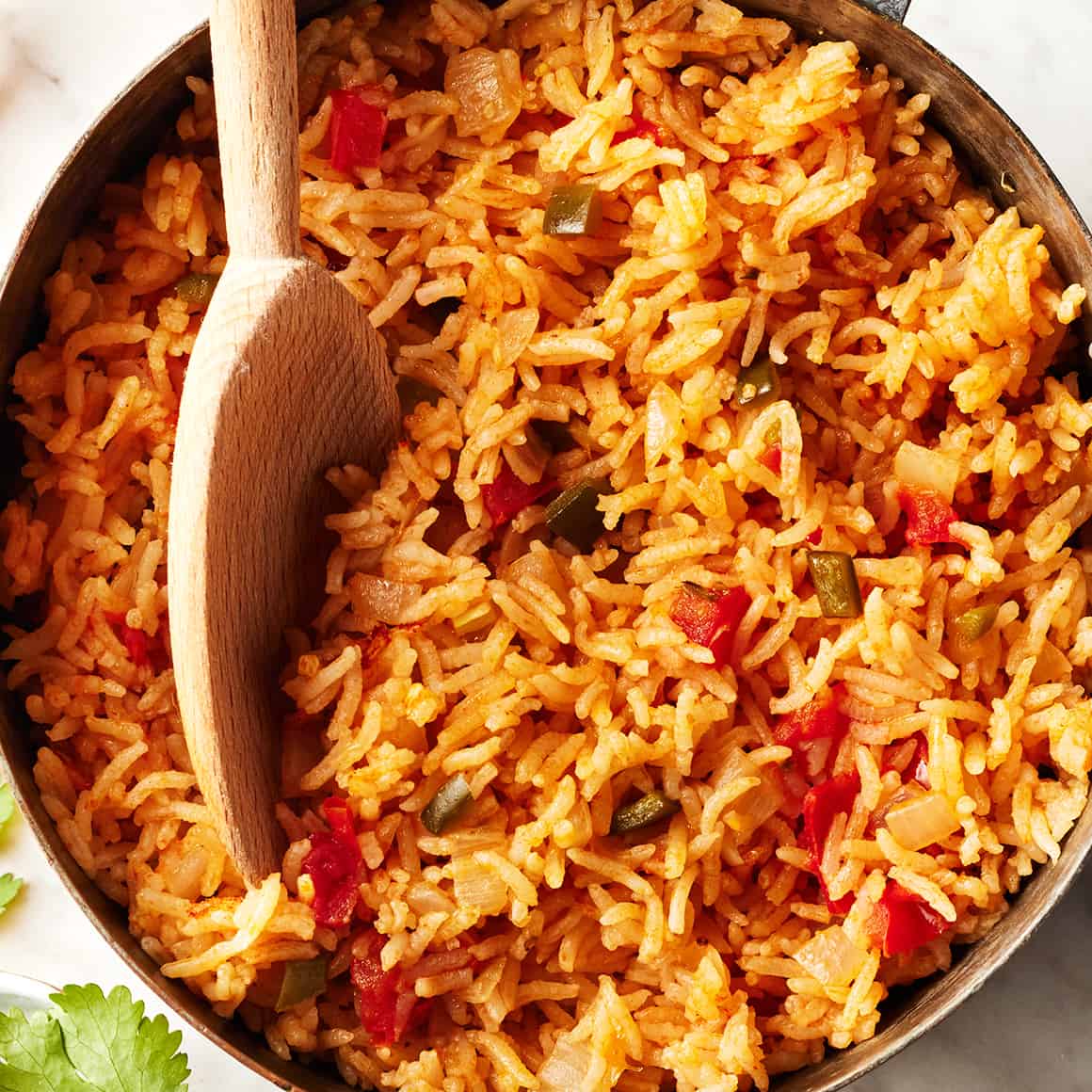 See more of your favorite rice recipes
If you like this Spanish rice recipe, try one of these simple rice dishes.
Spanish rice
to service Four
Learn how to make Spanish rice! This recipe is super easy to make, and the fluffy, flavorful rice is perfect as a main side dish for tacos, enchiladas, and other Mexican dishes.
Heat olive oil in a medium Dutch oven or pan. Add onions and cook for 5 to 8 minutes or until softened. Add rice and cook for 2 minutes or until fragrant and toasted.

Add tomato paste and garlic, stir, add fresh tomatoes, jalapeños, salt, oregano, and broth. Bring to a boil. Cover, reduce heat, and simmer for 15 minutes or until liquid is absorbed.

Remove from heat and let stand covered for another 10 minutes. Fluff with a fork.