If you're looking for an easy, crowd-pleasing breakfast, there's a solution: sheetpan pancakes! We've added 4 delicious topping variations and packed it with fruits and veggies. An easy, healthy family breakfast that tastes great!
Why We Love These Sheet Pan Pancakes
Pancakes are very classic. But I hate taking care of them as much as I love them.
Enter these fantastic, game-changing sheet pan pancakes. Whisk a batch of dough, pour onto a rimmed baking sheet, add delicious toppings (totally optional!), and away you go. Just cut and serve. We can all sit down and eat! ! Not only that, but it's a blank canvas of delicious flavor combinations that should please everyone in the house.
I added veggies because I love to fortify my kids' favorite foods. I promise they don't even know they're there! You can use any pancake recipe you really like. However, this recipe is calculated to fit perfectly on a 10-by-15-inch rimmed baking sheet.
Ingredients for sheet pan pancakes:
pancake:
butter
zucchini
Carrots
milk
apple sauce
egg
vanilla extract
Maple syrup
butter
flour
Baking powder
salt
topping:
bananas, chopped walnuts, brown sugar
sliced ​​strawberries and peanut butter
blueberry & cream cheese
chocolate chips
How to make sheet pan pancakes:
Grate Zucchini and carrots; place in food processor bowl.
addition Milk, applesauce, eggs, maple syrup, melted butter, vanilla. pulse to combine.
whisk Mix flour, baking powder, and salt in a bowl.
pour it up Place the wet mixture in a bowl with the dry ingredients and stir until blended.
expansion Place pancake batter onto a greased rimmed baking sheet.
addition If desired, top the pancakes according to the picture.
bake Bake at 425 degrees for 13-15 minutes or until lightly browned.
sliceserve and enjoy!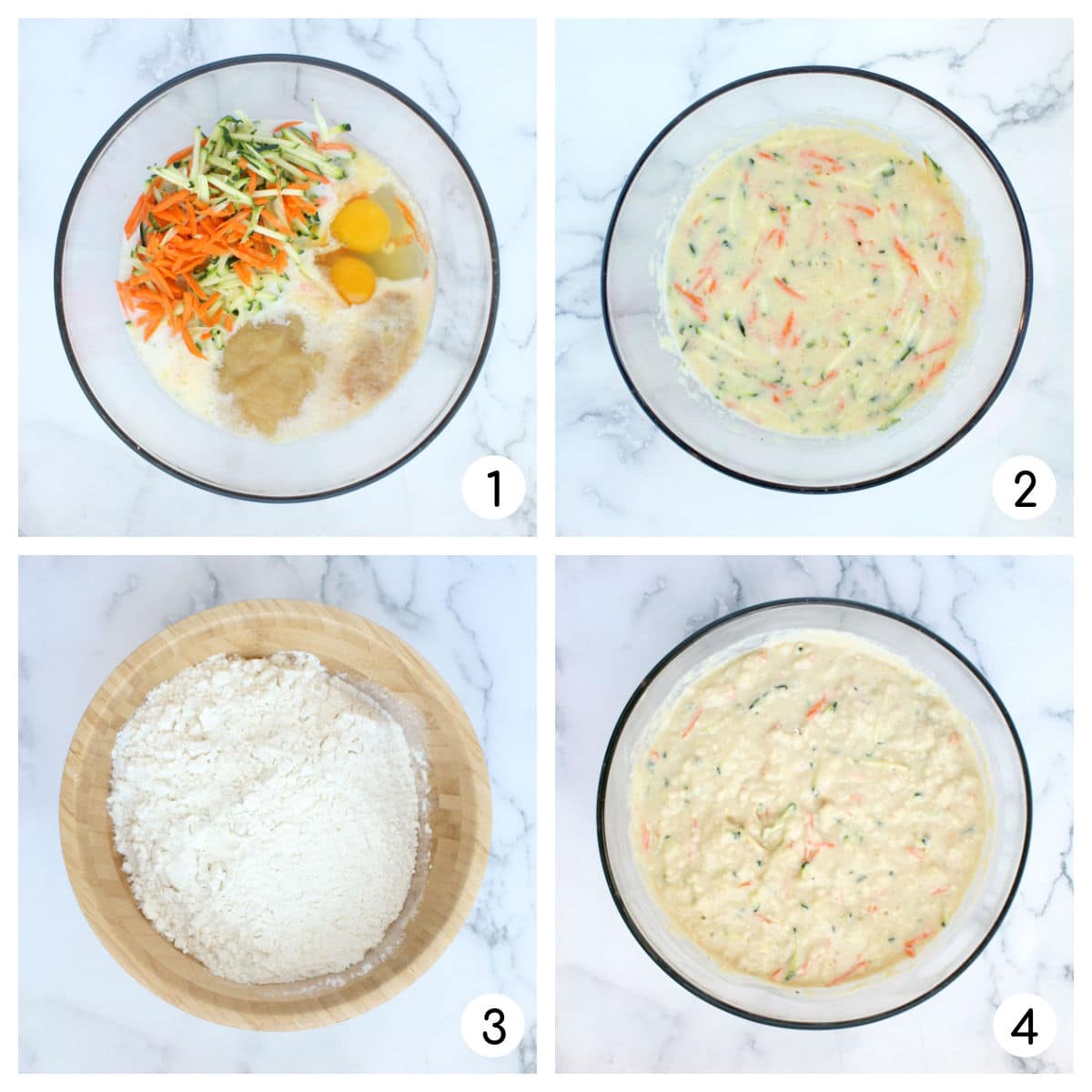 Tips and Suggestions:
Can pancake mix be used for sheet pan pancakes?
of course! This recipe is formulated to fit on a 10-by-15-inch baking sheet, but if you want to use pancake mix, make sure the batter is only about halfway down the sides to avoid spilling.
Can I make sheet pan pancakes in advance?
Bake the dough immediately after mixing. However, it can also be baked the night before and reheated when ready to serve.
What other toppings can I use for sheet pan pancakes?
You are only limited by your creativity! Experiment with different flavor combinations including peaches, plums, raspberries, chopped nuts, dried fruits, Nutella, granola, coconut, diced apples, cinnamon spice and more! .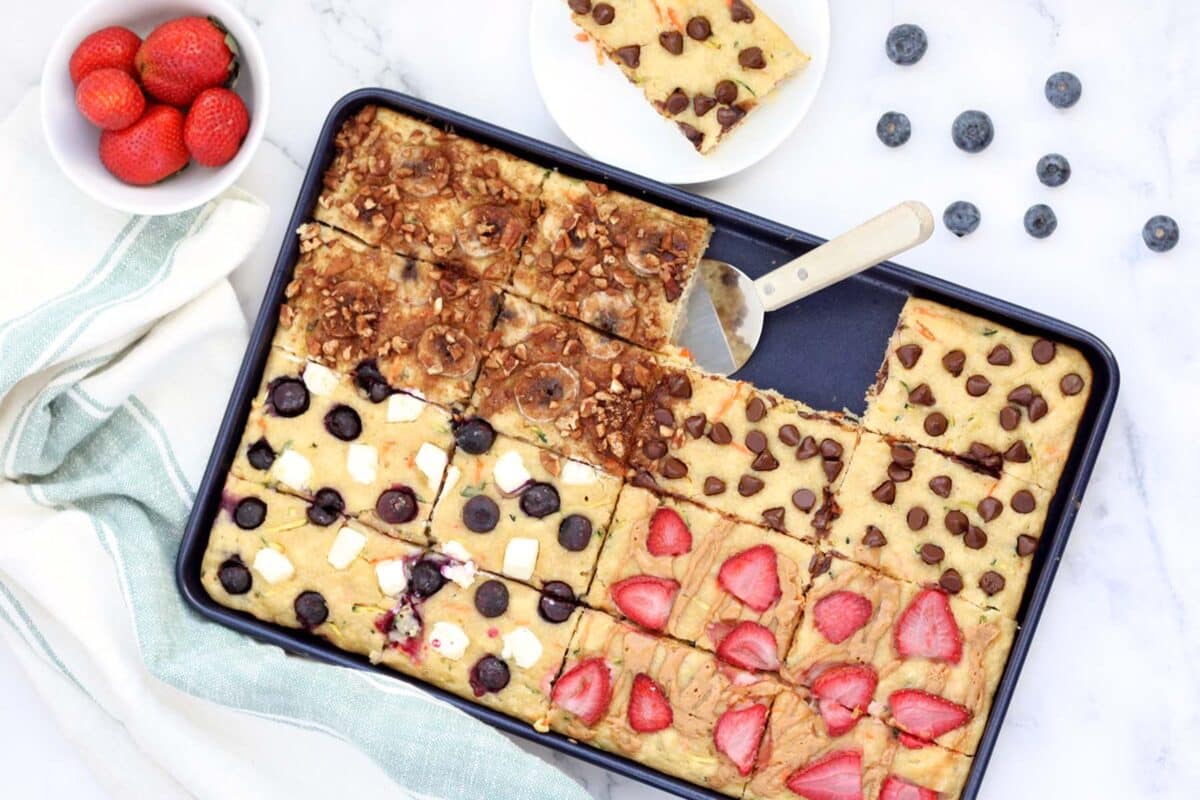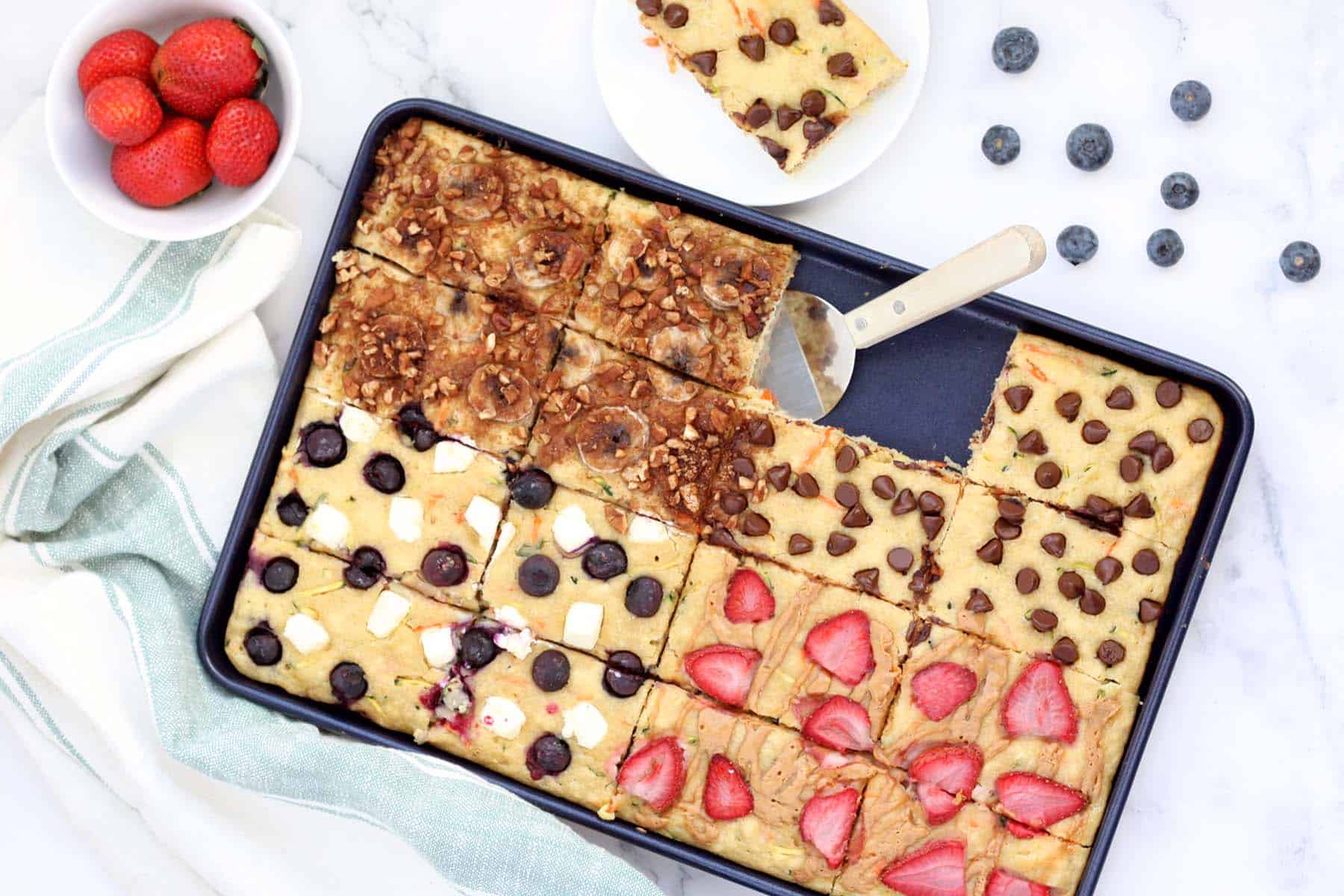 More delicious pancake recipes: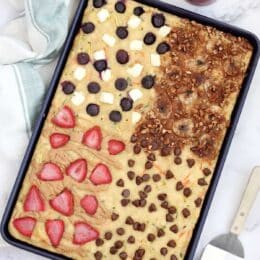 1/2

cup

zucchini

Grate

1/2

cup

Carrots

Grate

1

cup

milk

3/4

cup

applesauce, sugar free

3

big

egg

2

tablespoon

Maple syrup

1/4

cup

butter

melted

2

tea spoon

vanilla extract

3

cup

flour

2 1/2

tea spoon

Baking powder

1

tea spoon

salt
topping
1/2

Moderate

banana

sliced

2

tablespoon

walnut

chopped

1

tablespoon

brown sugar

packed

2

tablespoon

peanut butter

melted a little

1/2

cup

strawberry

sliced

1/2

cup

blueberry

2

ounce

Cream cheese

cut into bite size pieces

1/4

cup

chocolate chips
Preheat oven to 425 degrees. Line a 10-by-15-inch sheet pan with foil. Spray with nonstick cooking spray.

Add grated zucchini, grated carrots, milk, applesauce, eggs, maple syrup, melted butter, and vanilla to the bowl of a food processor. pulse to combine.

In another bowl, mix the flour, baking powder, and salt. Add wet mixture and stir until blended.

Pour the pancake batter onto the prepared baking sheet and spread the batter.

Put a sliced ​​banana on one corner of the dough. In a small bowl, mix the chopped walnuts and brown sugar together and sprinkle over the bananas.Spread another corner of the pancake with the peanut butter and top with the sliced ​​strawberries. In the third corner add cubes of blueberries and cream his cheese. Sprinkle chocolate chips on the last corner.

Bake in preheated oven for 13-14 minutes, until lightly browned. Enjoy as is or drizzle with maple syrup.
calorie: 269kcal | | carbohydrates: 37g | | protein: 7g | | obesity: 11g | | saturated fat: Fiveg | | Polyunsaturated fat: 2g | | Monounsaturated fat: 3g | | Trans fat: 0.2g | | cholesterol: 62mg | | sodium: 371mg | | potassium: 209mg | | fiber: 2g | | sugar: Teng | | Vitamin A: 1204IU | | Vitamin C: 6mg | | calcium: 108mg | | iron: 2mg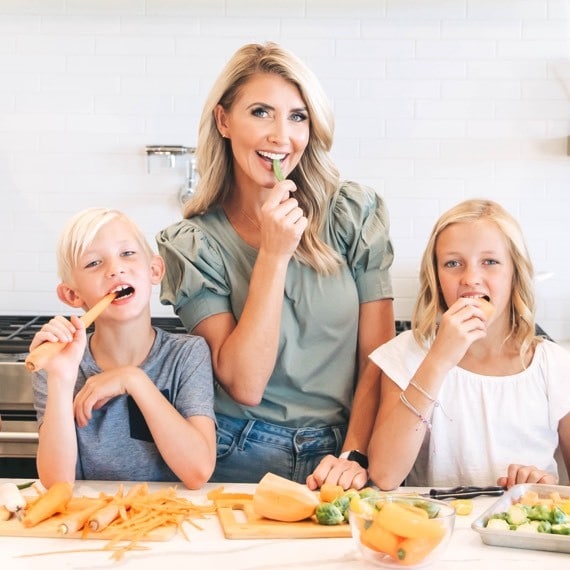 Natalie Monson
I am a registered dietitian, mother of four, a food lover and a strong promoter of healthy habits. Here you'll find delicious, fruit- and veg-rich recipes, tips to help your kids eat better and more intuitively, and tons of resources to feed your family.
Learn more about Natalie