If you buy big packs of power greens at Costco, this cheesy power greens breakfast casserole is a great way to use them. And I love starting the day with the healthy help of vegetables!
Pin Power Greens Breakfast Casserole to try later!
I love the power greens mix of chard, kale, and spinach I got at Costco. It may come as no surprise that it's one of my favourites. And I used feta and mozzarella to make a flavorful cheesy breakfast casserole.
The first time I made my own recipe, I made it 4 times in a row, so it's my favorite recipe! Then one weekend when my foodie friend Sean stayed over at my house when he was in town and gave him leftovers from breakfast, he gave the recipe a thumbs up. That's when he realized he had to take a picture and share this recipe on his blog!
I actually used a pound of power greens mix for this, which helped balance out the generous amount of cheese! If you want to start healthy with vegetables, please try it!
What are the required ingredients?
power green mix
Olive oil (affiliate link)
mozzarella cheese
feta cheese
green onion
spike seasoning (affiliate link), or other all-purpose seasoning blends
freshly ground black pepper
egg
What is power green?
Power Greens is a brand name for a mix of bagged greens that includes chard, kale, spinach, and sometimes a few other greens.
Can I use other types of cheese in this recipe?
I loved the combination of feta and mozzarella that made a delicious cheesy power greens breakfast casserole. Any type of white cheese will be delicious here.
Other Recipes that Use Power Greens: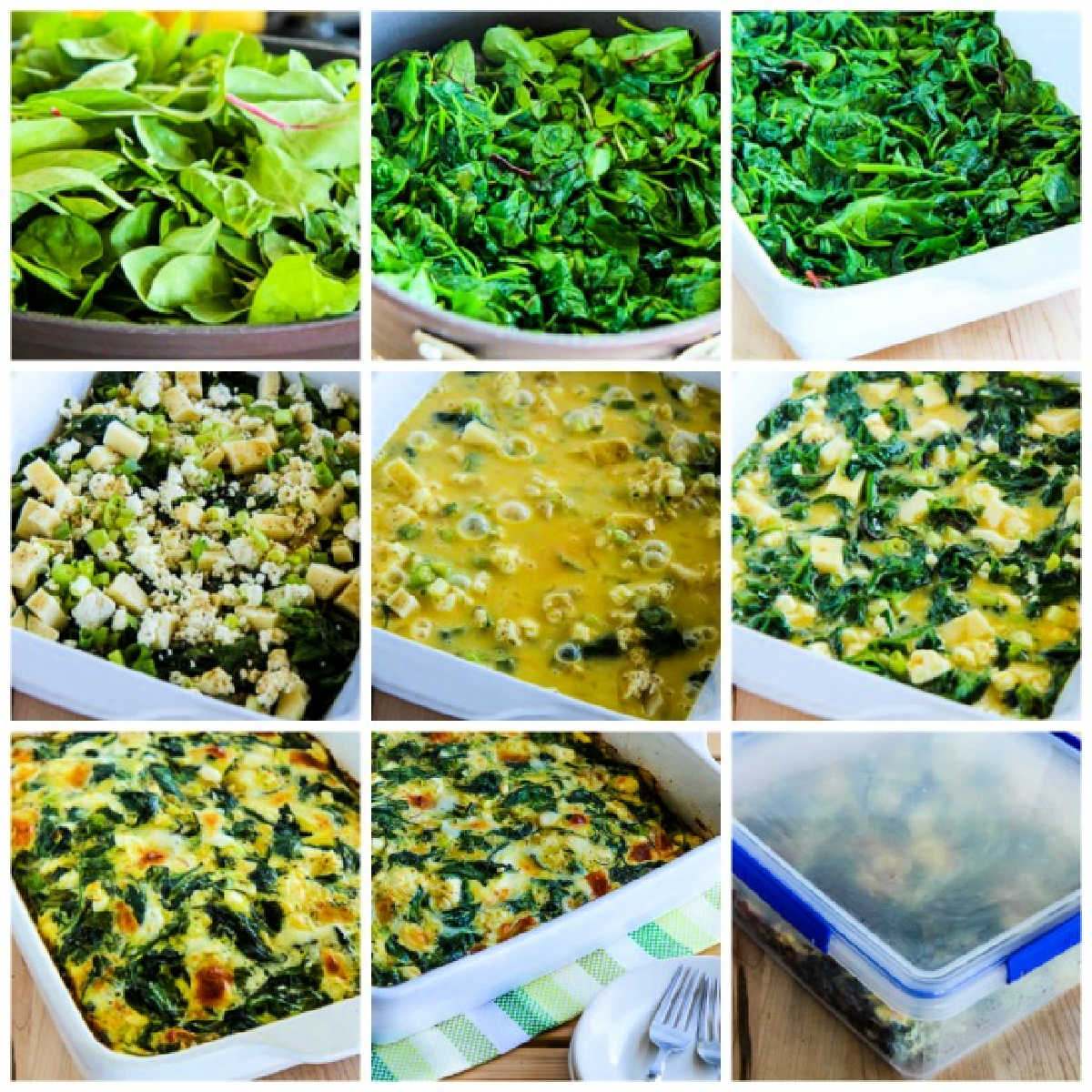 How to make a power greens breakfast casserole:
(This is just a summary. Scroll down for the full printable recipe with nutritional information.)
I buy my Power Greens mix from Costco, but a quick google search reveals that there are many companies that make similar greens mixes.
Heat the olive oil in a large frying pan and add the vegetables all at once.
Then use a large turner and turn it over and over until all the greens are wilted.
Place the wilted vegetables in a large glass or ceramic casserole dish that has been sprayed with olive oil or nonstick spray.
Spread the crushed feta cheese, mozzarella cubes, and sliced ​​green onions over the wilted vegetables.
Season with freshly ground black pepper to taste spike seasoning (affiliate link) Or, if you don't have spikes, use your favorite seasoning blend that goes well with eggs.
Beat the eggs until the yolks and whites are well mixed and pour over the greens and cheese.
I like to use a fork to "stir" the mixture so I can see all the ingredients on top of the casserole.
Bake at 375°F for about 40-45 minutes or until desired browning and serve hot.
After making a large casserole like this, I use this container with a snap-tight lid to store leftovers in the fridge so I can enjoy this as breakfast for several days.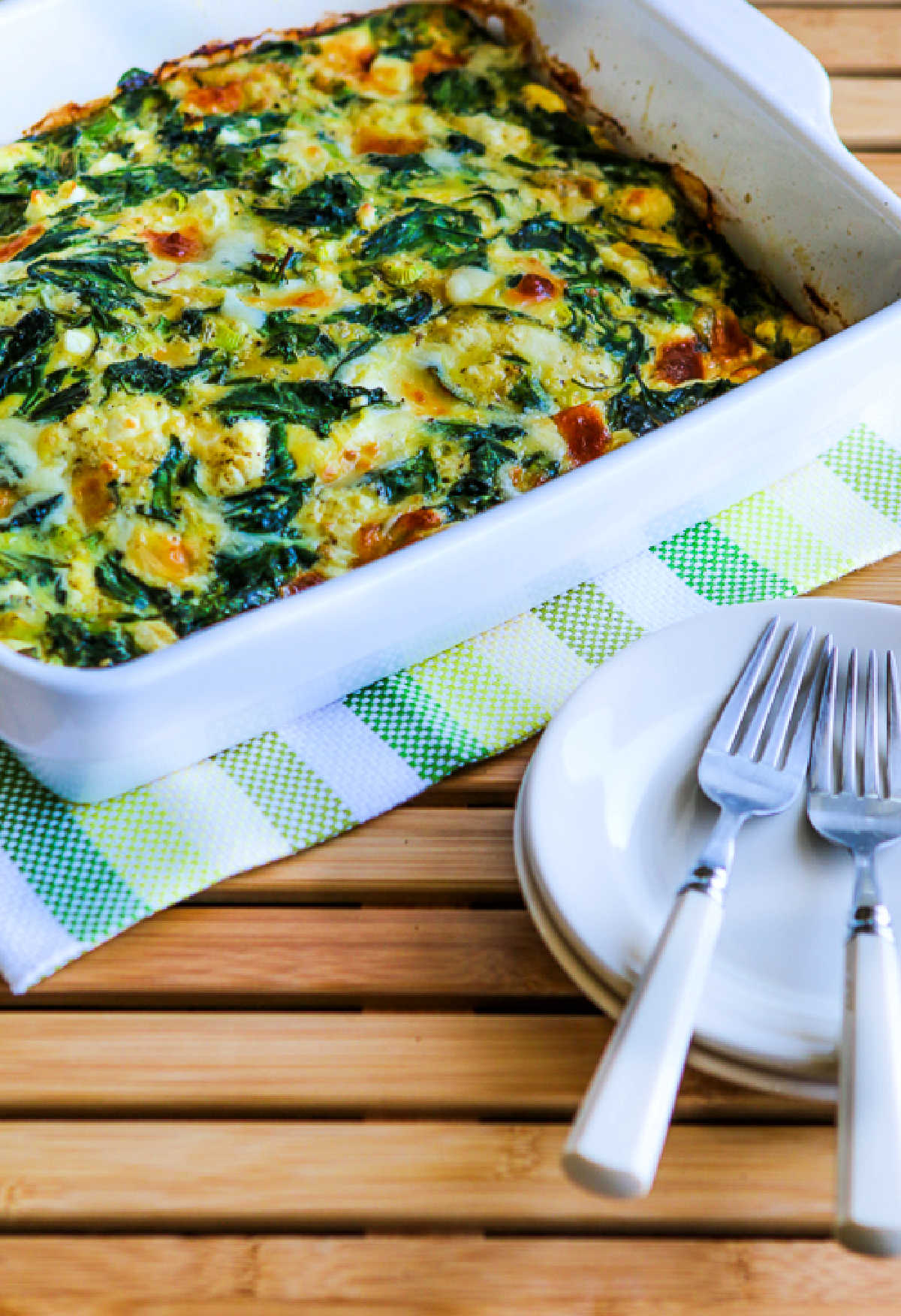 More breakfast ideas with vegetables:
Need an even lower carb breakfast casserole?
Check out my master recipes for low-carb and keto breakfast casseroles and bake breakfast from what's in your fridge. .
Weekend Meal Prep:
This recipe has been added to the category called Weekend Meal Preps. Here you can find recipes that you can prepare or cook on weekends and eat on weekdays!
material
1 lb of power greens mix (see note)

2 tsp olive oil (more or less, depending on your pan)

6 oz. mozzarella cheese, cut into 1/2-inch cubes (see note)

4 oz.feta cheese (shredded)

1/2 cup chopped green onions

Spike seasoning as desired

freshly ground black pepper

14 eggs
instructions
Preheat oven to 375F/190C. Spray a large glass or ceramic casserole dish with olive oil or nonstick spray. (My dish was 10″ x 13″. If you don't have a dish close to that size, reduce the recipe a bit.)
Heat a little olive oil in a large nonstick skillet with the sides elevated. Turn the heat up to high and add the greens all at once, then immediately turn over with a large turner until the greens are tender. (This should only take a minute or two. Watch carefully.)
Place the wilted vegetables in the bottom of the casserole dish.
Cut the mozzarella into cubes about 1/2 inch square (alternatively, you can use grated mozzarella, but I prefer cheese nuggets that melt from the mozzarella cubes).
Crush the feta cheese and slice the leeks into 1/2 cup pieces.
Sprinkle mozzarella cheese, feta cheese and sliced ​​green onions over the vegetables.
season the mixture spike seasoning (affiliate link) and freshly ground black pepper. (Don't use salt, feta is salty enough.)
Beat eggs until yolks and whites are well blended and pour into greens and cheese mixture. Use a fork to gently 'stir' the mixture so that the vegetables, eggs and cheese are evenly distributed.
Bake 35 to 40 minutes or until mixture is fully set and top is browned to your liking.
Serve hot with a dollop of sour cream if desired.
This will keep in the refrigerator for at least a week and reheat well.
Note
For this recipe, I used a blend of kale, chard, and spinach.
Use either low-fat mozzarella or full-fat mozzarella, whichever you prefer.
Karin's recipe.
Nutrition Facts Table:
yield:
8

Serving size:
1

Amount Per Serving:
calorie: 258Total Fat: 18gsaturated fat: 8gUnsaturated fat: 8gcholesterol: 355mgsodium: 445mgcarbohydrate: 6gfiber: 3gsugar: 2gprotein: 19g
The Recipe Plug-In I use automatically calculates nutritional information. I am not a nutritionist and cannot guarantee 100% accuracy as many variables affect the calculations.
Low Carb / Low Glycemic / South Beach Diet Suggestions:
This Power Greens Breakfast Casserole contains healthy, low-carb ingredients and is perfect for any phase of your low-carb, keto, or original South Beach diet. South Beach recommends low-fat cheese, while other low-carb diet plans will prefer full-fat dairy.
Find more recipes like this:
Use our breakfast recipes to find more recipes like this. Use the diet type index to find recipes that are suitable for specific meal plans.I also recommend following Karin's Kitchen on Pinterest, on facebook, on Instagram, on TikTokAlso on youtube To see all the good recipes I'm sharing there.
Historical notes for this recipe:
I started buying the Power Greens mix in 2014. That's when I first made this delicious breakfast casserole. The recipe was last updated with details in his 2022.
Share this:
The Amazon Services LLC Associate Program is an affiliate promotion program designed to provide a means to earn commissions by linking to Amazon.co.jp and affiliate sites. As an Amazon Associate, I earn income from qualifying purchases.