Packed with whole grains and legumes, this one-pot lentil and rice is a flavorful, healthy, and easy side dish! Lentil and rice cooked together in one pot to feed a crowd.
Why I love lentils
We don't want to get all sensational here, but lentils have a little secret. Packed with protein, fiber, iron, vitamins and minerals, these humble legumes are great for our health at all ages and stages. , lentils are also delicious!
We want our kids to eat all lentils.
Making this delicious side dish is as easy as cooking rice. But here you can get something special. Great nutrition. The texture is voluminous but light. Broths and bright herbs add depth and freshness.
Pair these lentils and rice with grilled chicken or fish and green salad for a perfectly balanced and delicious family dinner.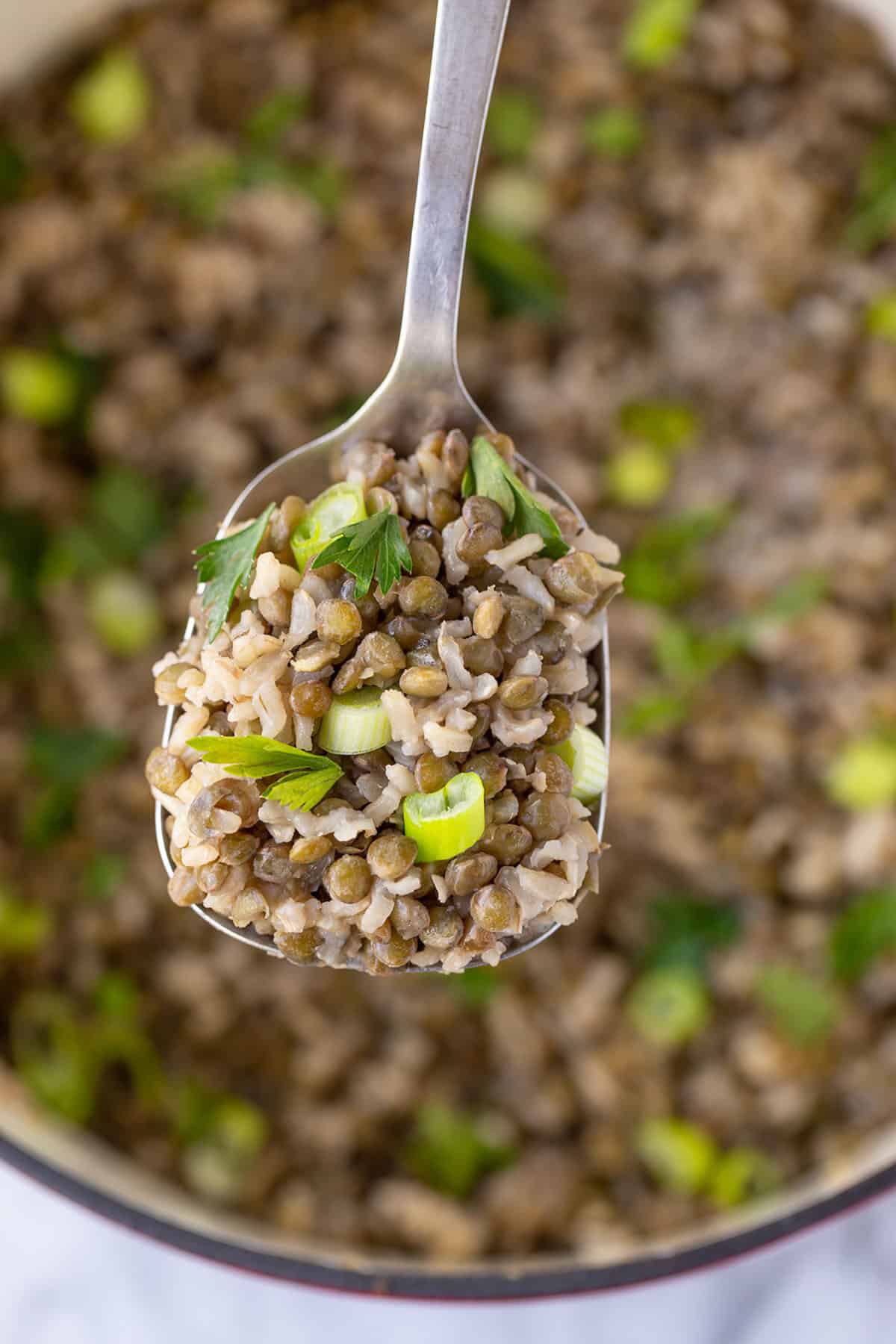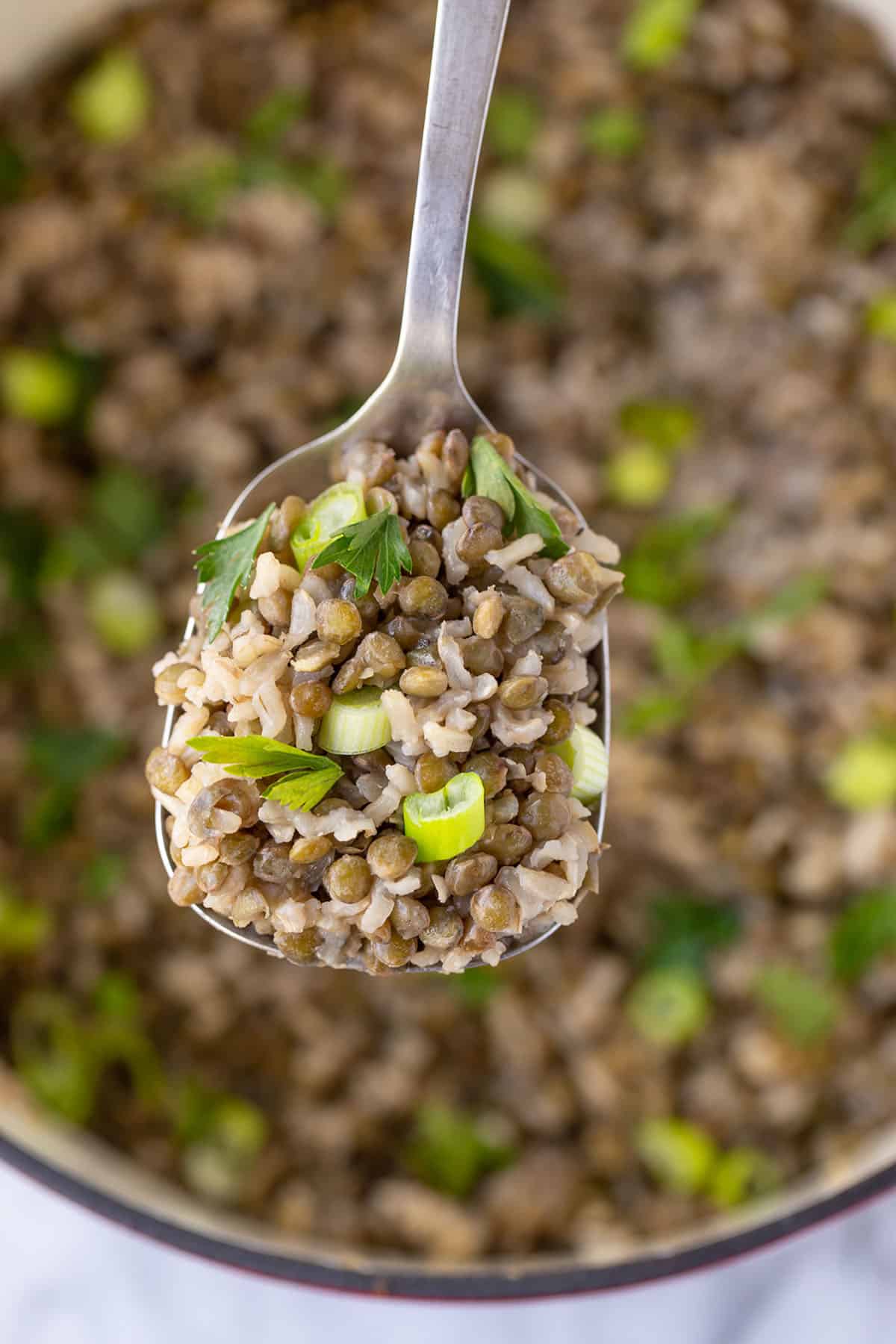 Are lentils and rice good for you?
Here's a breakdown of why we love serving this dish to our kids (and ourselves).
One-half cup of lentils provides 9 grams of protein (more than an egg), or one-third of your daily fiber intake, and nearly half of your daily recommended amount of folic acid.
True to its whole grain goodness, brown rice is also rich in fiber, along with minerals such as manganese and selenium, and B vitamins.
Can we talk about fresh herbs? Parsley and scallions are not only flavorful but also nutritionally powerful. These herbs are rich in vitamins and antioxidants.Parsley is A healthy heart, liver and immune system.
Short version: Eat! This side is full of nourishment.
Ingredients needed for brown lentils and rice
brown rice – Short grain brown rice works best for this recipe
lentil – French lentils are the best. They are a variety of green lentils, but a little darker and smaller.
chicken broth
butter – salt free
garnish – fresh parsley and green onions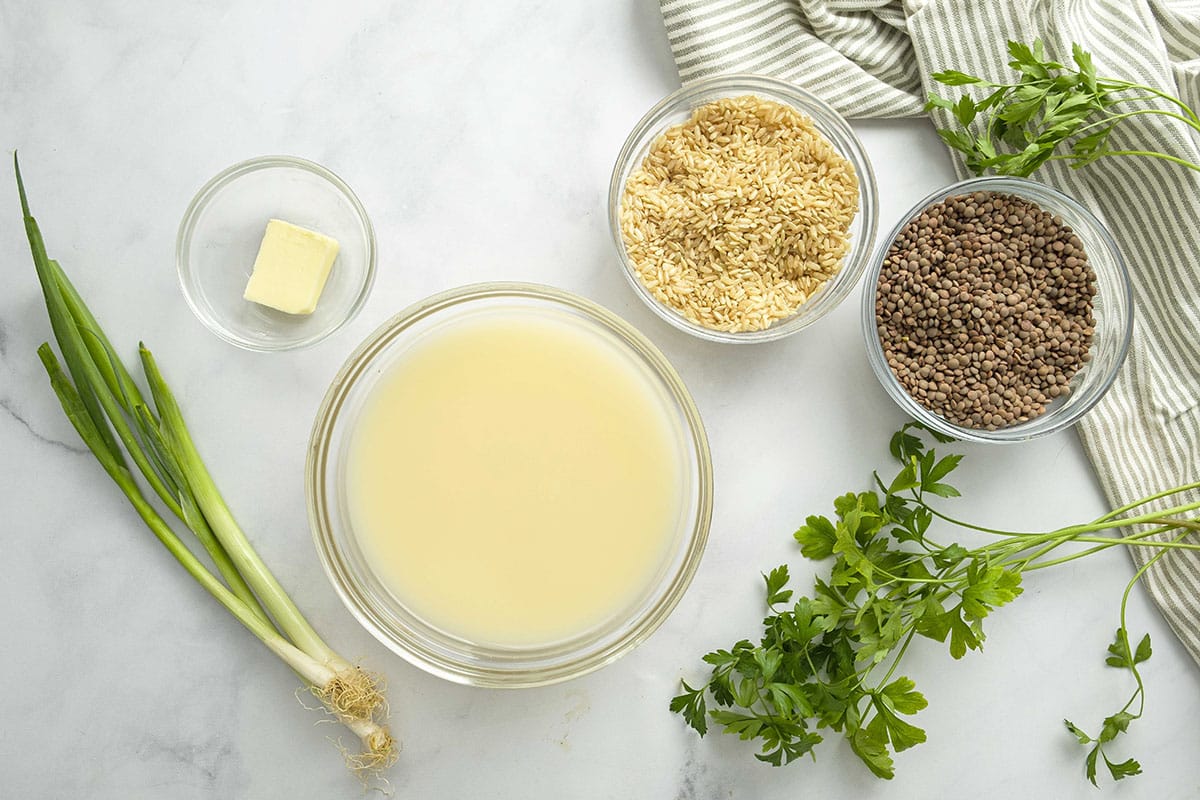 Tips for making the best lentils and rice
I have tested this recipe many times. But "tested" is not the right word.really we just kept making, Because it was so delicious every time and I wanted to eat it all the time. But in the course of this remake, I've learned a lot of tips and tricks that help me make lentils and rice perfect.
French lentils work best here. They are of small, greenish-brown marble. Holds its shape better than regular green or brown lentils.
Choose a stock or soup that really tastes like you really like it. Taste it. Homemade is great, but your favorite store-bought brand is fine too.
Leave the lentils and rice alone. Stirring releases starch into the broth, making the whole mixture sticky and less appetizing.
Adjust the amount of liquid as needed. Several variables can change the amount of broth needed to soften the lentils and rice. Add a splash if the pan seems dry in the middle of cooking.
Wait until the end and add herbs. You want it as fresh as possible.and don't stir too vigorously
If your child is skeptical of herbs, keep them in a dish on the side. Each person at the table can sprinkle whatever they like, or refrain from doing so.
Add delicious extras. This dish pairs well with many flavors. Feel free to add whatever you have on hand, such as cooked chicken, beef, or roasted vegetables.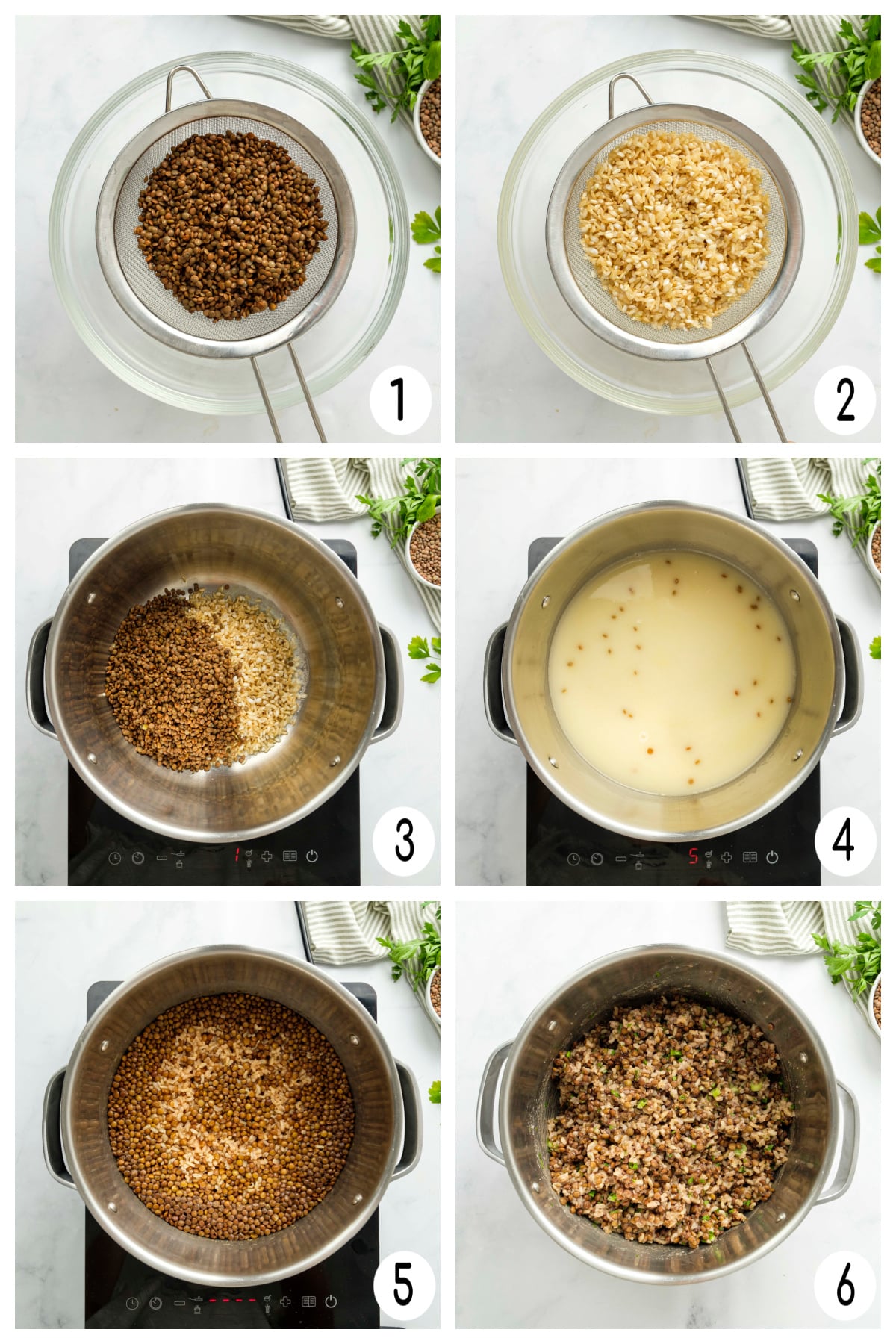 What do you serve with lentils and rice?
This dish is extremely versatile. The flavor of lentils and rice itself is very flexible and can be paired with many different dishes without any discomfort. Below are some simple sample menu plans.
Grilled chicken, green salad, lentils and rice.
Instant pot salmon, steamed carrots, lentils and rice.
Indian butter chicken, roasted cauliflower, lentils and rice.
Lentil and rice, fresh fruit salad and sautéed spinach.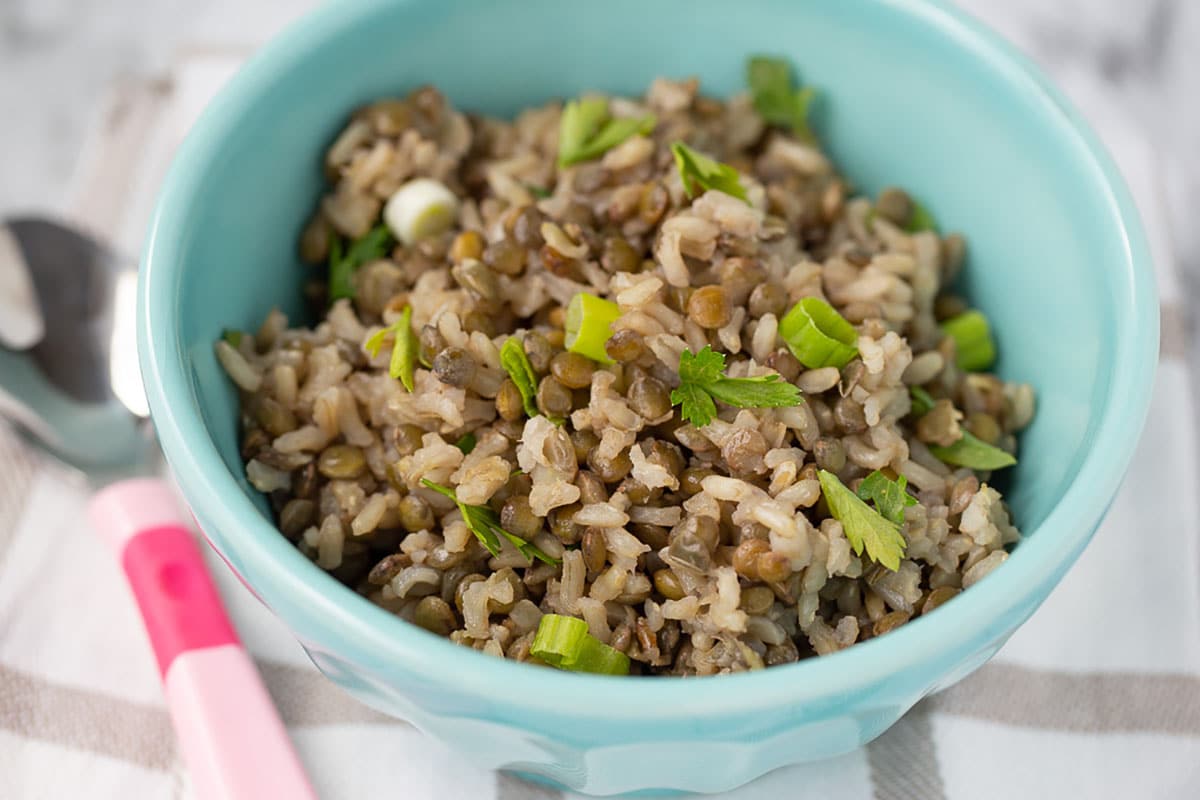 healthier side
Rinse the rice (we prefer long grain brown rice) and lentils in 3 changes of water. Drain well.

In a large saucepan over medium heat, melt the butter. Add the drained rice and lentils and toss until well coated.

Add broth and bring to a boil. Reduce heat to low, cover and simmer undisturbed for 30 to 40 minutes, until broth is mostly absorbed and rice and lentils are tender.

Remove from heat and let rest for 5-10 minutes, then fluff with a fork. (Avoid vigorous stirring as it will make it too creamy. Rice and lentils are best when the grains are soft but separate.)

Add parsley and green onions and serve.
calorie: 382kcal | | carbohydrate: 67g | | protein: 17g | | thick: 6g | | saturated fat: 2g | | cholesterol: 13mg | | sodium: 954mg | | fiber: 7g | | sugar: 2g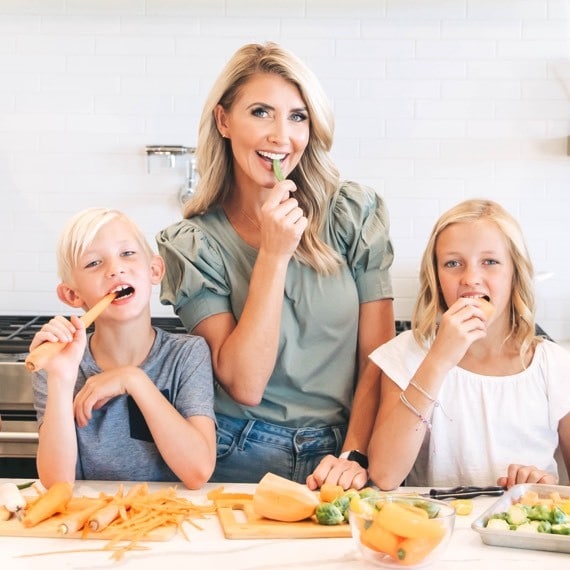 Natalie Monson
I am a Registered Dietitian, mother of four, a food lover and a strong promoter of healthy habits. Here you'll find delicious, fruit- and veg-rich recipes, tips to help your kids eat better and more intuitively, and tons of resources to feed your family.
Learn more about Natalie