Our immune-boosting smoothies are packed with superfoods known for their immune-boosting properties. The berry, mango, and pomegranate flavors are a hit with picky eaters. Boost your immune system this winter with our anti-influenza super smoothie!
The superfood behind immune-boosting smoothies
Good nutrition can keep children from getting infected with all the bugs that are prevalent this winter. There are smoothies with superfoods that not only provide extra protection, but also help you recover faster if you do get sick.
spinach
Green flowering vegetables such as kale, cabbage, and broccoli are considered cruciferous vegetables. Blending cruciferous vegetables in a smoothie blender breaks down the cell walls causing a chemical reaction that has been shown to have powerful immune-boosting effects. is shown.
I used spinach in my smoothie (for those who want a cabbage smoothie).
pomegranate
I used pomegranate juice in this smoothie.
Pomegranate juice and seeds have antioxidant and anticancer effects, including interference with tumor cell proliferation, life cycle invasion, and angiogenesis. Research over the past decade has shown pomegranate benefits in treating and preventing cancer, cardiovascular disease, bacterial infections, and UV-induced skin damage.
berry
Brightly colored berries such as raspberries, blackberries, and blueberries have similar benefits to pomegranates. There are many studies showing the ability of dark berries to inhibit tumor growth in cancer patients. However, it is possible that dark berries can also block viruses, although more research is needed!
linseed
I used flaxseed in my smoothie. Flaxseeds offer amazing benefits from omega-3 fatty acids alone, but they also contain powerful immune boosters called lignans. They bind to estrogen receptors, interfere with cancer, and have powerful antioxidant properties.
mango
Mangoes contain over 20 vitamins and minerals, making them a clear superfood. These are great sources of Vitamin C, which is known to support a healthy immune system.
Other superfoods I didn't include in my smoothie (for obvious reasons) are mushrooms, garlic, and onions. That way, you'll get all the benefits of these immune-boosting superfoods!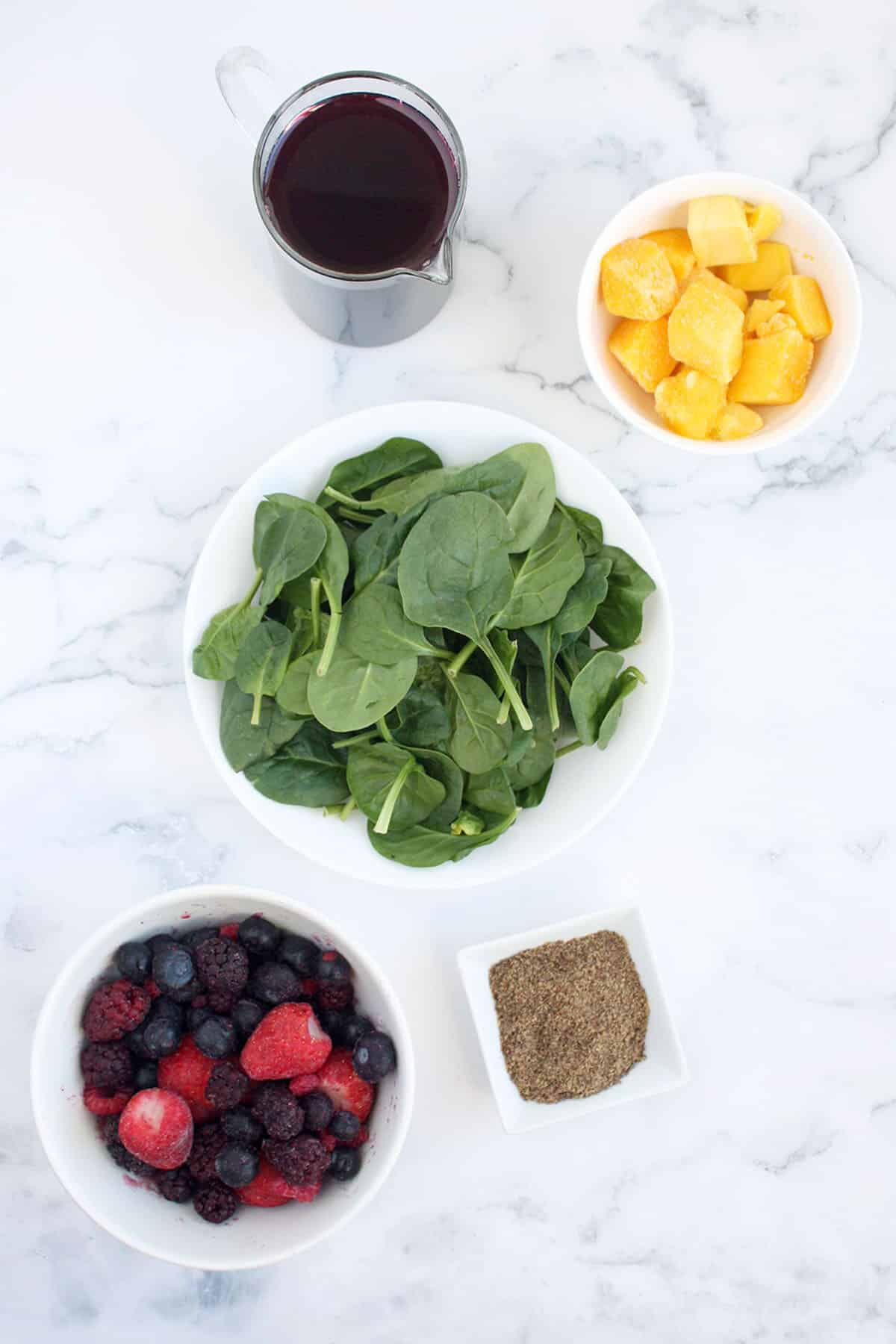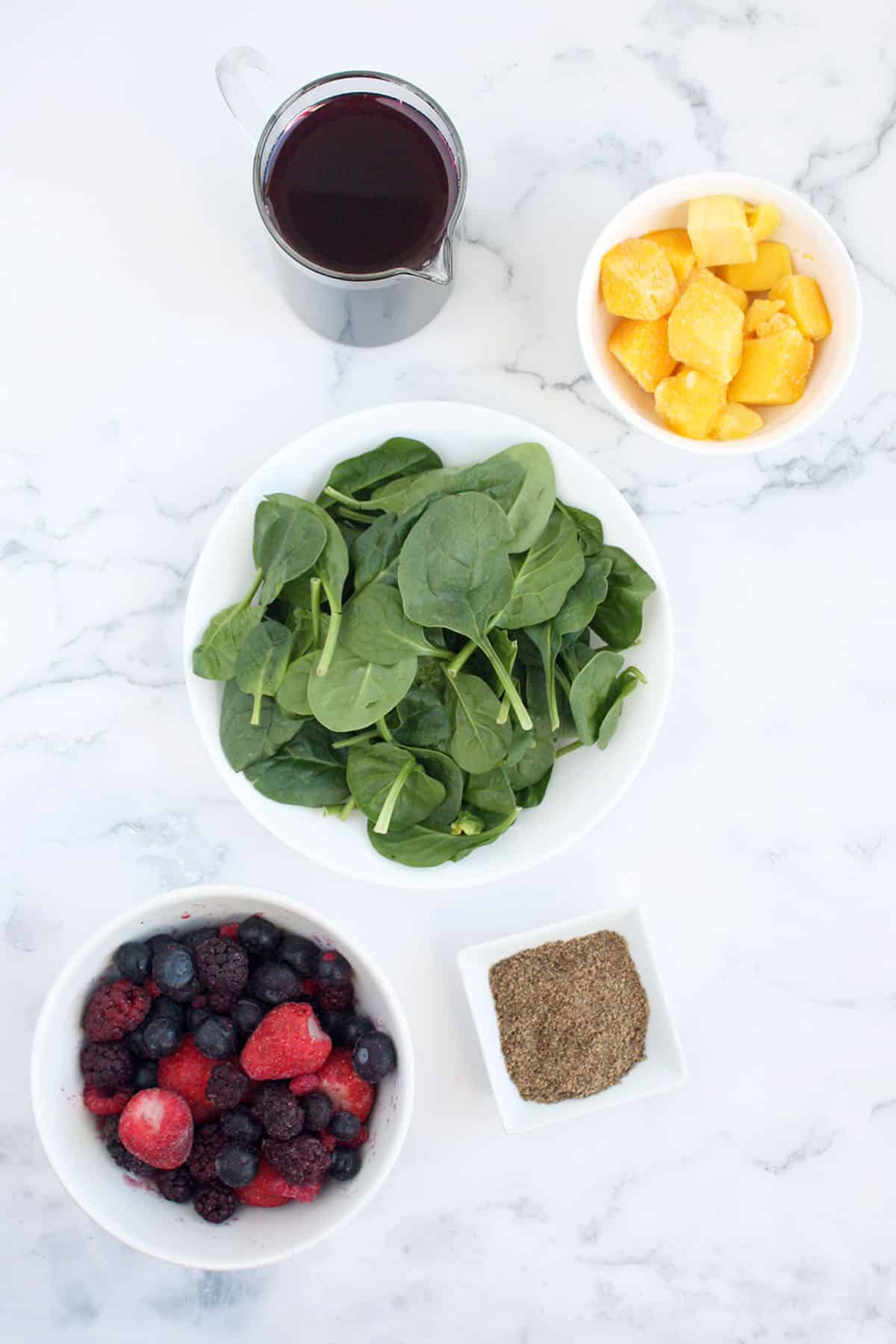 Ingredients for immune-boosting smoothies:
spinach– Kale can also be used here, but not all kids love the taste! Nutritionally they are very similar.
pomegranate juice– Pomegranate juice is nutritious, but very tangy. If your child doesn't like it, you can substitute it with juice.
frozen mixed berries– I used a mix of strawberries, blackberries, blueberries and raspberries.
frozen mango– Frozen mangoes add sweetness and a creamy texture to smoothies.
flax meal– Use flax flour instead of flax seeds. The body doesn't absorb the seeds well and they don't always blend well in a blender.
Method Make a smoothie to boost your immune system
put All ingredients in a powerful blender, starting with spinach.
blend Cook over high heat until smooth and the spinach is completely pureed.
serve!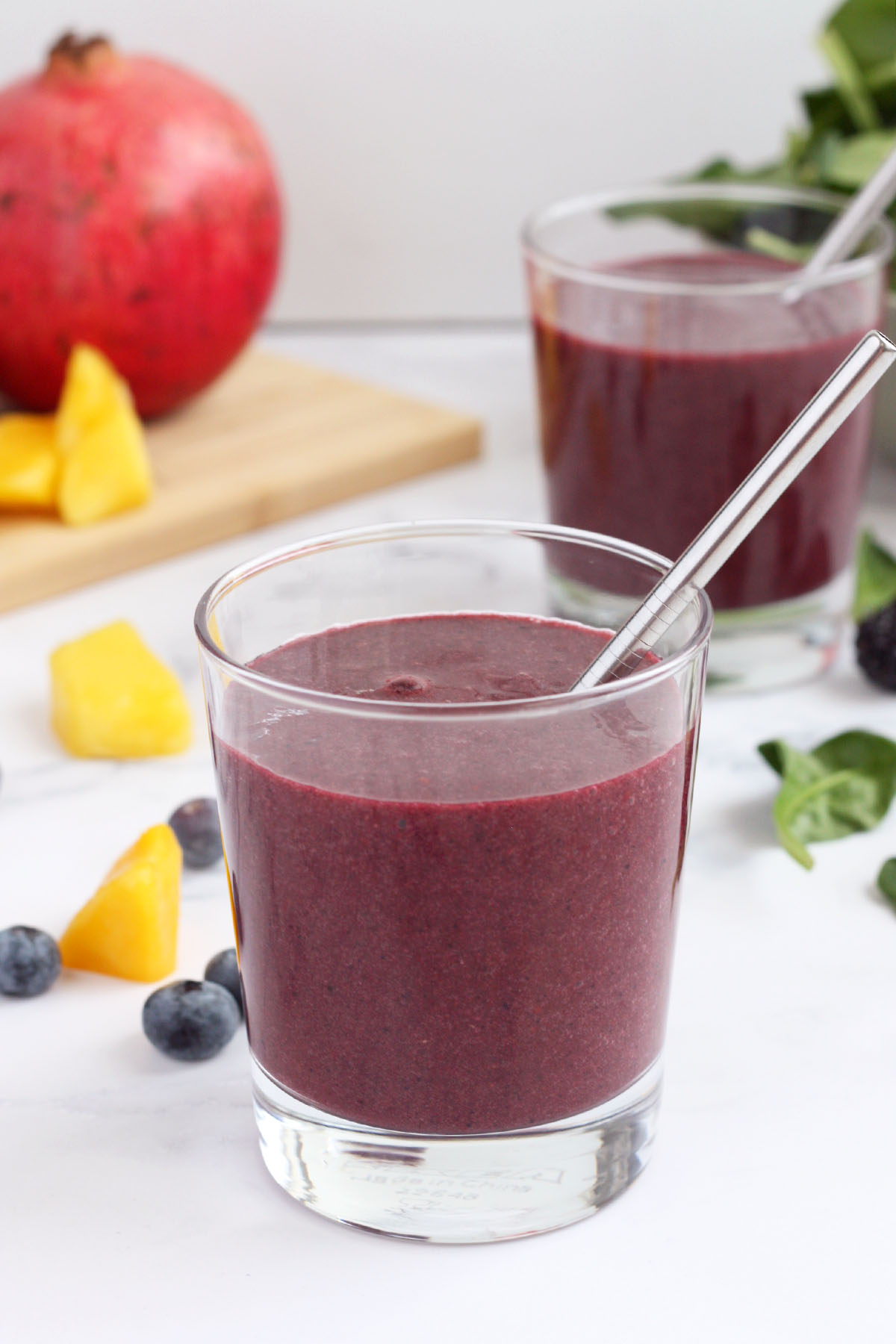 MORE SMOOTHIE RECIPES YOU'LL LOVE: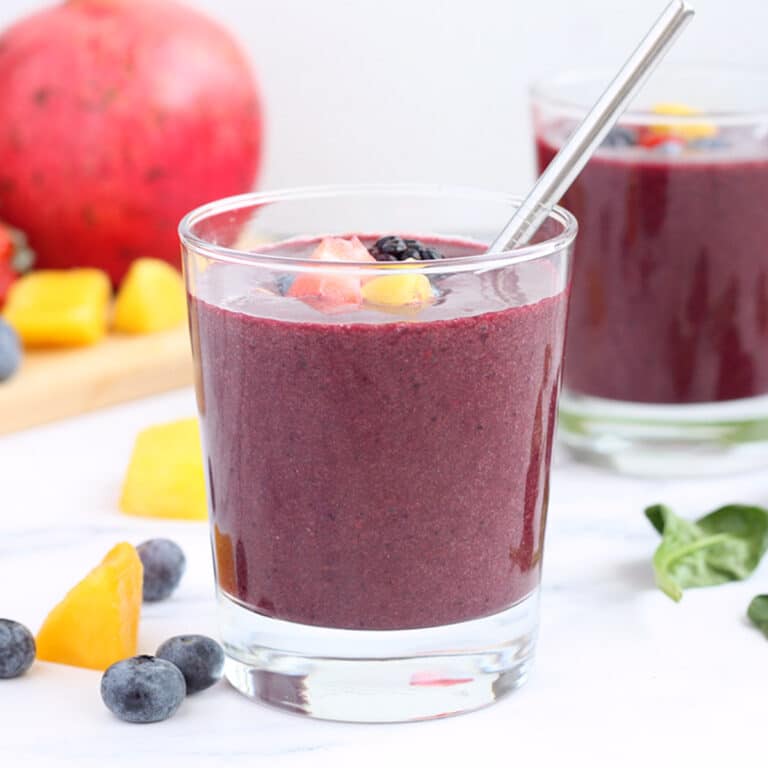 2

cup

spinach

2

cup

pomegranate juice

1

cup

mixed berries, frozen

1

cup

frozen mango

2

tablespoon

flaxseed, powder
calorie: 268kcal | | carbohydrates: 58g | | protein: Fourg | | obesity: Fiveg | | saturated fat: 1g | | Polyunsaturated fat: 2g | | Monounsaturated fat: 1g | | sodium: 50mg | | potassium: 938mg | | fiber: 6g | | sugar: 49g | | Vitamin A: 3741IU | | Vitamin C: 41mg | | calcium: 90mg | | iron: 2mg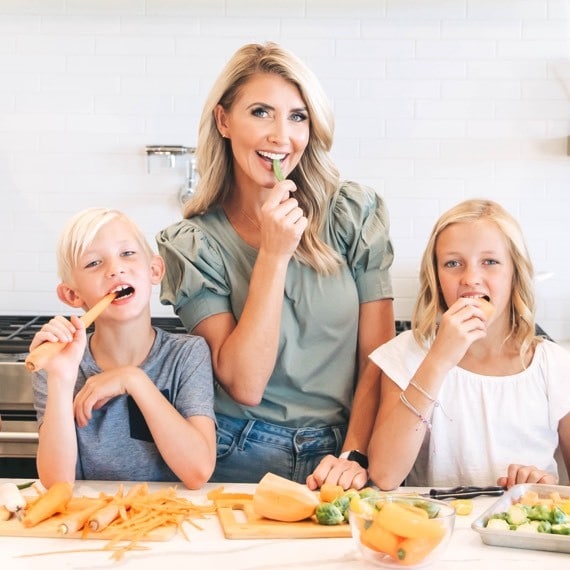 Natalie Monson
I am a Registered Dietitian, mother of four, a food lover and a strong promoter of healthy habits. Here you'll find delicious, fruit- and veg-rich recipes, tips to help your kids eat better and more intuitively, and tons of resources to feed your family.
Learn more about Natalie