This post may contain affiliate links. Please read my disclosure policy.
A crudité platter is a beautiful and delicious way to serve fresh vegetables as an appetizer or snack for holidays and gatherings.
Assorted colorful crudite
If you want to make a crudité platter like a pro, look no further. This step-by-step tutorial will help you create the perfect ingredient platter for your next party. Increase or decrease the size depending on how many people you are serving. Serve with your favorite dips such as Labneh, Hummus, Yogurt Caesar Dip, Baba Ganoush and Whipped Feta Dip. See my guide if you want to build more boards to match this. How to make a charcuterie board is required!
What does "crudite" mean in English?
According to Webster's dictionary, crudité (pronounced cru di tés) is defined as a portion of raw vegetables served as an hors d'oeuvre, often served with a dip.
Whether it's a charcuterie board, a crudité board, or a cheese platter, there's definitely an art to making a beautiful board. If learning how to make a beautiful board is for you, you'll love this cookbook I'm obsessed with. That cheese plate wants to party Marissa Mullen (Author), Sara Gilanchi (Illustrator) Her new book (available for pre-order, shipping April 11) features 40 new cheese boards for parties of all kinds, thoughtful drink pairings, and color palettes. You'll find themes, flower arrangement tips, tablescape ideas, playlists, and cheesy party games. This is the ultimate. Party planning guide. Her books are very visually appealing and simplistic enough that anyone can make them, as you can see on this Crudite plate.
"This upscale crudité plate conveys warm summer days, refreshing breezes, outdoor gatherings, and good conversation. Flavored broccolini meets herbal tahini dip.I'll let you in on a secret, but be prepared to impress your guests.Every item on this plate is from Trader Joe's."

– Note from author Marissa
How to make raw platter
Choose your vegetables: Orange and purple carrots, celery, Persian cucumbers, cherry tomatoes, colorful peppers, radishes, broccoli, fennel, radicchio, blanched colored cauliflower, blanched green beans, artichoke hearts, blanched asparagus, endives, zucchini and more. choose colorful vegetables. and/or snap peas. Wash and dry the vegetables well.
Cut and prepare vegetables. Preparation time depends on the vegetables used and their number. Cut vegetables into bite-sized pieces, strips, or wedges. For example, cut carrots and cucumbers into thin rings, celery into sticks, and cauliflower into bite-size florets. Make sure the vegetables are all about the same size and shape. Vegetables that need to be cooked are blanched and sautéed. You can also add olives.
Choose a vegetable tray: Choose a few platters or small plates depending on how many vegetables you have and how many people you are serving.
Arrange the vegetables: Next, arrange the vegetables in a colorful arrangement on the vegetable tray (see below). You can group vegetables by color or shape, or create patterns and designs with different types of vegetables.
Add dipping sauce. Serve the crudité platter with a variety of dipping sauces, including hummus, ranch dressing, tzatziki, labneh, and yogurt-based dips. Chili oil, sea salt, and fresh herbs can also be sprinkled over the vegetables for added flavor.
Add texture. Add pita chips, sliced ​​baguette, seeded crackers, or gluten-free crackers for crunch.
Prepare in advance and enjoy: Serve the vegetable platter immediately, or cover with plastic wrap and refrigerate until ready to serve. You can also do this one day in advance.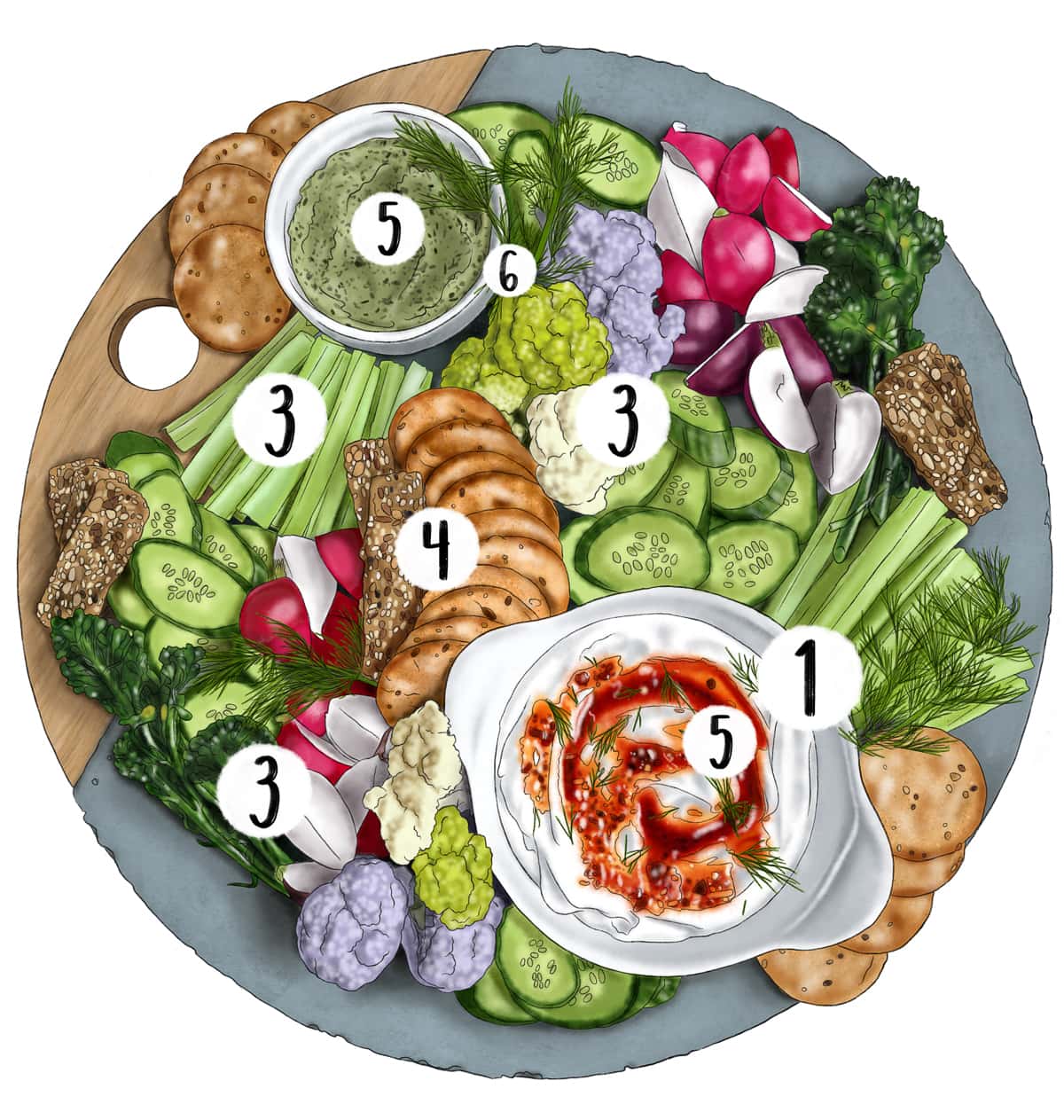 What you need to make a beautiful board
See more platters and boards for entertaining
Place labneh, Greek yogurt, or your favorite dip in a small shallow bowl as shown in the step 1 illustration above.

Arrange the produce as shown in the image above in step 3.

Add crackers to step 4 as shown above.

Add dips as shown in step 5 above.

Decorate as shown in step 6 and you're done.
Last step:
please leave a rating and comment Let us know if you like this recipe. This allows our business to thrive and allow us to continue providing free, high-quality recipes.
optional byte builder
Labneh + Cucumber + Pita Crackers: Creamy, Fresh, Crunchy
Labneh + sautéed broccolini + seeded crackers: creamy, garlicky, crunchy
Tahini Herb Dip + Cucumber + Radish: Herbal, Fresh, Crunchy
Tahini Herb Dip + Labneh + Celery: Herbal, Creamy, Fresh, Crunchy
To get even more gorgeous boards, That cheese plate wants to party Recipe book.