These are the best tasting Brussels sprouts you will ever make. Fresh and healthy Brussels sprouts cooked until caramelized, crispy chopped bacon and sweet crunchy cranberries drizzled with honey for the most delicious veggie side dish.
The Best Brussels Sprouts Recipe Ever
Did you know kids can love Brussels sprouts? The way you thought it was reserved for mac and cheese only.
If that sounds pretentious, we've come to the right recipe, because these Brussels sprouts are the ones that can turn everything around. It has a delicious yin and yang of bacon and sweet crunchy cranberries.
You will find that this recipe is ready in a very short time. Especially if you can put away a few slices of cooked bacon ahead of time. So you can sauté these sprouts on weeknights and serve them with simple chicken, rice, or pasta.
One tip to remember: Brussels sprouts are in season in the fall and taste the freshest during the chilly winter months. (You can even find them in stores attached to 2-foot-long stems! Trader Joe's sells them like this. An extra 10 points on a fun scale.)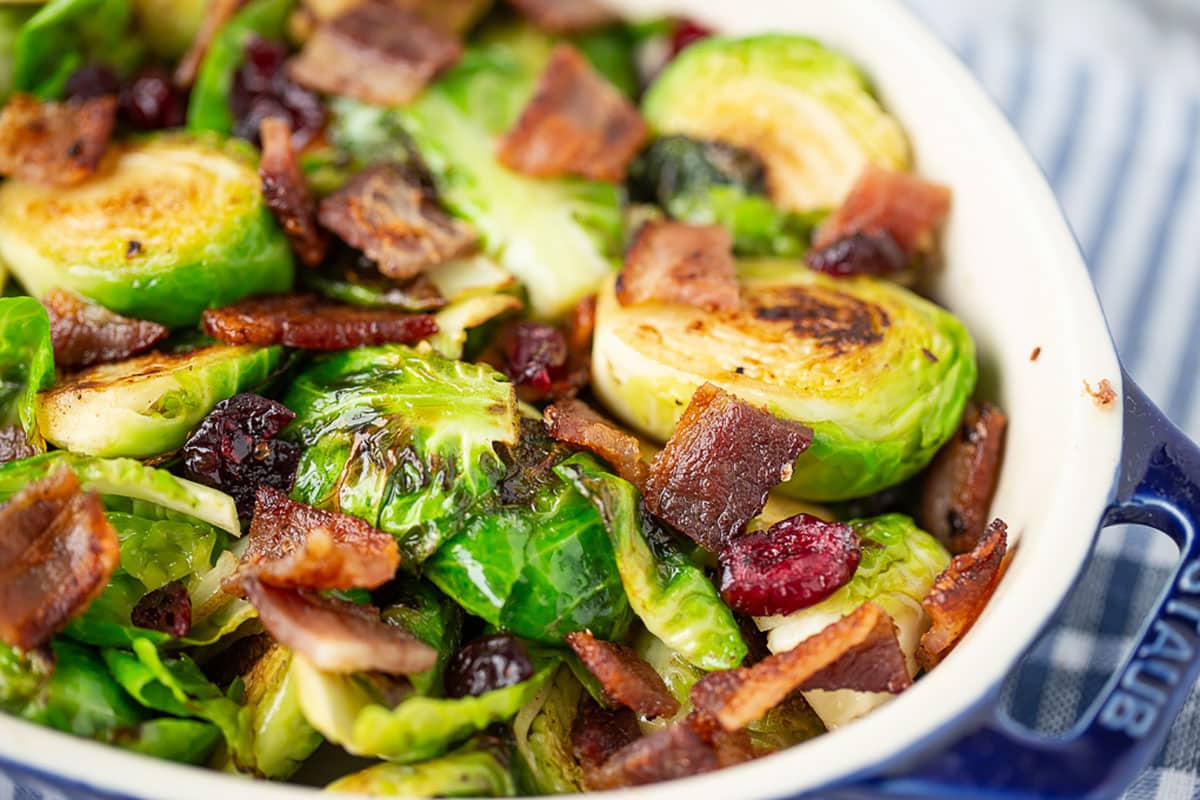 How to Cook the Perfect Brussels Sprouts
Brussels sprouts can look intimidating if you're not used to cooking them. you may be thinking, OK, I put the mini cabbage in the fridge.
Brussels sprouts are fairly easy to cook, but it takes a little technique to get the best flavor and texture out of this vegetable. (Have you ever tried the dreaded olive drab globular mash, also known as steamtable Brussels sprouts? Then you'll know why it's important to cook them properly.)
Here's a list of techniques and troubleshooting tips to become a pro at cooking this delicious vegetable.
Give the sprouts enough space to spread out in the pot. You don't want them overcrowded.
Do not discard the outer leaves that fall off when slicing the sprouts. Some of the tastiest bites of well-cooked Brussels sprouts are the crispy individual leaves that snap off the heads. (If you really like crispy sprout leaves, try Brussels sprout chips.)
Keeps heat on the underside. Brussels sprouts will brown quickly on the outside because the vegetable is actually quite high in carbohydrate content.
Test the softness of sprouts before serving. Sometimes this vegetable may look completely golden brown on the outside, but the heat from the pan has not penetrated into the center, making it too hard and chewy. Test with a fork to be sure. If not…
Don't be afraid to simmer. To quickly soften untipped Brussels sprouts, add 1-2 tablespoons of water to the pan and cover for 1-2 minutes.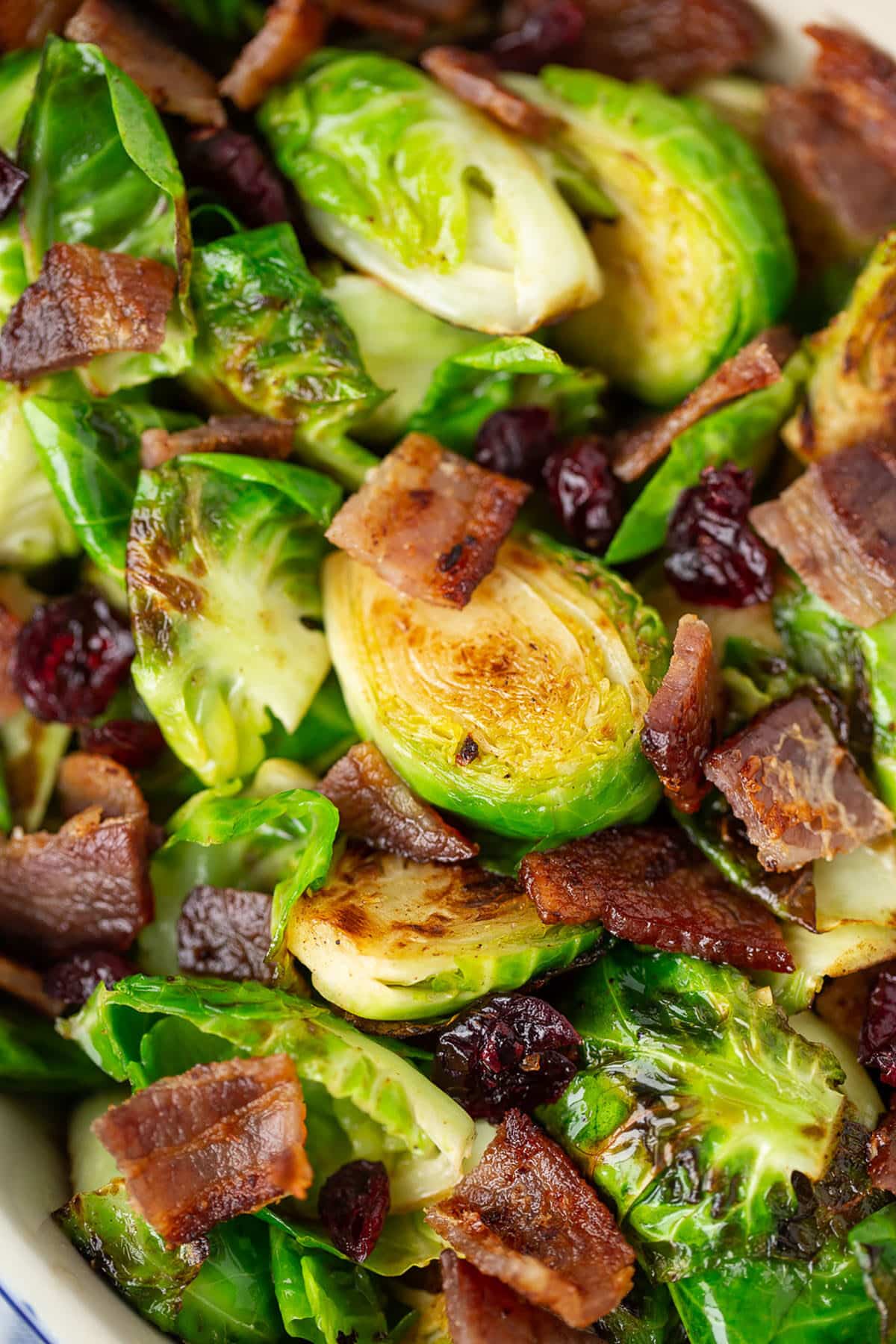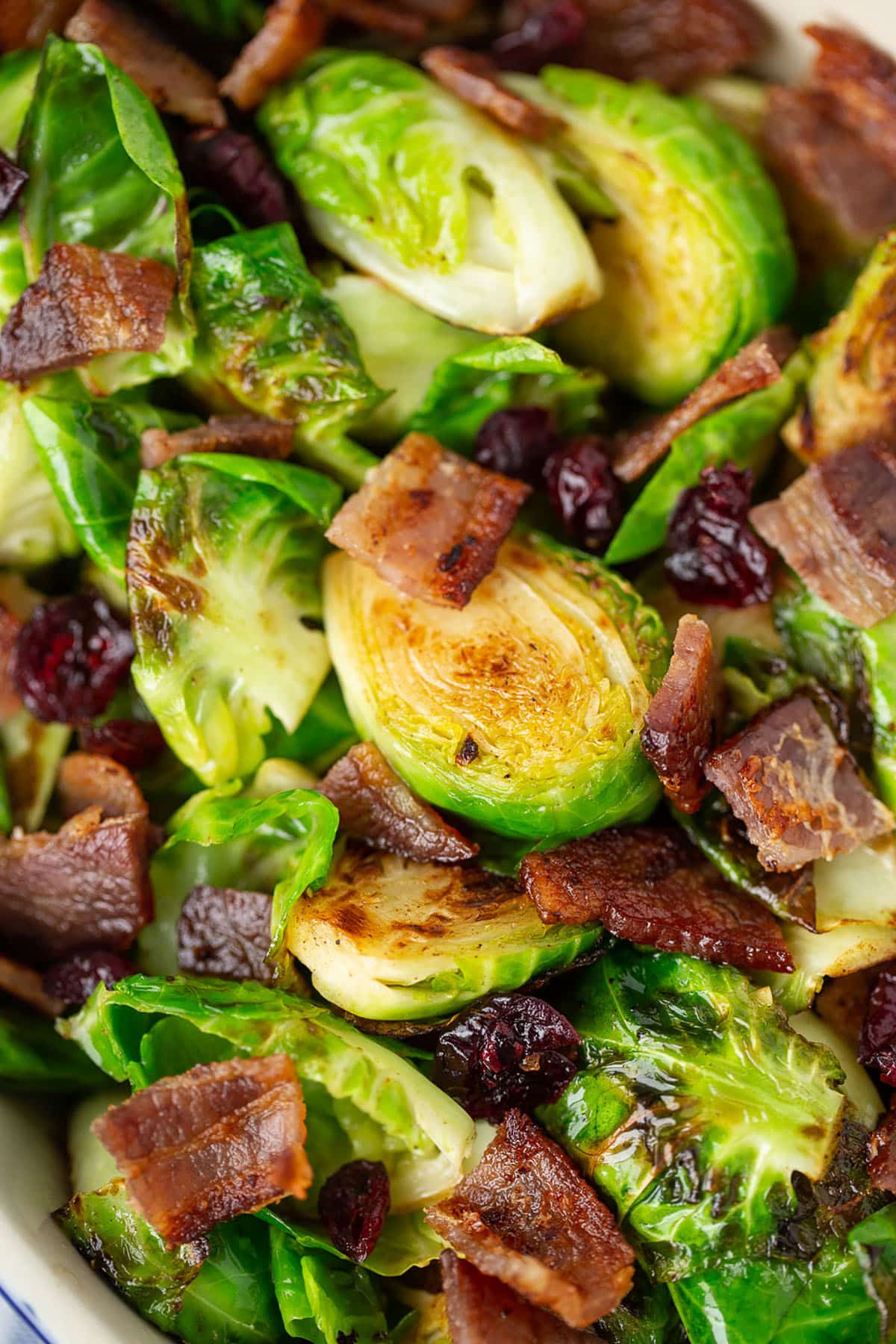 What makes Brussels sprouts good for you?
Brussels sprouts belong to the cruciferous vegetable family (others include broccoli, kale, and cabbage), and this is a family that is very good nutritionally.
These vegetables are rich in fiber, vitamin K for healthy bones, and vitamin C for a strong immune system. The antioxidants found in Brussels sprouts may reduce cellular inflammation.
Like other cruciferous vegetables, Brussels sprouts help maintain healthy blood sugar levels. Brussels sprouts are also one of the best plant sources of omega-3 fatty acids, an important nutrient usually found in fish. .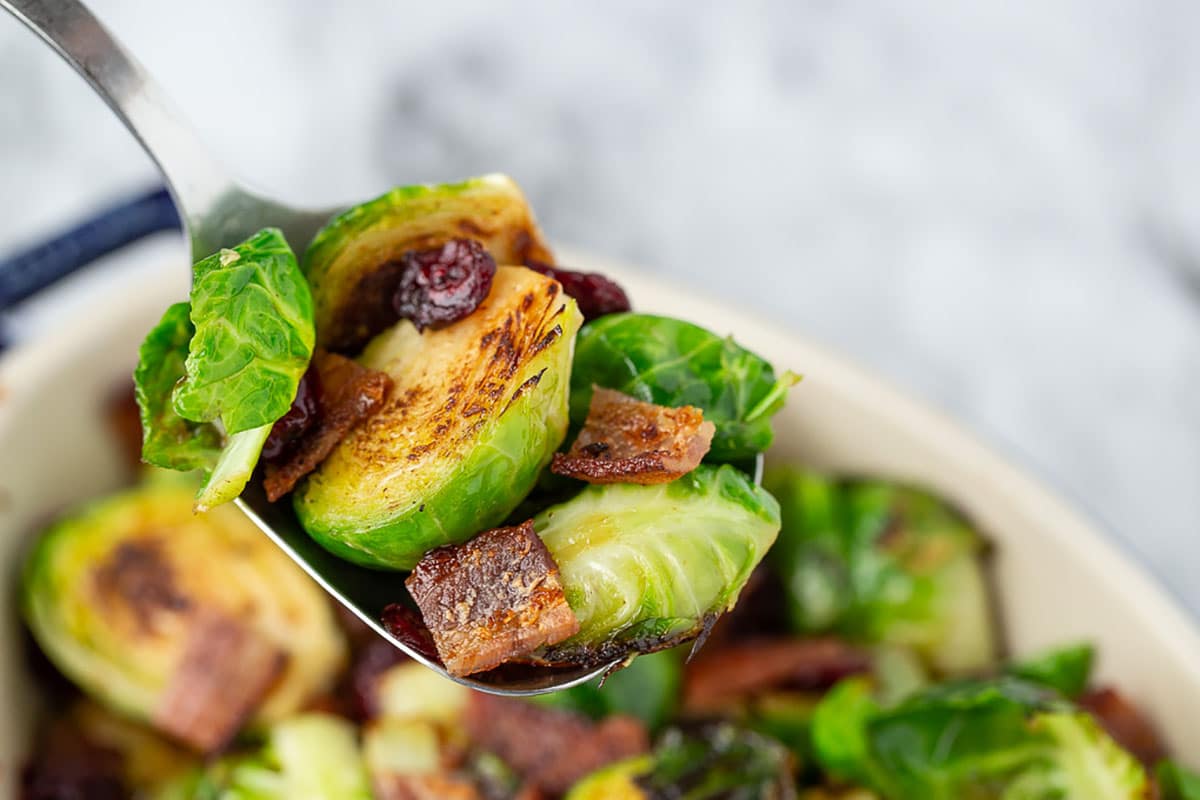 Why I Love This Brussels Sprouts Recipe
What makes this recipe so much better than regular roasted brussels sprouts?
Crispy bacon? check. Sweetened dried cranberries? check. Good old butter? It totally checks in that box too.
Encourage your child to try a few bites of everything at the same time (young children may need to cut the sprouts).
And to help your kids progress toward greater food acceptance skills, keep this other tip in mind. Show Your Kids You Love These Brussels Sprouts Talk about the different flavors and textures of the dish and compare it to foods you've tried and liked before.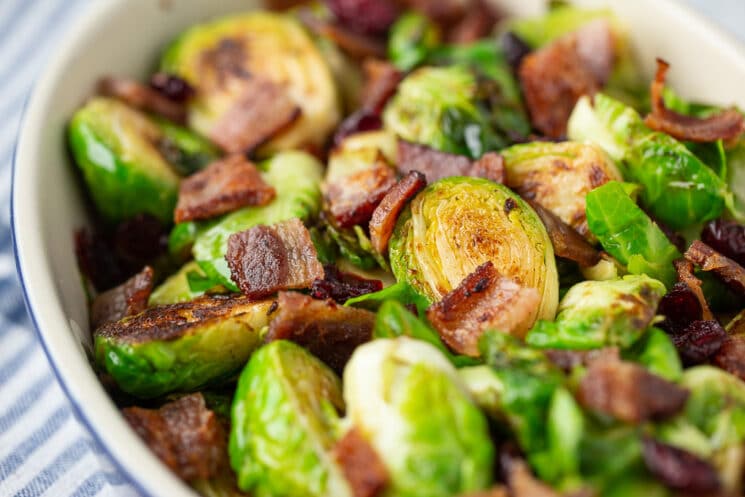 More Love for Brussels Sprouts
If this recipe is popular with your family, try other delicious recipes with this delicious vegetable.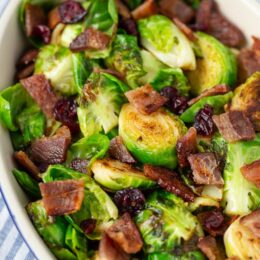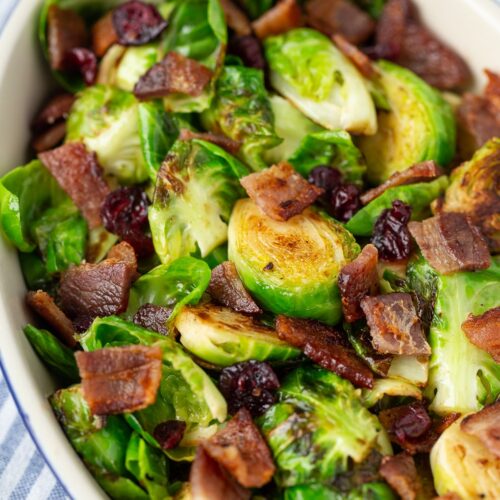 1

lb

fresh brussels sprouts

trimmed in half

2

tablespoon

butter

Five

slice

bacon

thick slice

1/4

cup

dried cranberries

1

tablespoon

honey

salt and pepper to taste
Melt the butter in a medium sauté pan over medium heat.

Cut the bacon into small pieces and add to the skillet. Cook for 2-3 minutes. No need to crisp at this point. As the brussels sprouts cook, they will continue to crunch.

Add the brussels sprouts to the skillet and place them cut side down. Cook off medium heat for 8 to 10 minutes or until cuts are golden brown and tender with a fork on all sides. If it starts to brown, reduce the heat slightly. Season with salt and pepper.

Once the brussels are done, remove from heat and sprinkle the pan with crasins. Sprinkle honey all over. Season with salt and pepper. Enjoy your meal while it's warm.
calorie: 139kcal | | carbohydrate: twenty threeg | | protein: 6g | | thick: Fiveg | | saturated fat: 3g | | Polyunsaturated fat: 0.4g | | Monounsaturated fat: 1g | | Trans fat: 0.2g | | cholesterol: 11mg | | sodium: 98mg | | potassium: 595mg | | fiber: 6g | | sugar: 13g | | Vitamin A: 1257IU | | Vitamin C: 129mg | | calcium: 65mg | | iron: 2mg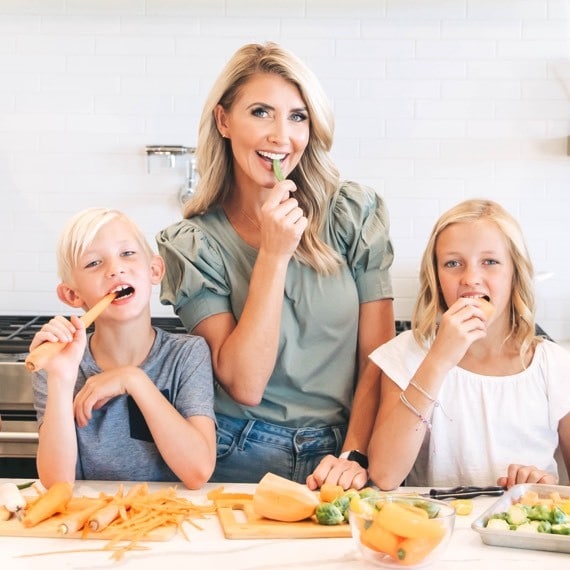 Natalie Monson
I am a Registered Dietitian, mother of four, a food lover and a strong promoter of healthy habits. Here you'll find delicious, fruit- and veg-rich recipes, tips to help your kids eat better and more intuitively, and tons of resources to feed your family.
Learn more about Natalie