There aren't many things that can be topped with warm, buttery homemade rolls. These soft, fluffy, melt-in-your-mouth dinner rolls are better than anything you can buy at the bakery. Our simple recipe provides even the novice baker with the perfect roll that will be the star of every dinner table.
Why I Love Homemade Dinner Rolls
Few foods are as delicious and satisfying as homemade bread. It's the ultimate comfort food and the smell of baking bread is absolutely heavenly! It's perfect for so many meals and the leftovers freeze wonderfully!
component:
hot water
powdered milk
yeast
sugar
salt
butter
egg
flour
How to make the best homemade rolls
This recipe calls for fortified dough. That means we've added fortifying substances like sugar, eggs, butter, and milk. This is the secret to moist and fluffy rolls.
Make sure you are weighing your ingredients accurately. This can make the difference between a soft, fluffy dinner role and a hockey his puck.
Do not add too much flour! Stop adding flour when the dough comes together. When stretching, use as much as you need to keep the dough from sticking to the surface, but no more. Too much flour will give you a dense roll.
Just make sure you give the dough enough time to rise! This is essential to create the great flavor and texture you want in fluffy dinner rolls. Fortified dough can take longer to ferment, and the temperature in your kitchen will also affect fermentation time. start.
Do not undercook! Make sure the roll is good and golden. Add egg wash or brush with butter before baking for a nice, even golden color.
How to form a dinner roll
For these rolls, the dough was stretched into rectangles, cut into squares using a pizza cutter, and the squares rolled up and spread out on a greased baking sheet. will be nicely browned. But you can really shape it any way you like!
Basic round roll: Divide the dough into the desired number. Press the edge of the dough into the center and shape it into a circle with your palms or hands. Bake in a 13-by-9-inch skillet.
Clover leaf roll: After dividing the dough into the required number, cut each into 3 equal parts. Roll the small pieces into balls and place all three into one muffin tin. Repeat with remaining dough balls.
Knotted roll: Roll each piece of dough into a rope. Carefully tie the dough into a knot and tuck the ends down before placing it on the baking sheet.
Crescent roll: Roll the dough into a circle. Use a pizza cutter to cut the dough into wedges like you would slice a pizza. Start with the wide end and roll up each wedge. Arrange them on a baking sheet and gently roll them into balls before baking.
Parker House Roll: Roll out the dough and cut it into circles with a biscuit cutter. Using a butter knife, score each round off-center and fold in half before baking.
How to store and reheat dinner rolls
Leftover rolls can be stored in an airtight bag at room temperature for 2-3 days. For longer storage, wrap the roll in foil and place in a ziplock freezer bag.When ready to eat, remove the roll from the bag. Place the foil-wrapped roll in a 300 degree oven for 10 minutes. The roll cake will last about a month in the freezer.
Recipe for tastier bread: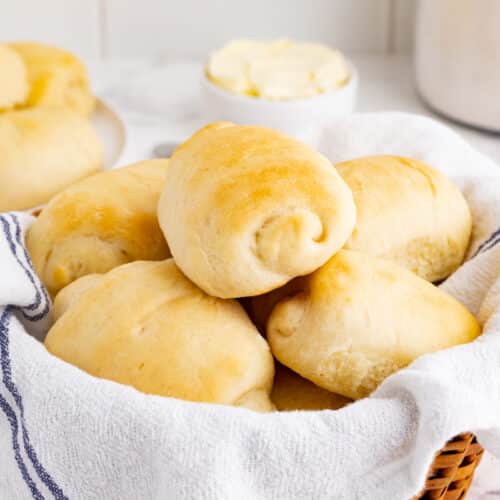 2

cup

hot water

2/3

cup

powdered milk

2

tablespoon

yeast, active dry

1/4

cup

sugar

2

tea spoon

salt

1/3

cup

butter, unsalted

softened

1

big

egg

5-6

cup

flour

all purpose or bread crumbs

1

tablespoon

oil
In a large bowl or mixer bowl, combine 2 cups of warm water with powdered milk, whisking to dissolve the milk. Add the yeast to this mixture while the water and milk are still warm. The yeast will start bubbling for a few minutes (about 3-5 minutes).

Add sugar, salt, butter, eggs and 2 cups flour. Using mixer dough hook, mix on low speed until ingredients are moistened, then turn on medium speed and mix for 2 minutes. Stop mixer, add 2 more cups of flour (4 cups total flour added so far), mix on low speed until ingredients are moistened, turn mixer on medium speed and mix for another 2 minutes.

Add about 1/2 to 1 cup of flour and mix again. If you're using bread crumbs, you'll need to add a pinch of flour. Adding more flour as needed will make it easier to handle without sticking to your hands or mixer.

Scrape the dough down the sides of the bowl and pour a tablespoon of canola oil all over the sides of the bowl. Cover with plastic wrap or cloth and let rise in a warm place until doubled in size. (about 1 hour)

Once the dough has risen, dust a clean countertop with flour and place the dough on top of the flour. If the dough is sticky, dust it with flour to increase workability and keep it from sticking. Roll out into a large rectangle about 12 inches by 8 inches.

Slice off the middle horizontally with a pizza cutter and cut completely lengthwise into 2-inch strips. Cut the halves again horizontally.

Grease a baking sheet with oil or cover with parchment. Roll each slice of dough from one end to the other (like rolling up a rug) and place seam side down on the prepared baking sheet. Let it ferment until it doubles in size.

Preheat oven to 375 degrees. Remove the lid and bake in the preheated oven for 10-15 minutes.
calorie: 197kcal | | carbohydrate: 32g | | protein: 6g | | thick: Fiveg | | saturated fat: 3g | | Polyunsaturated fat: 1g | | Monounsaturated fat: 2g | | Trans fat: 0.1g | | cholesterol: twenty twomg | | sodium: 315mg | | potassium: 117mg | | fiber: 1g | | sugar: Fiveg | | Vitamin A: 128IU | | Vitamin C: 0.3mg | | calcium: 62mg | | iron: 2mg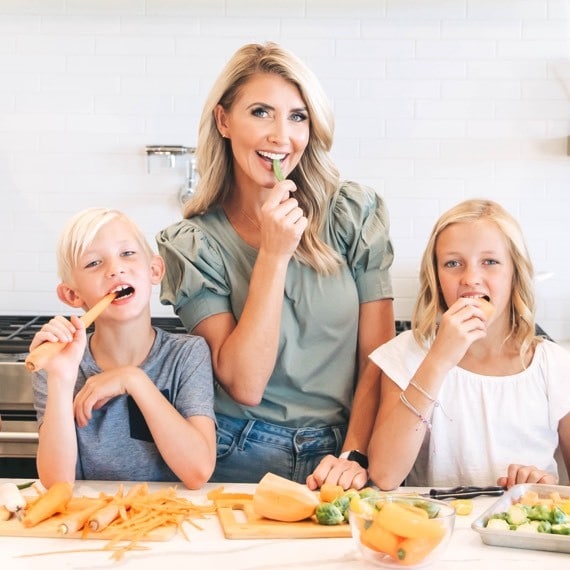 Natalie Monson
I am a Registered Dietitian, mother of four, a food lover and a strong promoter of healthy habits. Here you'll find delicious, fruit- and veg-rich recipes, tips to help your kids eat better and more intuitively, and tons of resources to feed your family.
Learn more about Natalie