Our homemade guacamole is fresh, thick and full of flavor! It's healthy, easy to make and always a hit. Be careful as it will disappear quickly!
Why I Love This Homemade Guacamole Recipe
Fresh homemade guacamole is one recipe everyone should have in their recipe arsenal. It's healthy, easy to make, and elevates any meal. Our version features a perfect blend of fresh tomatoes, cilantro, lime juice and seasonings.
The secret to delicious guacamole is choosing the freshest, best avocados lime juice,seasoning. To determine if an avocado is ripe, look for dark green/black avocados. It should be hard, but if you put it on your palm and squeeze it lightly, it will dent a little. If it looks mushy or has dents when you press it, it's probably overripe. If the avocado isn't quite ripe yet, leave it on the counter until it's fully ripe. Once ripe, store them in the refrigerator to keep them ripe for a little longer.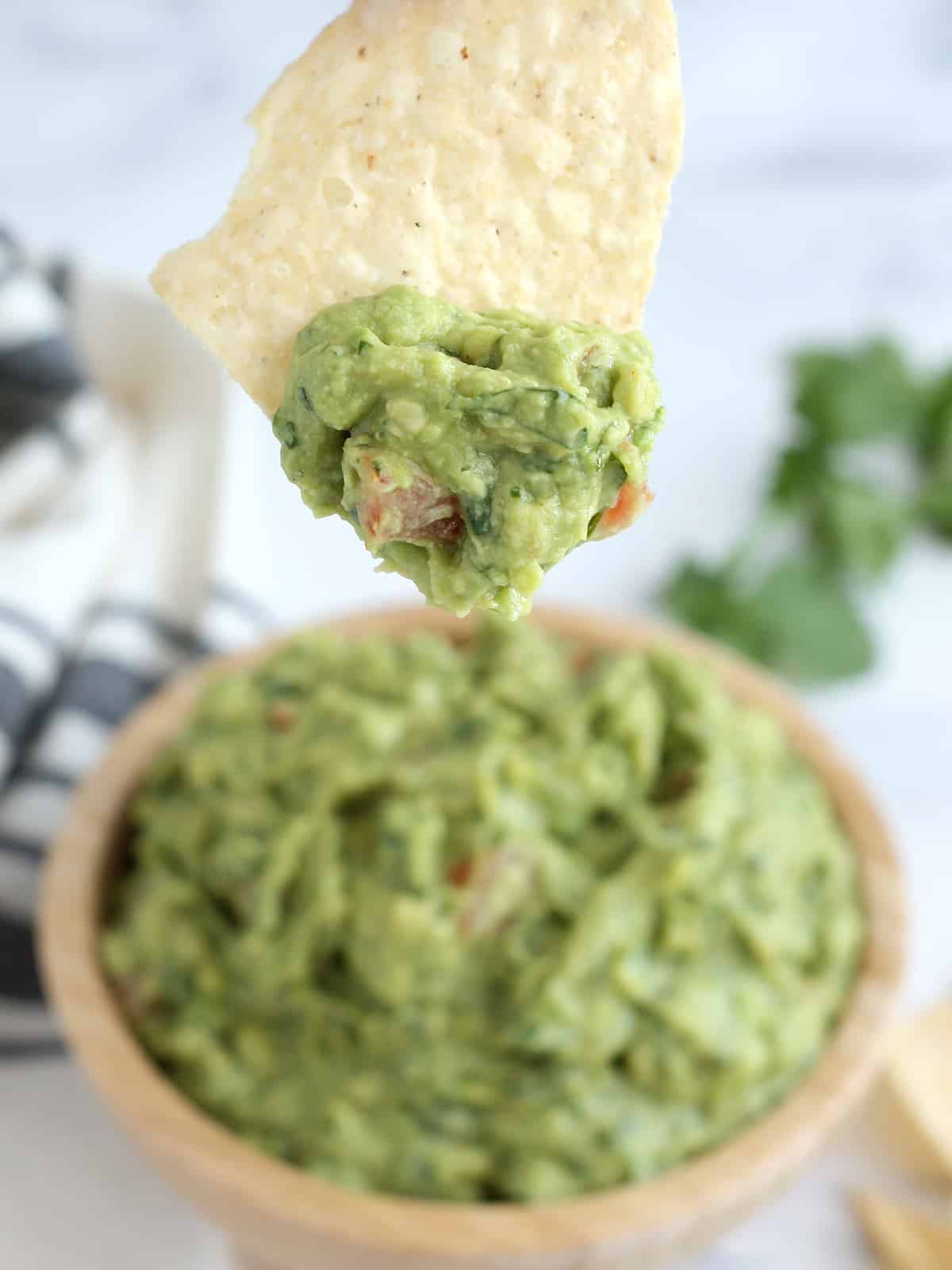 Ingredients for homemade guacamole:
avocado– Make sure you are using well-ripened avocados that are slightly compressed.
tomato・Roma tomato is used.
lime– Use the juice of 1 lime. Fresh is best, but bottling is also a pinch.
garlic– I like fresh garlic, but if you're using garlic powder, start with 1/4 tsp.
coriander– Use as many as you like. I usually use about 1/4 cup chopped.
sea ​​salt– Start with about 1/2 teaspoon and adjust to taste.
onion powder
Tony Chasser seasoning・This is the secret ingredient! It adds great flavor, but is completely optional.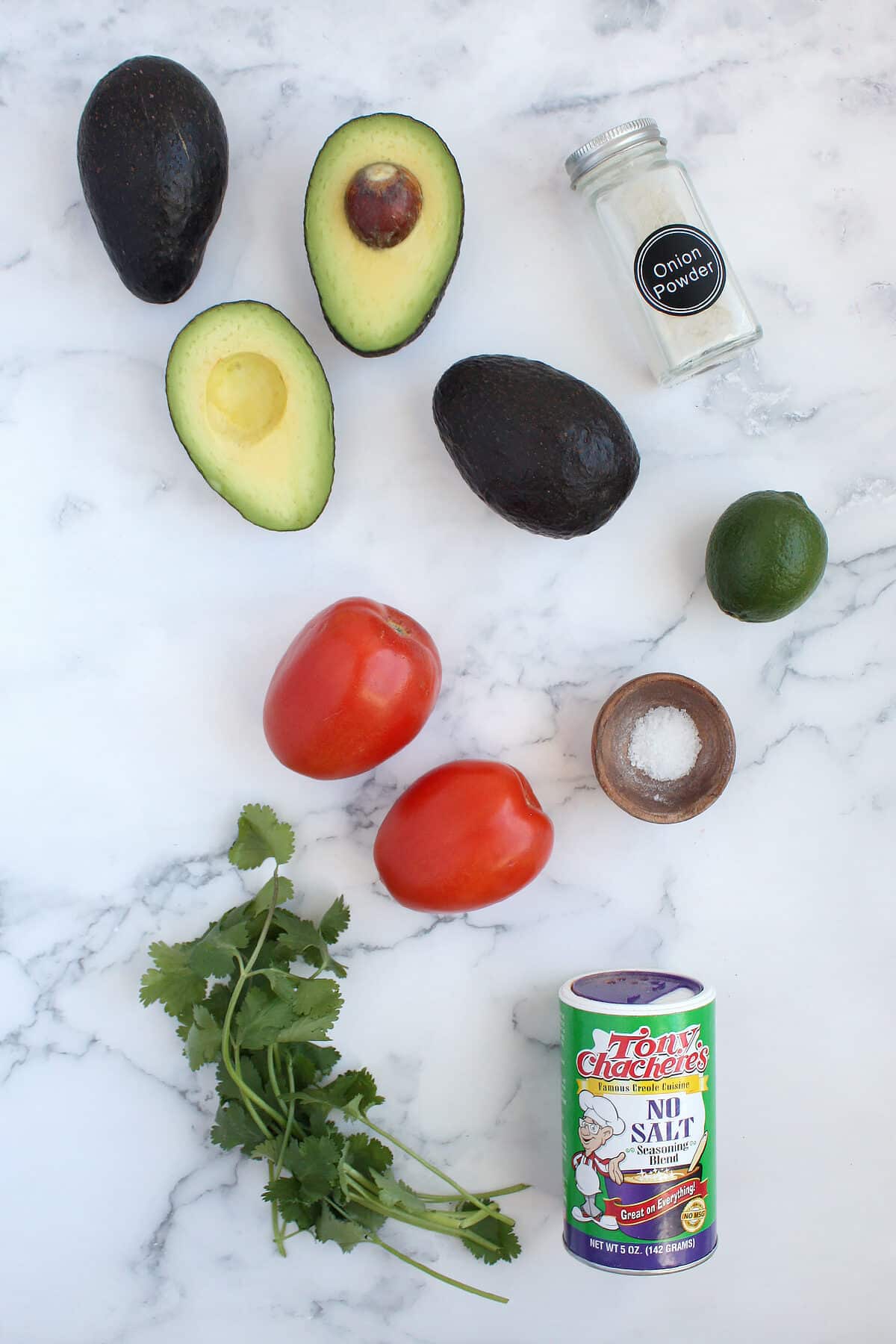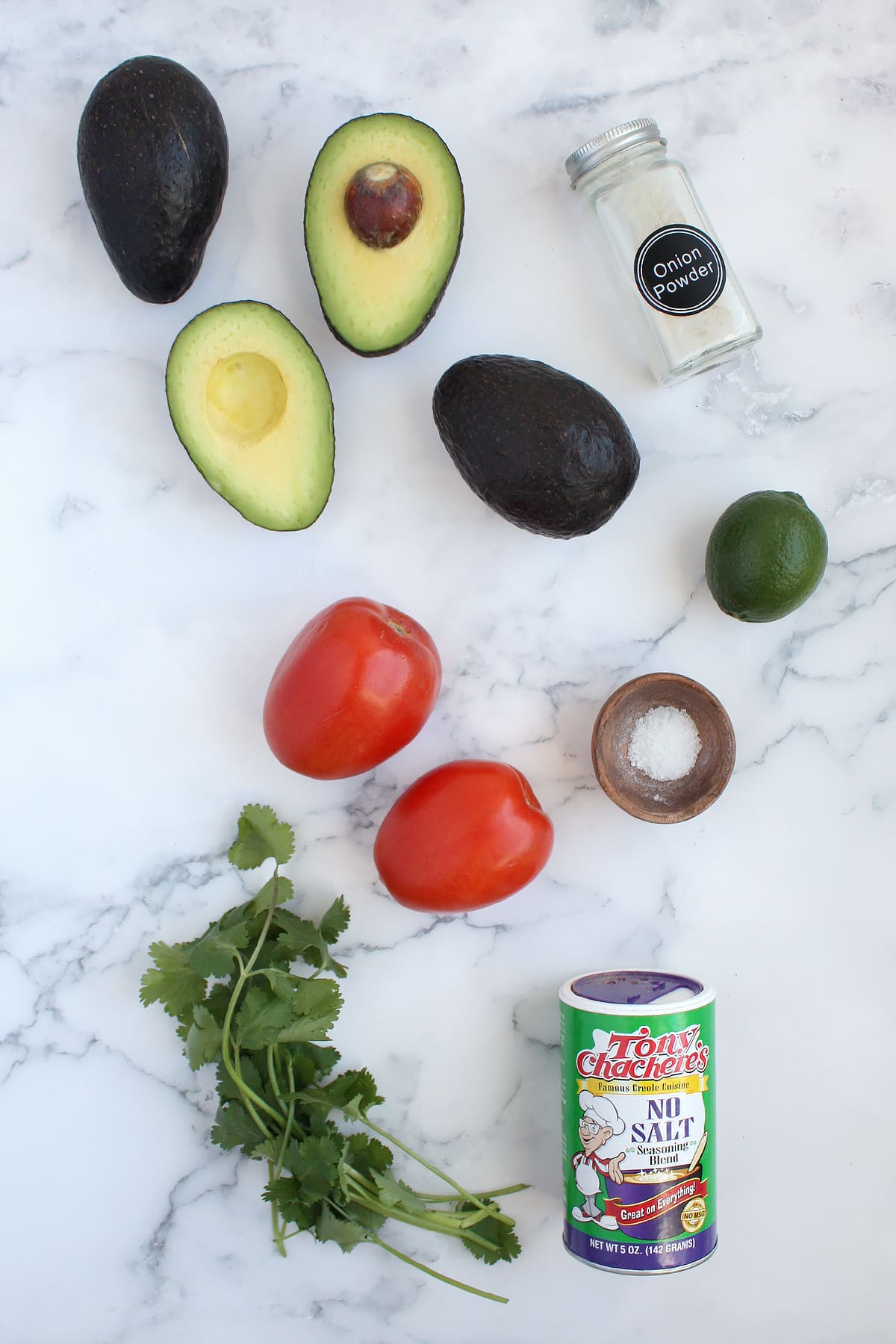 How to make homemade guacamole:
Mash the avocado. Slice the avocado, remove the seed, and peel the shell. Mash it until it reaches your desired consistency. We like the chunky side.
add flavor. Dice the tomatoes, mince the garlic, and mince the coriander. Add to the mashed avocado and mix gently.
Season to taste. Taste the guacamole and add salt, lime juice, and/or Tony Chacher if desired.
Serve and enjoy!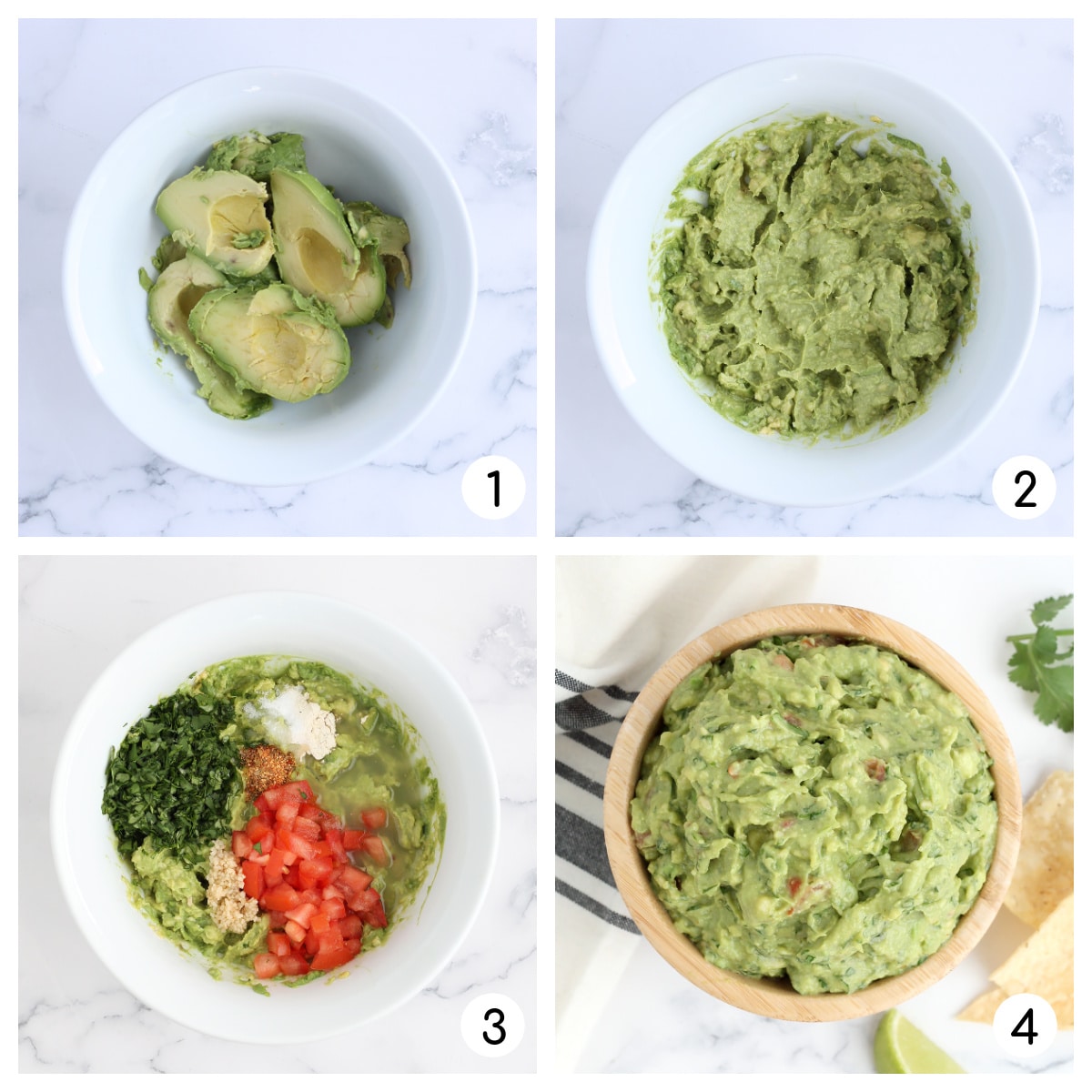 Tips and Suggestions
Replace:
Add diced red onion or radishes for a crispy finish
Add cumin for a smoky flavor
For guacamole with kick, add chopped jalapenos. If lowering heat, remove seeds and guts before dicing.leave them alone for more intense heat
Use orange juice instead of lime juice
Add diced mango for a sweet and savory finish
Storing Leftover Guacamole:
Guacamole is best eaten the same day it is made. Leftovers can be stored in the refrigerator for up to 3 days. Press plastic wrap over guacamole to keep it green. Alternatively, lubricate in a storage container and carefully add cold water about 1/4 inch from the top. Just pour water before serving.
How to use frozen avocado:
If your avocado is fully ripe and not ready to use, put it in the freezer. Simply wash, dry, wrap in plastic wrap, and store in a resealable freezer bag for 3-6 months. Frozen avocado works well with guacamole.
How to enjoy guacamole:
As a sandwich spread or in sliced ​​turkey and veggie wraps
spread on toasted bread
As a veggie patty topping
For baked sweet potato
As an ingredient for deviled eggs
as a vegetable dip
on a grilled cheese sandwich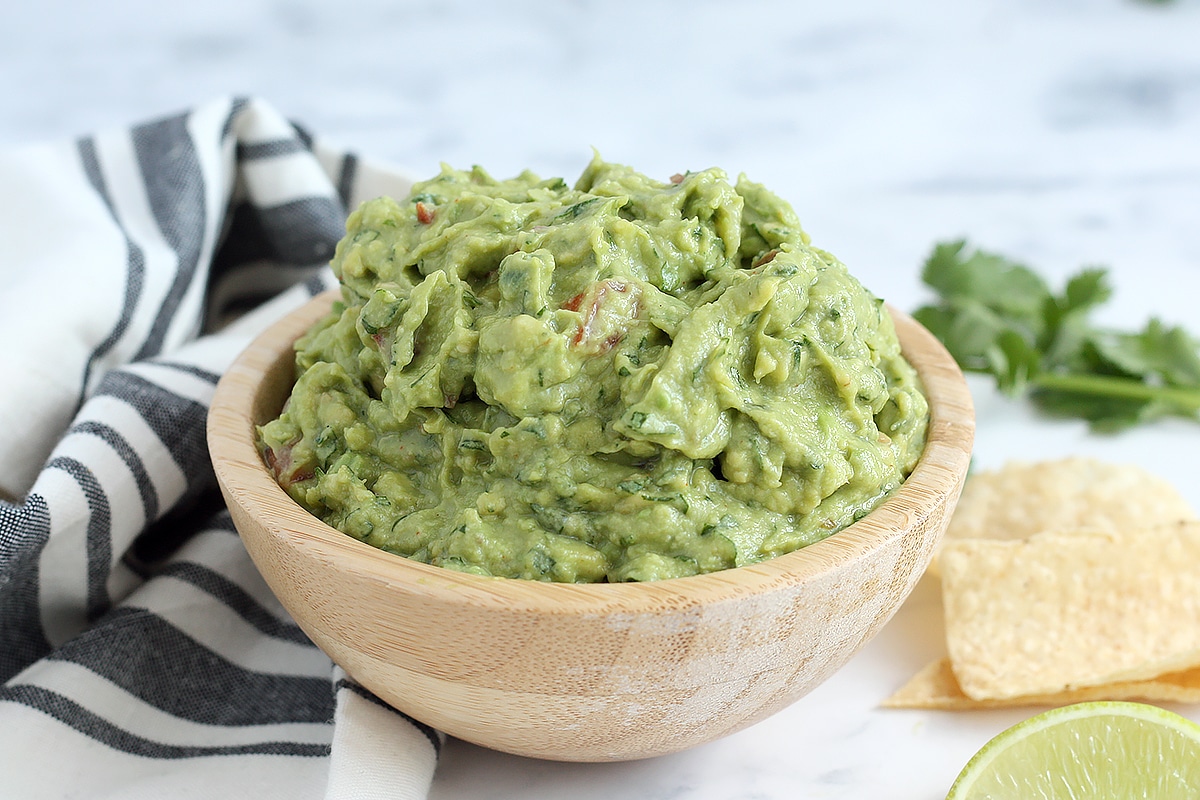 Other recipes to try:
homemade guacamole
Our homemade guacamole is fresh, thick and full of flavor! It's healthy, easy to make and always a hit. Be careful as it will disappear quickly!
Serving: 6 serving
calorie: 169kcal
3

Moderate

avocado

ripe

2

Moderate

Roman tomatoes

diced

1

Moderate

lime

squeezed

1

cloves

garlic

chopped

1/4

cup

coriander

Cut off the stems and finely chop

1/2

tea spoon

sea ​​salt

1/2

tea spoon

onion powder

1/4

tea spoon

Tony Chasser seasoning

additional spice options
Cut the avocado in half and remove the seed. Scoop out avocado with a spoon and place in a medium bowl. Mash with a fork until desired firmness. (If you like the texture, stop mashing the avocado when there are still small chunks left.)

Add diced tomatoes, lime juice, minced garlic, chopped coriander, salt, and onion powder. If you want to heat it up a bit and add some flavor, add Tony Chachere seasoning. Mix everything together and mix.

Taste and add salt and lime juice if you want a little more flavor. Refrigerate for 1 hour for best flavor or serve immediately.

Can be stored in an airtight container in the refrigerator for 3 days. The less air the guacamole is exposed to, the less likely it is to turn brown. If there is a brown layer on top, carefully scrape it off with a spoon and enjoy the fresh green guacamole underneath!
calorie: 169kcal | | carbohydrates: 11g | | protein: 2g | | obesity: 15g | | saturated fat: 2g | | Polyunsaturated fat: 2g | | Monounsaturated fat: Teng | | sodium: 203mg | | potassium: 555mg | | fiber: 7g | | sugar: 1g | | Vitamin A: 369IU | | Vitamin C: 17mg | | calcium: 20mg | | iron: 1mg
www.superhealthykids.com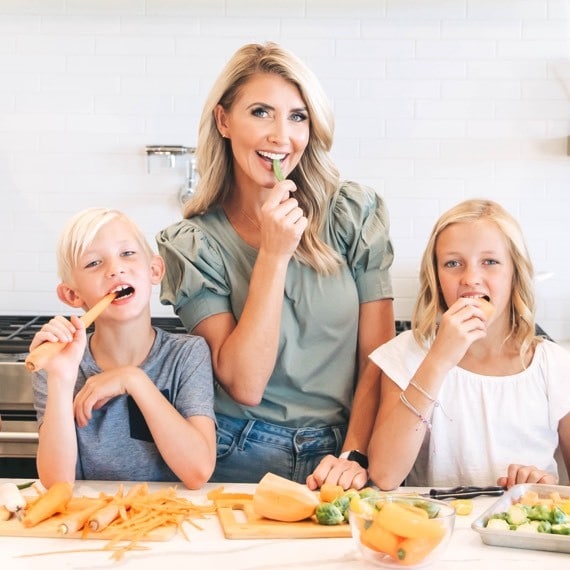 Natalie Monson
I am a registered dietitian, mother of four, a food lover and a strong promoter of healthy habits. Here you'll find delicious, fruit- and veg-rich recipes, tips to help your kids eat better and more intuitively, and tons of resources to feed your family.
Learn more about Natalie