These quick, easy and delicious healthy pancakes are packed with protein, fiber and omega-3s and are the perfect way to start your day.
Are pancakes healthy?
I nicknamed this recipe Brain Booster Pancakes. They have everything your child needs to be focused and ready for a successful school day. Protein and fiber help keep your child feeling full. Studies show that omega-3s can improve mental skills such as thinking, memory and learning.
These pancakes are gluten-free (make sure you get gluten-free oats) and no refined sugar! It only takes a few minutes to throw all the ingredients into the blender! Quick, easy and healthy…it couldn't be better!
The answer is.. Yes! Made with the right ingredients, pancakes can be an incredibly healthy breakfast option.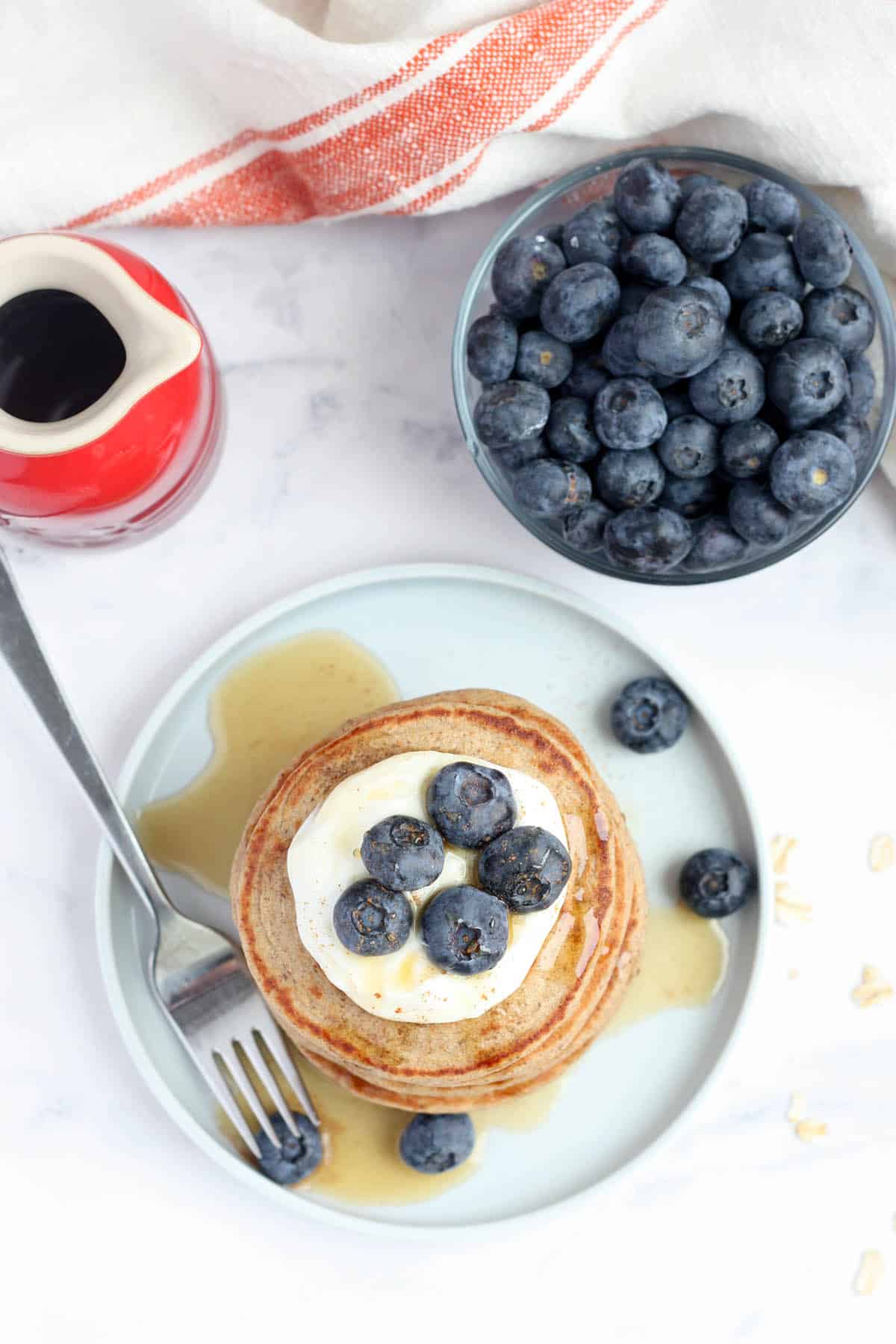 Ingredients for healthy pancakes:
almond milk– I always have unsweetened vanilla almond milk on hand so I used that.
oats– I use regular rolled oats. Oats are one of the most beneficial grains you can eat and add vitamins, minerals, fiber and antioxidants to these pancakes.
linseed– Added protein, fiber and omega-3 fatty acids
banana– Added natural sweetness, potassium and vitamin B6
honey– add sweetness
vanilla & cinnamon– Adds delicious flavor to pancakes
sea ​​salt– enhances pancake flavor
Baking powder– Makes pancakes light and fluffy
egg– Adds protein and structure to pancakes
coconut oil– Added fatty acids that can improve cognitive function
blueberry– Rich in dietary fiber, vitamin C and vitamin K
How to make healthy pancakes:
blend Mix almond milk, oats, flaxseed, banana, honey, vanilla, cinnamon, salt and baking powder until smooth, crushing the oats last.
addition Until the egg and pulse combine.
heat Coconut oil in a large skillet over medium heat.
pour it up Batter in hot pan. Top each pancake with a few blueberries before flipping.
serve Serve with additional blueberries, yogurt, and a drizzle of maple syrup if desired.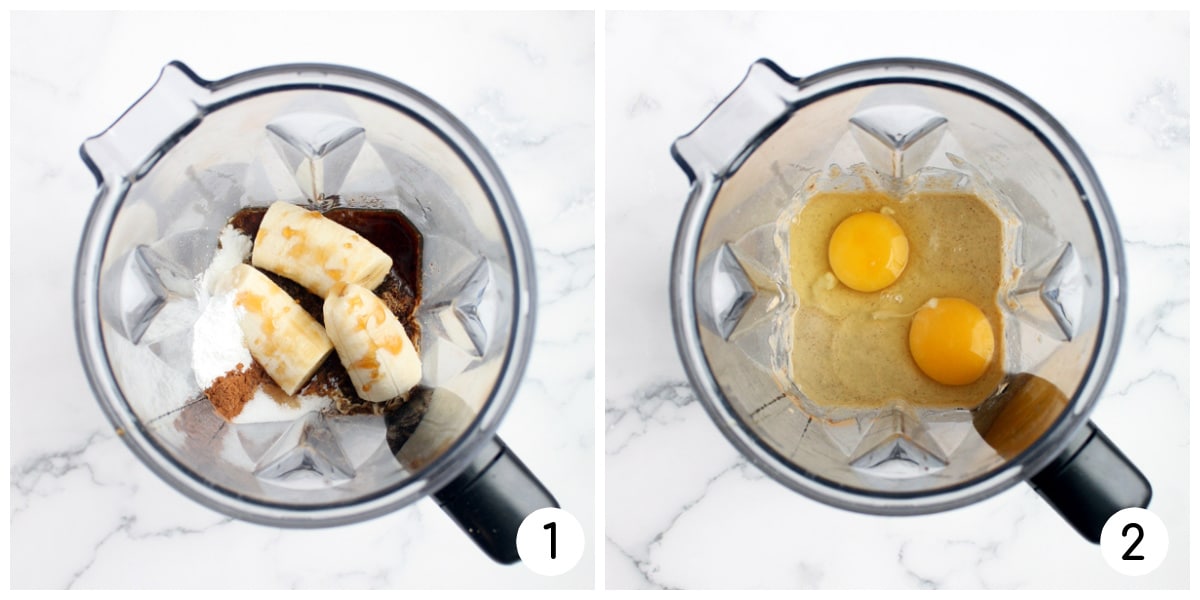 How to store leftover healthy pancakes:
These pancakes freeze well, so when whipping a batch, I like to double them so I can stash them in the freezer.
To freeze: Cool pancakes completely on a wire rack. Place pancakes in a single layer on a parchment-lined sheet pan. Once frozen, place pancakes in ziplock freezer bags.
To reheat: Place frozen pancakes in the toaster or reheat in the microwave in 20 second increments.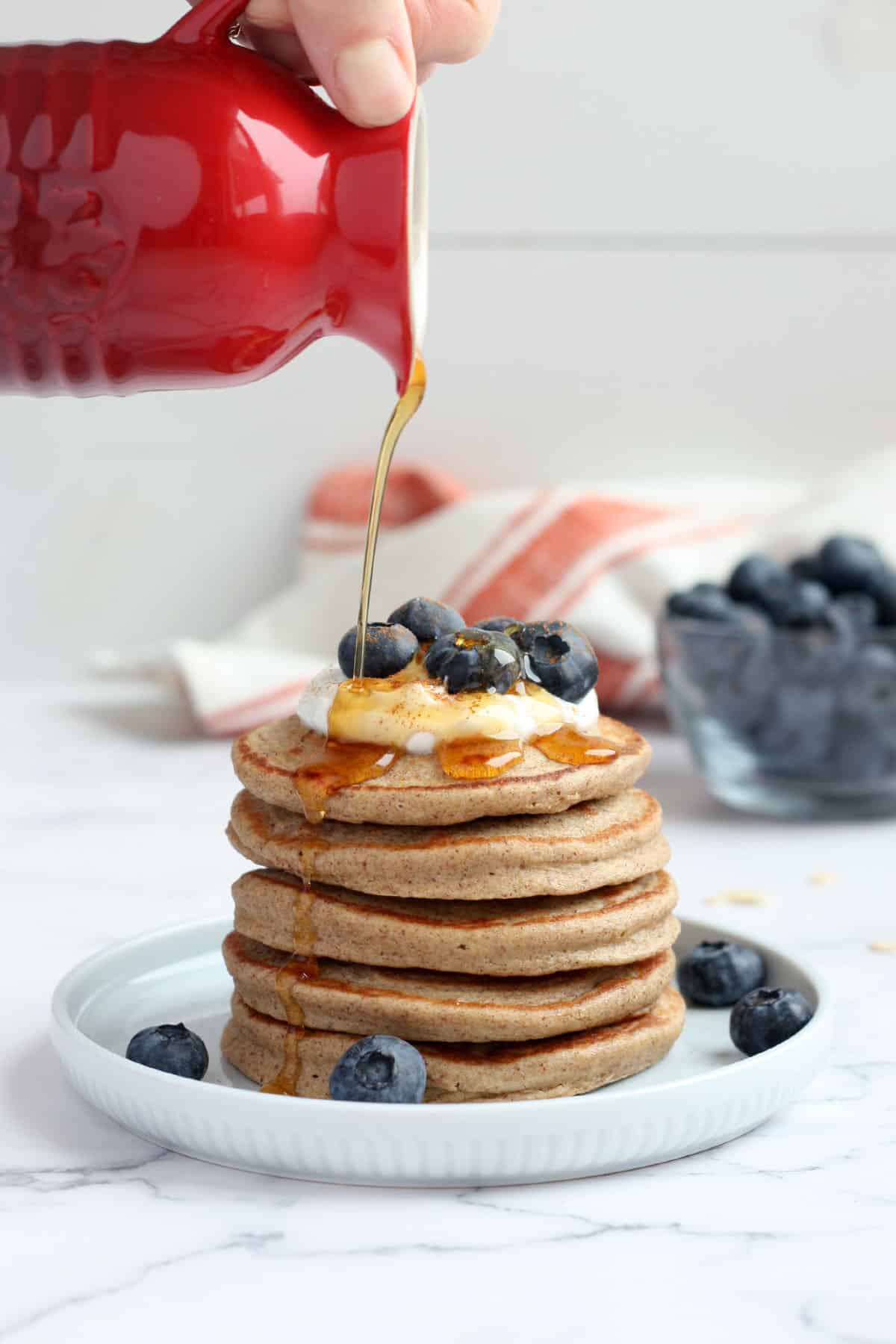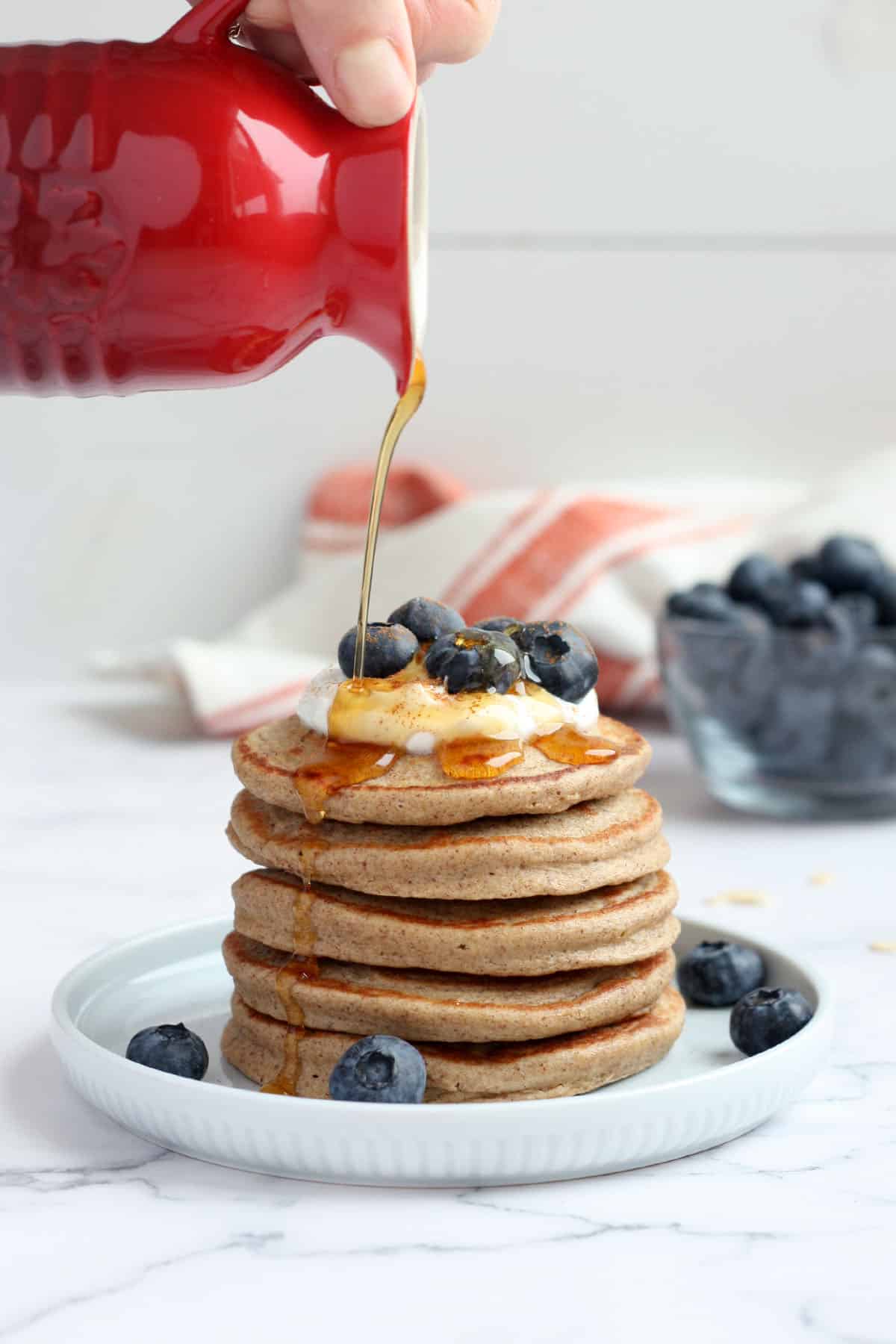 MORE PANCAKE RECIPES YOU'LL LOVE: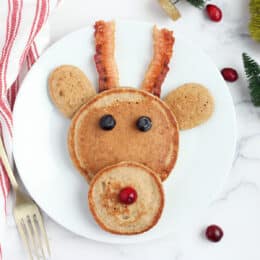 For reindeer:
8

slice

bacon

cooked

8

blueberry

2

cranberries, raw
Place all ingredients except eggs, coconut oil and blueberries in a quality blender. Blend until the oats are ground and everything is well combined.

Add egg and mix.

Heat a griddle over medium heat and melt 1-2 teaspoons of coconut oil or butter. Pour about 1/4 cup of batter into the griddle for each large pancake. Make small nose pancakes about half the size of the large pancakes. Pour small oval pancakes onto ear griddle. Brown on both sides (about 2-3 minutes per side).

Place the bacon on a serving plate, along with the ear-shaped pancakes. Place your large pancake on top, and finally the nose pancake. Cut a cranberry in half to make a nose.

fun!
calorie: 225kcal | | carbohydrate: 33g | | protein: 9g | | thick: 7g | | saturated fat: 2g | | cholesterol: 47mg | | sodium: 122mg | | fiber: 6g | | sugar: 6g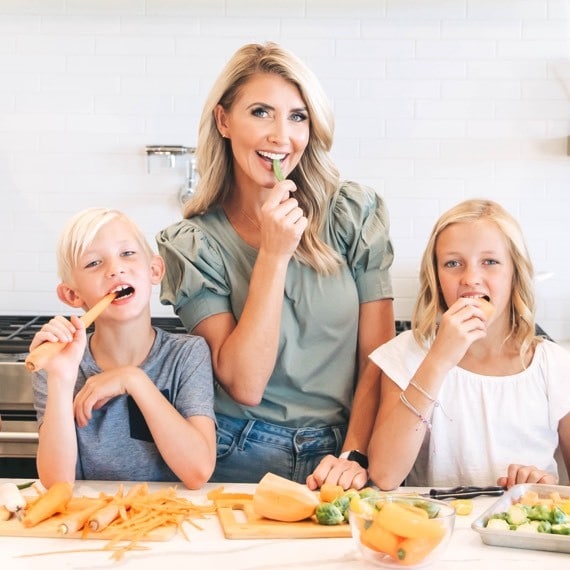 Natalie Monson
I am a registered dietitian, mother of four, a food lover and a strong promoter of healthy habits. Here you'll find delicious, fruit- and veg-rich recipes, tips to help your kids eat better and more intuitively, and tons of resources to feed your family.
Learn more about Natalie