We are so excited to share our hallway makeover with the #newyearnewroomchallenge. For years our hallway was just a passing area. It's finally a really clean one! I love how dramatic and moody it is. Funny thing is I grew up in the 80's when everything was brown and vowed never to paint brown again and here I am now. It's very dark, so I know this isn't a hallway for everyone, but I love how it feels different. The best part is that most of the corridors are redecorated with paint, so if you get tired of the dark, you can repaint it! I will admit that the small hallway is difficult to photograph after this. There's a video alongside this post for a better close-up and more details.
This post contains affiliate links. Learn more about Sponsor and Affiliate Link Disclosure here.
If you remember the space mood board, I could pretty much stick with it. I didn't know what it was.
shop: runner rug / light / small arch mirror / large arch mirror / artwork / door knob / flexible trim
Originally I was going to paint a landscape mural on the wall in the trim area, but near the end I had a strange and crazy desire. I was a little nervous, but decided I needed to take the risk.
Can a small hallway be painted dark? Dark brown wall paint can make a room cozy and moody at the same time if there is a bright light source
after door painting universal black By Benjamin Moore I painted a wall with white trim bittersweet chocolate When still wet, it looked like delicious forbidden liquid chocolate lol. When dry, it turned dark brown. I'll admit, it's really dark, but it feels really rich and moody.
I finally finished some unfinished trim and added two modern mirrors that transformed the whole area to add to the elegance of the hallway and bring in more light sources! One of the dilemmas I had to do was when I added the original trim many years ago, I cut the trim around the mirrors and thought it was great for now. Well, flash forward to now, my future self has to deal with it now. This was a great solution for the interest and the trim problem. I painted the part between the mirror and the trim to make it look like it was planned that way. If you want to change the mirror again someday, you have to face yourself in the future again.
The rug runner I added is really warm and inviting.By making the background a lighter shade against the colorful pattern, you can add brightness to the hallway with a dark wall color.
Doorknobs are like door jewels that can instantly transform and lift doors.
The thing that made me the happiest was replacing the doorknobs. They instantly improved his 30+ year old builder grade hollow core flat panel door. Two closets and a bathroom door still have to be replaced, but the three bedrooms are complete and I love the modern feel.i really loved it These knobs from Schoolhouse, but they were well beyond our price range.Luckily I found some that are really similar Myknobs.com The knobs I chose also had a square rosette backplate which really made them look more substantial and looked great against the black door!
Just to be sure, let's take a peek into the front hallway.
I'm almost done redecorating the hallway, but I'd like to make some mural-like wallpaper and add some crown molding. Time is running out and it's time to redecorate the room. I like the results so far. Of course, we will continue to make changes. Follow other creators who have remade and refreshed their spaces for 2023.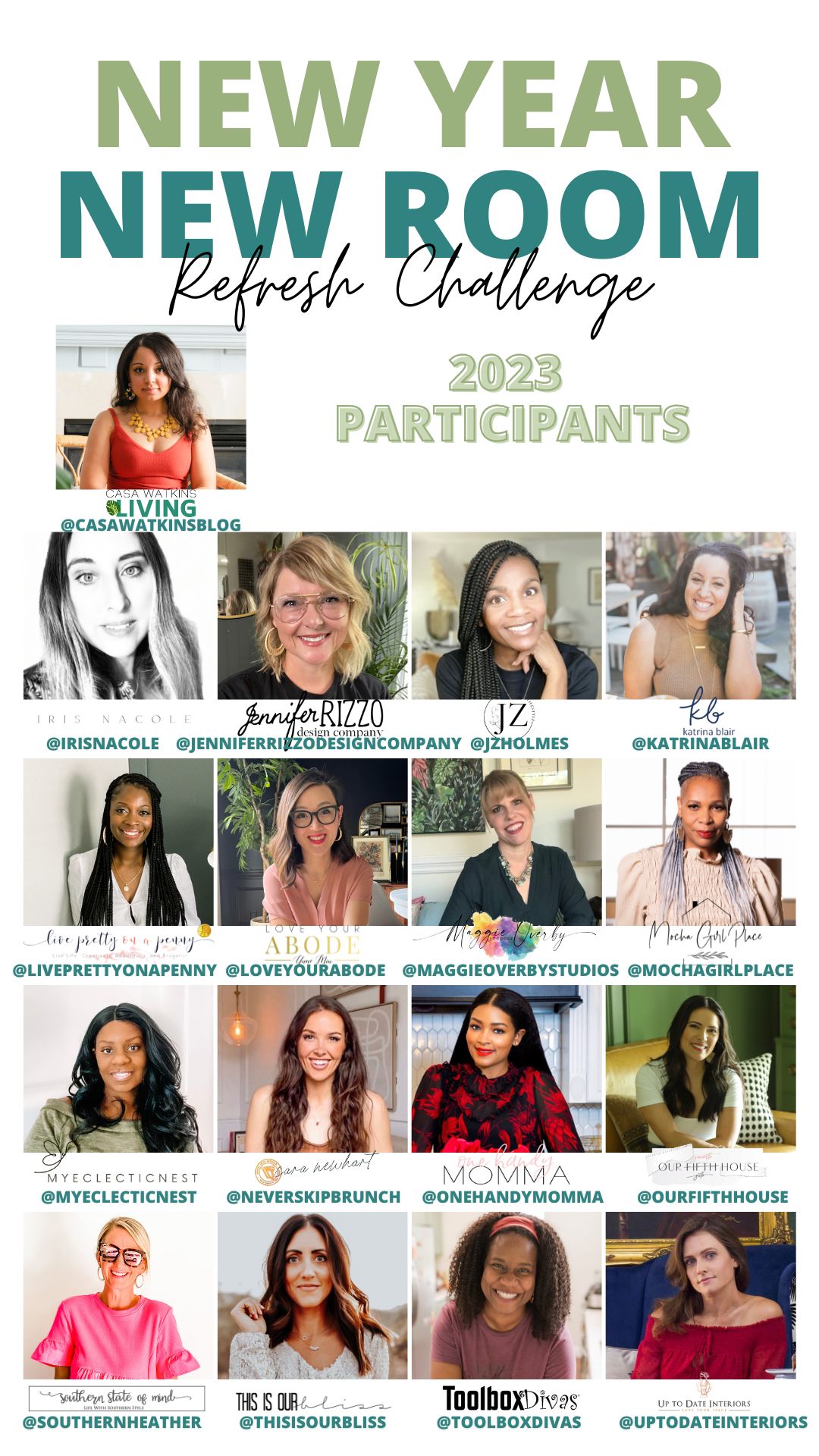 Casa Watkins Living /// Iris Nacole /// Jennifer Lizzo /// JZ Holmes /// Katrina Blair /// live clean with a penny /// Love Your Abode /// Maggie Overby Studios /// mocha girl place /// my eclectic nest /// don't skip branches /// one-handy mom /// Our Fifth House /// southern state of mind /// this is our bliss /// toolbox diva /// latest interior