We love this protein-packed frozen yogurt bark as a refreshing, naturally sweet snack, dessert, and afternoon craving buster! Creamy Greek yogurt drizzled with fresh strawberries, blueberries, and crunchy pistachios. Delicious sweets.
Frozen Greek yogurt bark and berries
This delicious frozen treat whips up quickly and is truly one of our favorite frozen treats. It's definitely best to use Greek yogurt because it's thicker and has a lot more protein than regular yogurt. We can do it! We want to freeze and eat all summer long.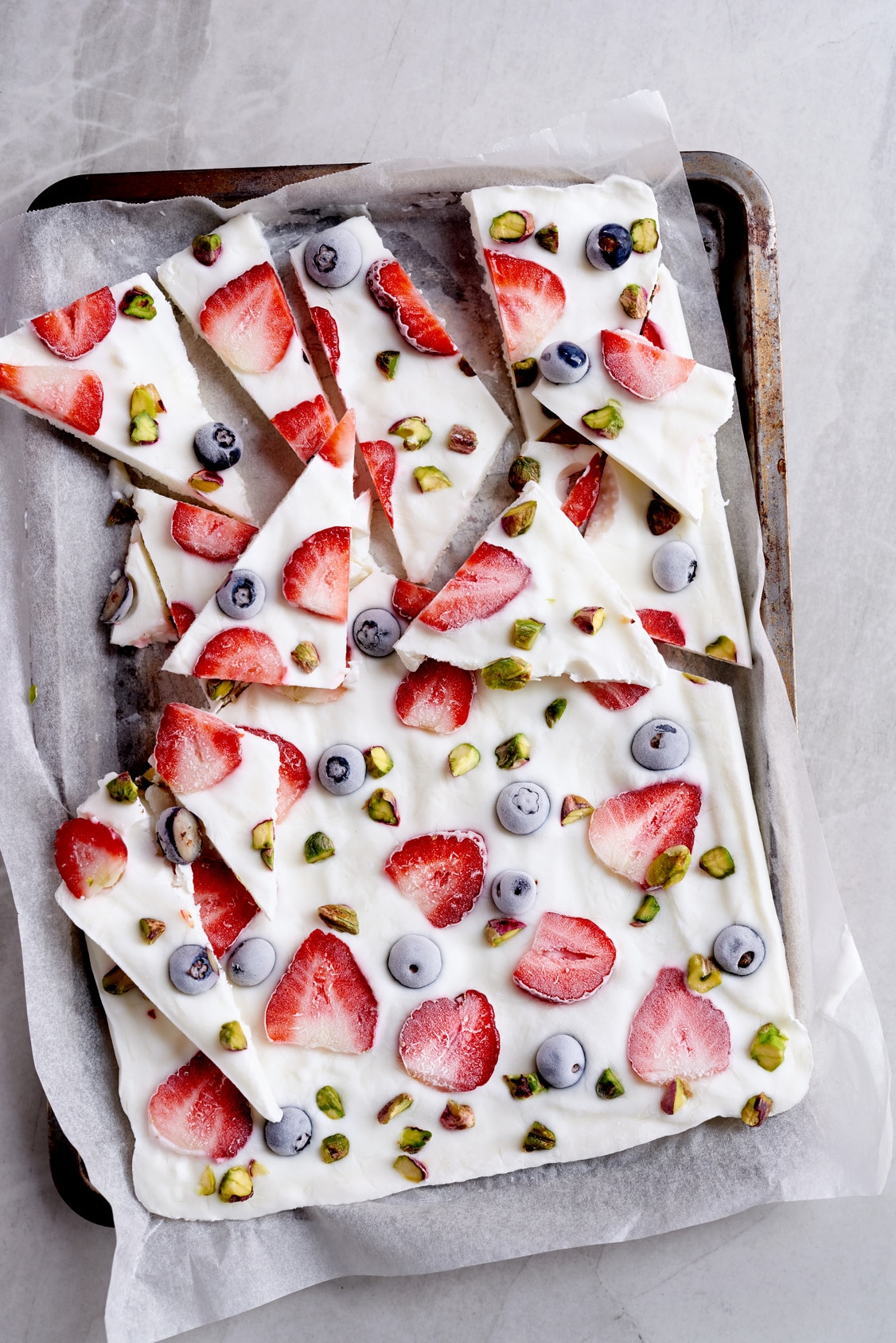 How to make frozen yogurt bars
Making frozen yogurt bark is basically the easiest recipe. It never fails.
In a bowl, whisk together the Greek yogurt, maple syrup, and vanilla. Spread evenly on a parchment-lined baking sheet.
Sprinkle the berries and other toppings evenly over the yogurt.
Freeze for about 4 hours, break into pieces and enjoy!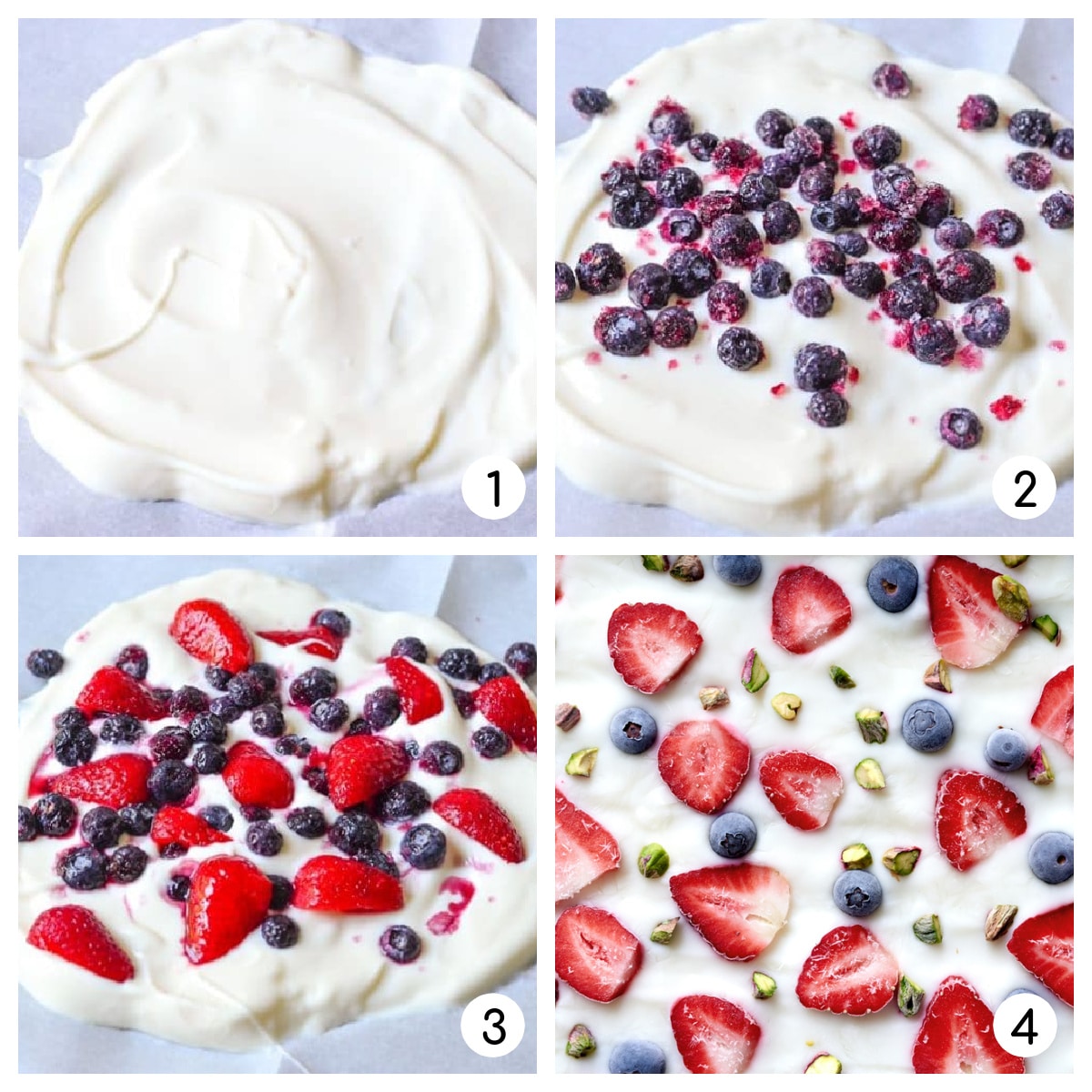 Ingredients in Frozen Yogurt Bark
greek yogurt –You can use plain or vanilla Greek yogurt. If you use vanilla, you can omit the maple syrup and vanilla.
fruits – We love to use strawberries and blueberries, but feel free to use any fruit you like. I like to use fresh fruit, but if fresh fruit is not available, Frozen fruit also works.
extra – Crunchy nuts are great in this recipe, and I like pistachios, pecans, or sliced ​​almonds.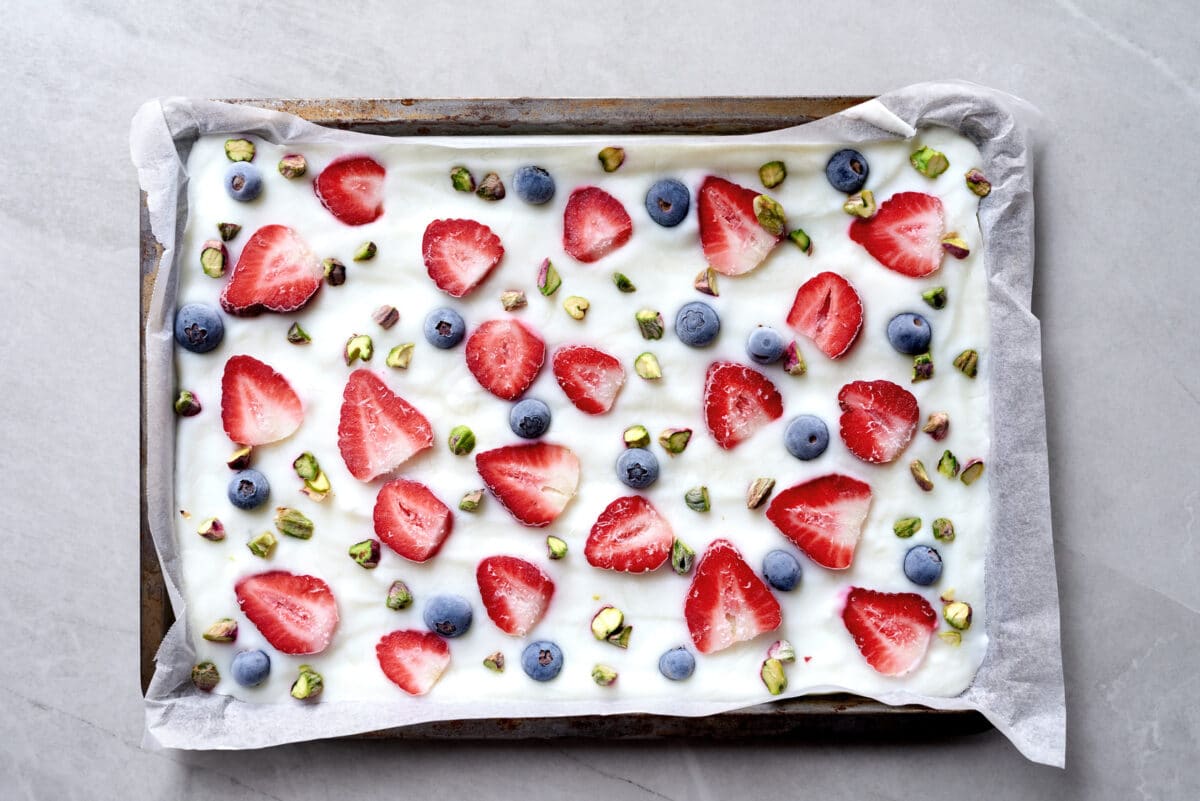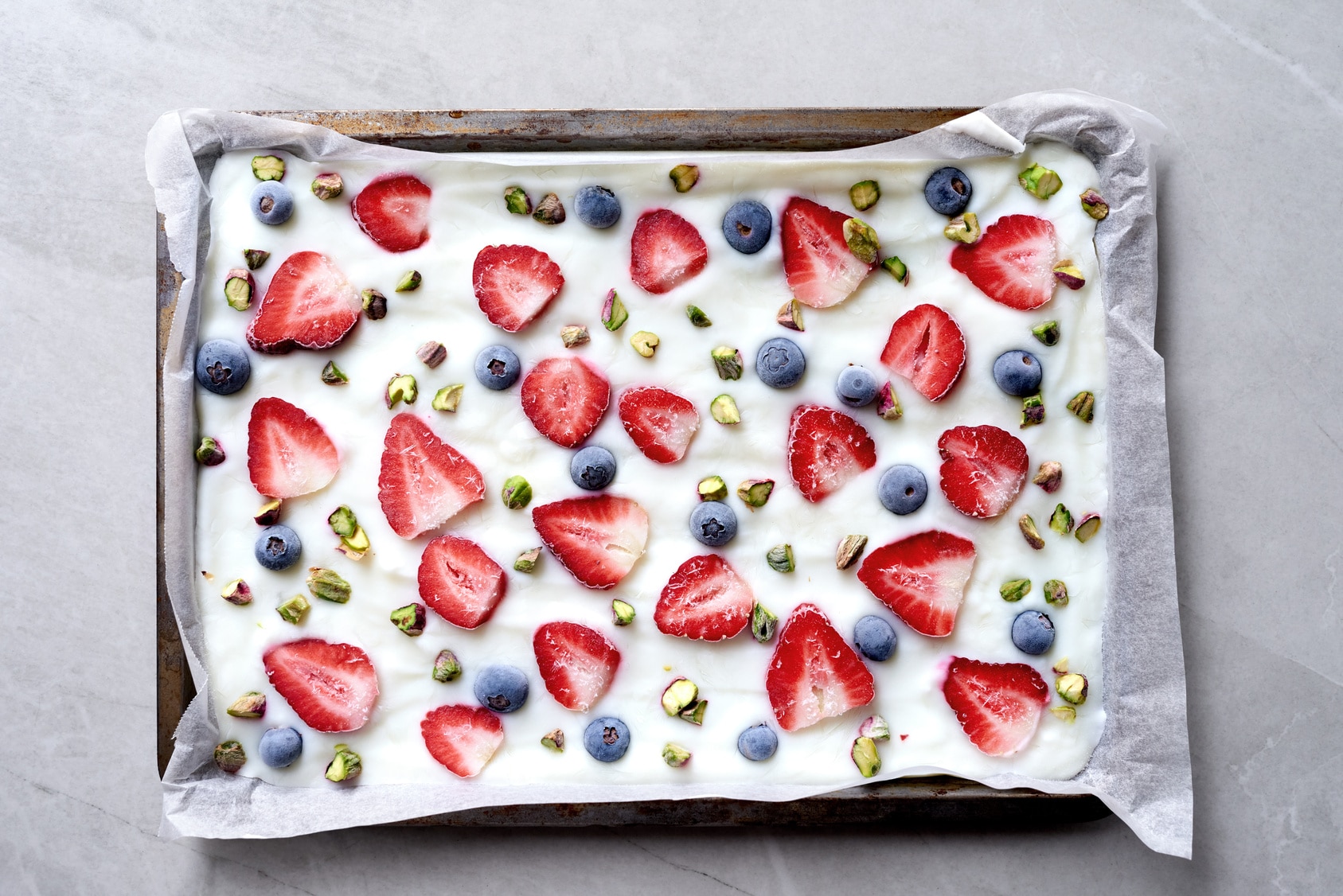 Customize your frozen yogurt bark!
There are many different ways to make this frozen treat. Here are some ideas for you:
fruit options. There are so many delicious fruits you can use to make this! Kiwis, pineapples, bananas, mangoes, raspberries and peaches work well in this recipe.
Ideas for toppings. Lots of fun options! These are some of our favorites: granola, coconut flakes, mini chocolate chips, white chocolate chips, chopped nuts, chia seeds and sprinkles.
Yogurt mixin. Mix peanut butter, cocoa powder, jam and fruit puree with Greek yogurt to create a completely different flavor of frozen yogurt bark.
A delicious yogurt bark combination:
Thick monkey. Greek yogurt + cocoa powder + maple syrup + sliced ​​banana
trail mix. Greek yogurt + granola + mini chocolate chips + blueberries
Berry Blast. Greek yogurt + strawberry jam + strawberry + raspberry + blueberry
Peanut butter cup. Greek yogurt + peanut butter + chopped peanuts + mini chocolate chips
healthy nutsGreek yogurt + maple syrup + chia seeds + chopped pecans and pistachios
tropical treats. Greek Yogurt + Maple Syrup + Coconut Extract + Coconut Flakes + Mango + Pineapple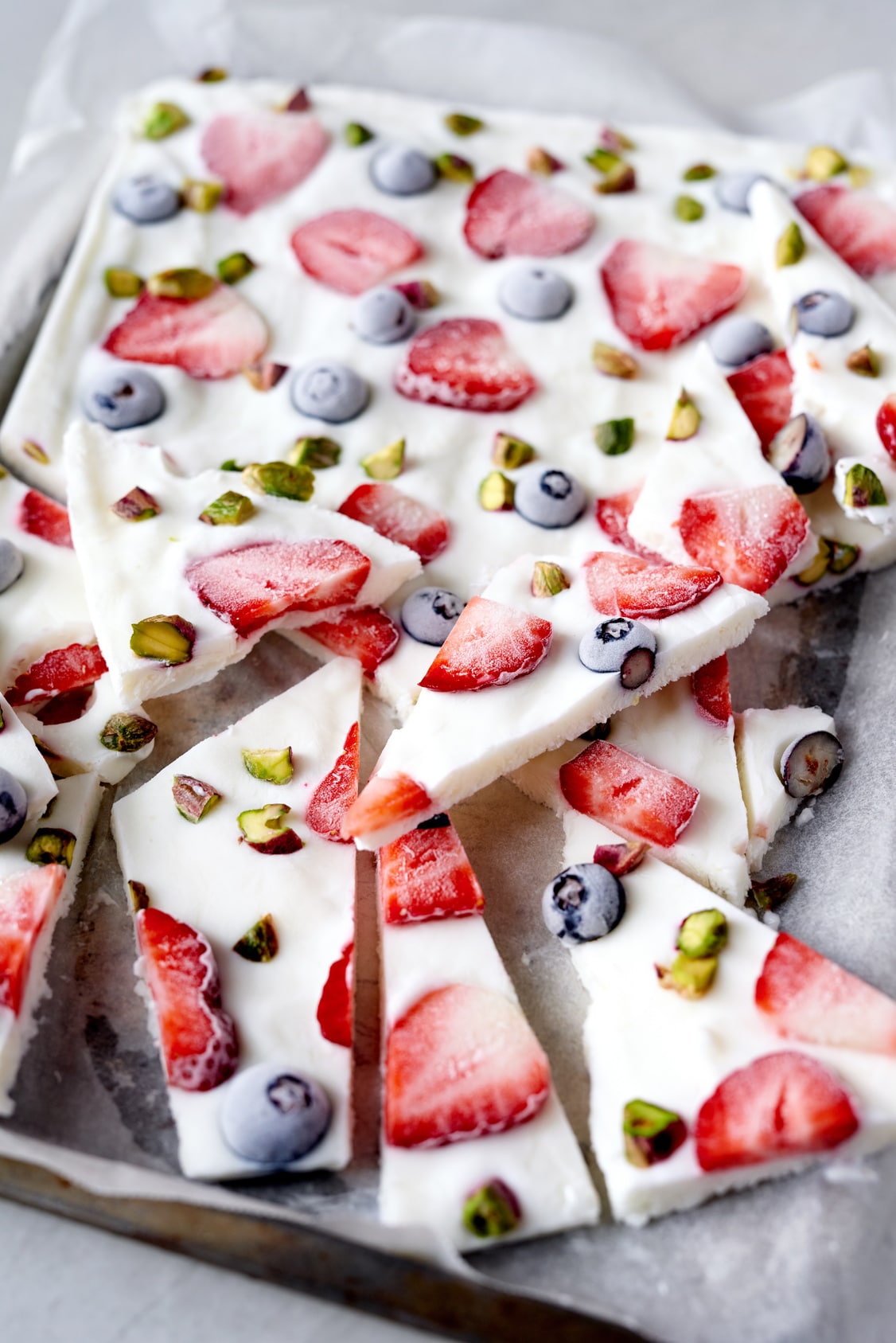 Frequently Asked Questions
How to store frozen yogurt bars?
After the yogurt bark is frozen, it is broken into pieces and stored in an airtight container for up to three months.
Can I make frozen yogurt bars with non-Greek yogurt?
yes! Use any type of yogurt you like. I prefer Greek yogurt because it is thicker and has more protein.
Will the frozen yogurt crust melt?
If you take it out of the freezer for a while, it will defrost. The texture will be a yogurt-like consistency, but more ice-like.
How to cut the skin of frozen yogurt?
You can use your hand or a large chef's knife to apply pressure to the top of where you want the splinter to break.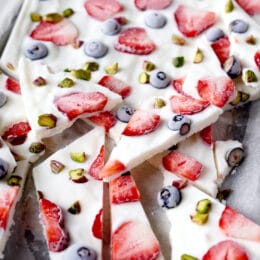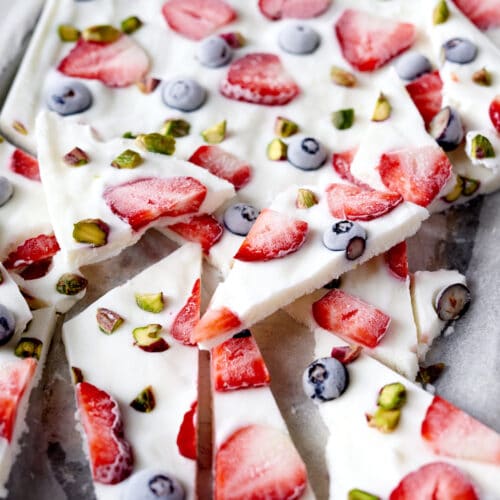 2

cup

greek yogurt, plain

2

tablespoon

Maple syrup

1

teaspoon

vanilla extract

1/2

cup

blueberry

1/2

cup

strawberry

1/4

cup

pistachio

chopped
Put yogurt in a bowl and mix maple syrup and vanilla. Place on a parchment-lined cookie sheet.

Spread evenly on a parchment-lined baking sheet.

Topped with blueberries, strawberries and pistachios.

Freeze for 4 hours or until completely frozen. Have fun tearing it apart! Store pieces in an airtight container for up to 3 months.
calorie: 70kcal | | carbohydrate: 7g | | protein: Fiveg | | thick: 2g | | saturated fat: 1g | | Polyunsaturated fat: 0.4g | | Monounsaturated fat: 1g | | cholesterol: 3mg | | sodium: 19mg | | potassium: 58mg | | fiber: 1g | | sugar: 6g | | Vitamin A: 44IU | | Vitamin C: Fivemg | | calcium: 62mg | | iron: 0.2mg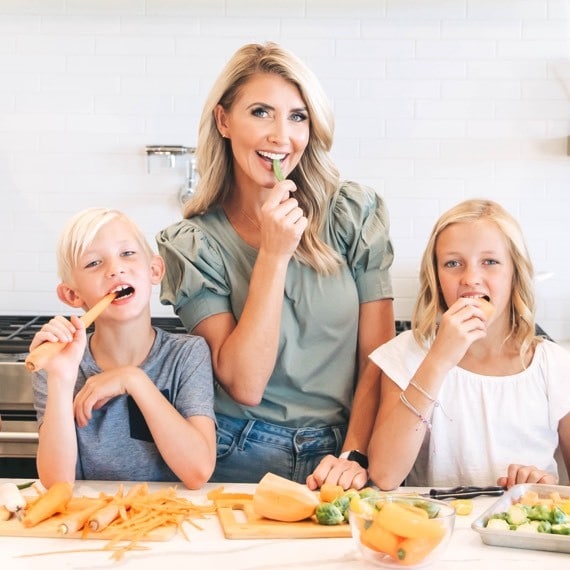 Natalie Monson
I am a registered dietitian, mother of four, a food lover and a strong promoter of healthy habits. Here you'll find delicious, fruit- and veg-rich recipes, tips to help your kids eat better and more intuitively, and tons of resources to feed your family.
Learn more about Natalie