skip to content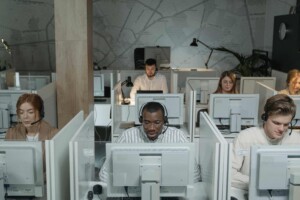 According to Feng Shui principle, even the smallest space can be evaluated, but your options are limited to such a small defined region. A feng shui consultant's first task is to figure out where the cubicles are throughout the building. People working in these areas are subject to all types of energy in that part of the building. In some cases, an entire cluster of employees may need the same remedy in each cubicle her area. Even annual cycles are very predictive of what happens to entire groups of people with cubicles in a particular part of a building.
One common drawback of the cubicle experience occurs when: People sitting with their backs to cubicle openingsThis is equivalent to having your back to the door of your actual room. Feeling, hearing, or feeling the noise coming from behind or the traffic of people in the office can make a person feel vulnerable and make it difficult to concentrate.
Place a large mirror as a "first aid" if you can't see the whole or side view of the larger space you're in (and see others) because the desk itself can't be rotated within the cubicle. To do. On the desk so that a person has a kind of "rear-view mirror". This provides psychological relief to workers forced to return to office traffic or other offices. A side benefit is that the mirror is strategically placed at the edge of the desk, making the cubicle seem larger than it would be if the mirror were large enough.
Employers should at least try to arrange cubicles so that employees do not turn their backs on each other. It's better to have the edges of the desks facing each other, even if there's half a wall, rather than a row of people with someone sitting behind them.
Another feature worth noting is the Ceiling above the cubicle. Is your ceiling flat, or do you have air conditioning ducts or exposed plumbing running overhead? Many companies these days build or remodel their operations in such a way that they look half-baked. Luxurious, high-tech accommodations, sophisticated furnishings, works of art, and completely unfinished ceilings. Sitting under a beam is neither healthy nor productive. Exposed ducts and pipes have the same effect as exposed beams.
For more information on personalizing your cubicle, Employees can sit in the best direction personally according to their date of birthThis will help you be more productive and focused. Good interior design, good ergonomics and tidy spaces, ample light and ventilation are also considered favorable feng shui environments for a cubicle experience.
Author: Carter Diamond
Company: Feng Shui Solutions ®
From the Architecture & Design blog series
Share this story and choose your platform!