A healthy, delicious meal on the table in just 20 minutes.. thanks to store-bought whole grain gnocchi!
What is gnocchi?
If you've never had gnocchi, they are like Italian pasta dumplings. It is made with potatoes and a small amount of flour. It has a chewy texture and is loved by children. Making homemade gnocchi is fun and therapeutic, but it's time consuming and I don't want to make it on a regular basis.
Luckily, you can buy ready-made gnocchi made from high-quality, whole-food ingredients.
Gnocchi may fly under the radar as a dinner option. It's delicious, but it's hard to come up with. A reminder that this exists! And here's how to make it easy, healthy, and delicious.
This easy gnocchi recipe is great because it's loaded with veggies! Mushrooms, onions, spinach and tomatoes. It makes for a great, filling vegetarian meal. Plus, you only need a handful of ingredients. And most of them are easy ones to stock up on for last-minute dinner options.
How to pronounce gnocchi:
Gnocchi is pronounced "nyoke". The 'g' is silent and the accent is on the first syllable.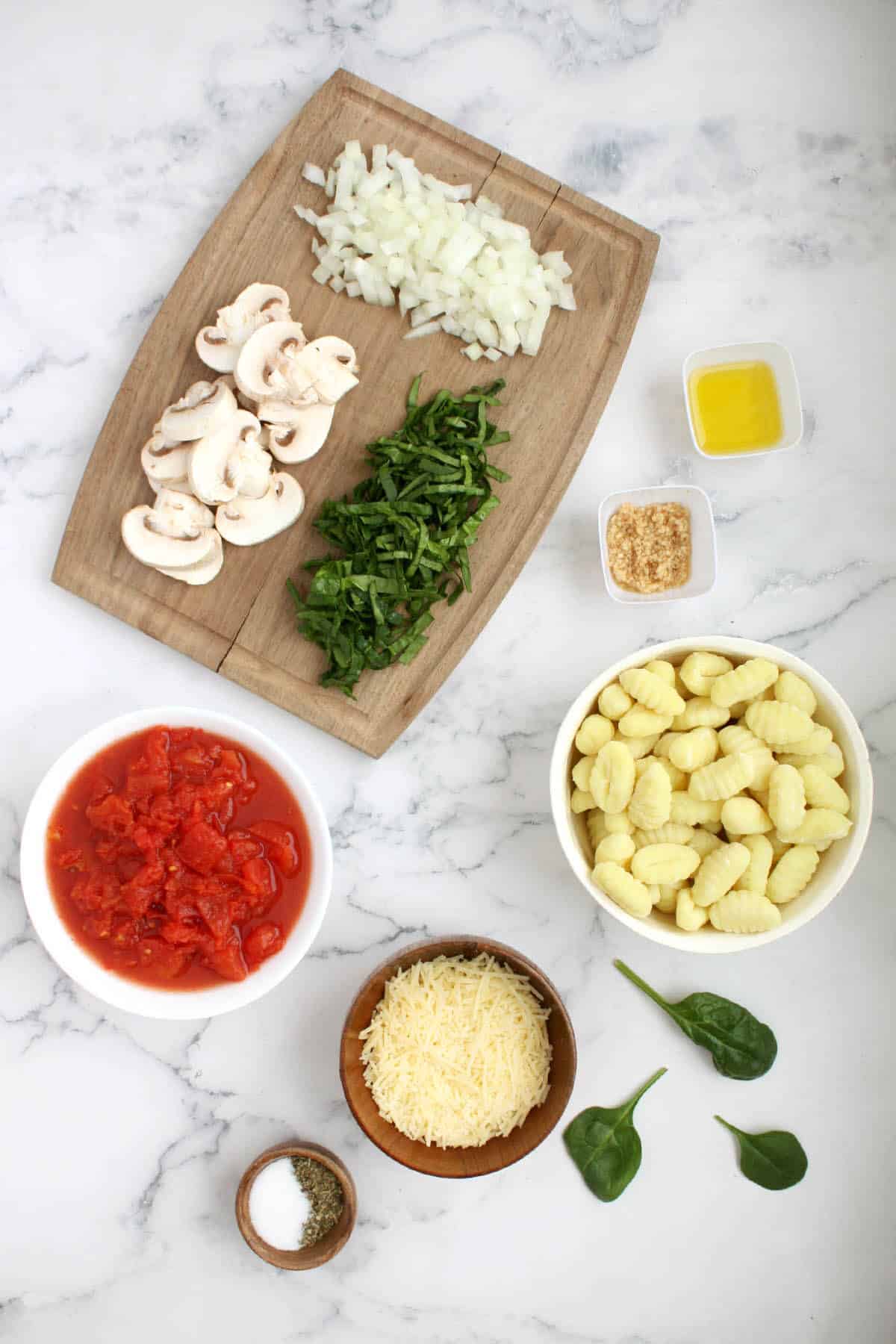 Ingredients for easy gnocchi recipe:
onion– Onions add flavor and depth to the sauce. Onions become soft and sweet when heated, and soften the sourness of tomatoes.
mushroom– Mushrooms add meaty flavor and texture to this vegetarian sauce. It also adds nutrients such as protein, fiber, vitamins and minerals.
garlic– Garlic balances the acidity of tomatoes and adds a warm flavor to the dish.
Olive oil– Olive oil helps make the sauce more flavorful and satisfying. It also allows the flavors to develop and meld together.
diced tomato– Diced tomatoes add both flavor and texture to the sauce. It has a slightly sweet and sour taste that balances out the other ingredients.
Italian seasoning– Dry Italian Seasoning enhances the flavor. Fresh herbs such as basil, oregano, and parsley can also be added for added brightness.
salt and pepper– Rounds out the flavor of the dish.
spinach– Spinach adds nutrients, flavor and color to the sauce. It is an excellent source of vitamins and minerals and enhances nutritional value. It has a mild, slightly sweet, earthy flavor that brings out the flavors of the other ingredients in the sauce.
Gnocchi– Gnocchi are small, soft dumplings made from potatoes, flour and eggs. It looks like pasta, but has a softer, more mellow texture.
Parmesan cheese– Shredded parmesan cheese adds a cheesy saltiness to the dish and brings all the flavors together.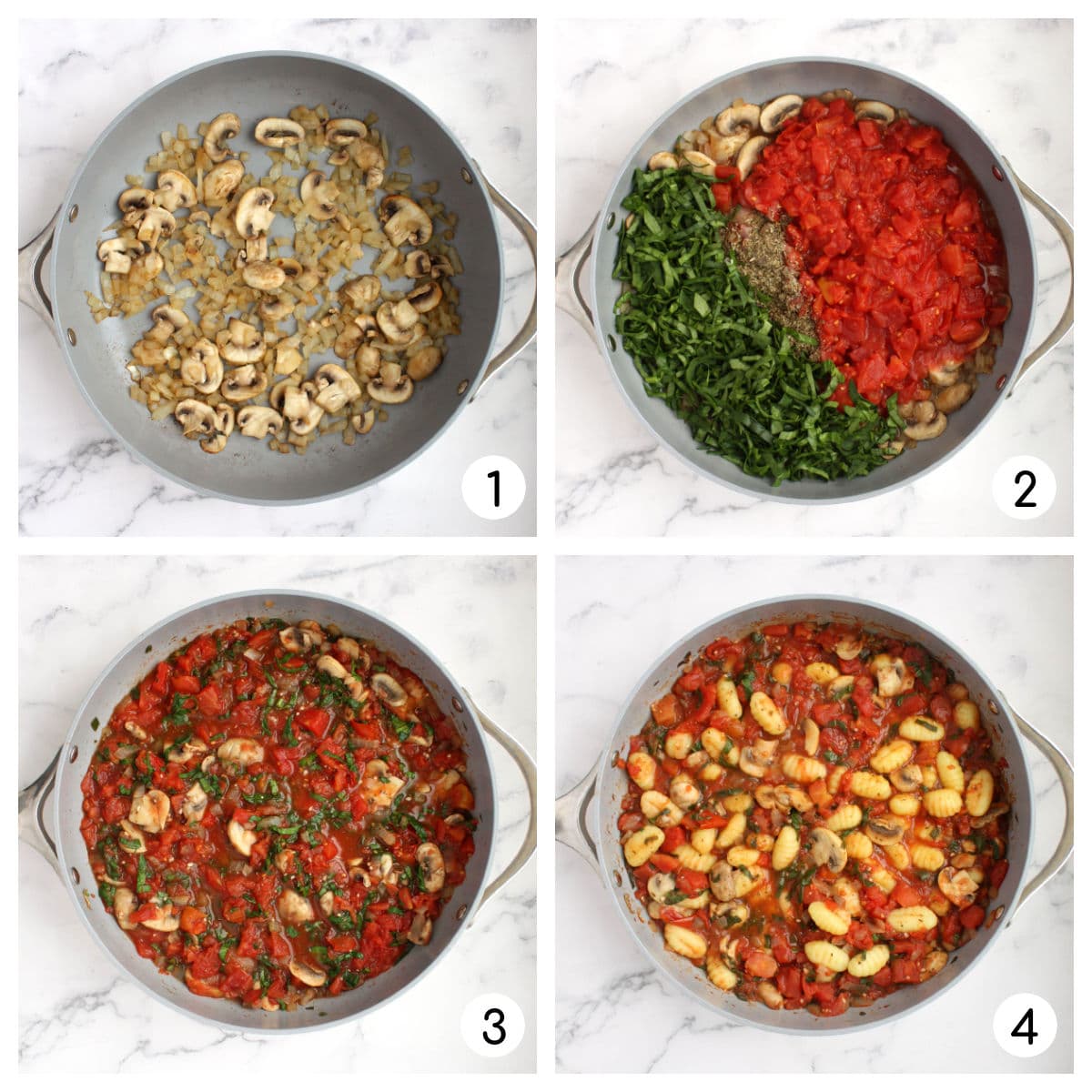 How to make this easy gnocchi recipe:
dice Slice onions, mushrooms, mince or slice spinach, mince garlic.
heat Large frying pan over medium heat. Add olive oil and fry the onions and mushrooms for 4-5 minutes. Add garlic and simmer for another 30 seconds.
addition diced tomatoes (with juice) and seasonings. Add spinach and let it soften.
mix with raw gnocchi. Simmer for 3 to 4 minutes, until gnocchi is cooked. Top with parmesan cheese and enjoy.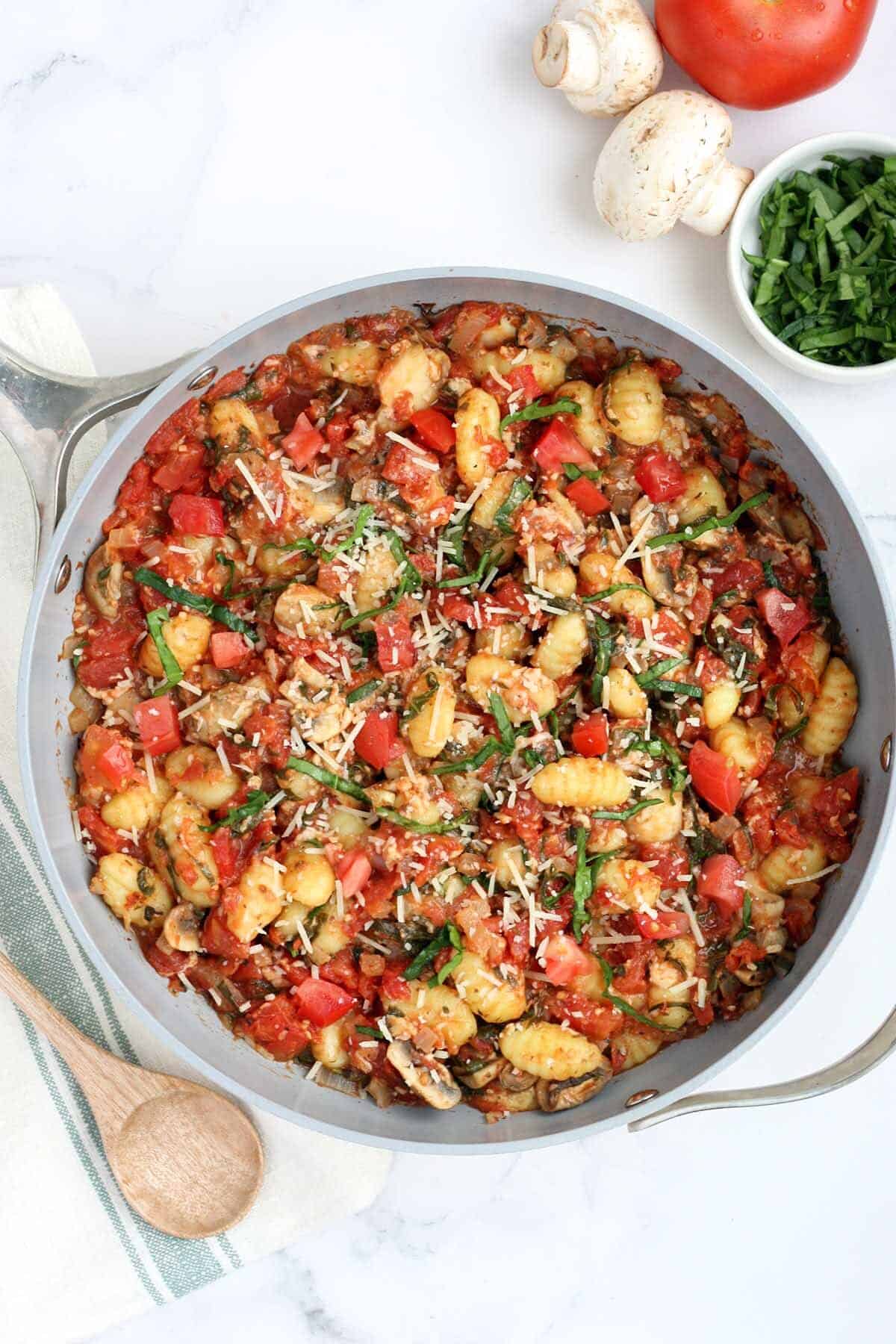 Tips and Suggestions:
Are gnocchi healthier than pasta?
Both gnocchi and pasta can be part of a healthy diet, depending on how you prepare them. Gnocchi is made from potatoes, flour, and eggs and generally has fewer calories and carbohydrates than pasta.
How to keep gnocchi from turning gummy?
This recipe calls for ready-made gnocchi, so it's fairly easy to prevent gummy gnocchi. Cook the gnocchi properly. Do not overcook the gnocchi.
Can I use pasta instead of gnocchi?
of course! If using pasta, boil 16 ounces of pasta in salted water. Drain well and mix into pasta sauce after spinach. Follow the rest of the recipe as directed.
What's the best gnocchi on the market?
Our favorite is the Potato Gnocchi from Trader Joe's.
Easier weekday meal ideas: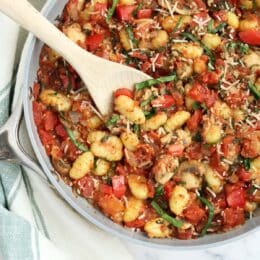 Chop the onions and thinly slice the mushrooms. Mince or julienne the spinach. Mince the garlic.

Heat a large skillet with high sides (or stockpot) over medium heat. Add olive oil and sauté onions and mushrooms until onions are translucent (4-5 minutes). Add garlic and sauté for a further 30 seconds.

Pour in the diced tomatoes (including juice) and add Italian seasoning, salt and pepper. Add spinach leaves and stir well.

When the spinach becomes tender, add the raw gnocchi and mix. Simmer for 3 to 4 minutes, until gnocchi is cooked. Serve warm with parmesan cheese.
calorie: 241kcal | | carbohydrates: 37g | | protein: 8g | | obesity: 8g | | saturated fat: 2g | | Polyunsaturated fat: 1g | | Monounsaturated fat: Fourg | | cholesterol: 7mg | | sodium: 990mg | | potassium: 479mg | | fiber: Fourg | | sugar: Fourg | | Vitamin A: 1180IU | | Vitamin C: 17mg | | calcium: 160mg | | iron: Fivemg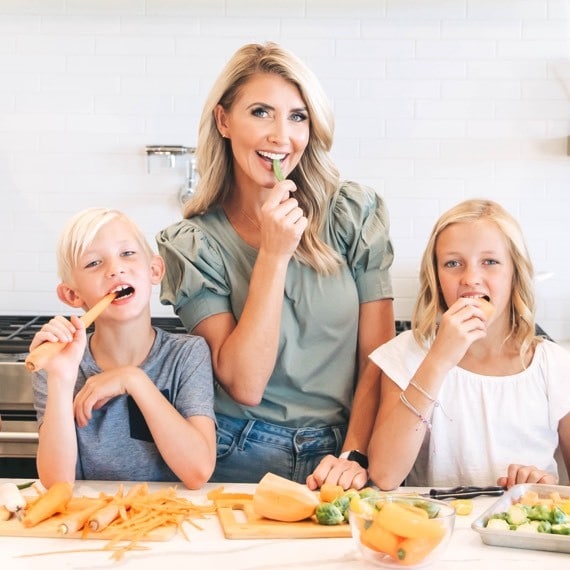 Natalie Monson
I am a registered dietitian, mother of four, a food lover and a strong promoter of healthy habits. Here you'll find delicious, fruit- and veg-rich recipes, tips to help your kids eat better and more intuitively, and tons of resources to feed your family.
Learn more about Natalie