Stir fry is one of the go-to recipes for making a quick and healthy dinner. This chicken stir fry recipe loves using ingredients you probably have on hand and is so versatile that you can tweak it to make it your own. Great for using up all the random veggies you have when you're hungry. Plus, stir fry sauces that are as easy as pie!
Why You'll Love This Fried Chicken
There are about a million stir-fry recipes out there, and each one is unique and delicious. But what I really love about this recipe is that it's bare-bones basics! It's super easy, adaptable, and uses ingredients you probably already have on hand.
Basic Ingredients:
chicken (or other protein of your choice)
Assorted chopped vegetables
Easy 5-item sauce (details next time!)
It's that easy! Dinner is served on top of rice or noodles (or not!).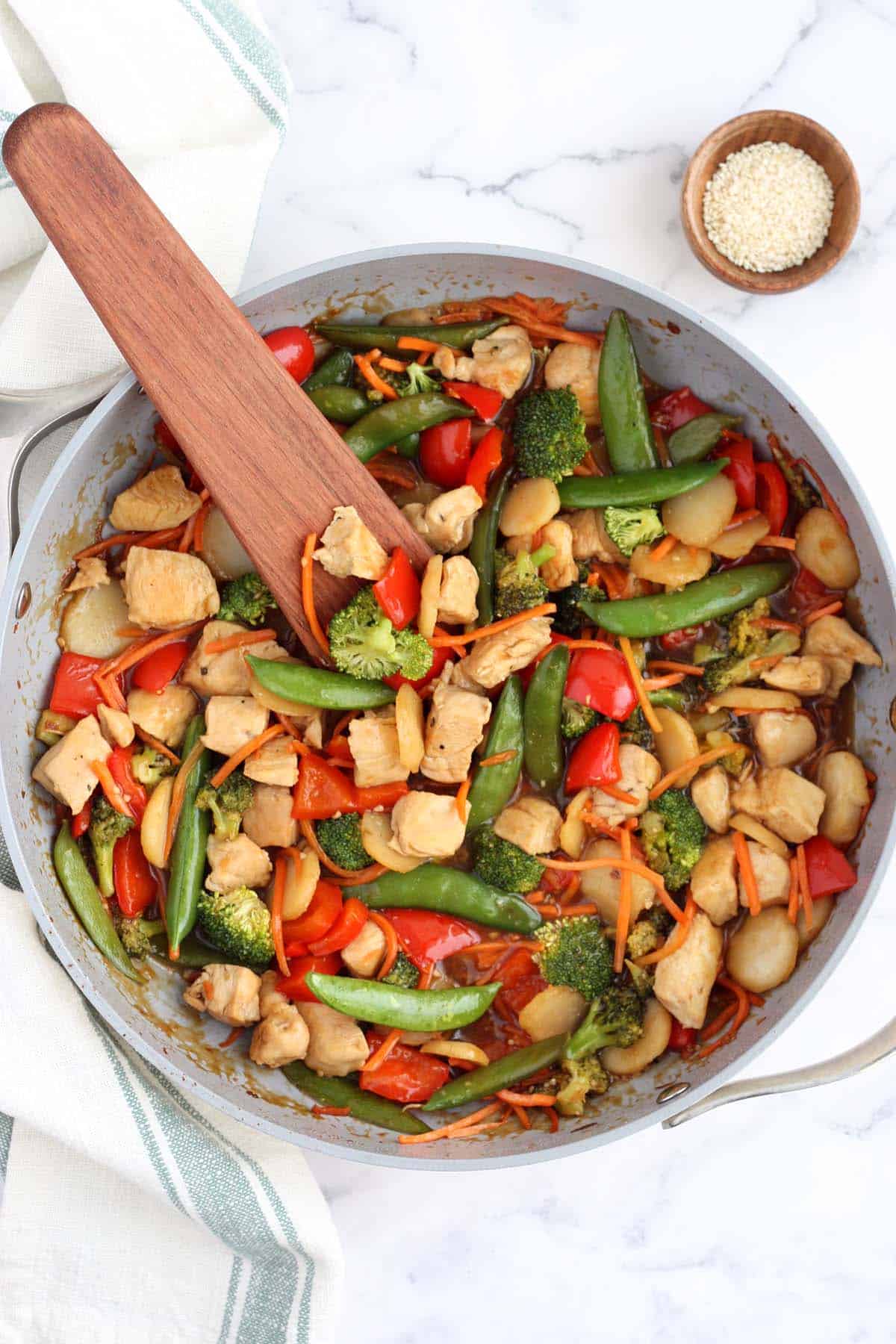 Fried chicken ingredients:
chicken– I used chicken breast, but chicken thighs work best. You can also use beef, shrimp, or tofu.
oil– Stir-fries require the use of oils with a high smoke point as they are cooked over very high heat for a short period of time. I used avocado oil.
broccoli– Broccoli is a classic stir-fried vegetable that is tough and can withstand high heat.
green pepper– Green peppers add a delicious crunch to the final dish.
water chestnut– Water chestnuts are sold in cans and can usually be found in the Asian food section of grocery stores.
carrot– We like to use matchstick carrots in our stir-fries. You can also cut carrots into thin coins.
snow peas– Sugar snap peas are also a great option! We go back and forth between the two.
garlic– Garlic is also included in the sautéed sauce, so you can omit it. However, I would also like to add here.
salt and pepper– You get a lot of flavor from the sauce, but it's important to season the protein before adding the sauce.
Stir fry sauce ingredients:
cornstarch– Used as a thickening agent.
chicken broth– You can also use vegetable soup.
apple cider vinegar– This is really a personal preference and in the end it doesn't make much of a difference. You can also use rice vinegar, red wine vinegar or distilled vinegar.
Honey– Honey is the go-to sweetener for stir-fry sauces, but you can also use maple syrup, agave, or brown sugar.
garlic & Ginger– Fresh is Best! The flavor is very good. You can use the powder in a pinch or not at all. They simply exist as flavor boosters.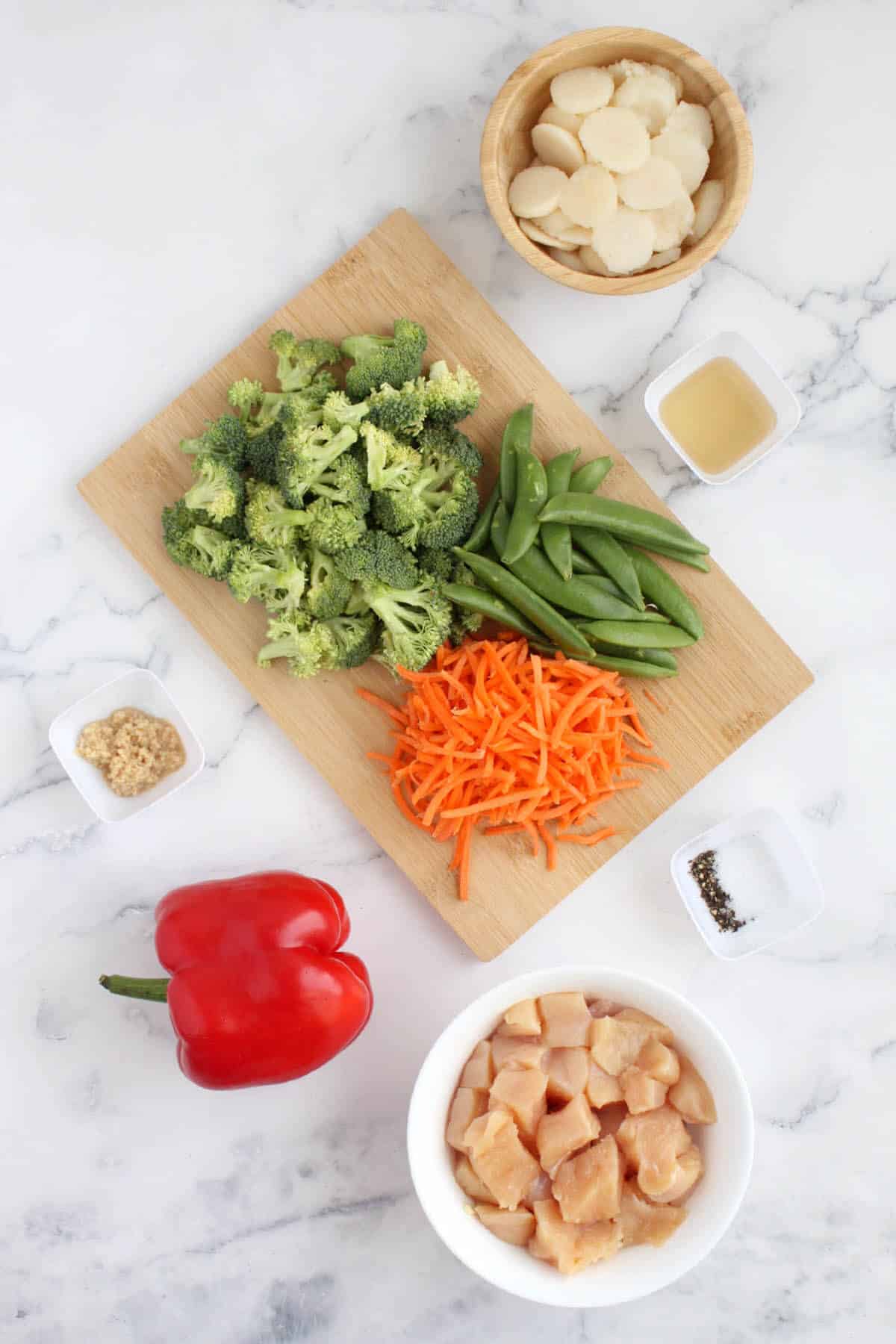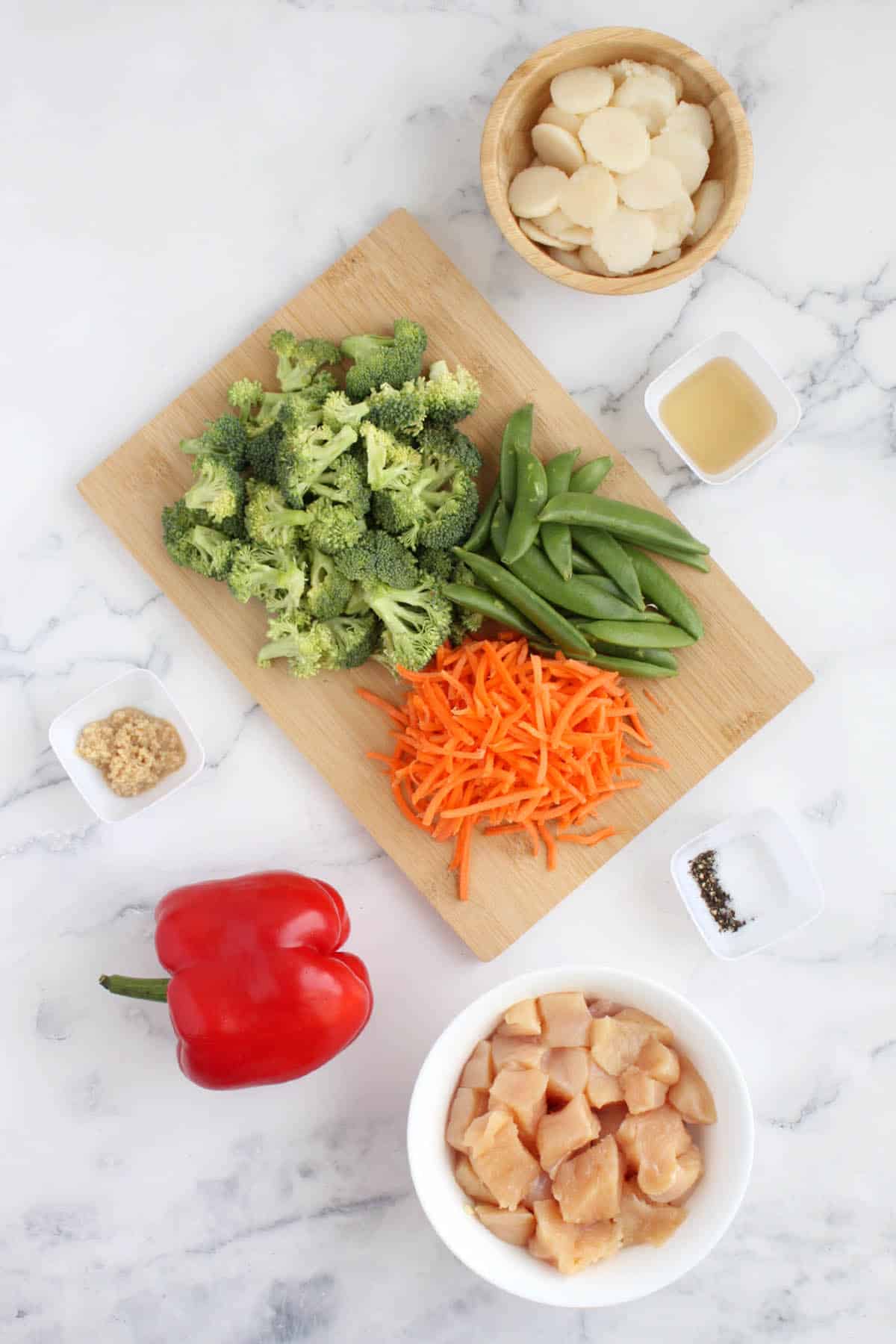 how to make fried chicken
whisk Combine sauce ingredients in a small bowl or liquid measuring cup. You can also use a blender bottle!
cut Cube your chicken into 1-inch cubes. Season with salt and pepper.
chop Broccoli and bell peppers (or carrots if not using matchstick carrots).
heat Pour oil into a large skillet over medium-high heat. Add chicken and simmer for 4-5 minutes. Your chicken should be nicely browned and cooked. Remove from skillet and set aside.
addition Another tablespoon of oil in the same skillet. Add vegetables and simmer for 5 minutes. For tender veggies, keep the lid on for a few minutes.
return Add the chicken to the skillet with the vegetables. Pour over sauce mixture and cook for 2 to 3 minutes or until sauce is thick and bubbly.
serve Place over rice and sprinkle with sesame seeds if desired.
fun!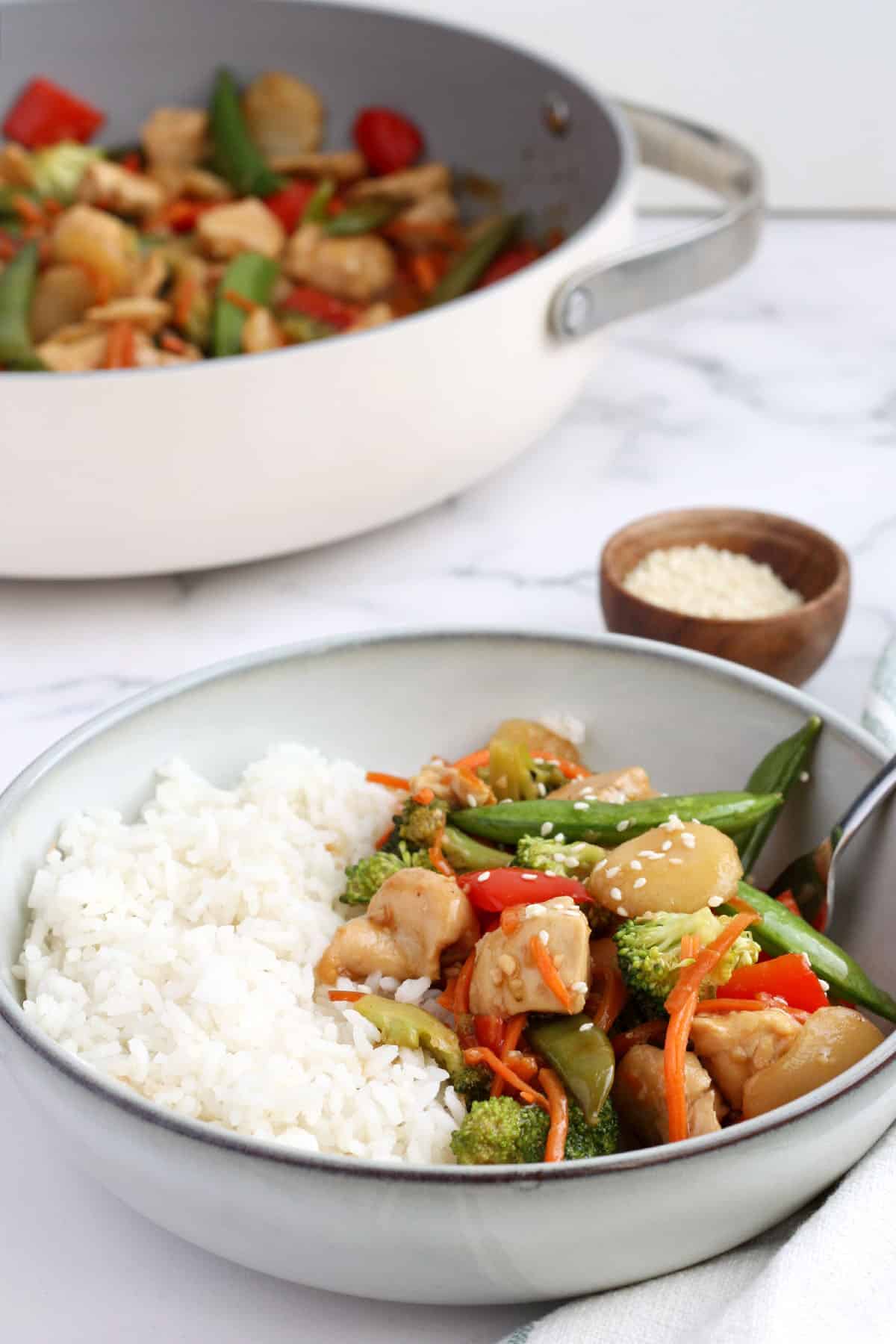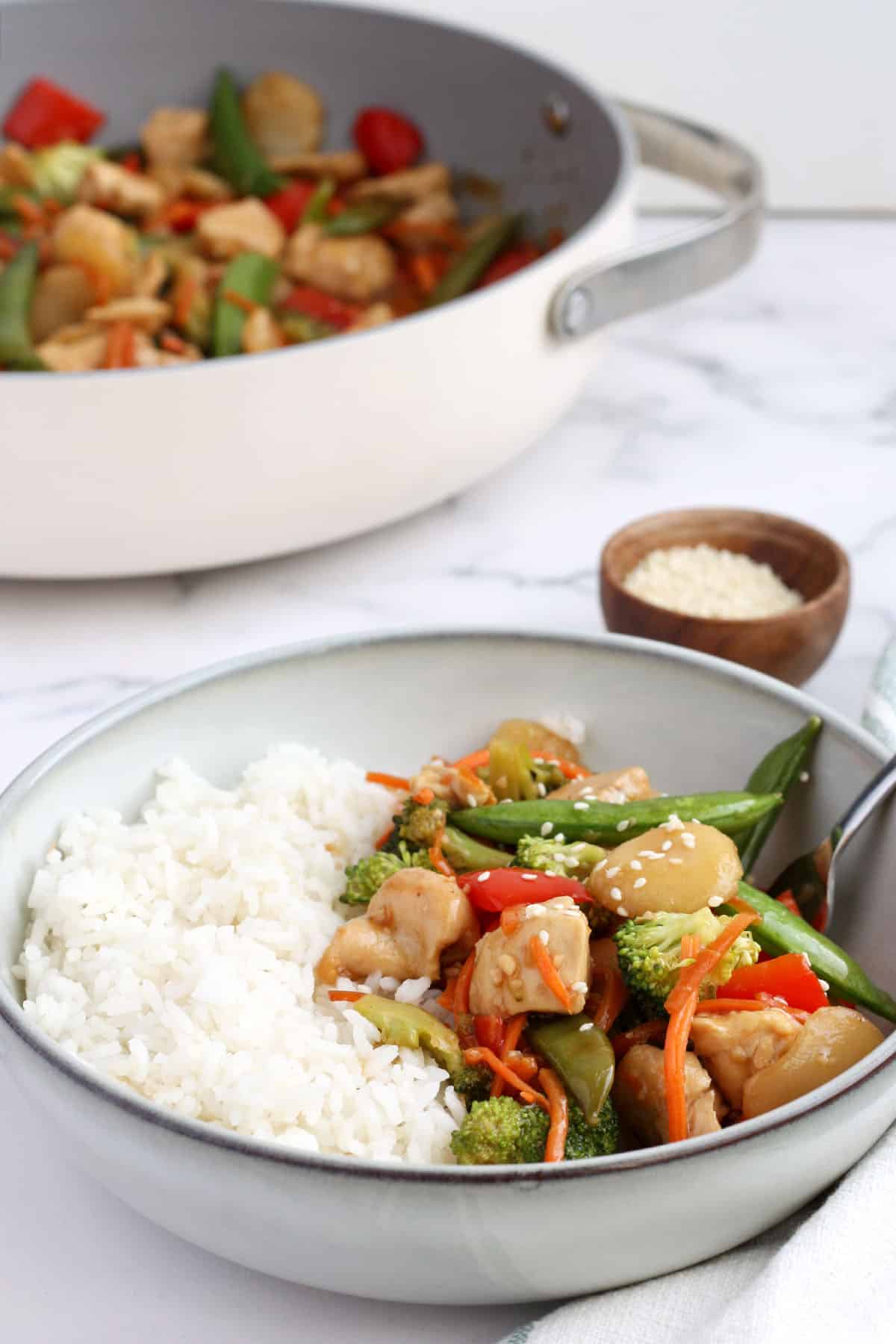 Tips and Suggestions:
What are the best vegetables for chicken stir fry?
One of the things we love about stir fry is its adaptability. And all the stir-fried sauce will be delicious! Broccoli, bell peppers, carrots, sugar snap peas, snow peas, asparagus, mushrooms, green beans, onions, cabbage, zucchini, and Brussels sprouts are all delicious and go well together.
What should I add to my stir-fry?
Another great thing about stir-fries is that you have all the ingredients of a meal in one dish: protein, veggies, and carbs! You can eat it on top of rice or noodles. It can also be served with egg rolls, spring rolls, or fruit.
What is the shelf life of homemade French fries?
Stir fry sauces will last up to 2 weeks in an airtight container. To make this dish even faster, you can double the sauce and cook it separately. Then just cook the protein and vegetables and stir in the thick stir-fry sauce at the end.
What can I add to my stir fry for additional flavor?
This recipe is delicious, kid-friendly, and super basic! Add flavor boosters like citrus juice, fresh basil, scallions, dried chillies, and diced pineapple to make it your own! . Play around with it and make it your own!
Easier weekday meal recipes:
easy fried chicken
Stir fry is one of the go-to recipes for making a quick and healthy dinner. Great for using up all the random veggies you have while you're waiting for your next grocery trip.
Serving: 6
calorie: 270kcal
sauce
1 1/2

tablespoon

cornstarch

1/2

cup

chicken soup, low salt

1/3

cup

soy sauce, reduced salt

1

tablespoon

apple cider vinegar

3

tablespoon

Honey

3

cloves

garlic

chopped

1

tea spoon

ginger

grate or paste
stir fry
2

tablespoon

oil

1

lb

boneless, skinless chicken thigh

cut into bite size pieces

1

bundle

broccoli

florets about 2 cups

1

Moderate

green pepper, red

8

ounce

water chestnut slices

1

cup

match stick carrot

or shredded

1

cup

snow pea

2

cloves

garlic

salt and pepper
The best way to make a stir fry is to have all the ingredients ready before you start cooking.

In a medium bowl, whisk together sauce ingredients and set aside.

Cut chicken into bite-sized cubes, about 1 inch. Season with salt and pepper.

Cut the broccoli and red pepper into evenly sized pieces. If you didn't buy matchstick carrots, cut the carrots into small, uniform sticks.

In a large skillet, heat 1 tablespoon oil over medium-high heat. Add the diced chicken and simmer for 4-5 minutes. Chicken should be thoroughly cooked and beginning to brown. Remove cooked chicken and set aside.

Add 1 tablespoon of oil to the same skillet. Add broccoli, green peppers, water chestnuts, carrots, snow peas, and garlic. Cook over medium-high heat for 5 minutes, stirring often. The vegetables should be soft and crisp at this point. If you want it to be softer, you can cook it for a few more minutes.

Return chicken to skillet with vegetables. Stir them up and then pour the sauce over everything. Cook until bubbly and thickened, 1 minute. Stir several times so that everything is coated with the sauce. Removed from heat.

Garnish with sesame seeds and serve over rice or noodles. fun!
calorie: 270kcal | | carbohydrates: 31g | | protein: twenty oneg | | obesity: 8g | | saturated fat: 1g | | Polyunsaturated fat: 2g | | Monounsaturated fat: Fourg | | Trans fat: 0.03g | | cholesterol: 72mg | | sodium: 850mg | | potassium: 763mg | | fiber: 6g | | sugar: 15g | | Vitamin A: 4390IU | | Vitamin C: 128mg | | calcium: 81mg | | iron: 3mg
www.superhealthykids.com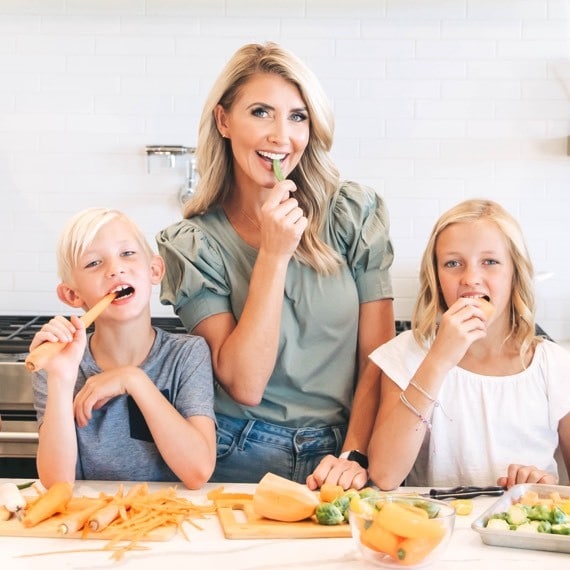 Natalie Monson
I am a registered dietitian, mother of four, a food lover and a strong promoter of healthy habits. Here you'll find delicious, fruit- and veg-rich recipes, tips to help your kids eat better and more intuitively, and tons of resources to feed your family.
Learn more about Natalie