This crockpot Italian chicken recipe is an old family favorite. We've modified it over the years to keep all the flavor and goodness of the original recipe while making it healthier. Your crockpot meal is ready.
Why You'll Love This Crockpot Italian Chicken
We've been making versions of this recipe in my family for years! The original was delicious but clearly undernourished. A stick of butter, a block of cream cheese, canned soup, and no veggies needed! The result of time-consuming adaptations is a flavorful, creamy dish that tastes just as good as the original. In fact…we like it even more. It's easy to make and always a crowd pleaser.
I had it over pasta, but it was also delicious over rice and quinoa! Vegetables are also very adaptable. Use what your family likes. Broccoli and asparagus are also delicious.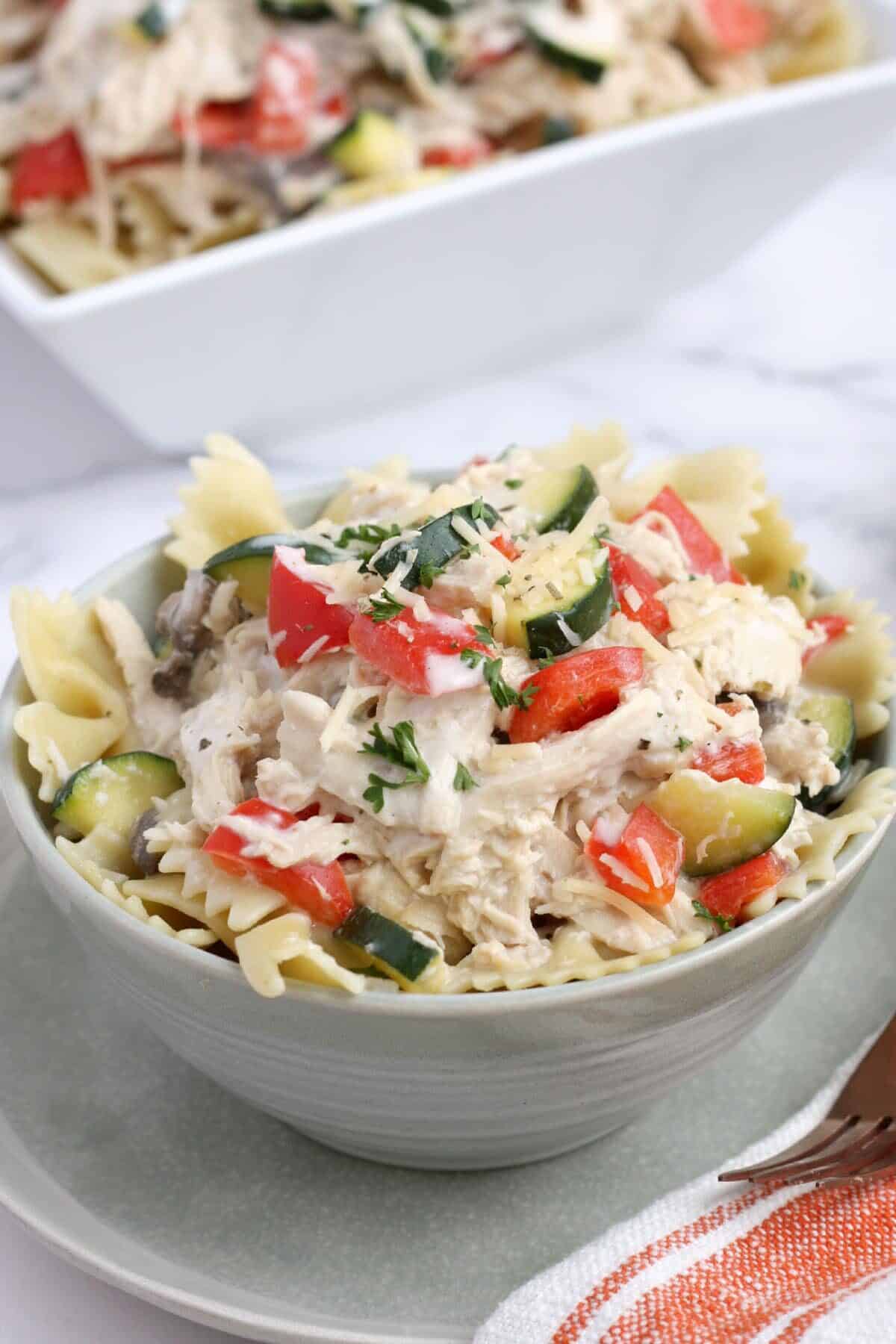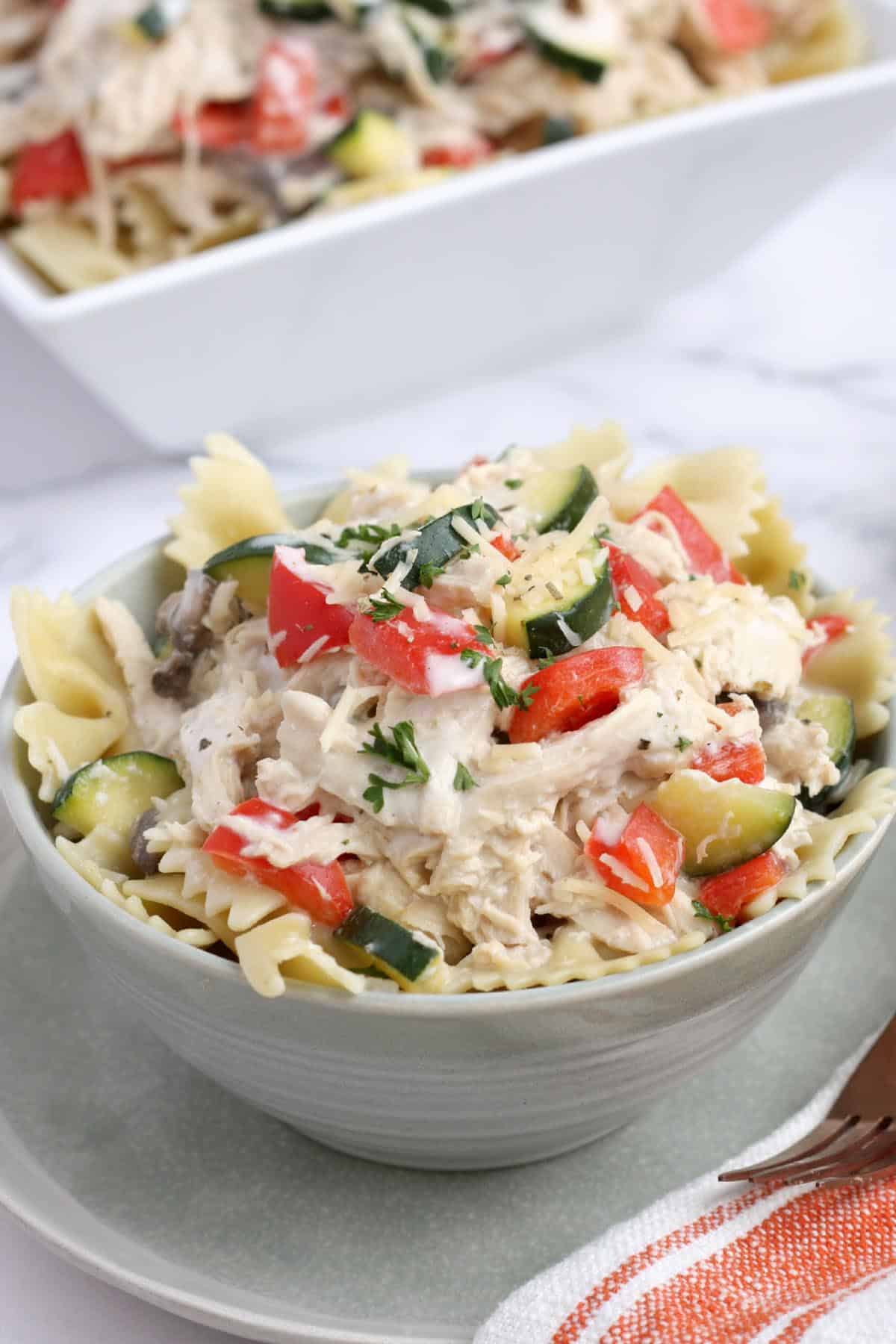 Ingredients for Crockpot Italian Chicken:
chicken– Use boneless and skinless chicken breast
dry italian dressing mix– Any variety is fine.. I used Good Season.
homemade chicken cream soup– So easy, never use canned food again!
laughing cow cheese– Uses classic cream Laughing Cow wedges. Goes well with cream cheese too.
zucchini– Cut in half lengthwise and then slice.
green pepper– I used red bell pepper for color. Any one is fine!
mushroom– We used fresh white button mushrooms.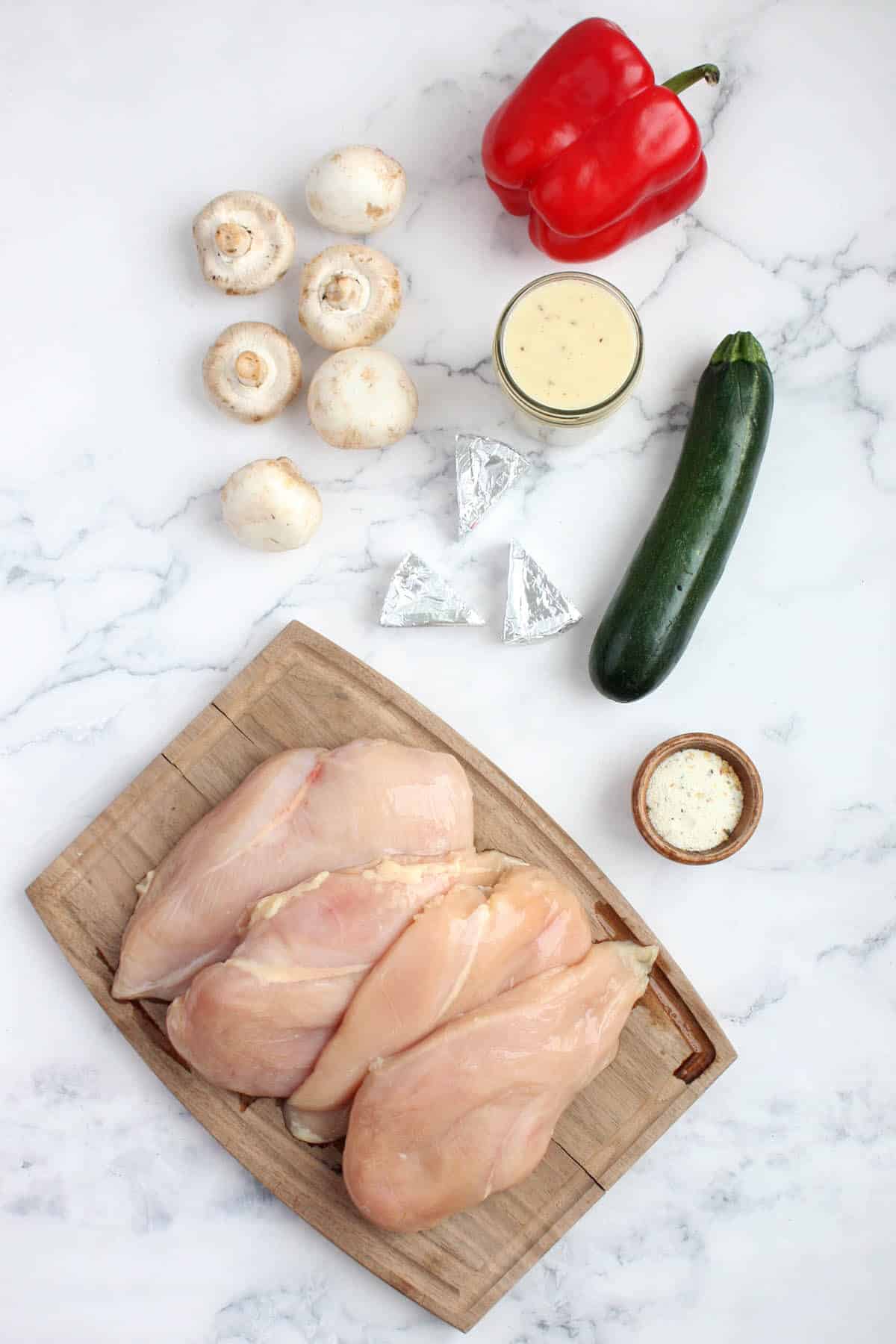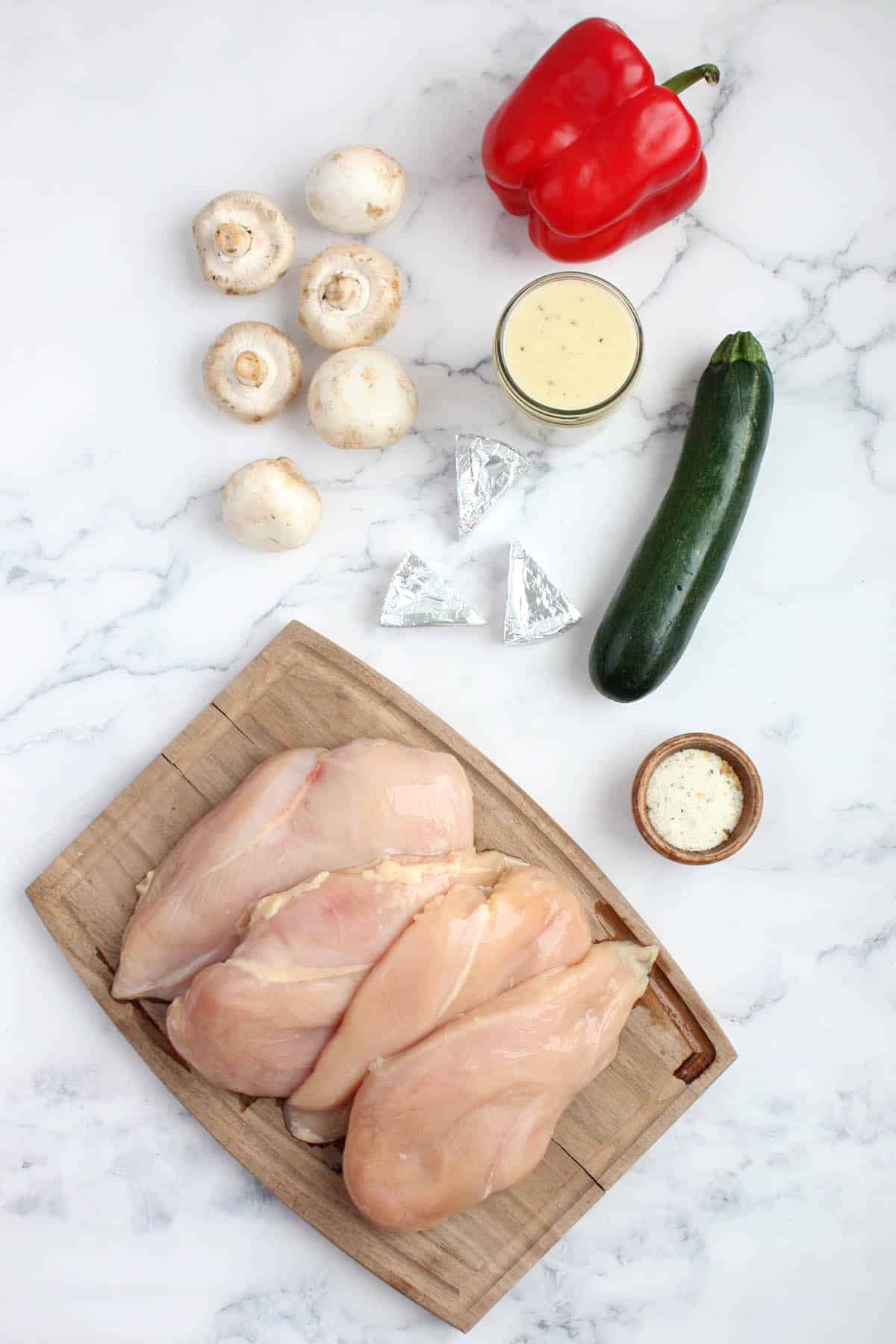 How to make Crockpot Italian Chicken:
place Place chicken in crockpot and sprinkle with Italian dressing mix. Stir to coat.
make Cream of chicken soup. Using a small saucepan, melt the butter and whisk the butter. Slowly mix the chicken stock and milk. Continue whisking until mixture thickens and becomes creamy. May seem chunky at first.. keep whipping! Season with salt and pepper.
pour it up Soup over crockpot chicken.
cooking Less than 3-4 hours. Actual cooking times may vary. If you can easily shred the chicken with a fork, it's done.
chop vegetables; add to crockpot with cheese; Stir well.
Continue Cook for an additional 30 minutes or until cheese is melted and vegetables are tender.
serve Over pasta or rice. fun!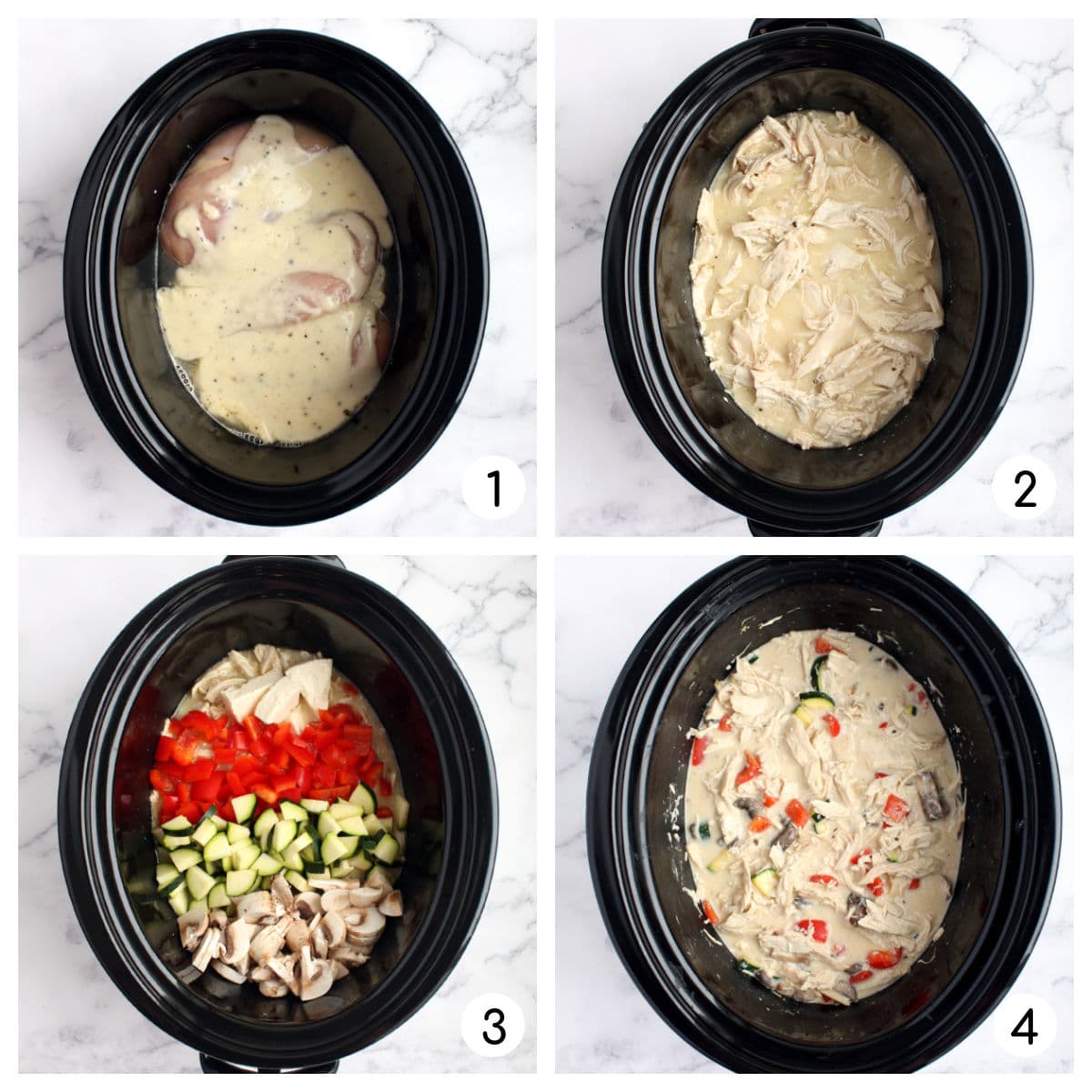 Is it better to cook on high or low heat in the slow cooker?
Most recipes work well at either temperature. Because this recipe uses lean meat and vegetables, a high setting is best. However, you can use low settings. Increase cooking time by 1-2 hours.
Can I use a can of cream of chicken soup instead?
It can replace your homemade recipe for cream cans of chicken soup. And it tastes so good!
What are the alternatives to dry Italian dressing mixes?
If you don't have an envelope of Italian dressing mix, stir as follows:
2 tablespoons kosher salt
2 tablespoons dried oregano
Garlic powder 1 tablespoon
Onion powder 1 tablespoon
1 tablespoon sugar
1 tablespoon dried parsley
1 teaspoon black pepper
1/2 teaspoon basil
1/4 teaspoon celery salt
Use 2 tablespoons of this mixture in place of an envelope of Italian dressing mix. Store leftovers in airtight storage containers or small mason jars.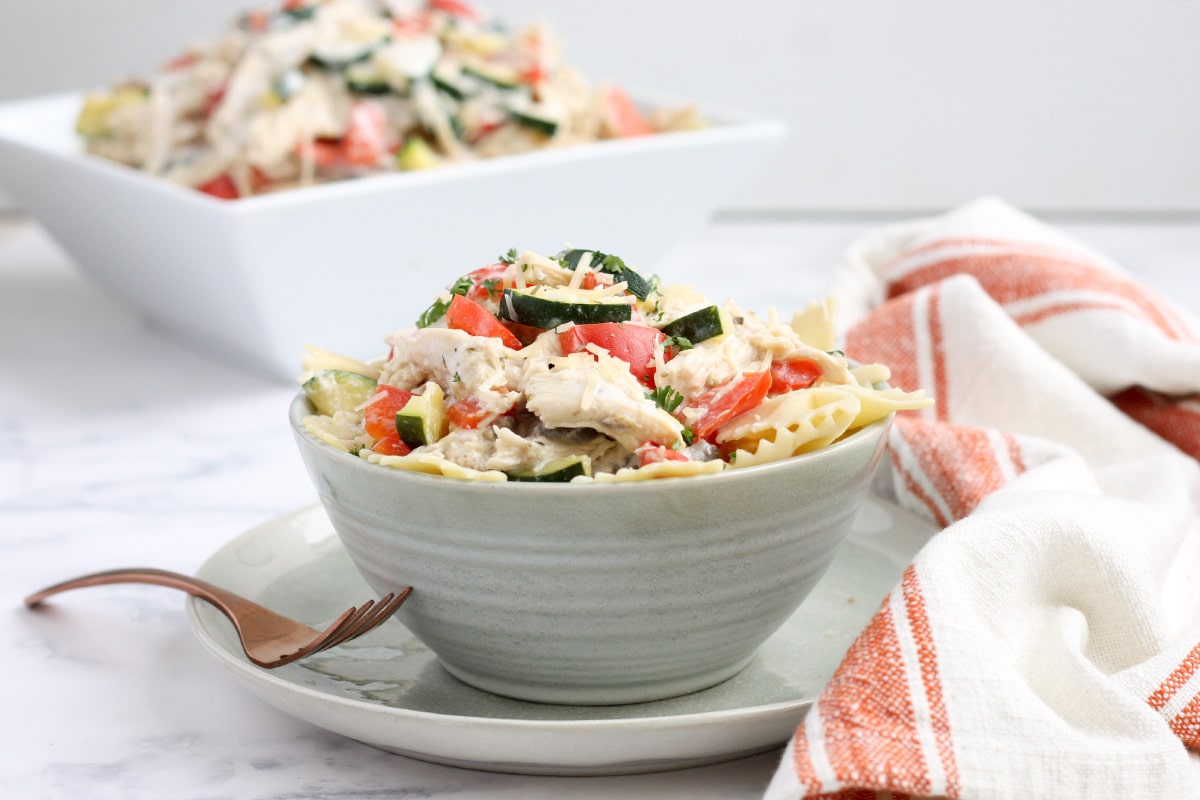 Want more crockpot recipes?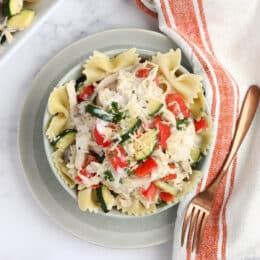 1 1/2

lb

chicken breast

1

package

dry italian dressing mix

6

thick cut potato

laughing cow cheese

or 4 ounces cream cheese

1

Moderate

zucchini

chopped

1

Moderate

red bell pepper

chopped

1

cup

mushroom

sliced
Place the chicken breast into the crockpot. Sprinkle with Italian dressing mix and mix. Make cream of chicken soup.

Layer the chicken broth over the chicken. Cover and simmer over low heat for 3-4 hours. (Your crockpot may cook faster or slower – this is an estimate)

Once the chicken is tender, shred it with 2 forks and mix it all together.

Chop the zucchini and bell pepper. Slice mushrooms.

Add laughing cow cheese and vegetables to crockpot and stir well. He cooks for another 30 minutes, until the cheese is melted and the vegetables are tender and cooked all over.

Turn off the heat and let it sit for a few minutes to allow the sauce to thicken slightly.

Over rice or pasta. fun!
For cream of chicken soup:
Melt the butter in a pan over medium-low heat. Whisk the flour. Continue whisking until mixture is smooth and frothy to form a roux.

Slowly add chicken broth and milk, continuing to whisk. Whisk until combined. Bring to a simmer and simmer for 5-10 minutes until thickened. The mixture will continue to thicken as it cools. Salt and pepper to taste.
calorie: 216kcal | | carbohydrates: 6g | | protein: 27g | | obesity: 9g | | saturated fat: Fourg | | Polyunsaturated fat: 1g | | Monounsaturated fat: 2g | | Trans fat: 0.2g | | cholesterol: 89mg | | sodium: 331mg | | potassium: 657mg | | fiber: 1g | | sugar: 3g | | Vitamin A: 943IU | | Vitamin C: 33mg | | calcium: 44mg | | iron: 1mg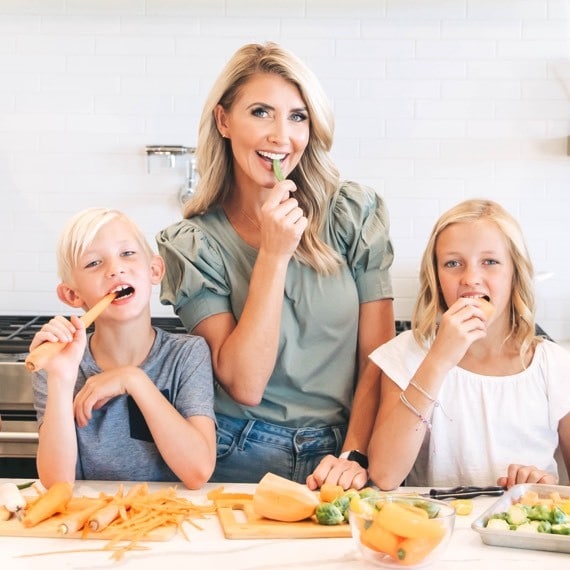 Natalie Monson
I am a registered dietitian, mother of four, a food lover and a strong promoter of healthy habits. Here you'll find delicious, fruit- and veg-rich recipes, tips to help your kids eat better and more intuitively, and tons of resources to feed your family.
Learn more about Natalie