This delicious cranberry apple crumble is low-sugar and gluten-free, making it the perfect sugar-free, festive dessert.
PIN Cranberry Apple Crumble Try it later!
We are approaching a time when sweet treats are ubiquitous, and trying to avoid them can feel like a desperate cause. I think I'll indulge in something a little more sweet. (Tell me I'm not the only one!)
But what can help lessen cravings for holiday sweets is making sweet treats that are low in sugar and rich in healthy ingredients. cranberry apple crumble No added sugar, it's gluten-free, less sweet than most you'll find this time of year, and more nutritious.
When I first made this, it was a spin-off from my favorite low-sugar pumpkin apple crumble. This version with apples and cranberries was equally delicious. And this could be a fun dessert to serve while on vacation.
What are the required ingredients?
What makes this recipe a healthy dessert?
Of course, apples contain natural sugars, but this recipe uses monk fruit sweetener, a natural zero-calorie sweetener. I use coconut oil instead of butter and don't use a lot of dried cranberries, but I prefer reduced sugar dried cranberries. And instead of the traditional wheat flour in this type of dessert, my recipe uses almond flour.
Can I use Golden Monk Fruit Sweetener in this recipe?
i'm a fan of both classics monk fruit sweetener (with affiliate link Golden Monk Fruit Sweetener (affiliate link), both work for this recipe.
Prefer fresh cranberries?
The cranberry apple crisp blog also has a low sugar recipe. This one is similar to this one, but that recipe uses fresh cranberries.
How to make Low Sugar Gluten Free Cranberry Apple Crumble:
(This is just a summary of the steps. Scroll down for the full printable recipe with nutritional information.)
I used a mix of red and green apples for the best flavor.
Heat the butter or coconut oil over low heat and add the apples, peeled and sliced.
Once all the apples have been added to the pan, add the monkfruit sweetener (or sweetener of your choice), cinnamon and apple pie spice (if using) and cook for a few minutes.
Then add the dried cranberries and simmer for a few more minutes.
This recipe originally used butter, but this time I used melted coconut oil to top the crumbles.
grind the oatmeal food processor (affiliate link), then add almond flour and sweetener and pulse again.
Add melted coconut oil and pulse a few more times.
Place the slightly cooked apples and cranberries in a baking dish and spread the topping crumble.
Bake for about 30 minutes or until mixture is slightly bubbly and surface is beginning to brown.
Serve hot and topped with whipped cream or ice cream if desired.
Other low- or sugar-free desserts:
material
material:
8 large apples

2 tsp coconut oil (see note)

1/3 cup monk fruit sweetener (see note)

1 teaspoon ground cinnamon

1/4 tsp. apple pie spice (optional)

1/4 C dried cranberries or reduced sugar dried cranberries
crumble topping
1 C gluten-free rolled oats (see note)

almond flour 1/3C

1/3 C monk fruit sweetener or your favorite sweetener

3T melted coconut oil
instructions
Preheat oven to 400F (200C).
Lightly spray a glass or dish baking dish (approximately 9″ x 13″ in size) with coconut oil or nonstick spray.
Dissolve 2 tsp. Add coconut oil, butter, or trans-fat-free margarine to a large nonstick skillet and set to very low heat.
Peel the apples, cut them into bite-size pieces, and place them in the frying pan.
Once all apples are in pan, add sweetener, cinnamon, and apple pie spice (if using).
Simmer for a few minutes, and when the apples begin to soften, add the dried cranberries and simmer for a few more minutes.
While the apple mixture is cooking, place the oatmeal in the bowl of a food processor or immersion blender and process until the oatmeal is finely ground, about 30 seconds.
Add almond meal and other 1/3 cup sweetener and mix.
Melt coconut oil, butter, or margarine, add to food processor, and pulse for a few seconds to combine.
Pour the cooked apple mixture into the bottom of a 9 X 13-inch dish or glass casserole dish. (If you only have a metal pan, spray it well with nonstick spray.)
Sprinkle the crumble mixture over the apples in an even layer.
Bake for 30 minutes or until mixture is slightly bubbly and surface is slightly browned.
Serve hot.
It's also delicious with whipped cream or ice cream on top.
Note
I make this with monk fruit sweetener or golden monk fruit sweetener, but feel free to use your preferred zero calorie sweetener.
You can use butter instead of coconut oil if you prefer.
Grind the oatmeal in a food processor or the bowl attachment of an immersion blender.Be sure to use gluten-free rolled oats if needed. almond flour (affiliate link) Buy at Costco!
Nutritional information is calculated using sweeteners monk fruit and reduced sugar dried cranberries.
Recipe adapted from low carb pumpkin apple crumble.
Nutrition Facts Table:
yield:
8

Serving size:
1

Amount Per Serving:
calorie: 235Total Fat: 9.4gsaturated fat: 5.5gTrans fat: 0gUnsaturated fat: 3.1gcholesterol: 0mgsodium: 4mgcarbohydrate: 39gfiber: 8gsugar: 22.5gprotein: 3g
The Recipe Plug-In I use automatically calculates nutritional information. I am not a nutritionist and cannot guarantee 100% accuracy as many variables affect the calculations.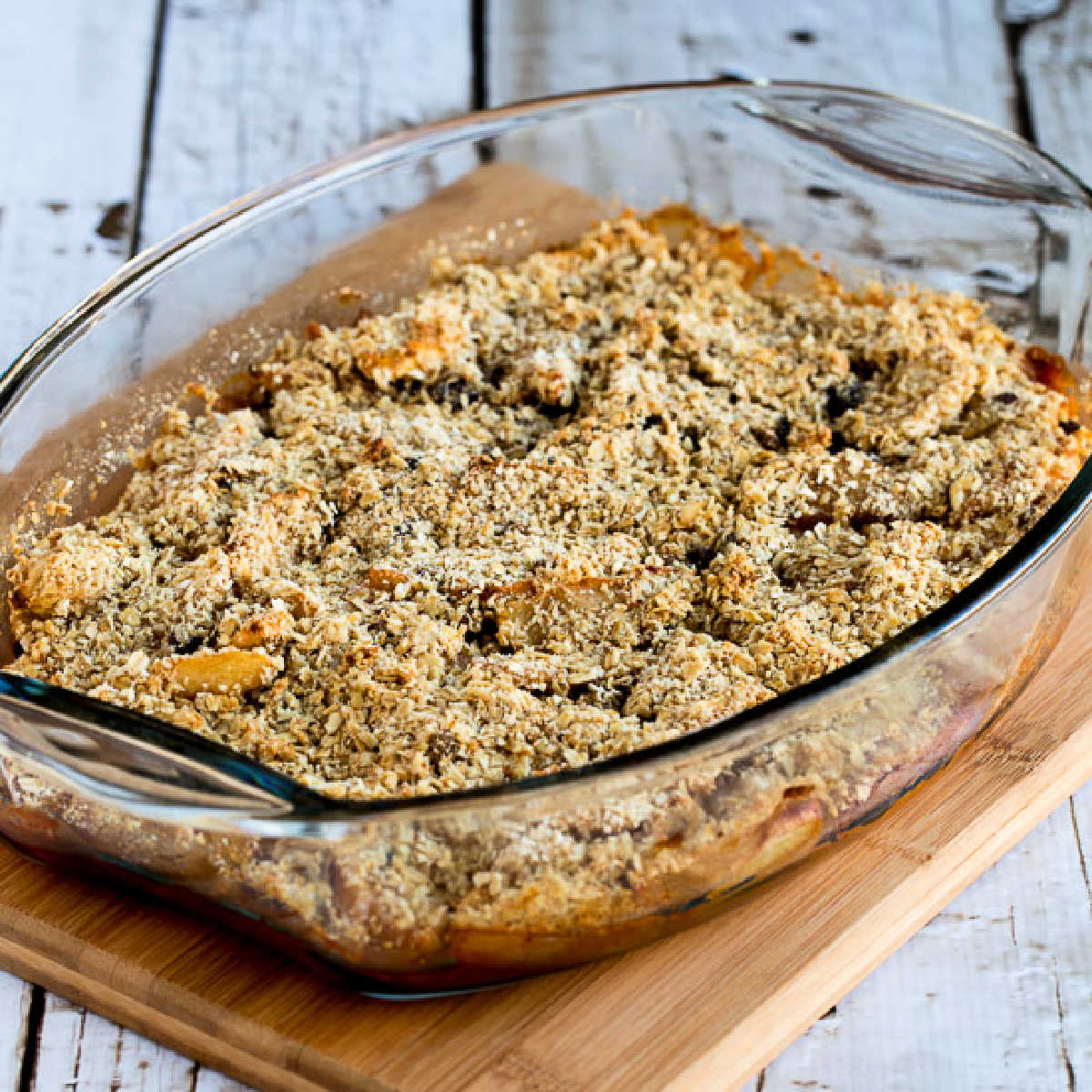 Low Carb Diet/Low Glycemic Diet/South Beach Diet Suggestions:
Cranberry Apple Crumble contains natural sugars from apples and dried cranberries, so it's not completely sugar-free. If desired, the dried cranberries can be omitted to reduce carbs. (use trans-fat-free margarine), probably best for the occasional snack in Phase 3, or Phase 2.
Find more recipes like this:
Discover more recipes like this with our desserts and baking recipes. Use the diet type index to find recipes that fit a specific meal plan.I also recommend following Karin's Kitchen on Pinterest, on facebook, on Instagram, on TikTokAlso on youtube To see all the good recipes I'm sharing there.
Historical notes for this recipe:
The Cranberry Apple Crumble was first posted in 2008. Updated in December 2015 with better pictures and descriptions and last updated in 2022 with more information.
Share this:
The Amazon Services LLC Associate Program is an affiliate promotion program designed to provide a means to earn commissions by linking to Amazon.co.jp and affiliate sites. As an Amazon Associate, I earn income from qualifying purchases.