These Chocolate Raspberry Bran Muffins are light, fluffy, and just the right amount of sweetness.Infused with chocolate flavor and juicy raspberries, they're packed with an amazing amount of fiber and nutrition.
Why You'll Love These Chocolate Raspberry Bran Muffins
Oh we love these muffins! They have few business tastings as good as them. They're low in sugar, packed with fiber, and don't win awards in the looks department.
But. So moist, so chocolatey, just the right sweetness, dotted with bright, juicy raspberries. It tastes like a decadent treat, but it's actually nutritious and a perfect breakfast muffin.
Fiber plays an important role in gut health. It also helps maintain blood sugar levels, which helps keep you feeling fuller longer. However, most children (and adults too!) don't get enough fiber from their diet. And I have an undying love for my favorite bran muffin.. this chocolate raspberry version is just right there.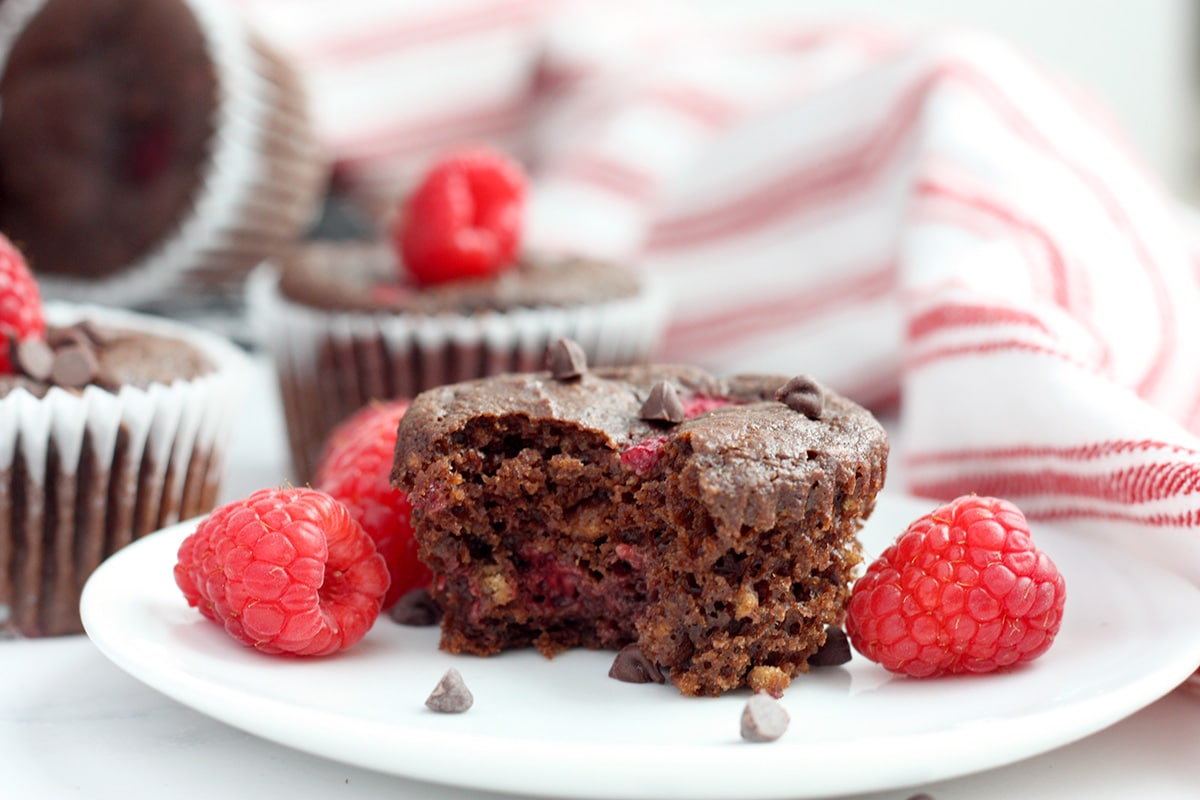 Ingredients for Chocolate Raspberry Bran Muffins
bran cereal– Used Fiber One
buttermilk– Buttermilk helps make muffins moist and soft.
coconut oil– I love the hint of coconut you get from coconut oil in these muffins, but you can use any neutral flavored oil.
egg– Adds structure and puffiness to muffins.
vanilla extract– Add delicious flavors!
flour– We used all purpose flour, but you can also use whole wheat or a mixture of the two.
sugar– I used regular granulated sugar.
cocoa powder– I used regular cocoa powder, but the dutch process gives it a deeper chocolate flavor.
baking soda– Makes light and fluffy muffins.
salt– I used kosher salt.
frozen raspberries– I used frozen raspberries, but you can substitute fresh ones.
mini chocolate chips– I love adding mini chocolate chips because these muffins are not very sweet.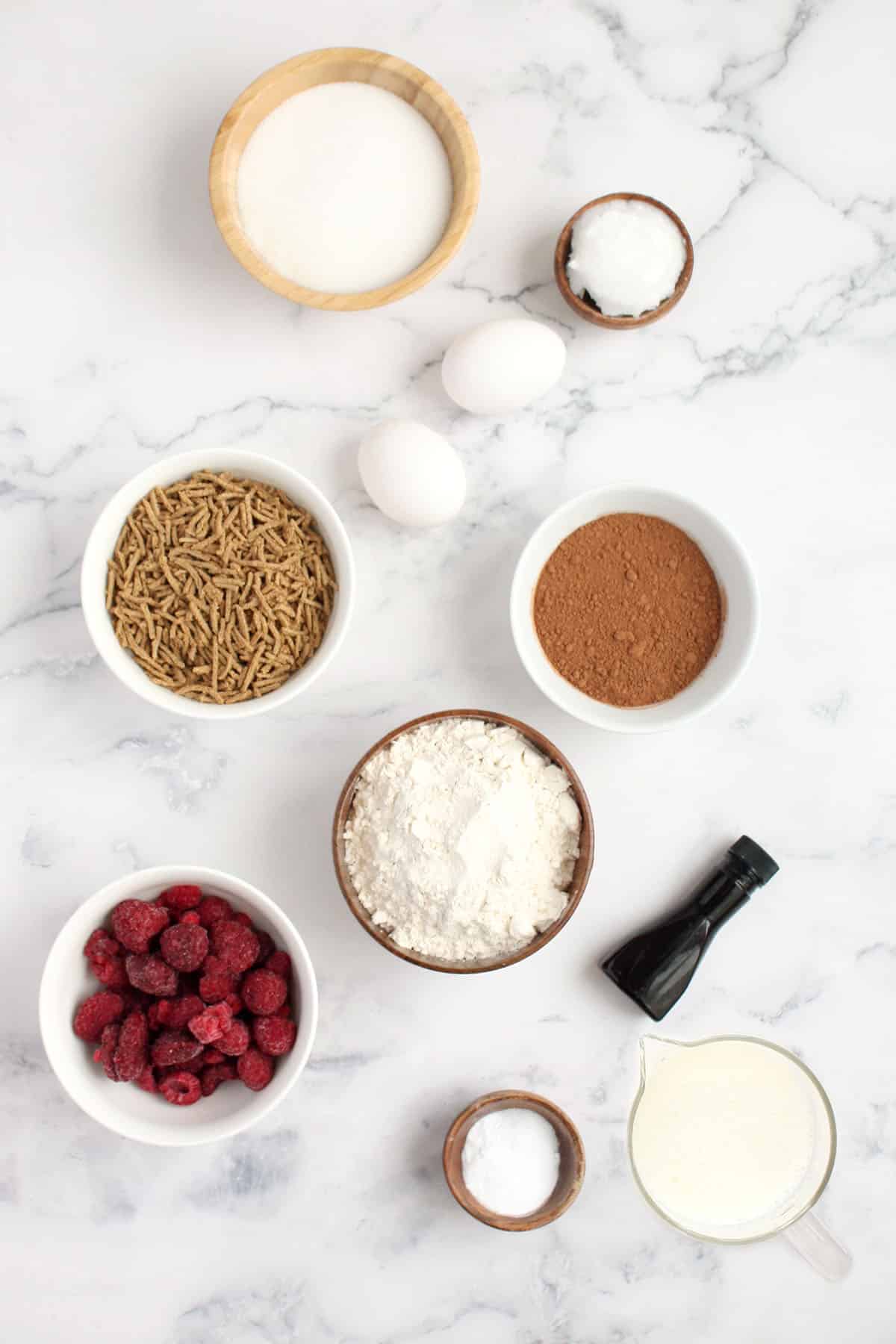 How to make chocolate raspberry bran muffins
heat Turn the oven to 375 degrees. Place the muffin liners in the tin.
smash Bran cereal in a blender or food processor.
put Place cereal in bowl with buttermilk and let stand for 5 minutes.
addition Wet ingredients, whisk to combine.
addition Stir dry ingredients until blended.
lightly Crush frozen raspberries; toss into muffin batter with chocolate chips.
spoon Place dough into prepared muffin pan.
bake 20-25 minutes. Allow to cool slightly before transferring to a cooling rack.
fun!
Tips and Suggestions
I used fiber one bran cereal, but bran buds and flakes work as well. Make sure you are using 100% bran cereal.
The bran/buttermilk mixture will be very thick. I promise you it will work out in the end.
Coarsely crush the frozen raspberries before adding them to the dough. This gives a nice raspberry speck and flavor all over the muffin. You can skip this step, but you'll end up with big mushy pockets of raspberries. Leave them whole!
These muffins don't rise much in the oven, so you can fill the muffin liners about 3/4 full.
We do not recommend using regular chocolate chips in this muffin. Because it doesn't balance well with soft muffins and tends to sink to the bottom. The mini chocolate chips were perfect.
If you want a simple and nice chocolate bran muffin, you can omit the raspberries entirely.
Store in an airtight container in the refrigerator for 5-7 days and in the freezer for 3-4 months.
When adding dry ingredients, don't over mix! Stir until the muffins are light and soft.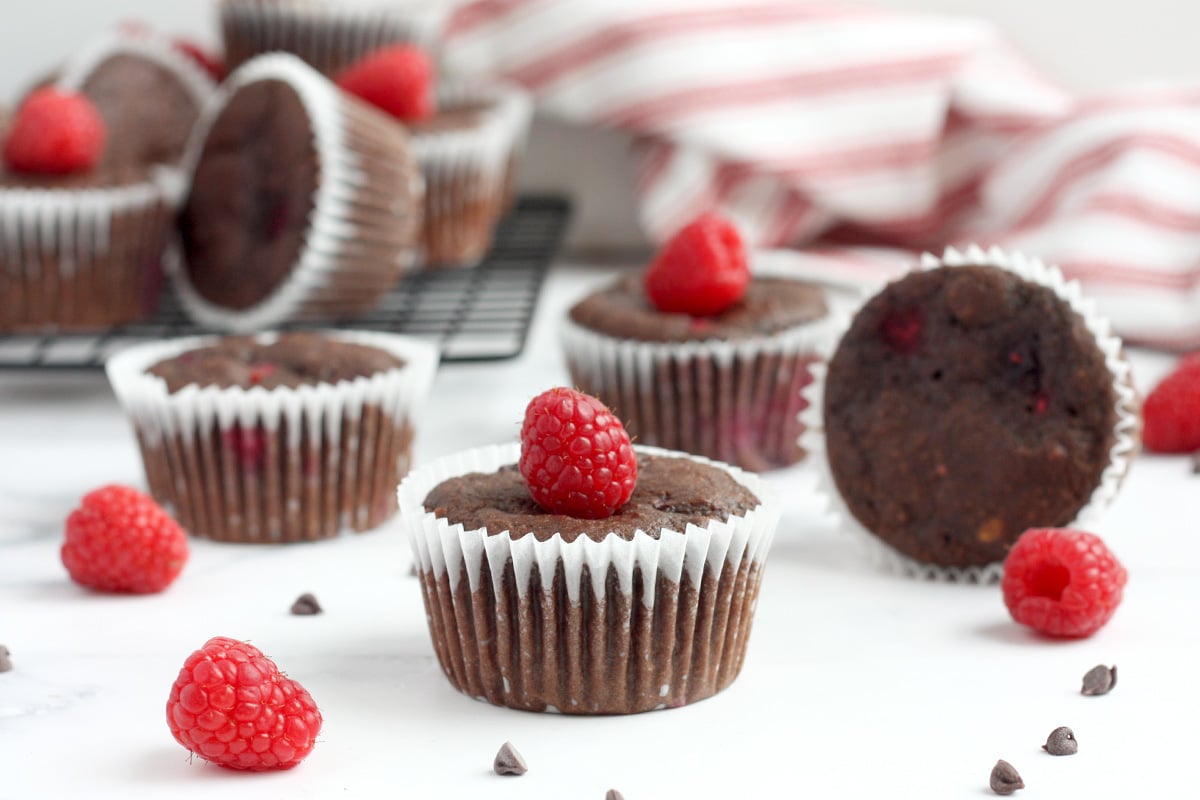 More delicious muffin recipes to try:
Heat the oven to 375 degrees Fahrenheit. Place muffin liners in muffin tins or grease muffin tins.

Place the bran cereal in a blender or food processor and grind coarsely.

Place the crushed cereal in a medium bowl and stir in the buttermilk. Let stand for 5 minutes.

Add oil, eggs, and vanilla to cereal mixture. Mix with a whisk. Add flour, sugar, cocoa, baking soda and salt. Stir until moist.

Lightly crush the frozen raspberries with the back of a spoon until finely chopped. Gently mix into muffin batter along with chocolate chips (if using).

Divide batter evenly among muffin cups.

Bake for 20 to 25 minutes or until a toothpick sticks through the center of the muffin and comes clean.

Remove muffins immediately from molds and allow to cool on a wire rack before serving.
calorie: 231kcal | | carbohydrates: 36g | | protein: 6g | | obesity: 9g | | saturated fat: 6g | | Polyunsaturated fat: 1g | | Monounsaturated fat: 1g | | Trans fat: 0.02g | | cholesterol: 37mg | | sodium: 317mg | | potassium: 234mg | | fiber: Fiveg | | sugar: 20g | | Vitamin A: 312IU | | Vitamin C: Fivemg | | calcium: 107mg | | iron: 3mg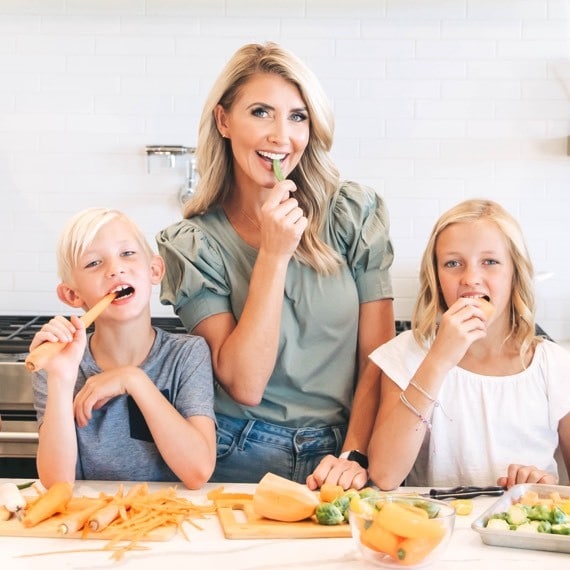 Natalie Monson
I am a registered dietitian, mother of four, a food lover and a strong promoter of healthy habits. Here you'll find delicious, fruit- and veg-rich recipes, tips to help your kids eat better and more intuitively, and tons of resources to feed your family.
Learn more about Natalie