Try this easy chocolate-coated strawberry recipe.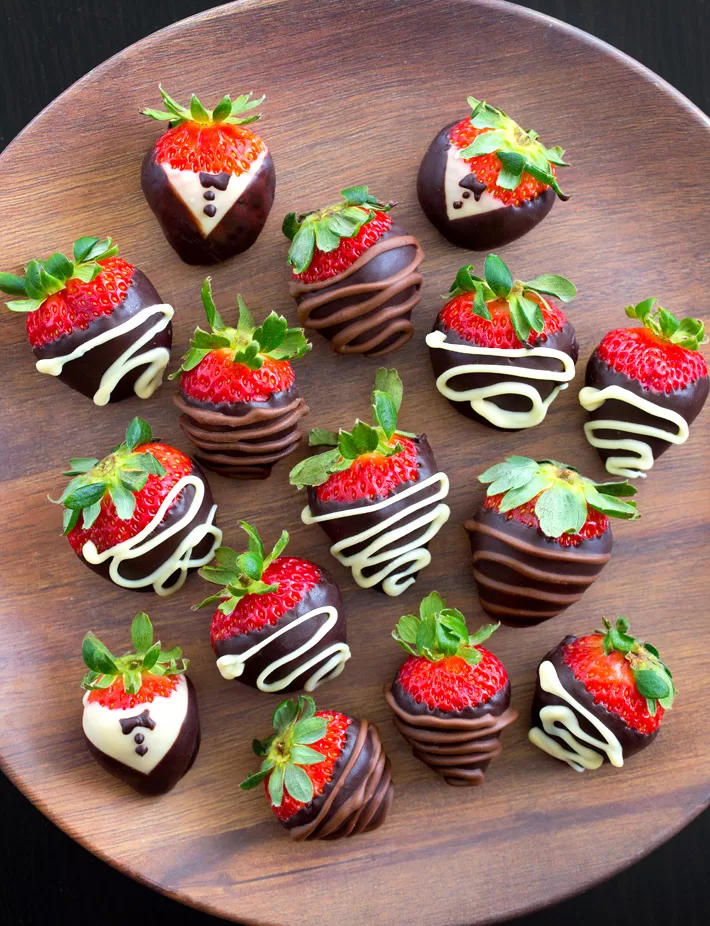 Chocolate covered strawberries are the perfect dessert for any occasion.
Use it at birthday parties, baby showers, graduations, weddings, Mother's Day, Valentine's Day and more. There's almost always a good time for these sweet homemade chocolate-dipped strawberries.
Berries are also great gifts. Box them up and send them to friends and family for a delicious gourmet holiday or Christmas gift.
Also try this chocolate banana bread
Check out our step-by-step chocolate covered strawberry tutorial above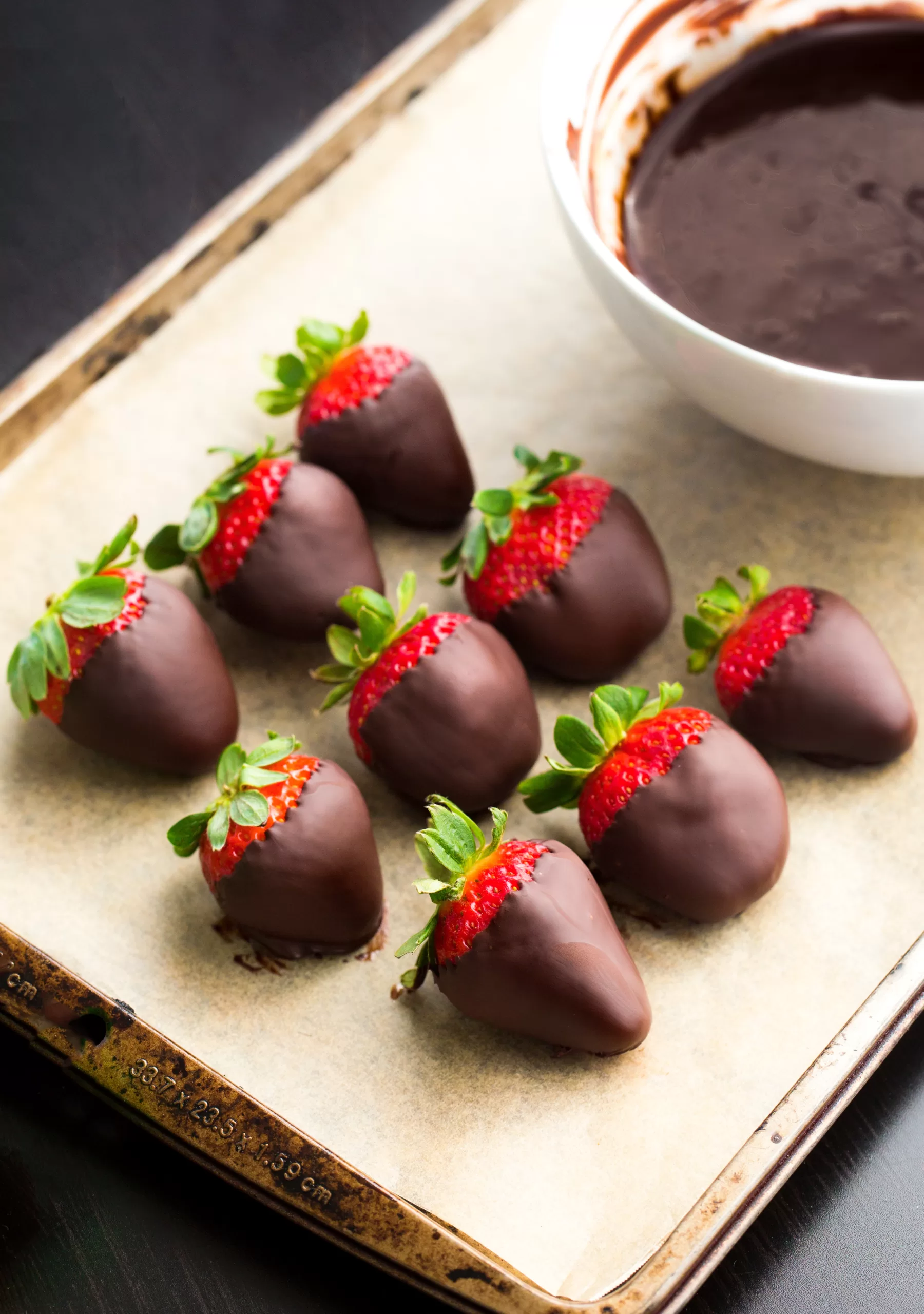 Best chocolate covered strawberries
This healthy dessert recipe is a constant hit with party guests. It can also be gluten-free, dairy-free, nut-free, sugar-free, low-carb, low-calorie, keto, and vegan.
It's bite-sized and tastes like a portable version of fresh strawberries dipped in rich chocolate fondue. No wonder they are so popular!
Making chocolate-coated strawberries at home tastes just as good as those you can buy at Shari's Berries or Edible Arrangements.
Readers also love these vegan chocolate chip cookies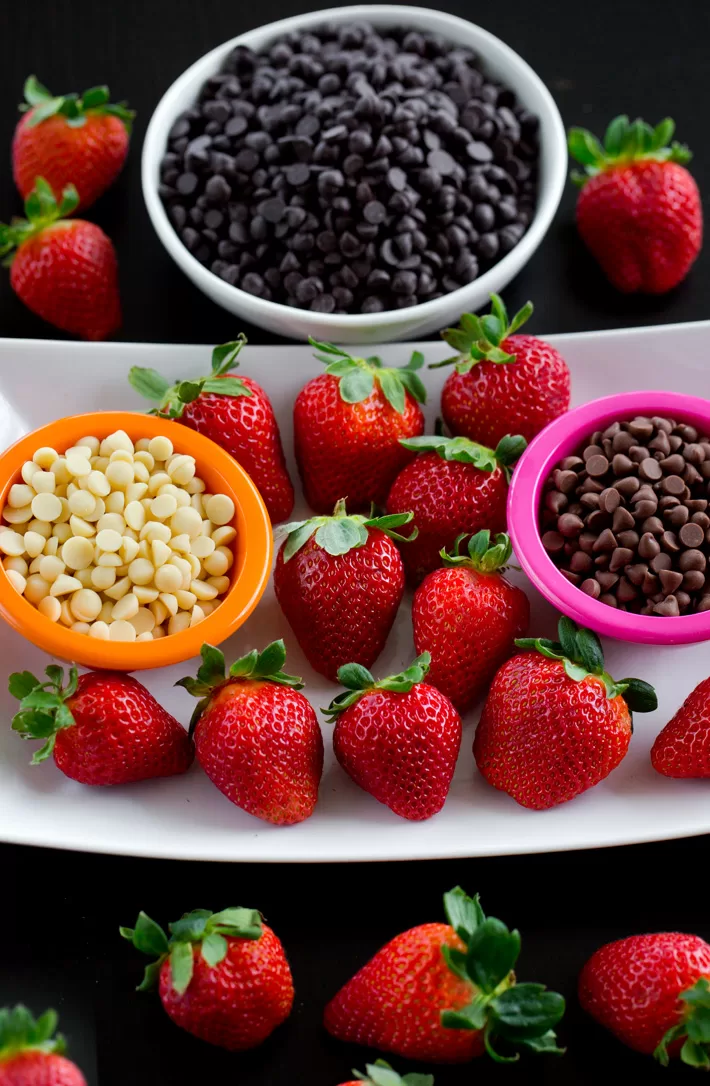 Ingredients for chocolate coated strawberries
To make the recipe, you'll need fresh strawberries, chocolate chips or chopped chocolate bars or candy melts, and optional vegetable oil, coconut oil, or shortening.
You can use dark chocolate, semi-sweet chocolate, white chocolate, or a combination.
Mixing the optional oil into the melted chocolate makes for a smoother sauce and makes it easier to coat the berries.
Note: You can use this same recipe to make other chocolate-covered fruits such as cherries, raspberries, or chocolate-covered orange slices.
A standard 16-ounce container of strawberries from brands such as Driscoll's equates to 1 pound or about 20-24 berries. I haven't tried any recipes that use frozen strawberries.
leftover strawberries?Eat with homemade Nutella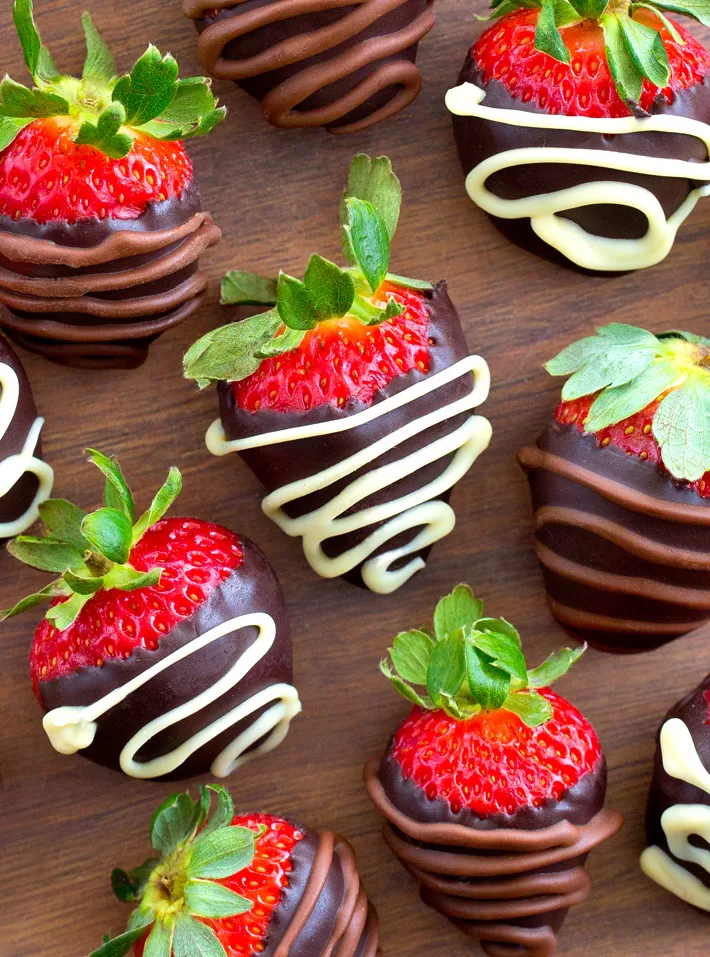 How to make chocolate covered strawberries
First, wash the strawberries and dry them on a paper or cloth towel. Water will harden the chocolate, so it's very important to dry the berries completely before dipping them into the chocolate sauce.
Line a baking tray or large plate with parchment or wax paper and set aside.
Melt the chocolate using the microwave or the double boiler method below. I like to stir in the optional oil after melting the chocolate for a smoother sauce.
Grab a strawberry stem or use a skewer, spoon, or fork to dip it into the liquid chocolate.
Apply toppings of your choice and place the berries on the prepared tray. Once all the strawberries are coated with chocolate, place them at room temperature to harden her chocolate coating. Do not chill in the refrigerator. Condensation may form on the fruit.
Melt white chocolate chips, peanut butter, coconut butter, or almond butter, if desired. Use a spoon to drizzle the chocolate over the hardened chocolate strawberries. increase.
Chocolate berries can be made several hours or up to a day in advance.Do not refrigerate uncovered if serving the same day they are made. However, if chocolate-coated strawberries are to be left for more than 8 hours, they should be stored in the refrigerator or freezer to maintain freshness.
Leftover chocolate-coated strawberries can be stored in the refrigerator for up to 2 days or in an airtight container for up to 1 month.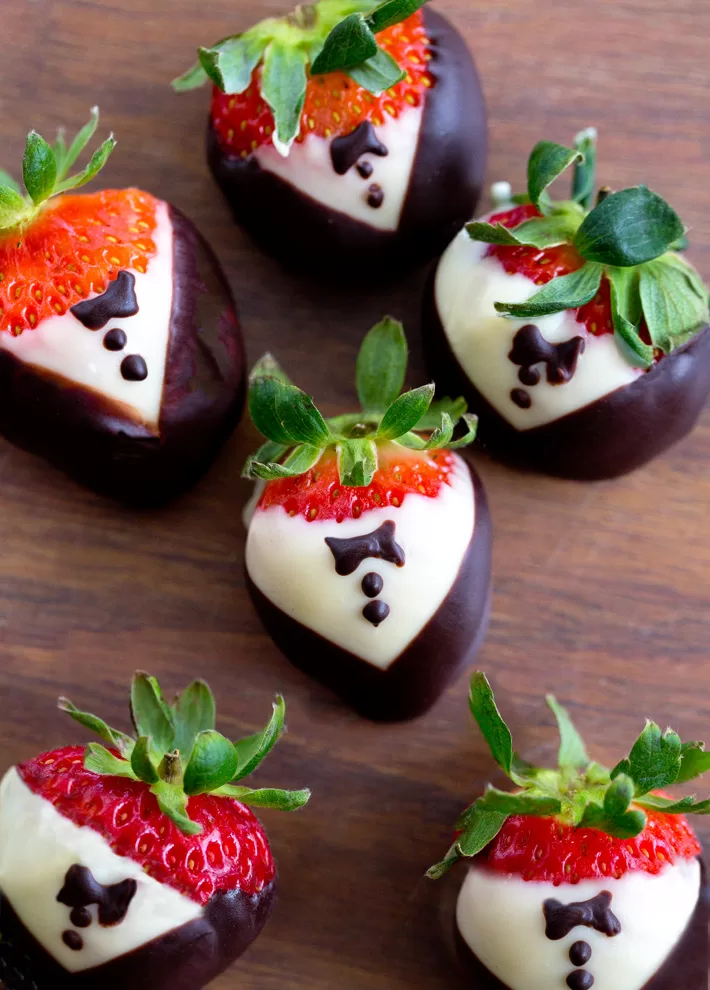 Tips for making strawberries cute
If you use parchment paper, the chocolate-coated strawberries may stick to the plate a little.
If possible, we recommend using wax paper over parchment. Dip the berries in. Stick the other end of the skewer through the styrofoam to dry the berries. Once the chocolate has hardened, remove the strawberries and arrange them on a plate.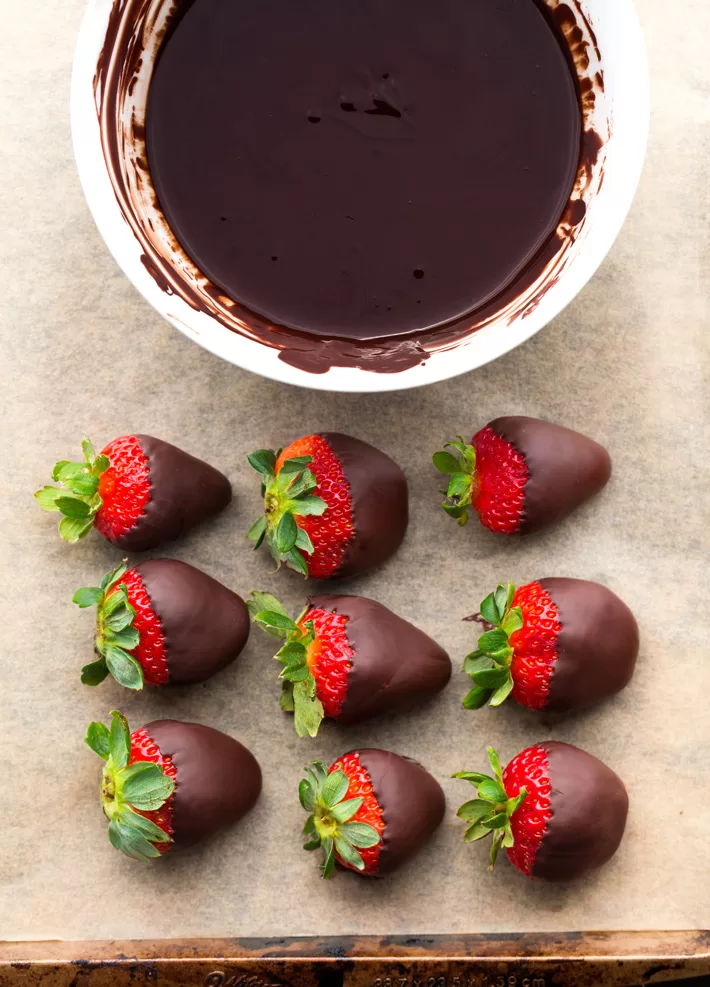 how to melt chocolate
The best way to melt chocolate is with a microwave or double boiler. This is because heating chocolate directly on the stove burns it very quickly.
Double boiler method
Crush the chocolate with a knife if it is not finely chopped.
Place the chocolate pieces on the plate double boiler Alternatively, place in a saucepan or heat-safe mixing bowl over a bottom double boiler filled with about an inch of simmering (not boiling) water.
To emphasize: water goes into the bottom pot. Make sure that the chocolate chips in the top mold do not get wet.
Stir the chocolate until smooth, then indirectly heat it with steam to slowly melt it.
How to melt chocolate in the microwave
If using chocolate bars instead of chips, chop finely with a knife.
Place the chocolate in a completely dry, microwave-safe bowl. Heat for 20 seconds.
Mix and heat in 10 second increments, stirring each time to prevent the chocolate from burning. Chocolate burns easily, so melt slowly.
Melt the chocolate before adding oil. Do not add water at any point.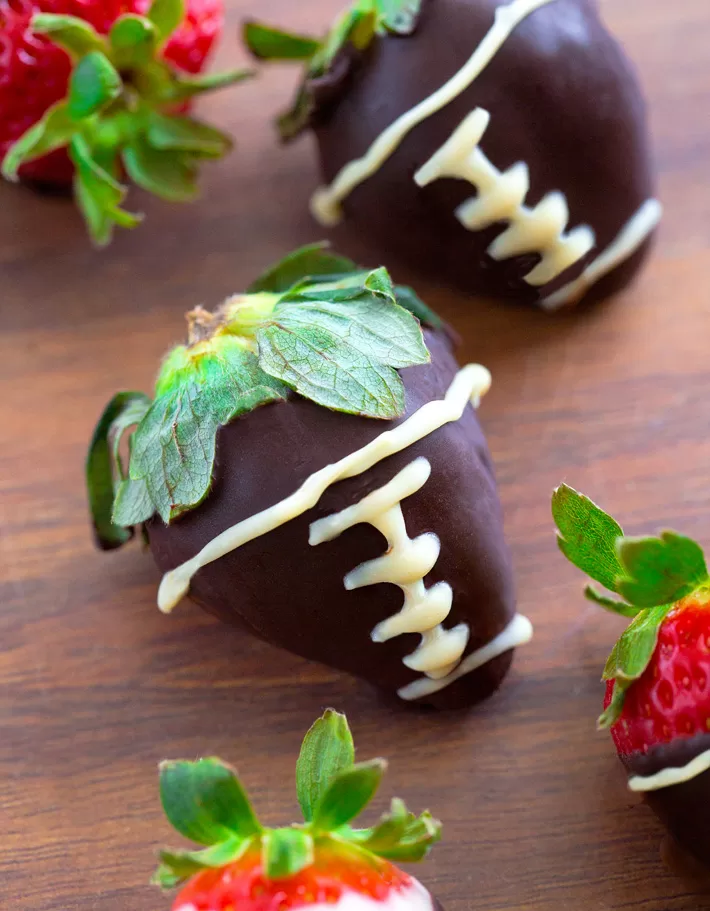 Strawberry chocolate decoration
The best part about this kid-friendly and easy chocolate dessert is that you can decorate the berries however you like.
Use different types of chocolate to create beautiful marbled and drizzle effects. Alternatively, head to your local craft store and look for edible gold or silver glitter to sprinkle on top.
You can decorate it like a cute ladybug, or make a DIY chocolate football for dessert at a Super Bowl party.
Tuxedo strawberries are first dipped in white chocolate with melted raw strawberries. Harden the chocolate shells in the refrigerator. Then dip the sides in semi-sweet or dark chocolate to create a tuxedo pattern.
Other chocolate covered strawberry topping ideas include shaved chocolate, mini chocolate chips, chia seeds, chopped coconut, vanilla frosting, purple or rainbow sprinkles, cereal or granola, crushed walnuts, and hazelnuts. Nuts, pistachios, or pecans.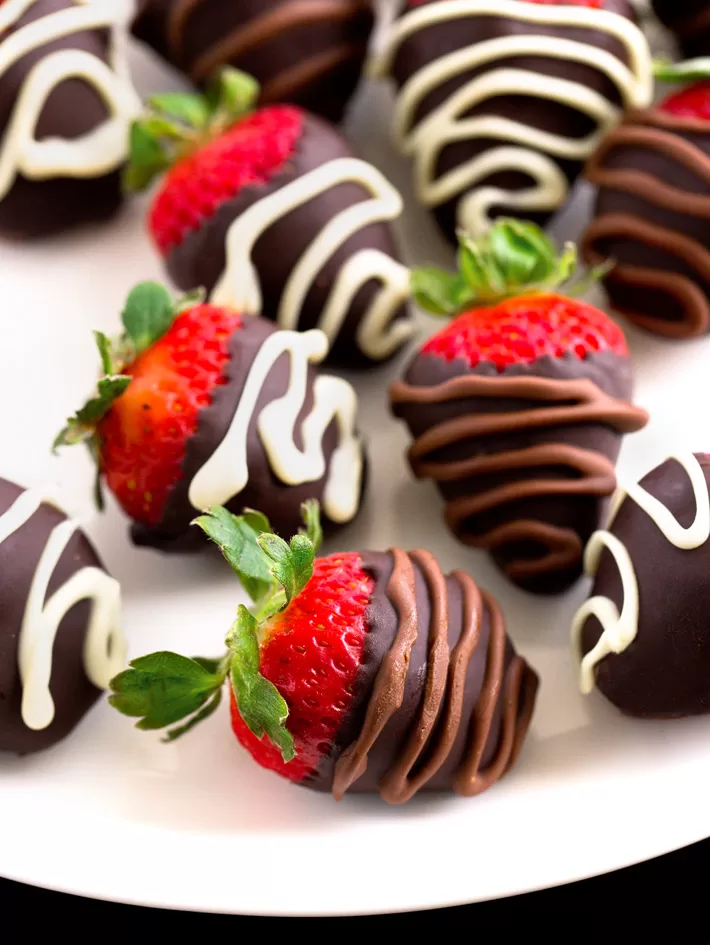 packaging and shipping ideas
If you're serving chocolate-covered fruit at a party or event, try lining it up on a fancy tray alongside a bottle of champagne.
Or use them to decorate cupcakes and cakes, like this vegan chocolate cake.
You can also make a romantic chocolate strawberry bouquet. Thread each berry onto a long skewer, line the skewers into a vase, and add a few pink or red roses if desired.
When mailing chocolate-coated strawberries, pack them carefully in a bag, pie box, or candy box. i like these chocolate covered strawberry treat boxcomes with 24 boxes and 4 compartments per box.
Choose same-day, express, or next-day delivery for freshness and chill berries before packaging. Be sure to insulate the box, pack it tightly to prevent the berries from moving, and prevent the individual strawberries from touching each other or melting during transportation.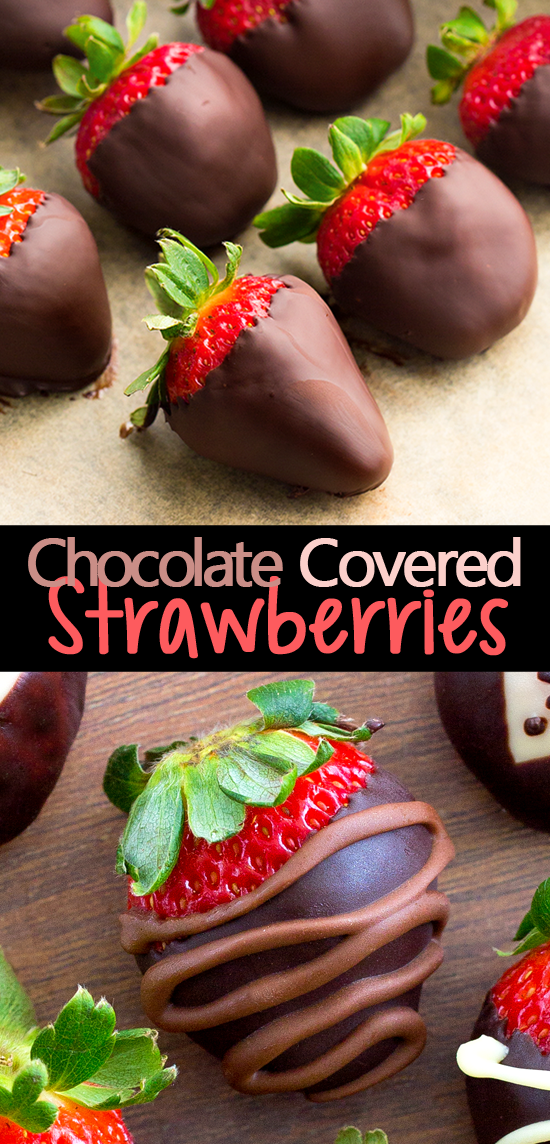 16

Oz

fresh strawberries

9

Oz

dark or semi-sweet chocolate chips

or finely chopped chocolate

1 teaspoon vegetable or coconut oil, optional

Optional melted white or dark chocolate

due to light rain

optional toppings

(Ideas are listed above)
Wash the berries and dry with paper towels. Let the berries dry completely. Carefully melt the chocolate in a double boiler or microwave (see above for how to melt chocolate). Using a spoon, fork, toothpick, or skewer, dip each strawberry into the chocolate sauce. Coat with toppings of your choice, if desired. Place the berries on a tray lined with parchment or wax paper, or stick the other end of the skewer through a piece of Styrofoam and hang upside down to dry. Decorate with melted white or dark chocolate, if desired. Chocolate-covered strawberries are best eaten the same day they're made. Store uncovered and unrefrigerated in a cool, dry place for up to 8 hours. Refrigerate leftover strawberries after this time for up to 2 days. Or freeze in an airtight container for up to 1 month.

nutrition information
easy chocolate dip recipe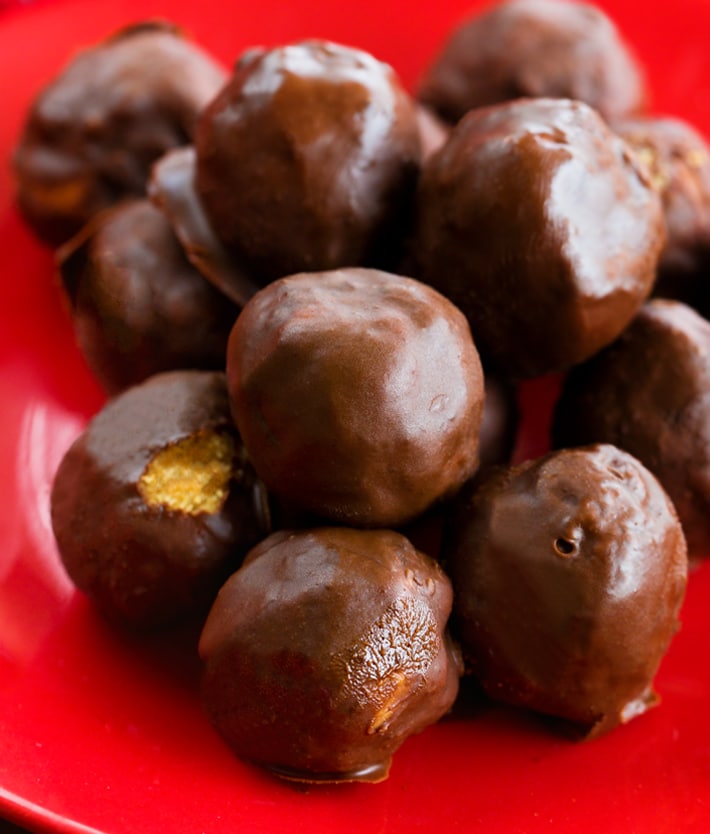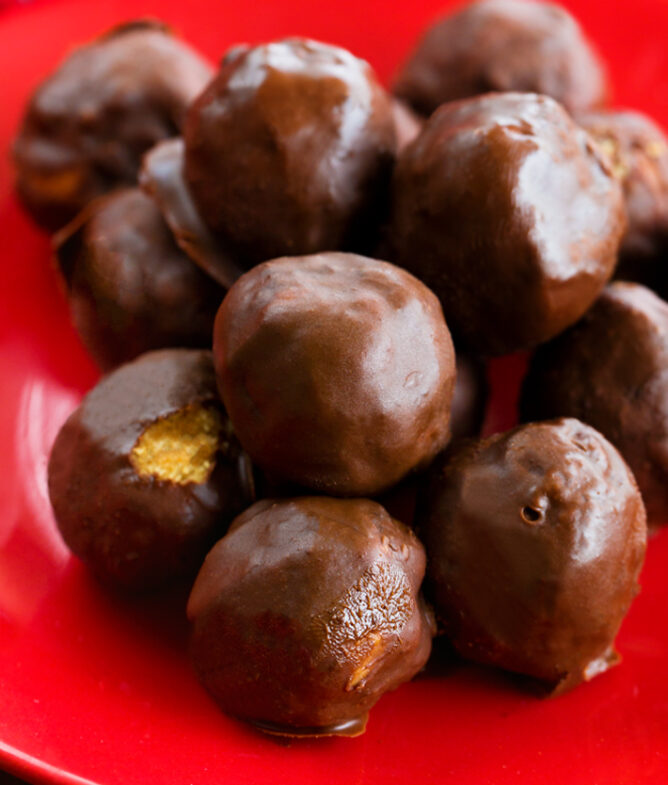 3 peanut butter balls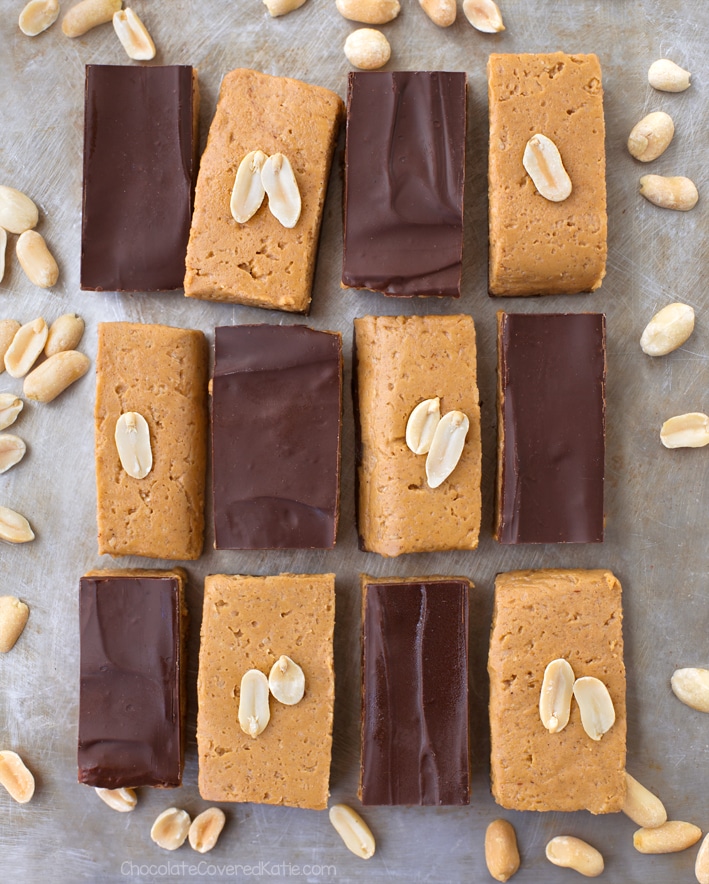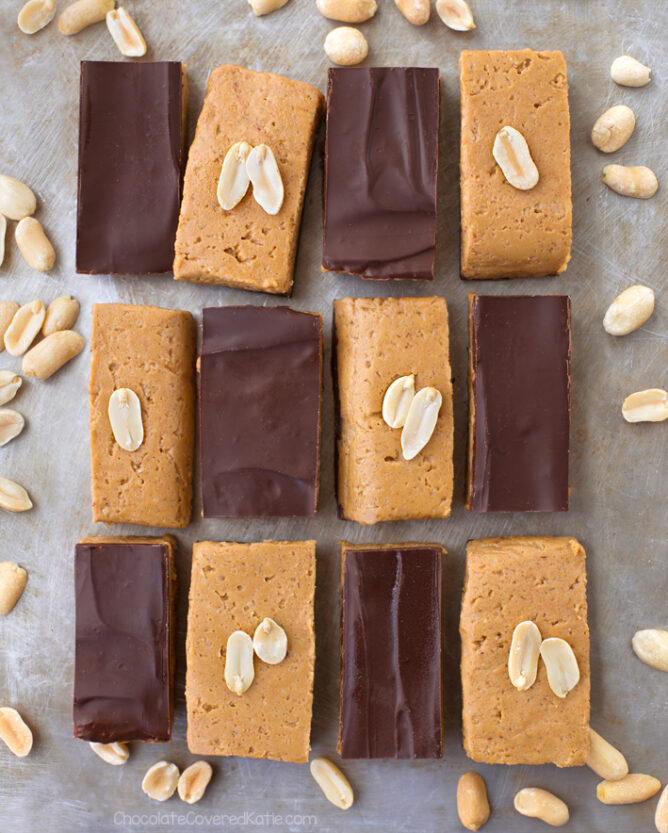 protein bar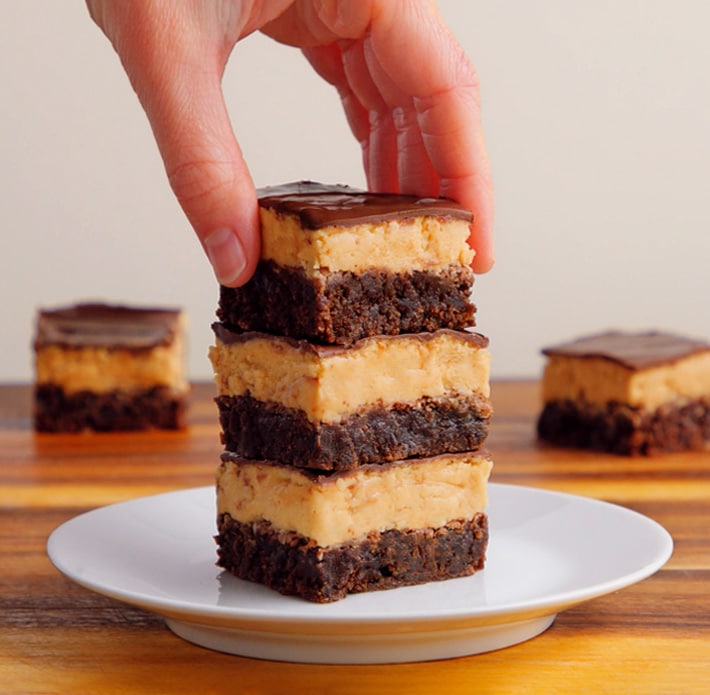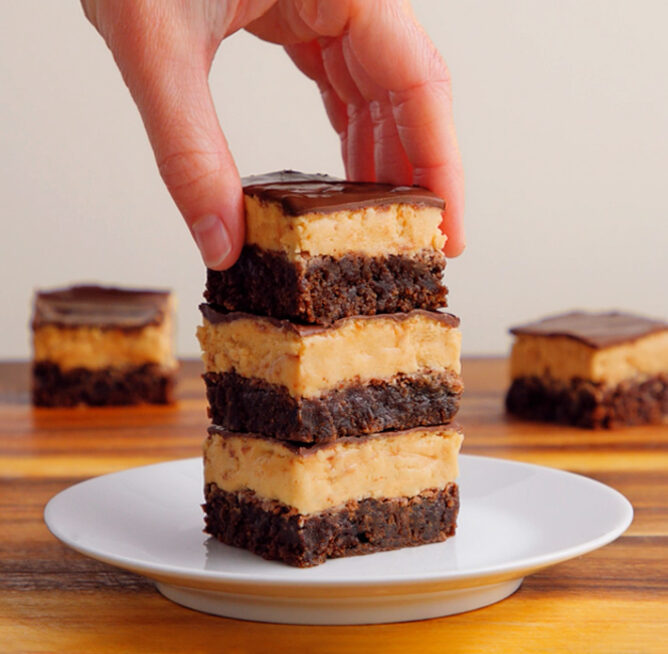 peanut butter brownie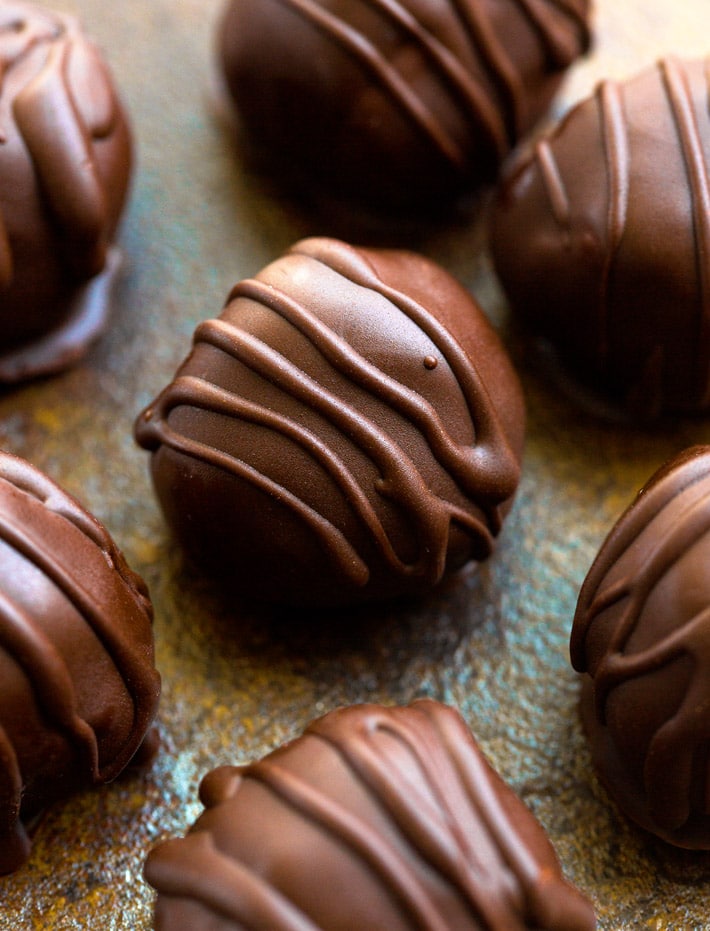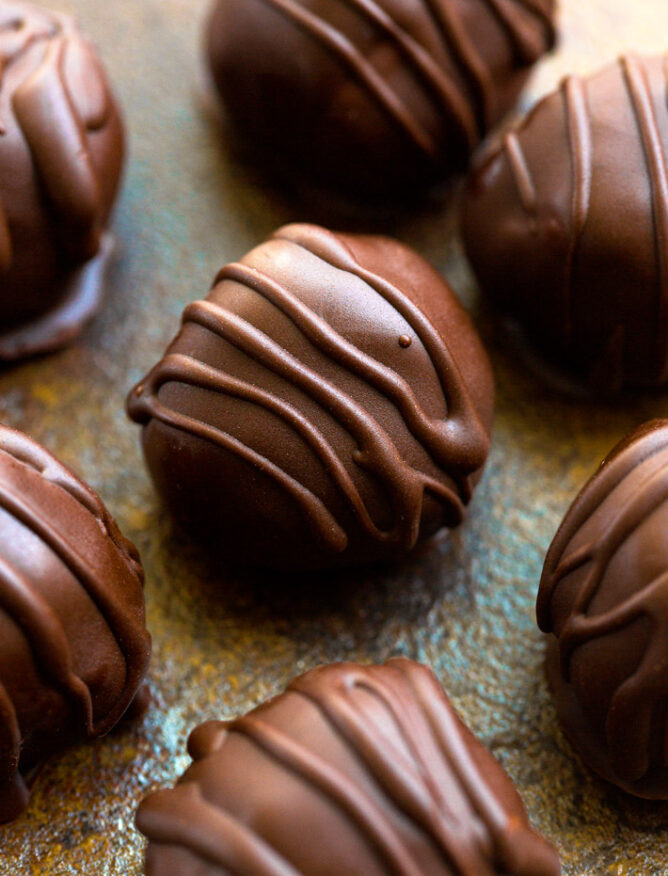 chocolate protein truffle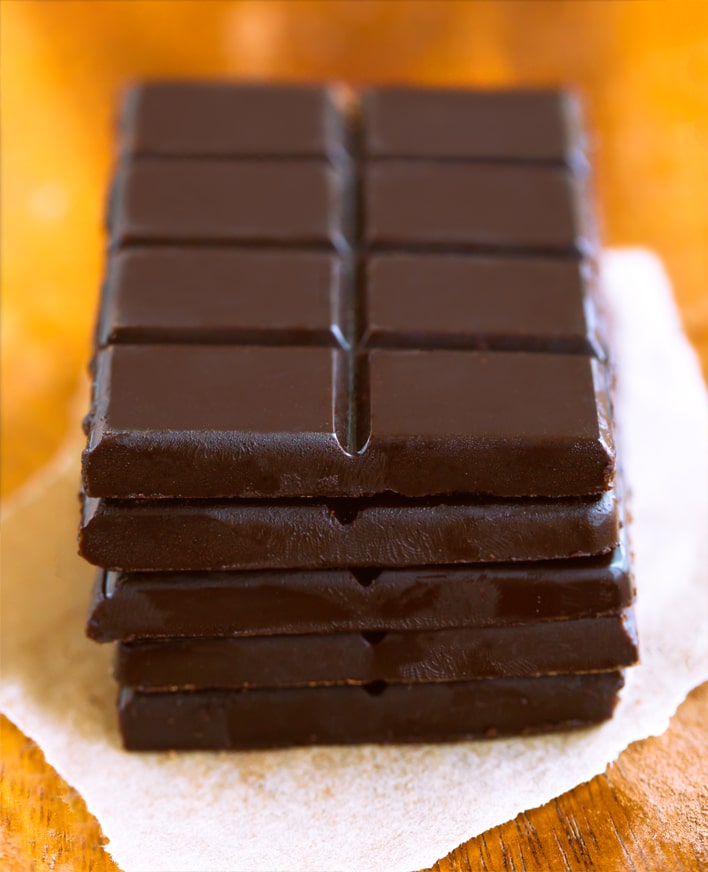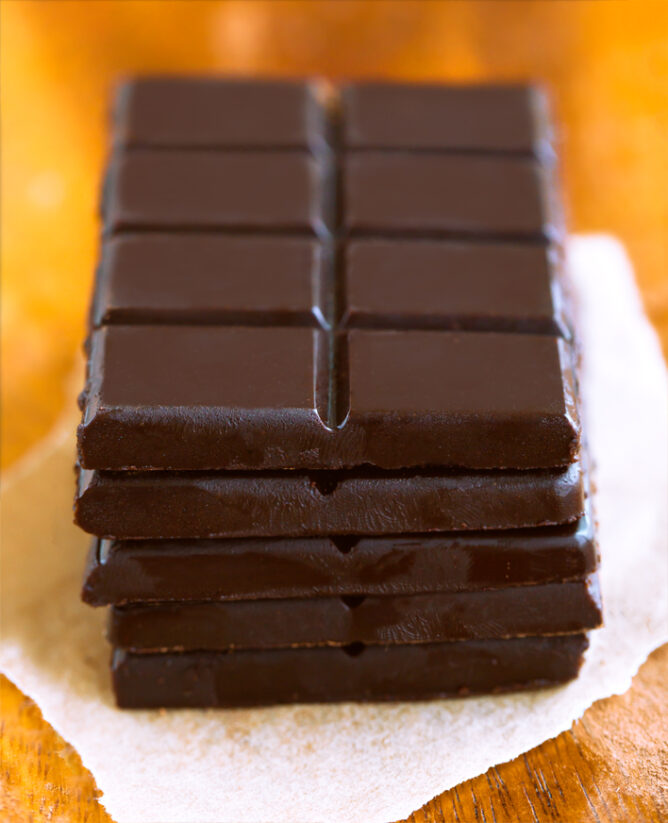 homemade chocolate bar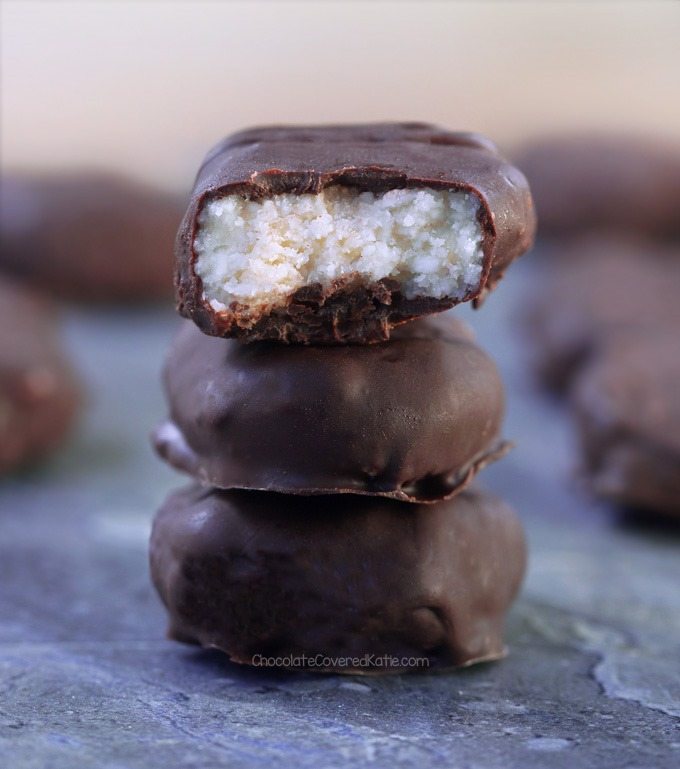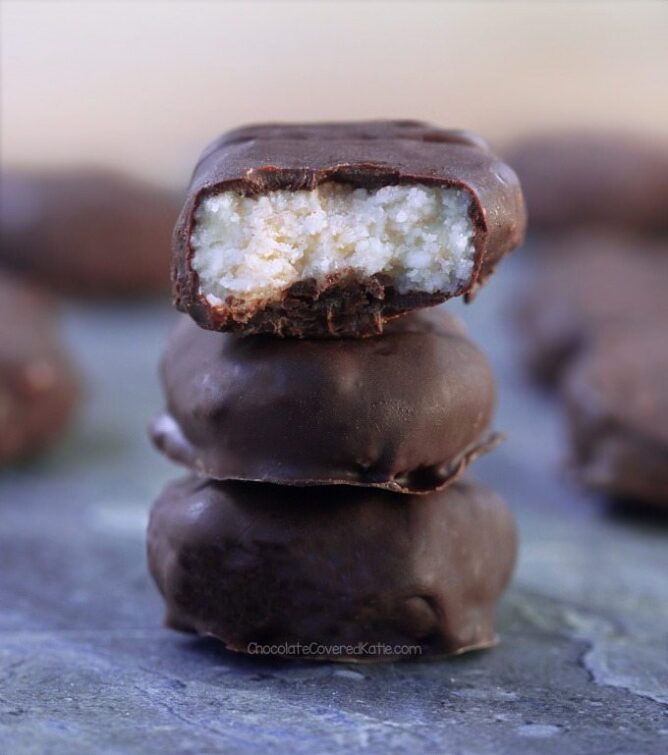 No-Bake Coconut Bounty Bar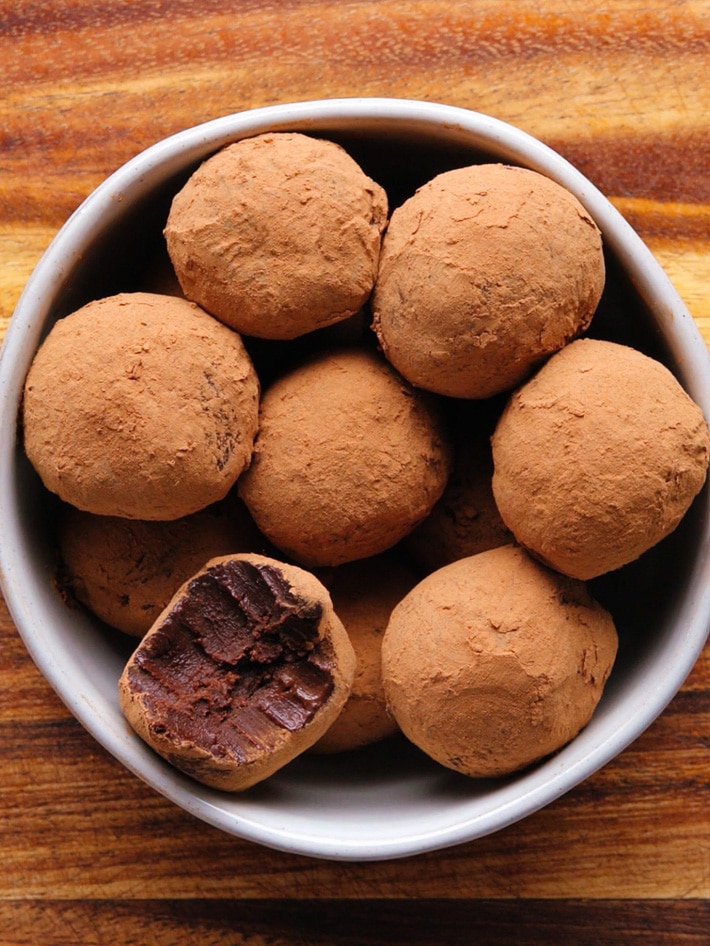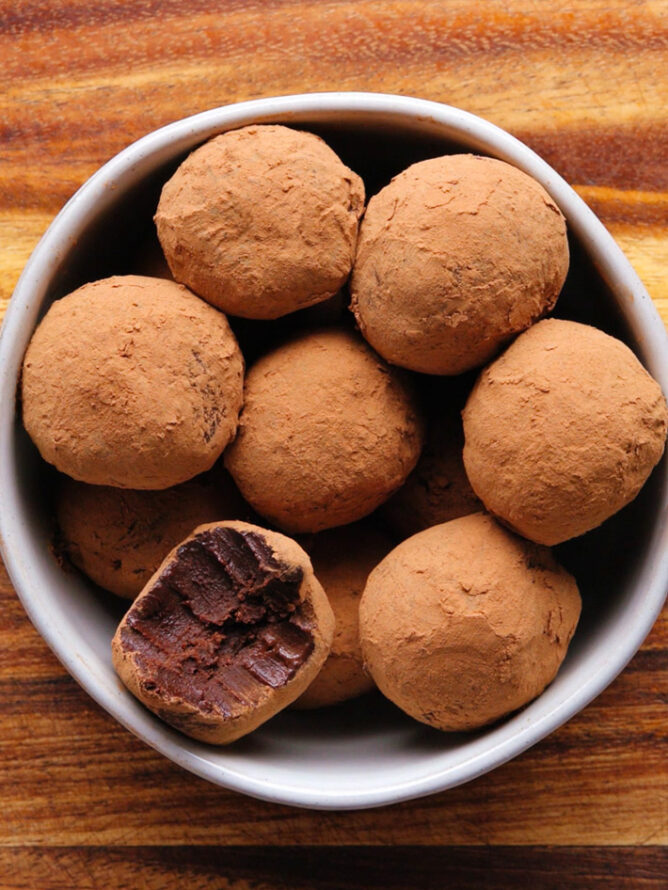 chocolate truffle