Fresh vegetables, herbs, and a tangy dressing add bold flavor to this chickpea salad recipe. It's healthy and satisfying, so it's perfect for picnics and lunches!
You can never have enough chickpea salad recipes in your pocket. I definitely feel that way, and I hope you do too. Because even though we already have *several* chickpea salads on this blog, this new chickpea salad recipe will be a total keeper.
Full of fresh Mediterranean flavor. Crispy cucumber meets juicy tomatoes and contrasts with tender chickpeas. Salted olives and pickled onions add a delicious pop, while a handful of herbs freshens the whole thing up. A zesty lemon dressing tightens the whole thing.
This chickpea salad is healthy, satisfying, flavorful and fresh. It's exactly the kind of thing I like to make for picnics and lunches during the summer. Just add some sunshine and it becomes a meal. fun!
Chickpea salad recipe how to make
Here's what you need to make this chickpea salad recipe:
Chickpea, of course! Also known as chickpeas, these trusty legumes are packed with fiber and plant-based protein. This recipe requires 2 cans or 3 pre-cooked cups. Learn how to cook dried chickpeas with my dried beans cooking guide.
grape tomato – Use a mixture of yellow and red to give this salad a beautiful color variation. Cherry tomatoes are also delicious!
English cucumber – Crunch! I like to use thin-skinned, seedless English cucumbers here. If you only have regular cucumbers, peel them and remove the seeds, then chop them and add them to your salad.
Pickled Red Onions – Adds tangy flavor. No time to pickle? Slices of green onions can also be used here.
kalamata olives – Salty, if salty.
fresh parsley, dill and mint – They make this salad incredibly fragrant and fresh. I especially love how the dill complements the tartness of pickled onions and dressings.
and lemon dressing – This zesty dressing holds the whole salad together. A simple dish of olive oil, lemon juice, Dijon mustard, garlic, salt and pepper.
Check out the full recipe with measurements below.
How to make chickpea salad
The chickpea salad recipe is so easy to make! Here's what it looks like:
First make the dressing. Combine olive oil, lemon juice, mustard, garlic, salt and a few peppercorns in the bottom of a large bowl.
Then add the chickpeas, olives, pickled onions, and vegetables. Mix these voluminous ingredients in a dressing.
Then add fresh herbs. Mix again, making sure the salad ingredients are well mixed.
Finally, adjust the taste and enjoy! If I'm making this salad for summer gatherings or special occasions, I like to drizzle it with fresh mint leaves before serving.
Chickpea Salad Recipe Variation
I love this chickpea salad recipe as written, but completely flexible. Feel free to change it. Add your favorite ingredients or use whatever you have on hand. Here are some ideas to get you started.
Please change the vegetables. Mix diced or roasted red peppers with tomatoes and cucumbers. Boiled green beans and avocados are also great here.
Add cheese. This recipe is now vegan-friendly, but if not, there's no reason you can't add cheese. Crushed feta cheese will be especially delicious.
Make it a green salad. Serve the chickpea salad over the chopped romaine lettuce.
Let us know what variations you've tried!
Storage and preparation tips
This chickpea salad can be stored in an airtight container in the refrigerator for up to 4 days. You can make it ahead of time as a summer potluck or picnic side dish, or pack it into your lunch.
Tips: Fresh mint will darken and wilt if left in the dressing. If you made this salad more than an hour or two in advance, don't add the mint until you're ready to eat.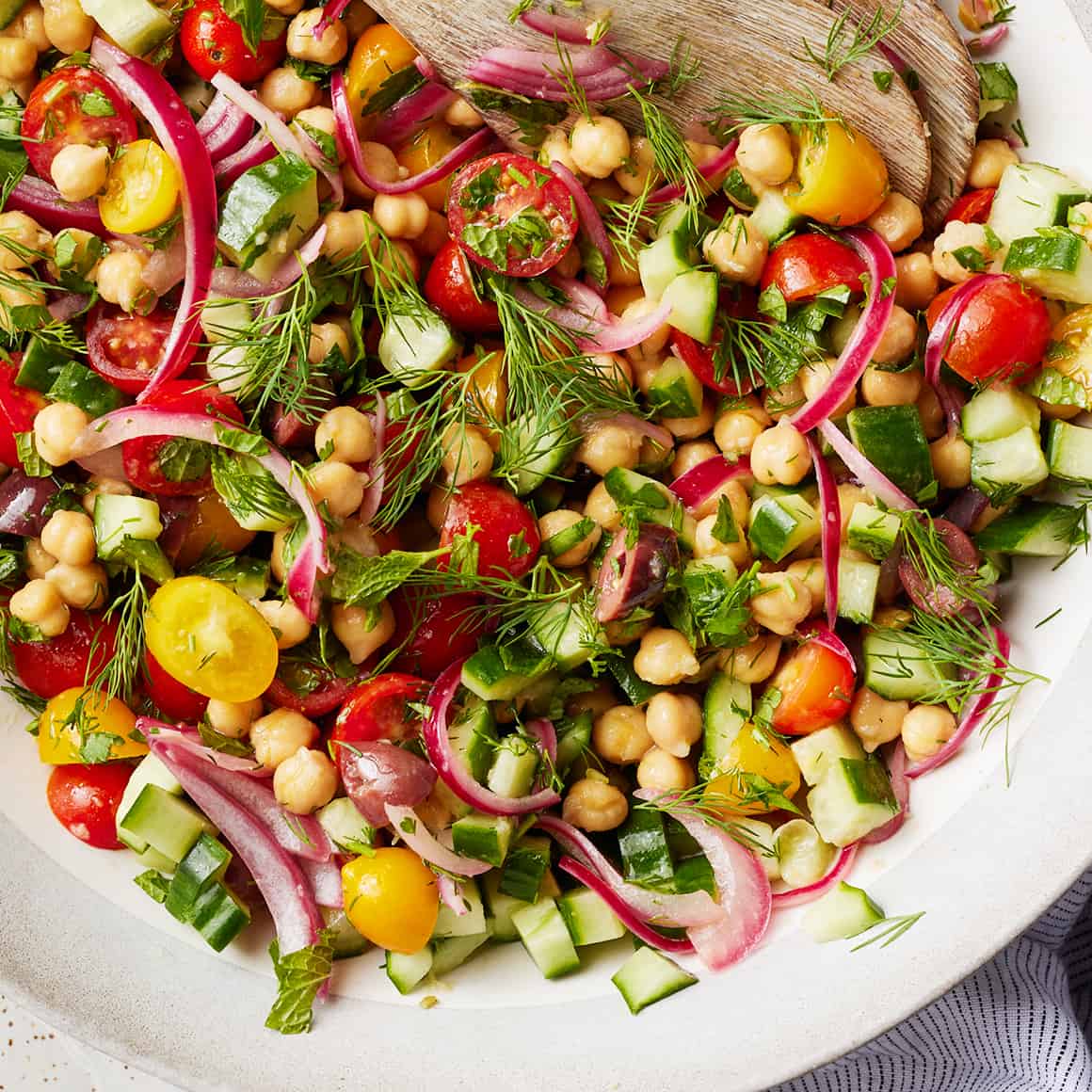 See more protein-rich salad recipes
If you like this chickpea salad, try one of these high-protein salads.
Not enough chickpeas? Try the chickpea salad sandwich next time!
chickpea salad
to service Four up to 6
This easy chickpea salad recipe is satisfying and delicious. Loaded with protein-rich chickpeas, fresh veggies, and a zesty lemon dressing, it's the perfect picnic side dish or healthy lunch.
In a large bowl, combine olive oil, lemon juice, garlic, mustard, salt and a few peppercorns.

Add chickpeas, tomatoes, cucumbers, pickled onions, and olives and toss. Add parsley, dill and mint and mix again.

Season to taste, garnish with fresh mint leaves and serve.