Melty creamy cheese fondue is actually very easy! A quick and impressive dish that's perfect as an appetizer, special occasion meal, or weeknight dinner. This recipe is a step-by-step guide to making delicious fondue.
Why I Absolutely Love Cheese Fondue
When I was little, I thought fondue was for kids.
I couldn't understand why my brother and I didn't have fun long forks with colorful plastic tips.

My parents let me taste fondue once or twice. I remember dipping the apple slices in the pan and being disappointed by the aroma of the wine and the funky Gruyère.
Now that I have kids of my own, I've taken on the task of creating an easy, kid-friendly version of fondue that everyone can enjoy. The flavor is rich and cheesy with just a hint of tangy. The texture is honey-smooth and the fondue stretches high enough for small arms to reach. Is our version an authentic Swiss recipe? Will it turn a family dinner into a gooey, cheesy, veggie-loving party?
In fact, fondue encourages people who are reluctant to eat veggies (like my daughter!) to eat veggies because you can easily enjoy broccoli when you skewer it and let it melt. You may be tempted. Best of all, this recipe is made with simple ingredients that are available at any supermarket. Indeed, any night can be a fondue night!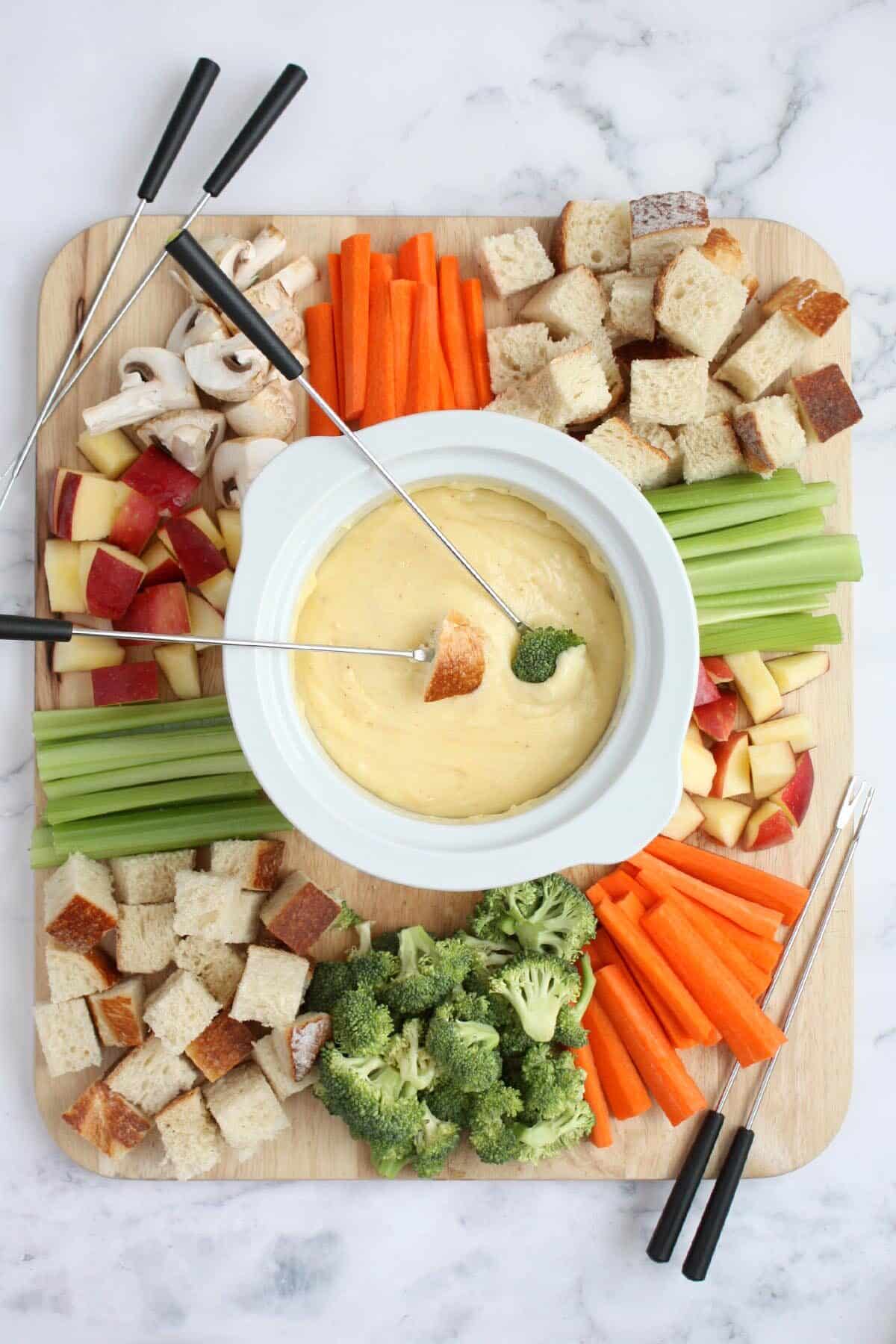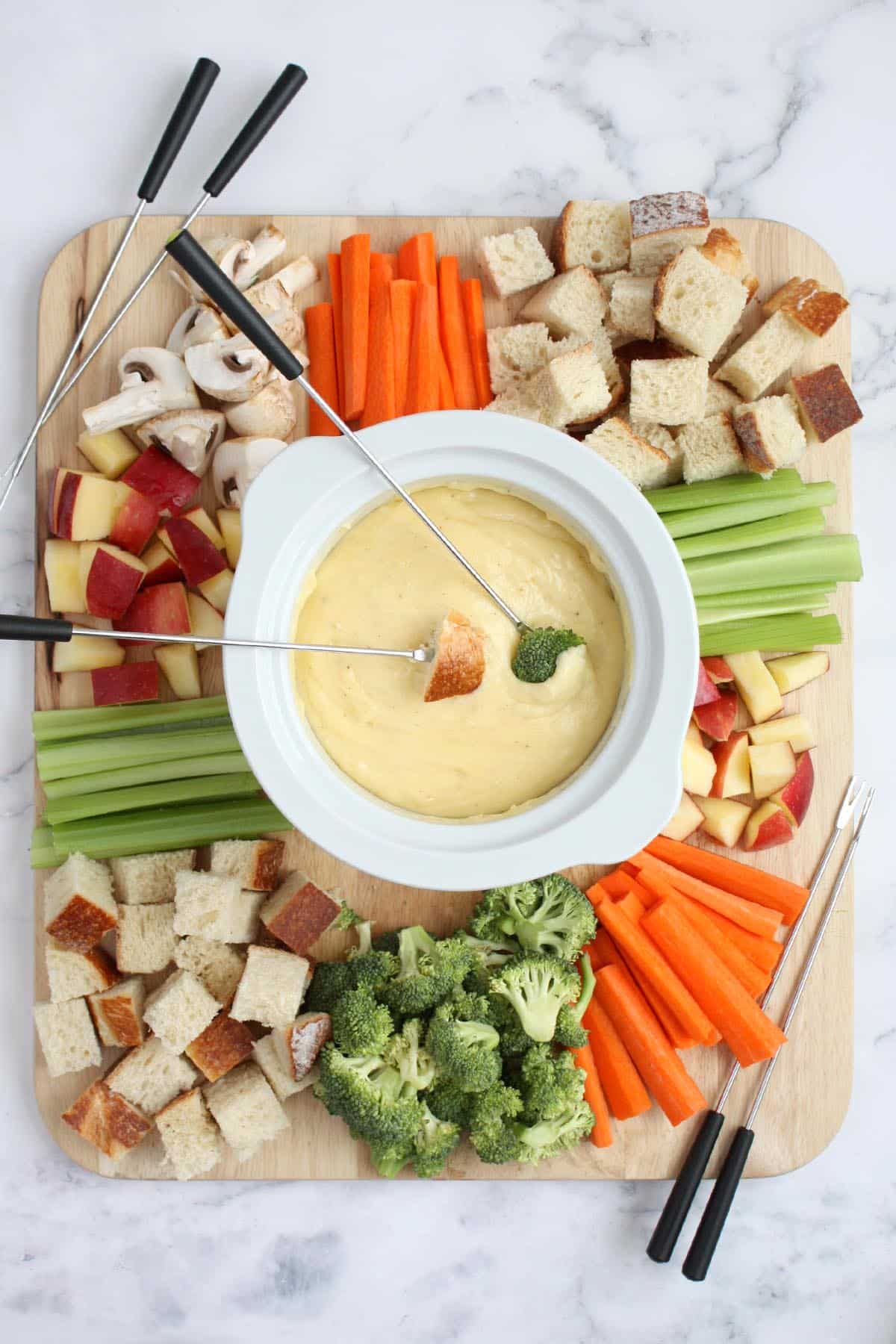 Ingredients for cheese fondue:
Gouda cheese– Gouda cheese is a creamy, nutty cheese that has been aged for a stronger flavor that works beautifully in fondue.
gruyere cheese– Gruyère is a Swiss cheese with a slightly salty, nutty flavor and a slightly sweet, caramel-like taste.
cornstarch– Cornstarch thickens the fondue and creates a smooth, creamy texture.
chicken broth (or dry white wine)– Chicken broth is a mild liquid that keeps the fondue very kid-friendly.
minced garlic– Fresh minced garlic works best here.
lemon juice– Lemon juice adds a nice balance of acidity to the cheese and prevents it from separating and becoming stringy.
dried mustard– Dried mustard is used to add a tangy crunch to fondue.
ground nutmeg– Ground nutmeg really warms and rounds out the flavor. Don't be afraid of the nutmeg here! Very delicate and delicious.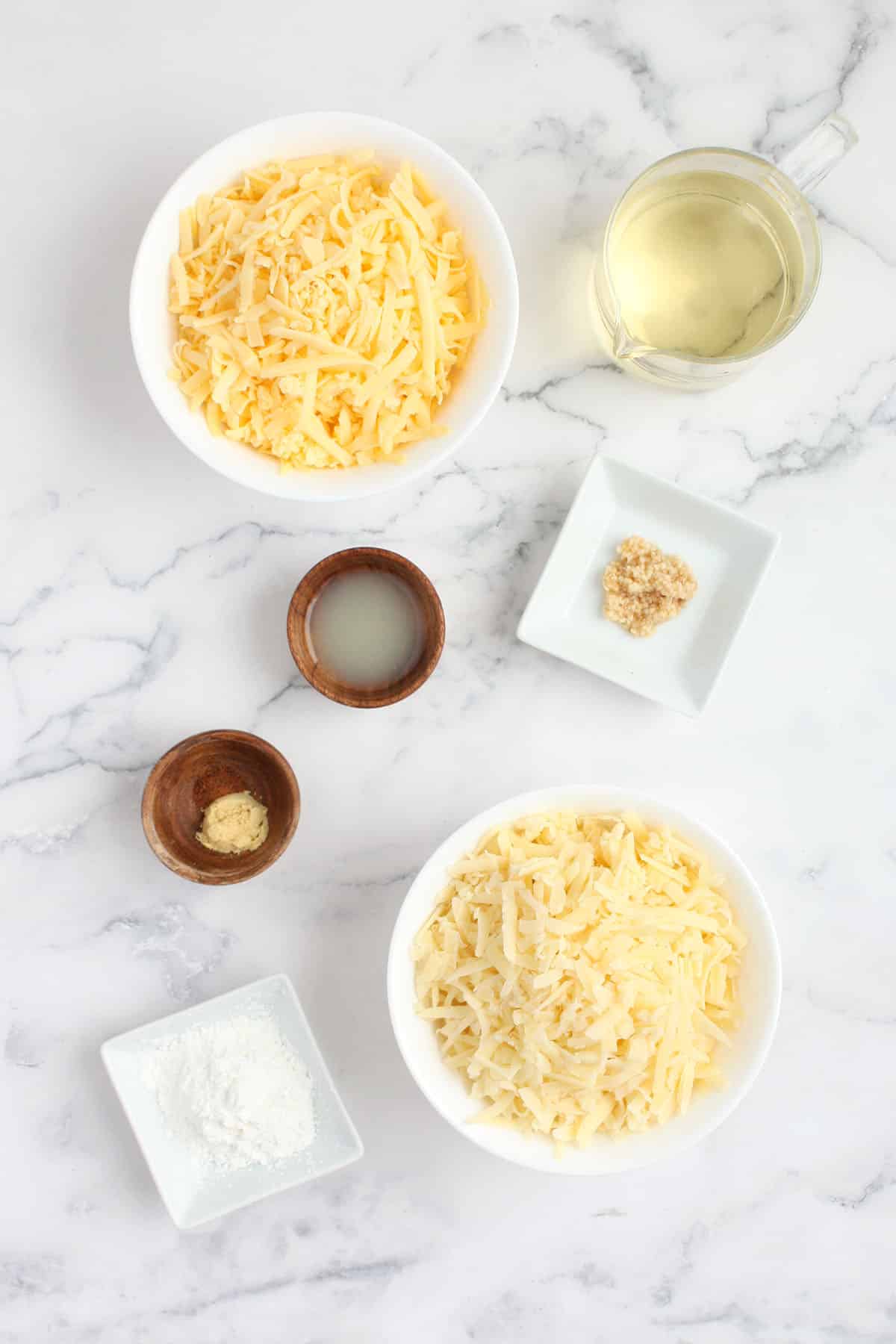 How to make cheese fondue:
Grate both cheeses. Place in a large ziplock bag with cornstarch. Shake until well coated.
heat Small, heavy-bottomed pot over medium heat. Bring the broth, lemon juice and garlic to a simmer over low heat.
reduce Reduce heat to medium-low and gradually add cheese mixture to simmering broth, a handful at a time.
mix each handful until the cheese is completely melted.
delete Remove from heat and stir in mustard and nutmeg.
pour it up Pour into the fondue pot or serve directly from the pot.
serve Enjoy with your favorite dipper!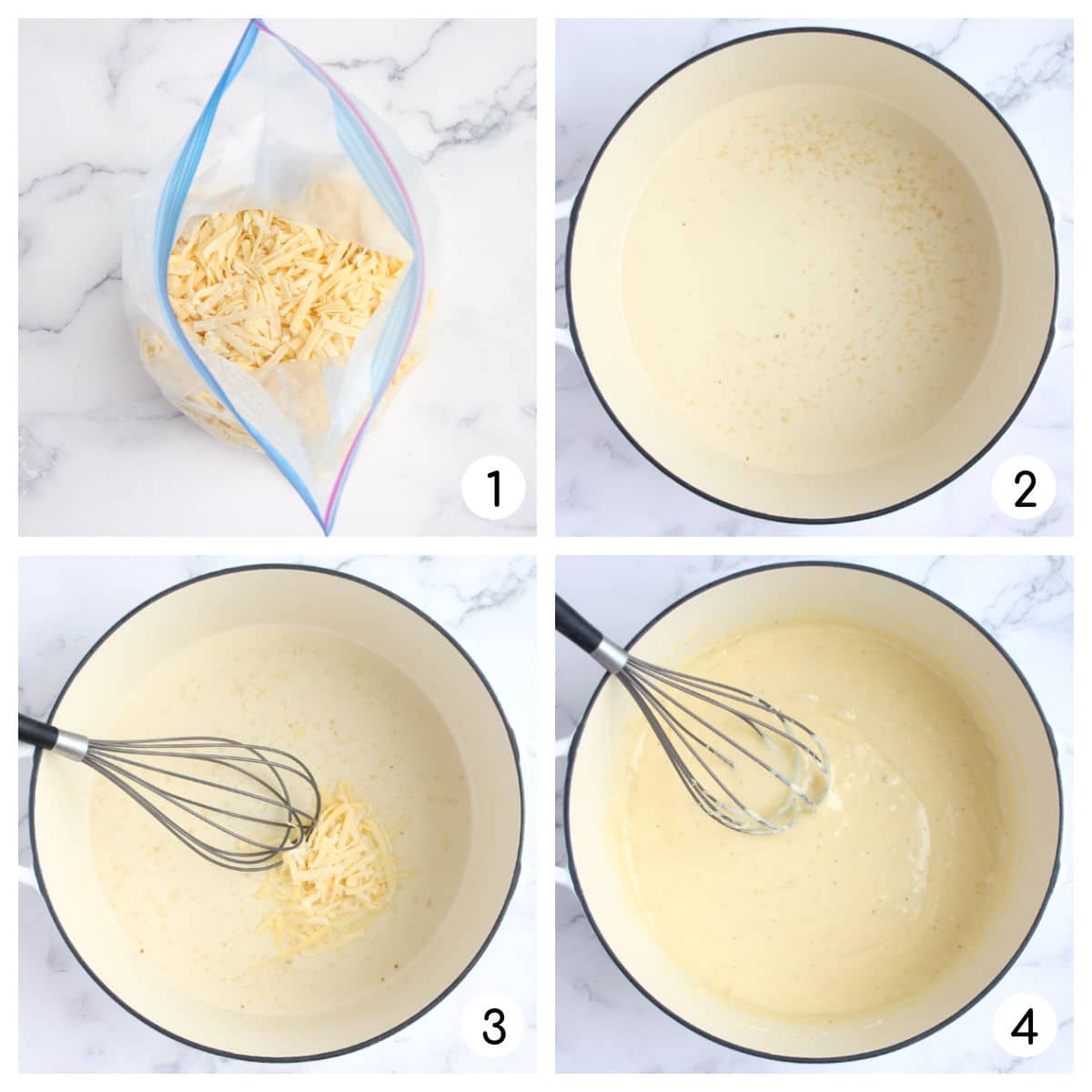 What to dip into your cheese fondue:
Prepare a colorful dish for dipping while the fondue is being prepared. The more variety of vegetables and fruits you offer, the more likely your child will find something they love to cover and devour with cheese. Here are some of our favorites:
crispy bread
pretzels
broccoli
cauliflower
mushroom
green beans
green pepper
carrot
Asparagus
celery
cherry tomatoes
pickles
apple slice
pear slices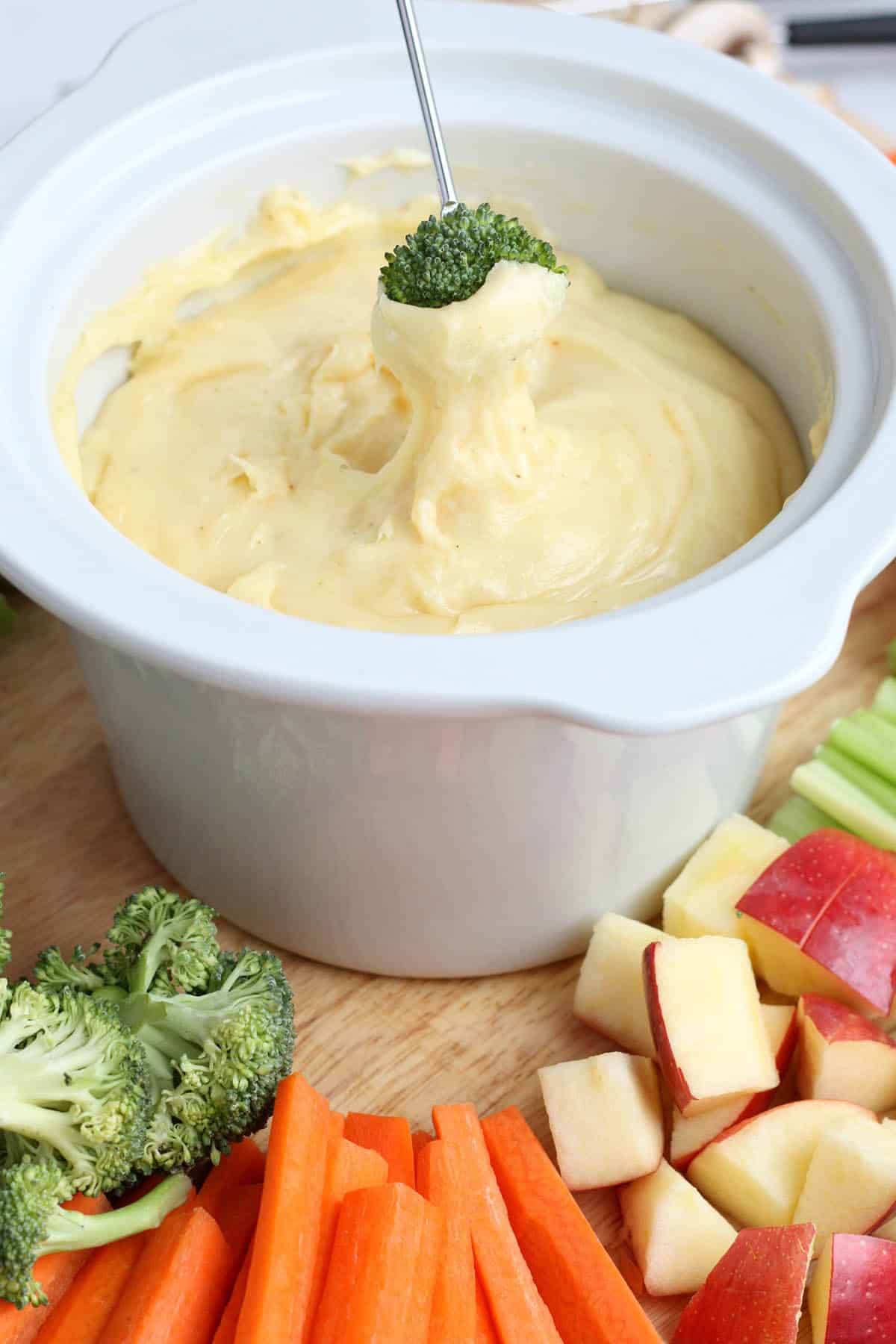 Tips and Suggestions
Use good quality cheese
This makes a huge difference in the final product. Do not use shredded cheese here.
What cheese goes well with fondue?
I want to eat creamy, buttery cheese that melts smoothly. Gruyère, Gouda and Fontina are recommended. Other less traditional cheeses that melt well are Cheddar, Havarti, Munster, Colby, and Monterey Jack cheeses.
Can leftover fondue be reheated?
Leftover fondue can be stored for up to 3 days. Reheat in a small saucepan over medium-low heat.
How to keep fondue cheese smooth?
Add cheese in small portions and stir constantly. Do not add cheese until completely melted. Take it easy, don't rush! If the fondue is still gritty, add a little cornstarch to bind the cheese and smooth it out.
What to do if the fondue cheese is too thick?
If the fondue is too thick, you can thin it out by adding a bit of the liquid (soup or wine) you used to start with.
What kind of fondue pot do you recommend?
There are many different types of fondue pots on the market, but it really depends on what you want and how often you use them. electric fondue pot Great for maintaining a stable temperature.this fondue pot A simple and economical option to use a tealight to keep the pot warm. this big cast iron fondue pot Perfect for large groups.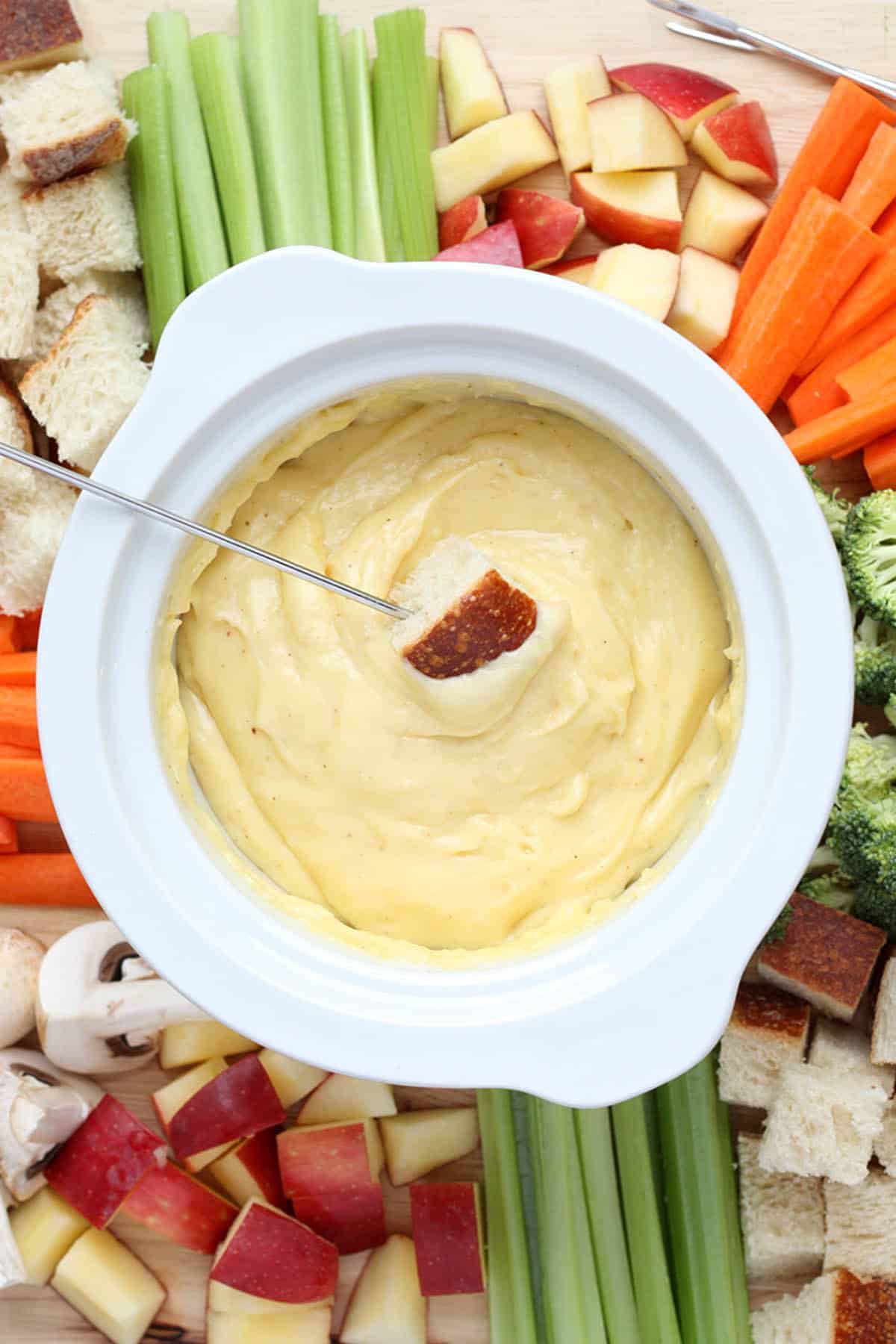 Looking for more delicious dips? Try these out!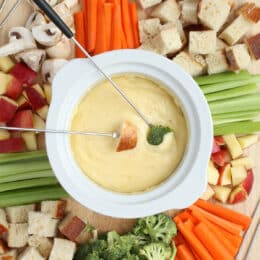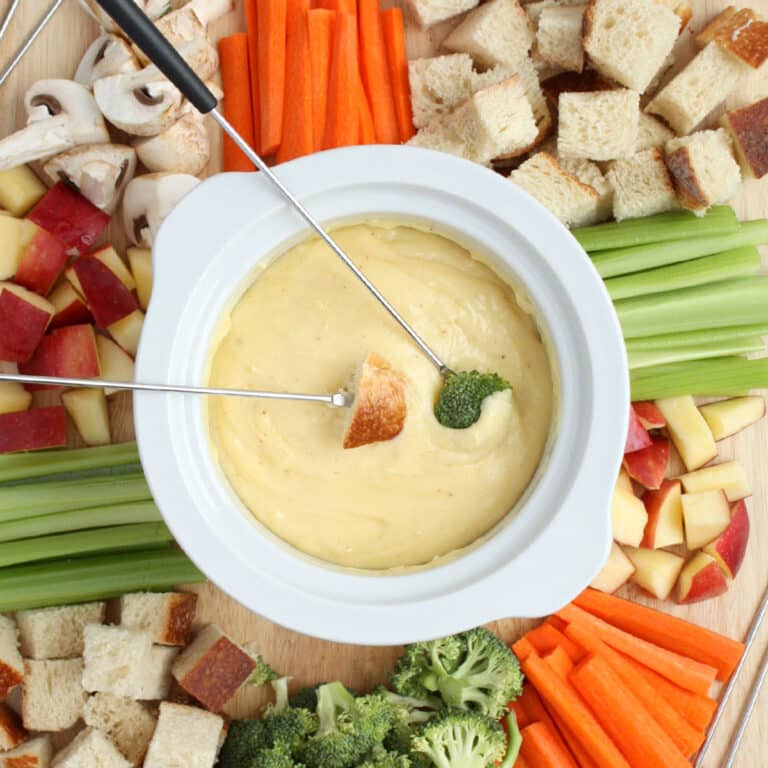 1/2

lb

gouda cheese

1/2

lb

gruyere cheese

2

tablespoon

cornstarch

1

cup

chicken soup, low salt

or dry white wine

2

cloves

garlic

chopped

1

tablespoon

lemon juice

1/2

tea spoon

dried mustard

1/8

tea spoon

nutmeg
Grate both cheeses and place in a large ziploc bag with the cornstarch. Shake until the cheese is well coated (this is a great job for kids!).

In a small, thick-bottomed pot (cast iron works best), add the broth (or wine), lemon juice, and garlic and bring to a gentle simmer over medium heat.

When broth mixture begins to simmer, reduce heat to medium-low and add cheese, one handful at a time, whisking fondue each handful until shreds are completely melted.

When all the cheeses are well mixed, remove the pan from the stove and stir in the mustard and nutmeg.

At this point you can either pour into the fondue pot or serve straight from the pot.
If this is served as an appetizer this will be enough for 8 people.If served as part of a main dish this will serve 5-6 people.
Using chicken broth will give a milder flavor and may not be as smooth as using wine.A dry white wine works best.
calorie: 233kcal | | carbohydrates: 3g | | protein: 16g | | obesity: 17g | | saturated fat: Teng | | Polyunsaturated fat: 1g | | Monounsaturated fat: Fiveg | | cholesterol: 64mg | | sodium: 444mg | | potassium: 89mg | | fiber: 0.1g | | sugar: 1g | | Vitamin A: 429IU | | Vitamin C: 1mg | | calcium: 488mg | | iron: 0.2mg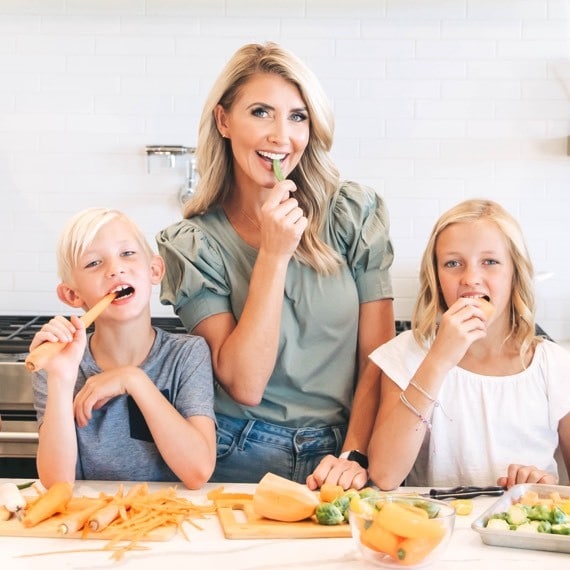 Natalie Monson
I am a registered dietitian, mother of four, a food lover and a strong promoter of healthy habits. Here you'll find delicious, fruit- and veg-rich recipes, tips to help your kids eat better and more intuitively, and tons of resources to feed your family.
Learn more about Natalie