you plan your week, you will begin to notice positive changes. In this article, learn how planning with the weekly schedule template affects your daily life.
plan your week
Whether you're new to planning or have been planning for a while, planning your week ahead is a great way to stay organized and ready for the week ahead.
When you look at social media posts about planning, it often involves making daily plans, or long-term annual or quarterly plans.
But planning your week is a great way to help plan ahead while focusing on short-term planning.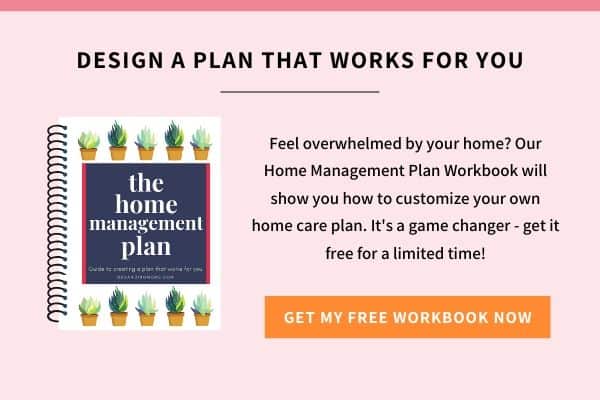 For best results, use a planning sheet to see your weekly schedule at a glance.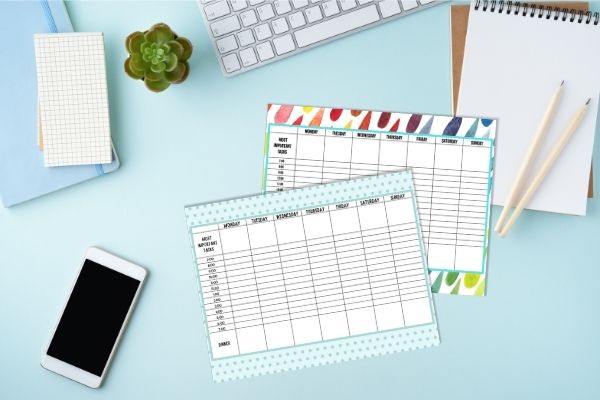 this Weekly plan bundle has several different one-page weekly plan designs to get you started.
So what changes and benefits do you start noticing after a few weeks of planning?
Read on to find out!
you feel in control and aware
Stay on top of what's on your schedule.
No more worrying about missing something. If you can't remember what you planned, you can refer to your weekly planning sheet to find out.
Everything is in one place and appears regularly so you don't have to constantly check your calendar to find out things.
Fewer things will fall through the cracks, and you will have more control and awareness.
less stress
No more stress about forgetting something or worrying about double-booking.
Effectively planning your week will help you know what to expect and deal with over-scheduling and double-booking before it becomes a problem.
you start to see patterns
Plan your week ahead a few times and you'll start to see patterns.
Some you've known before, others may surprise you.
I just found out that one of my meetings that was supposed to last an hour actually took nearly two hours. And on the days we had those meetings, we had to rearrange our schedules because the meetings were long.
When I noticed this pattern, I started blocking two hours for that meeting and started planning around it instead of expecting it to only last an hour!
I see opportunities to stack activities
Once you get used to the general rhythm of your week, start thinking of ways to combine activities to save time and energy.
For example, Tuesday is our garbage collection day.
Once I realized that the bin wasn't full, I started a session on Monday to clean out the fridge and throw out the trash.
That way, you can get the most out of your garbage collection and remove spoiled food more regularly.
you start developing a routine
Even if you already have some routines working for you, noticing patterns and building up your activities will naturally help you create actionable routines that will help your entire week flow better.
You can plan according to your priorities
Weekly planning also allows you to create a to-do list and set weekly priorities to move towards long-term and short-term goals.
Easily see when you can complete important tasks or take the next action step.
This will help you find ways to make bigger plans part of your weekly routine.
be more flexible
Our weekly plans rarely work out the way we thought they would. And that is to be expected!
See your entire week at a glance and make changes when you need to.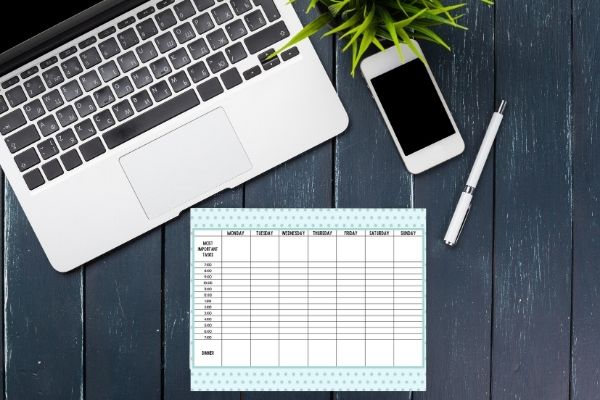 How to start a weekly plan
Start by determining a regular time when you can do your weekly planning sessions.
Many people do this on Sunday night, but pick a day that works for you.
If Sunday is chaotic, pick a time when you know you have an hour or two to focus on.
If I don't have any plans on Sunday, I like to make plans on Monday morning.
Even if today isn't your "Planning Day", you can start now. Method is as follows…
1. Google Calendar
If you're just starting out, we recommend setting up Google Calendar. Also, make it a habit to enter your schedule once it has been decided.
If you prefer another platform, you can also use Outlook or a digital calendar that you can share with others.
Set up your calendar so you can access it from your computer and mobile phone.
If you live with other people (spouse, children, relatives, roommates, etc.), ask them to enter important dates on the same calendar.
So if your spouse travels for work, have them mark the dates of your absence on their calendars.
That way, you have a clearer picture of what your responsibilities are and what other family members are doing.
2. Weekly plan bundle
Then I get Weekly plan bundle So you always have a one-page physical copy of your weekly plan.
The Weekly Plan Bundle contains several printable weekly plan template designs that you can start using in minutes.
So if you want to start now, come on!
It also comes with a Weekly Planning Quick Start Guide that walks you through the process of planning your week.
A combination of a paper planner (a weekly planning sheet) and a digital calendar to keep track of your appointments can help you avoid missing things.
How to use the weekly plan
I like to plan and have it on my desk all week long.
If you have a particularly busy week, take a picture of your plan on your phone so you can refer to it if you need to (not necessary, but doing this step will calm your mind!).
Having everything in one place for the week makes it all very easy to manage.
Instead of trying to remember everything, you can write it all out on your planning sheet for the week and never worry about missing an important event.
Start your own Weekly Planning Bundle today.