These carrot cheese balls make a delicious and adorable addition to your Easter celebrations. Easy to make, chock full of fresh carrots, it's virtually impossible to stop eating.
Why You'll Love These Carrot Cheese Balls
I've said it before and I'll say it again. I love cooking special meals for the holidays! It's such an easy way to bring smiles to your family and friends and create fun memories. Food doesn't have to be complicated and fancy. A unique addition to your table, perfect for the holidays.
This carrot cheese ball fits the bill perfectly. It takes about as much work as regular cheese balls, but makes a super cute spring centerpiece. You can take it in advance, so it's always convenient when entertaining guests. But the most important thing is how delicious it tastes. Cheesy, creamy, incredibly flavorful, and chock-full of fresh shredded carrots. It's also delicious with crackers, bread, and vegetables. Also great as an appetizer for Easter dinner or brunch.
Carrot Cheese Ball Ingredients
Cream cheese– I used regular cream cheese. Neufchâtel cheese goes well here too.
shredded carrot– Chopped carrots food processor Attachments. It can also be shredded on a regular grater. I also used paper towels to soak up some of the moisture after shredding the carrots.
Cheddar cheese– I used medium cheddar, but sharp cheddar is also delicious and can add vibrant color.
Worcestershire sauce– Favorite condiment for cheese balls! It adds a very rich flavor. If you don't have it, you can use soy sauce instead.
garlic salt–You can also substitute 1/4 teaspoon garlic powder and 1/4 teaspoon salt.
onion powder– This also adds a delicious flavor.you would want to use about 1 tablespoon Raw grated onion instead of onion powder.
How to make carrot cheese balls
large-scale mixing bowl Mix cream cheese, garlic salt, onion powder and Worcestershire sauce with an electric beater. Beat until smooth, then stir in grated carrots and 1/2 cup cheddar cheese.
lay a wrap on the counter. Spray with cooking spray and place cheese mixture in center. Gather edges of plastic wrap and shape cheese into a triangular shape. Refrigerate for at least 30 minutes. Chilling it will make it even more delicious!
Remove from refrigerator. Place cheese balls on serving platter. Gently reshape as needed. Cover the outside of the cheese ball with the remaining cheddar cheese to seal.
chop the broccoli Arrange on top of cheese balls to resemble carrot greens. Blanch briefly if necessary. It gives the broccoli a beautiful bright green color. To do this, soak the broccoli in boiling water for about 30 seconds, or place a few tablespoons of water in a microwave-safe bowl. Cover and microwave for 1 minute.
Serving carrot cheese balls Crackers, loaves of bread, apple slices and assorted vegetables.
fun!
Best ladle for cheese balls
wheat crackers
loaf of bread
bagel chips
pretzels
rye chips
apple slice
carrot stick
sugar snap peas
celery stick
cucumber slices
cherry tomatoes
florets of broccoli
cauliflower floret
sliced ​​radish
sliced ​​green pepper
asparagus stalk
snow peas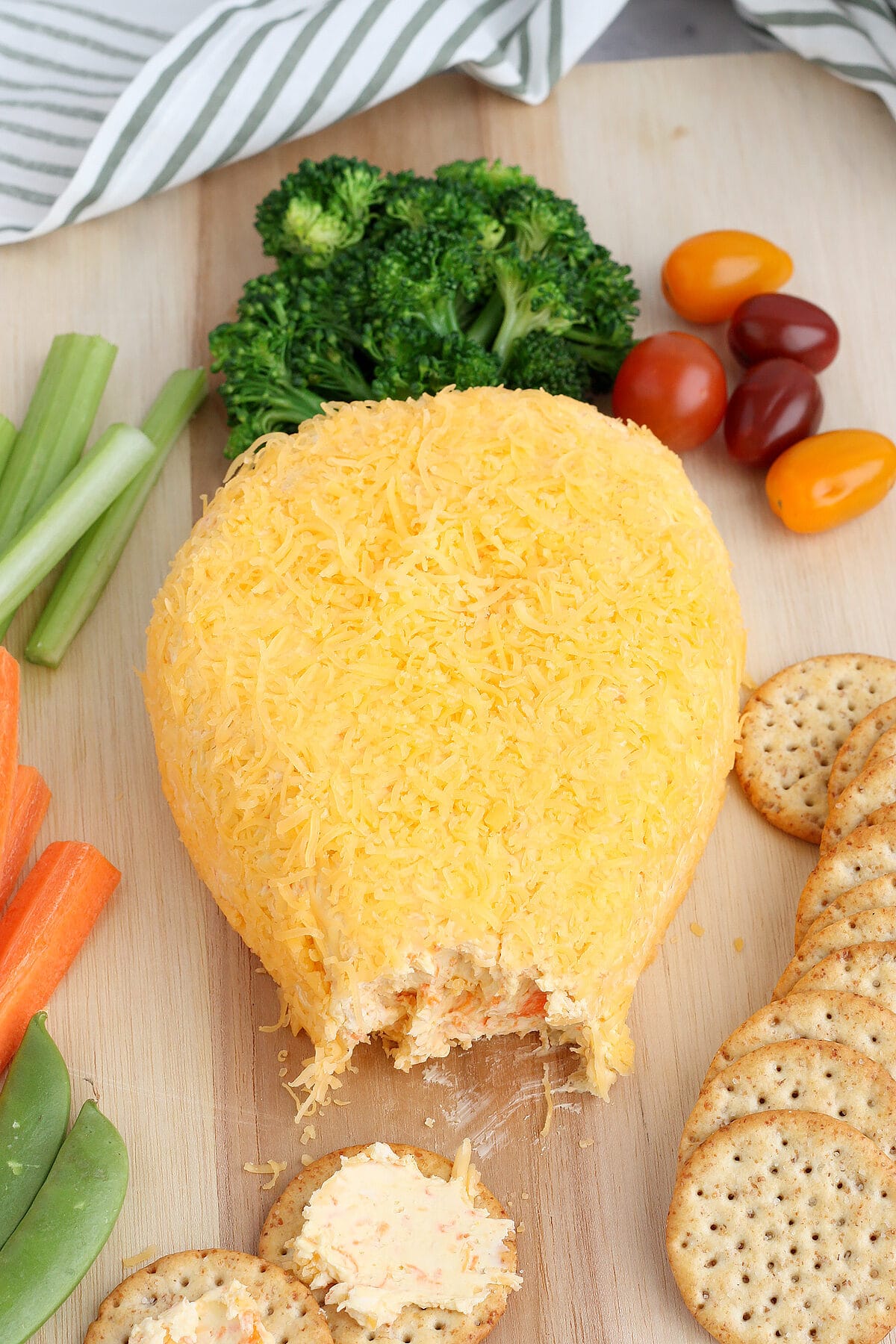 Tips and Suggestions
How many days in advance can I make cheese balls?
Cheese balls can be made 3-5 days in advance. Wait to coat them with cheese until they are ready to serve.
How long do cheese balls keep in the refrigerator?
Leftover cheese balls can be stored in an airtight container in the refrigerator for 5-7 days.
What can I add to my cheese balls?
One of my favorite things about cheeseballs is how easy they are to customize. Some of our favorite add-ins are chopped dried apricots, chopped nuts, chopped spinach, adobo chipotle peppers, or bacon bits.
More delicious Easter recipes:
carrot cheese ball
These carrot cheese balls make a delicious and adorable addition to your Easter celebrations. Easy to make, chock full of fresh carrots, it's virtually impossible to stop eating.
Serving: 12 serving
calorie: 197kcal
16

ounce

Cream cheese

softened

1/2

tea spoon

garlic salt

1/4

tea spoon

onion powder

1

tea spoon

Worcestershire sauce

1

cup

finely grated carrot

1 1/2

cup

finely grated cheddar cheese

1

cup

florets of broccoli

cut into bite size pieces
Combine cream cheese, garlic salt, onion powder, and Worcestershire sauce in a large mixing bowl. Whip with an electric hand mixer. Once smooth, add grated carrots and 1/2 cup grated cheddar cheese.

Line the counter with plastic wrap and spray with cooking spray. Place cheese mix in center. Gather edges of plastic wrap and shape cheese into triangles. Refrigerate for 30 minutes.

Remove from refrigerator and gently place triangles in center of serving platter. Shape with your hands as needed. Cover the triangles with the remaining 1 cup grated cheddar cheese and dab to stick to the cream cheese mixture.

Cut the broccoli into small, easy-to-eat florets. Arrange the broccoli on top of the cheese balls to create the carrot greens.

Serve with crackers or vegetable sticks. fun!
calorie: 197kcal | | carbohydrates: Fourg | | protein: 6g | | obesity: 18g | | saturated fat: Teng | | Polyunsaturated fat: 1g | | Monounsaturated fat: Fourg | | cholesterol: 52mg | | sodium: 324mg | | potassium: one two threemg | | fiber: 1g | | sugar: 2g | | Vitamin A: 2479IU | | Vitamin C: 7mg | | calcium: 144mg | | iron: 0.2mg
www.superhealthykids.com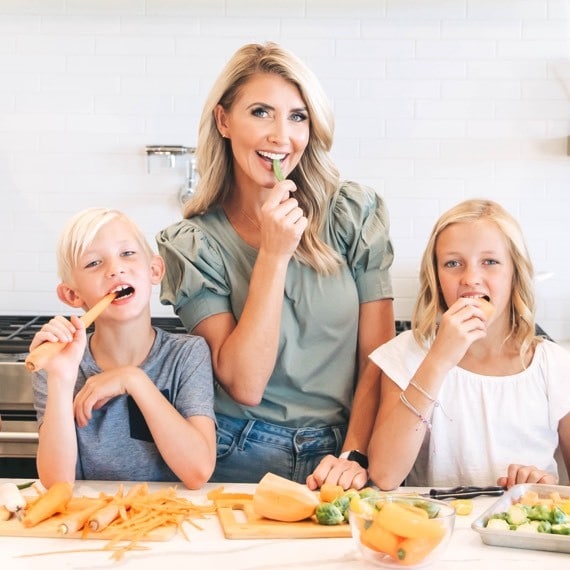 Natalie Monson
I am a registered dietitian, mother of four, a food lover and a strong promoter of healthy habits. Here you'll find delicious, fruit- and veg-rich recipes, tips to help your kids eat better and more intuitively, and tons of resources to feed your family.
Learn more about Natalie