Packed with healthy oats, nuts, coconut and carrots, this crunchy granola has all the delicious flavors of carrot cake..a healthy breakfast form! Perfect for Ranked at the top of the granola popularity ranking!
Why I Love This Carrot Cake Granola
We love granola in our house. One of my favorite snacks to have on hand. It's nutritious, filling, and great to accompany a bowl of yogurt or enjoy as a handful. Very easy ♪ just mix and bake! And it's so much better than store-bought. Once you eat homemade granola, you can never go back! Not only is it super easy and delicious, but you can customize the ingredients and control what goes in.
This carrot cake granola is one of our favorite creations by far. It's very crunchy and full of warm spices that make carrot cake delicious. Loaded with nuts, carrots, and coconut, it's not only delicious, but filling and nutritious. Not to mention completely addicting. Like.. Eat half the pot before you become addicted.
Ingredients for carrot cake granola
oats– This recipe uses regular rolled oats.
carrot– I used a fine grater to shred the carrots and used a paper towel to remove excess moisture.
pecan・Almonds and walnuts are also delicious!
coconut– I used finely chopped coconut and coconut chips. both work well.
Maple syrup– I love using maple syrup in my granola, but you can also use honey.
cinnamon
nutmeg
salt
coconut oil– Coconut oil is great in this granola, but any neutral flavored oil will work here.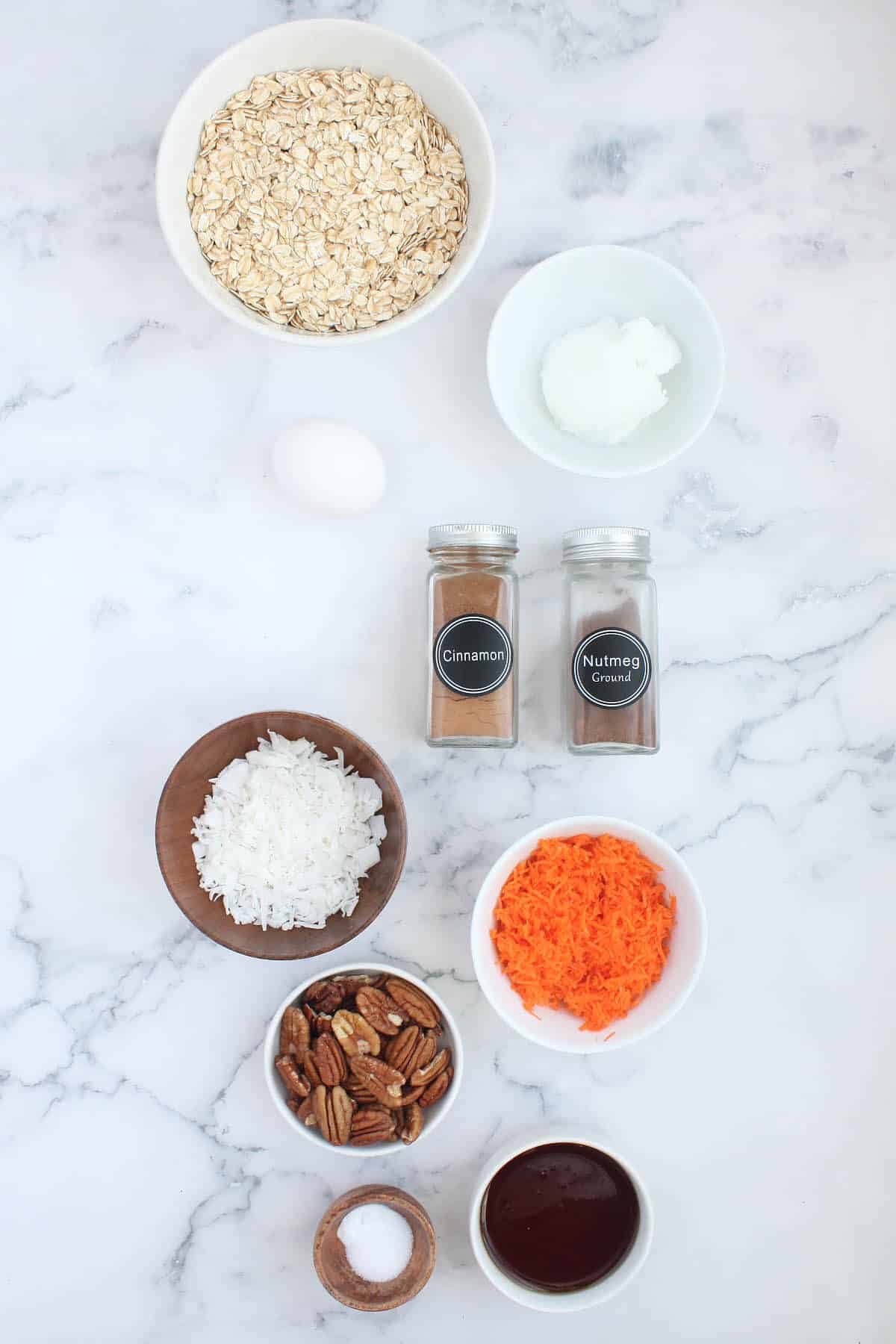 How to make carrot cake granola
combine all dry ingredients into a large mixing bowl.
melt coconut oil and small bowl. whisk with maple syrup. Stir in grated carrot.
Pouring oat mixture Mix.
spread the granola On a baking sheet lined with parchment. Bake at 350 degrees for 20 minutes or until golden brown, stirring once during baking time. It will still be a little soft to the touch, but will become crispy as it cools.
cool down completely Before storing in a closed container. Up to 1 month is fine.
Tips and Suggestions
How long does homemade granola last?
Homemade granola can be stored at room temperature in an airtight container for up to 1 month. For long-term storage, store in the freezer for 3-6 months.
How should I serve carrot cake granola?
Our favorite way to enjoy this granola is over vanilla Greek yogurt! Eat as is or add fresh fruit such as fresh berries or sliced ​​bananas. is.
on the smoothie bowl
Sprinkle on nut buttered apple slices
in a bowl with milk
Wrapped in cream cheese or nut butter tortilla
Mix into muffins or quickbreads before baking
sprinkle on toast
As a pancake topping; before or after cooking!
on cottage cheese
as a salad topper
stir into cookie dough
Add to trail mix
A handful!
Why isn't my granola crispy?
If your granola isn't crispy, try adding an extra 5 minutes of baking time. Be careful not to overcook it. You can also cook granola at a low temperature for a long time. Bake the granola mixture at 275 degrees for 50-60 minutes.
Can I add anything else to my carrot cake granola?
yes! We love to boost the nutrition and flavor of our granola with additional add-ins. Our favorite add-ins include hemp seeds, flax meal, chia seeds, or dried fruits like raisins and crushed banana chips.
More delicious granola recipes:
carrot cake granola
Packed with healthy oats, nuts, coconut and carrots, this crunchy granola has all the delicious flavors of carrot cake..a healthy breakfast form! Perfect for Ranked at the top of the granola popularity ranking!
Serving: 2 cup
calorie: 197kcal
2

cup

barley

2

tea spoon

cinnamon

1/8

tea spoon

nutmeg

1/2

tea spoon

salt

1/3

cup

coconut flakes

1/2

cup

pecans, chopped

option

1/3

cup

pure maple syrup

1/4

cup

coconut oil

melted

1

Moderate

Carrot

1/2 cup peeled and finely grated
Preheat the oven to 350 degrees and line a baking sheet with parchment paper.

In a mixing bowl, combine oats, cinnamon, nutmeg, salt, baking soda, coconut flakes, and chopped pecans.

In a small mixing bowl, whisk together the maple syrup and melted coconut oil. Stir in grated carrot. Pour into the oat mixture and stir to combine.

Spread out on the prepared baking sheet and bake for 20 minutes, stirring halfway through. Stir the bottom pieces to the top so everything is cooked evenly. It will be a little moist when you take it out of the oven, but it will become crispy when it cools down.

Allow to cool completely and store in an airtight container at room temperature. Up to 1 month is fine. fun!
calorie: 197kcal | | carbohydrates: twenty threeg | | protein: 3g | | obesity: 11g | | saturated fat: 8g | | Polyunsaturated fat: 1g | | Monounsaturated fat: 1g | | Trans fat: 0.003g | | cholesterol: twenty threemg | | sodium: 232mg | | potassium: 149mg | | fiber: 3g | | sugar: 9g | | Vitamin A: 1309IU | | Vitamin C: 1mg | | calcium: 36mg | | iron: 1mg
www.superhealthykids.com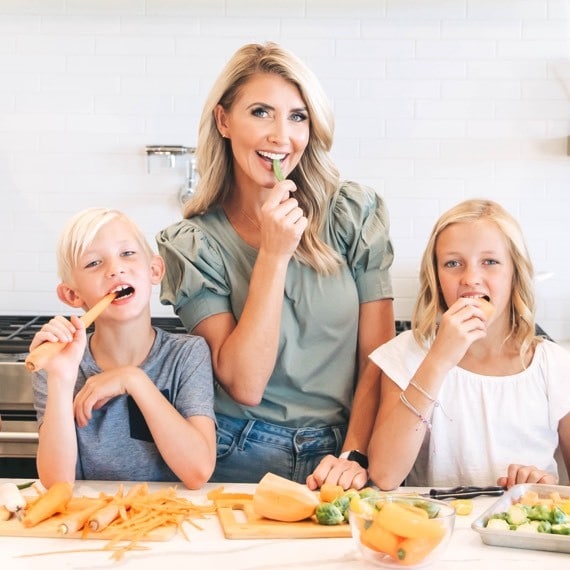 Natalie Monson
I am a registered dietitian, mother of four, a food lover and a strong promoter of healthy habits. Here you'll find delicious, fruit- and veg-rich recipes, tips to help your kids eat better and more intuitively, and tons of resources to feed your family.
Learn more about Natalie