Baked French Toast is just the right amount of sweetness for a delicious, warm and comforting breakfast casserole. It feeds a crowd, can be prepared in advance, and takes just minutes to throw together.
Why I Love This Freshly Baked French Toast
Baked French Toast is our answer whenever you want a breakfast that feels special. (And let's be honest.. do we really want to do that??). My whole family loves this comforting casserole. And I love how easy it is to throw together! It can be assembled the night before, so it's great for busy mornings. But usually I just toss it all together in the morning. The edges are browned and crispy, while the inside is soft and fluffy. And the crumble topping is simply divine!! This is one of his recipes that I make myself over and over again.
Baked French Toast Ingredients:
Bread – I used 1lb sourdough bread.
Eggs – This recipe calls for large eggs.
Milk – I used 2% milk, but any milk will do here. The higher the fat content, the richer the flavor.
Brown Sugar – Adds a rich caramel flavor.
Vanilla Extract & Cinnamon – Adds warm, delicious flavors.
Flour – all-purpose here.
Butter – I used salted butter.
Bananas – We love adding fresh fruit and bananas are delicious! But you can top it with any fruit you like.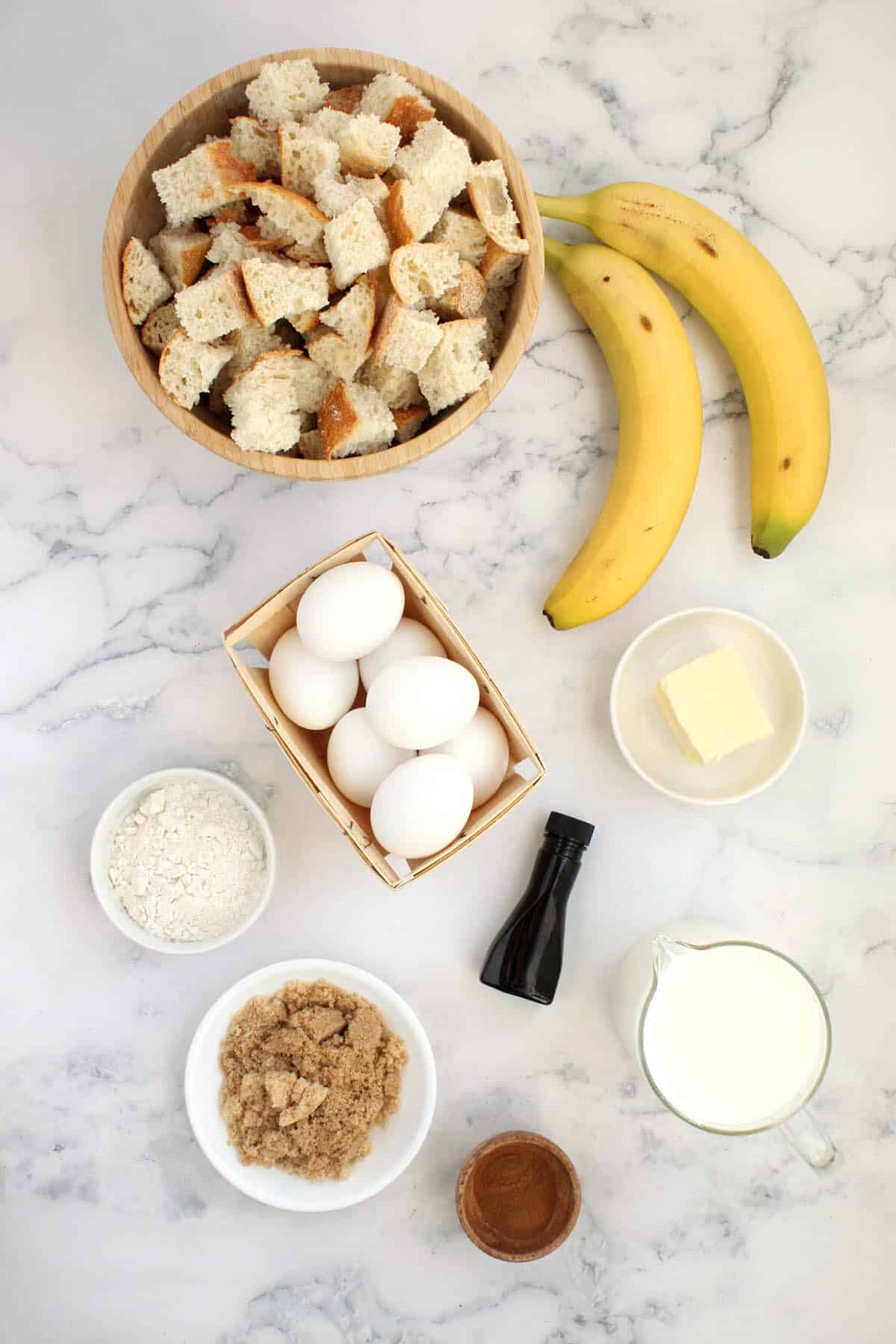 how to make baked french toast
Cube Place in pan and large bowl.
whisk Combine eggs, milk, brown sugar, vanilla and cinnamon.
addition Add wet mixture to pan and stir to combine.
pour it up Place everything in a greased 9-by-13-inch pan.
mix Combine flour, brown sugar, cinnamon, and butter in a small bowl until mixture resembles coarse crumbs.
Sprinkle Top the casserole with bread crumbs.
bake Bake in a 350 degree oven for 35 to 40 minutes or until light brown and custard mixture is cooked through.
Up Serve with sliced ​​bananas!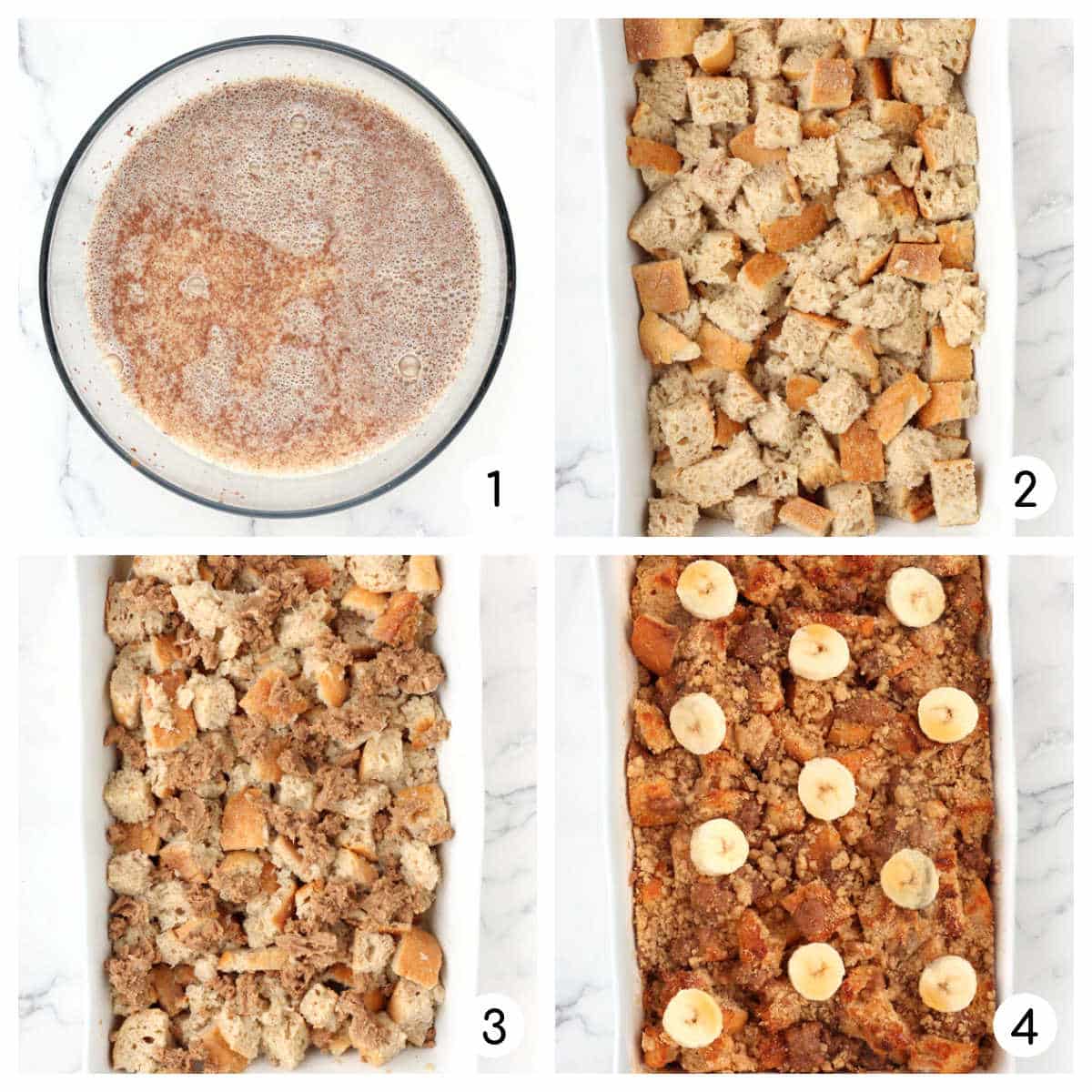 Best Types of Bread for Freshly Baked French Toast
There are three points to consider when choosing bread.
Unsliced ​​bread is best, as you need the ability to cube or slice the bread.
Freshly baked French toast requires the bread to be dipped in an egg and milk mixture to create the custard final product. Choose bread that has a firm texture.
Flavors are often determined by seasonings and mix-ins, but we also want our bread to be delicious! It is the leading role of cooking.
Favorite type of bread for French toast
Brioche – A richer version of sandwich bread. It is a firm loaf of bread that does not lose its shape even when soaked in egg liquid, and is crispy on the outside and fluffy and creamy on the inside.
Challah – This is an egg-like bread somewhat similar to brioche. It absorbs the custard without crumbling and browns nicely on the outside, but leaves the creamy inside that French toast needs.
French Bread – This is a firm crust bread that has no problem absorbing custard and keeping it tough.Unlike brioche or challah, baguettes make for a more chewy French toast. Soak it in water for a longer time to soften it completely.
Sourdough – one of our personal favorites! A crunchy bread with the perfect balance of sourdough flavor and casserole sweetness.
More French Toast Recipes to Try:
Preheat oven to 350 degrees and grease a 9-by-13-inch skillet.

Cut the bread into 1-inch cubes and place in a large bowl.

In another bowl, whisk together the eggs, milk, brown sugar, vanilla, cinnamon, and salt. Pour over diced bread and gently toss to coat. Spread the mixture evenly over the prepared baking dish.

For the crumb topping, add the flour, brown sugar, and cinnamon to a small bowl. Using a fork or fingers, chop butter until mixture resembles coarse crumbs. Sprinkle over the casserole.

Bake for 30 to 40 minutes or until lightly browned and fully cooked.

Serve warm with fresh banana slices and maple syrup!
calorie: 259kcal | | carbohydrates: 36g | | protein: Teng | | obesity: 8g | | saturated fat: Fourg | | Polyunsaturated fat: 1g | | Monounsaturated fat: 2g | | Trans fat: 0.2g | | cholesterol: 120mg | | sodium: 319mg | | potassium: 252mg | | fiber: 2g | | sugar: 16g | | Vitamin A: 374IU | | Vitamin C: 2mg | | calcium: 133mg | | iron: 2mg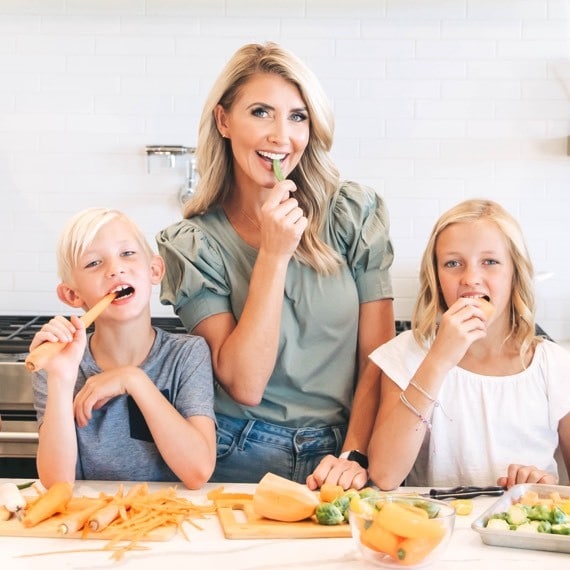 Natalie Monson
I am a registered dietitian, mother of four, a food lover and a strong promoter of healthy habits. Here you'll find delicious, fruit- and veg-rich recipes, tips to help your kids eat better and more intuitively, and tons of resources to feed your family.
Learn more about Natalie